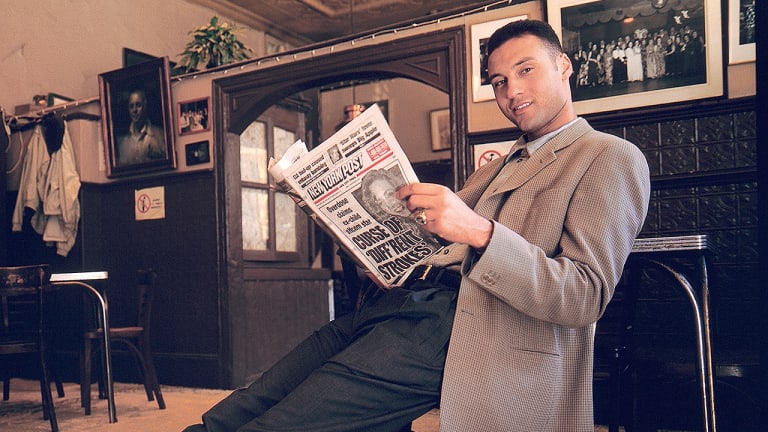 Prince Of The City
Gotham loves its real bat man, Yankees shortstop Derek Jeter, who's got what it takes—looks, poise, talent—to be the top banana in the Big Apple
He's the master of his metropolis, but sometimes the Big Apple bites back. One evening last month New York Yankees shortstop Derek Jeter went shopping for a videocassette recorder and encountered some serious static. When a salty salesman—we'll call him Manuel—at Circuit City on East 86th Street told Jeter, "You suck," it seemed like an appropriate time for extra batting practice. The beef began after Manuel struck out trying to locate a VCR that Jeter wanted to purchase, the store computer indicating that each of the player's first three selections were out of stock. After Jeter settled for his fourth choice, he was told by Manuel to follow him to another register because Manuel's had malfunctioned.
"Doesn't anything work in this store?" Jeter joked. "My credit card doesn't work either."
Perhaps Manuel has an offbeat sense of humor, or perhaps he was having a bad day, but this was his response: "Yeah, well, you suck anyway."
Jeter did a double take. "I suck?" he said.
"Yeah, you suck," Manuel said. "Griffey's better."
"Yeah?" Jeter said. "Do I come to your job and tell you some other guy is better than you?"
"What, did I offend you?" the salesman replied.
"No, not at all," Jeter said, his voice rising, his green eyes ablaze with anger. "I like hearing that I suck."
A few seconds later Jeter regained his composure. "Welcome to New York," he said to an out-of-town shopping companion. "Now I've officially heard it all. I come to this store to spend money, and the salesman tells me I suck. Nothing in this town surprises me anymore."
Manuel handed Jeter the sales receipt, grinning a goofy grin. Charles Barkley might have tossed the guy through the 31-inch TV set behind the register. Jeter just smiled and said, "Have a nice day."
That's life in the big city, but for Jeter it's a mere speck of lint on his red carpet. The handsome, personable and relentlessly polite baseball star, who turns 25 on June 26, is bigger than Austin Powers. Driving to Yankee Stadium he's occasionally pulled over by cops asking for his autograph. When he comes to bat, teenage girls shriek as if he were a Beatle landing in the U.S. 35 years ago. Gossip columnists, still frothing over Jeter's past romance with pop diva Mariah Carey, document his every social step—and some he's never taken.
In only his fourth full major league season, Jeter is New York's most adored ballplayer in at least a decade, possibly since Reggie Jackson led the Yankees to back-to-back world championships in the late '70s. Anointed by Michael Jordan as his Air Apparent at Nike—he signed a lucrative deal with Jordan's new brand within a brand—Jeter, by virtue of his performance, personality, looks and location, is positioned for megastardom.
"If you're looking for complaints, I don't have any," he says. "O.K., the traffic here is a pain, but other than that, I'm living a dream. I think I'm the luckiest person in the world."
If he sounds suspiciously like Lou Gehrig, it's appropriate. While most of New York's sports superstars have modeled themselves on fun-loving, cocksure Babe Ruth—from Mickey Mantle and Joe Namath to Jackson and Lawrence Taylor—Jeter springs from the Gehrig branch of the family tree, emulating the Yankee slugger's graceful, understated dignity. Shy and protective of his image, Jeter is accessible to fans and the press but keeps a small circle of close friends. He has been embraced by celebrity more than he has embraced it.
Gotham's love for this bat man is reciprocated. "This is the greatest city in the world," Jeter says as he peers out toward the East River from the living room of his Upper East Side apartment. "You always hear players say, 'I'd never play in New York.' I don't understand why you'd say that—unless you're afraid to fail."
Not much chance of that happening to Jeter. In 1996 he became the first rookie in 34 years to start at shortstop for the Yankees, won Rookie of the Year honors and hit .361 in the postseason. Last season he finished third in the American League MVP balloting, and the Yankees won their second World Series in three years. This season he's one of the league's most productive players. At week's end he ranked second in batting (.380), tied for first in hits (89), tied for fourth in runs (54), first in triples (seven) and second in on-base percentage (.471), and his power numbers—11 homers, 43 RBIs, .658 slugging percentage—were well up from last year, when he finished with 19 homers and 84 RBIs in 149 games. He reached base at least once in each of the Yankees' first 53 games and, with his exceptional range in the field, made enough sensational plays to more than compensate for his eight errors. (He had nine last season, a career low.)
Jeter's early MVP candidacy has been endorsed by another heavy hitter: the Seattle Mariners' Alex Rodriguez, who with 42 homers last season set an American League record for shortstops. Rodriguez, 23, who missed all but two games in the first five weeks of this season with a knee injury, seems to have been indirectly responsible for his good friend Jeter's power surge. "A friendly rivalry can motivate you," Rodriguez says.
Says Milwaukee Brewers manager Phil Garner, "I thought A-Rod was way ahead of Jeter, that he was always going to be a better [all-around] player. But now Jeter has come on and caught him."
Jeter, who owns a home near the Yankees' training facility in Tampa, spent much of the off-season lifting weights and fine-tuning his swing. During a three-game series with the Mariners during the weekend of May 7-9, as the rehabbing Rodriguez watched from the visitors' dugout at Yankee Stadium, Jeter showed off his new muscle. He smacked a three-run homer on Friday night and then, in the first inning of the Yankees' victory on Sunday, drove a 1-1 fastball from lefthander Jeff Fassero 430 feet over the fence in left centerfield. That game featured a typical display of Jeter's all-around excellence: He singled to lead off the fifth inning and promptly stole second, and in the seventh he deftly stabbed a sharp grounder to start an inning-ending double play. But it was the homer that stood out.
"That's a pitch that in the past I wouldn't have hit for a home run," the budding slugger said the next day as he scarfed down chicken parmigiana at an Italian restaurant. "I've learned to turn on the ball a little more. I used to inside-out a lot of balls to rightfield, but now I drive them using more of my top hand. In the off-season I worked with our minor league coaches and changed some things mechanically. But my body is still maturing, and I have a long way to go in terms of strength. I'm not trying to hit 42 home runs this year, that's for sure."
Impressive as they are, mere numbers don't do Jeter's game justice. Assessing his talent is like describing Lucille Ball's comic timing: Everything he does, from his cutoff throw to his home run trot, is unerringly smooth. And Jeter, a first-round draft pick out of Kalamazoo (Mich.) Central High in 1992, keeps refining his game.
"He's the best player I've ever played with, and I think a lot of people in this clubhouse are going to say that before he's done," says Paul O'Neill, the Yankees' 36-year-old rightfielder. "What sets him apart is the number of ways he can affect a game."
Jeter's increased patience at the plate and his improved power have created a quandary for pitchers. "You can throw him inside as much as you want, and he can still fist the ball off," says Baltimore Orioles veteran reliever Jesse Orosco. "You can throw the ball low and away, and he can hit with power the other way. We have pitchers' meetings, and he's one of those guys where you just stay on the subject for a while. What do you do?"
Jeter's personality is as polished as his game. The Yankees have been captainless since Don Mattingly retired after the '95 season. Jeter, at least unofficially, has emerged as Mattingly's successor. "In some ways he already is the captain," says veteran righthander David Cone. "He's very mature and grounded."
As a rookie Jeter earned instant respect in the clubhouse by playing hard and keeping his mouth shut, but now he is more vocal with his off-key singing and his in-your-face teasing. He has attempted to fill the void left by the departure of veteran outfielder Tim Raines, whose ebullience helped keep the Yankees loose. But Jeter can also speak sternly, as he did last September to lefthander David Wells (now with the Toronto Blue Jays) after Wells gestured angrily when Jeter and two other players allowed a pop-up to fall among them. Recalls Jeter, "I told him, 'We're out here trying to help you win a game. We don't show you up, so don't do it to us.' I'm not afraid to speak my mind. There have been a lot of other instances, but I don't think the media needs to know about them."
Because Jeter has impeccable manners, he's a role model even to his elders. Who else could inspire George Steinbrenner and Darryl Strawberry to say, "He's the kind of guy you hope your son can grow up to be"? Strawberry, who's on administrative leave from baseball after pleading no contest to charges of cocaine possession and soliciting a prostitute in Florida, says that Jeter "has a great deal of respect for everyone he encounters. That's what sets him apart."
All this explains Jeter's immense popularity among his peers, but it can't account for the screams that fill Yankee Stadium when his name is announced or for the female fans who paint I LOVE DJ on their faces—the Jeterettes, as the New York Daily News dubbed them. Even if he were merely a baseball-loving stockbroker, the 6'3" 195-pounder with the cafe au lait complexion would be a chick magnet. "Hanging out with him sucks," says Chili Davis, his 39-year-old teammate, "because all the women flock to him. Let's see, he's been on the cover of GQ, is rich and famous, hits for average and power and is a helluva nice guy."
If he wanted, Jeter could have a little black book the size of the Yellow Pages. "Every time he steps into a room, all eyes start turning to him—that even goes for women who are with their dates," says Raines, now with the Oakland A's. "Usually the guys don't mind because they're staring at him too."
"I call him a movie star because he runs the town," says Rodriguez, a highly eligible bachelor himself. "But the thing that impresses me most about him is that he's so selective—not just with girls, but with people in general."
Unless you're a teammate, family member or close friend, expect Jeter to put up a wall when you approach him. That's partly because of his natural reticence and partly because he feels he has been burned by spiced-up tabloid tales of his gallivanting. At the ballpark Jeter prides himself on being unfailingly cordial and cooperative with the media. "I don't agree with people who, when they're playing well, walk around with their chests puffed out and wait for reporters at their locker, but who hide in the training room as soon as things go bad," he says. Get Jeter away from the ballpark and ask about his social life, though, and he's as uneasy as a batter facing Randy Johnson with an 0-and-2 count.
Derek, what's it like when you go clubbing downtown?
Blank stare. "I don't really go out," he says. "I'm a big movie fan. That's basically what I do every night, even in the off-season. Dinner and a movie. I'm a homebody."
Jeter has a two-bedroom apartment in a relatively modest high-rise, and this is what you see in the living room: a couch, a TV, a laptop computer propped up on an empty box. In the kitchen there are two basic nutritional options: Wheaties and Apple Jacks. It sure doesn't look like a crib in which someone spends a lot of time hanging.
Thumb through a stack of clips on Jeter, and his concern for his privacy makes more sense. Drawing mostly from the New York Post's Page Six and the Daily News's gossip section, you read that Jeter's romance with Carey began in the fall of '96, while she was still married to record executive Tommy Mottola; that early in the '98 season Steinbrenner warned Jeter to cool things with Carey because the Yankees' owner felt that the relationship was hurting his player's game; that one night during last year's pennant race Jeter showed up at Moomba with a posse of athletes and then went on to the China Club and partied into the wee hours. Then, while attending rap artist-producer Sean (Puffy) Combs's birthday party at a Wall Street restaurant last November, the papers say, Jeter continually rebuffed Carey's flirtatious advances. (In April the New York Observer revealed that the verb "to jeter" had entered the city's lexicon as a "synonym for 'to diss' or 'to blow off,' as in: He jetered her big time.")
Who knows how much of this is true, but Jeter clearly resents gossip and says that an awful lot of what's been written about him is false. "One time I was in Puerto Rico, and my mom heard on the radio that I was out doing this or that with some person at a ridiculous hour, at some place I'd never been before," he says shrugging.
On the other hand, he's smart enough to understand that he invited the attention by carrying on with Carey, with whom he says he is still friendly. (She declined to be interviewed for this article.) "It's hard for me to have a relationship the way things are right now," he says. "I'd have to be with someone very understanding, someone who's willing to deal with all the attention. But going out with Mariah, that's taking it to a whole other level. She's someone who's known worldwide. I don't see how two very famous people—and I'm nowhere close to her level—would be able to deal with that over the long haul. It's too much."
Jeter says he has been in love once—with his high school girlfriend, from whom he drifted apart. He insists that he doesn't date much, that his schedule lends itself more to going out in groups and that he worries about finding a woman who loves him for who he is rather than what he is. He has a built-in safeguard against getting suckered. Two, actually. "I think I'm a pretty good judge of character," he says, "but even if you fool me, you've got to get by my mom and my sister. It takes a lot to pass that test."
Derek's mother, Dorothy, an accountant, laughs when that statement is relayed to her. "He does a lot of screening before we even get involved," she says. "There are just certain things you can tell about a person—sometimes it might even be her name, or her hair."
Derek's 19-year-old sister, Sharlee, a student at Atlanta's Spelman College, has a long history of looking out for her big brother. "There's this incident I still get teased about," she says. "At one of his high school baseball games I confronted this girl he was dating. I was in the sixth or seventh grade, and I said to her, 'I don't want you here, and Derek doesn't want you here.' I think I was just jealous that she was taking my brother away from me, but even now I'm really protective.
"I ended up loving Mariah Carey to death, but I would've taken her on, too, if she hadn't measured up. People said, 'Oooh, it's Mariah Carey, that's perfect.' I was like, I don't know who she is. I know how she is on TV, but that doesn't tell me anything. So, yeah, she still had to go through the Test, and yeah, she passed. I think she was forewarned."
Dorothy tells her son he should frequent bookstores because, she says, "that's a good place to meet girls—but don't write that, because then they'll all start hanging out in there."
Derek has his own peculiar screening technique. "One thing he likes to do when he meets a girl is ask very difficult questions," says Douglas Biro, a Tampa-based professional golfer who has been close to Jeter since they met in the fourth grade in Kalamazoo. "He'll ask a hypothetical question, usually along ethical lines. It can be really funny—I've seen women get flustered because they have to play along—but I think he really does it to find out a person's true colors."
"It can be really funny, because the female doesn't have any idea what he's thinking," says Atlanta Braves outfielder Gerald Williams, Jeter's former Yankees teammate. "It's usually about how she would handle a certain situation. He's trying to find out if she would lose her cool and rant and rave, or stay calm and keep her dignity. He's not looking for someone who exhibits extreme behavior, a woman who would bring unnecessary attention to herself, because there's already enough attention [on him] as it is. He wants a woman he can be comfortable with wherever they are, no matter what's going on around them."
Jeter's up in his apartment on a night off, watching Latrell Sprewell and Tim Hardaway go at it in a Knicks-Heat game on TV, when suddenly his eyes drift to his window. "There's someone doing Tae-Bo," he says, gesturing to an apartment across the street. Sure enough, a young woman can be seen performing the trendy workout. "It's a long way from Kalamazoo," he says laughing.
Ask Jeter about his background, and his mood brightens. "You've got to know my family," he says. "My upbringing was like The Cosby Show. We had fun, always did a lot of things together. My parents were involved in everything my sister and I did."
Before every school year Charles and Dorothy Jeter required Derek and Sharlee to sign a handwritten contract that spelled out, among other things, their study habits (daily), expected grades (A's), chores (many), curfew (early) and rules regarding alcohol and drugs (forget about it). "I always tried to negotiate," Sharlee says, "but Derek just sat there and nodded. It was hard having this older brother who did everything he was supposed to do. He had a lot of friends who could do whatever they wanted--stay out late, even the night before a game--but our curfews were always the earliest."
Derek was both sheltered and shy. "When he was 12 or 13, I took him to a basketball camp at the University of Michigan, and when it was time for him to meet the other kids, I had to push him to make conversation," says Charles, a drug and alcohol abuse counselor with a Ph.D., who gave up his practice a year and a half ago to run his son's charitable foundation. "When he was in the eighth grade and was about to switch from parochial school to a public school, we sent him over to the Y to play basketball against older kids as a way of toughening him up. He went, but he took his mother with him."
Now Jeter endorses Coach leather goods, Florsheim shoes, Fleet Bank, Nike and Skippy peanut butter—and the list is likely to grow. "He's doing as well as probably any other player in baseball," says his agent, Casey Close, "and we've turned down a lot of things."
Earlier this year Jordan chose Jeter as the lead endorser for Brand Jordan at Nike. "I love his work ethic," says Jordan, who met Jeter in '94 while playing in the Arizona Fall League during his hiatus from basketball. "He has a great attitude. He has the qualities that separate superstars from everyday people, and a lot of it is attributable to his great family background."
Like Jordan, Jeter has obvious crossover appeal, though it's not clear to which side he's crossing over. The son of an African-American father from Alabama and an Irish-American mother from northern New Jersey, Jeter says that often "people think I'm Hispanic." More important, he tries to pass on his good fortune to others. After his rookie season, Jeter--inspired by his childhood idol, former Yankees outfielder Dave Winfield, who started a foundation for underprivileged children—established the Turn 2 Foundation, which works to steer high-risk kids away from drugs.
Another of Jeter's endearing traits is his nonjudgmental nature, as evidenced by his choice of mentors—including Raines, who battled a cocaine addiction early in his career, and Strawberry. At spring training in '97, following Jeter's rookie year, Strawberry sat the kid down, warned him that expectations would be higher this time around and cautioned him not to feel pressured to carry the team. "Darryl Strawberry has been like a big brother to me," Jeter says. "If anyone can relate to what I'm going through, being the big man around here, it's him."
"I told him early on to avoid the pitfalls that plagued me," Strawberry says. "New York is a place that can swallow you up if you're not able to handle the pressure of success—and of failure. He handles it with class and dignity."
So what's a person and player as good as Jeter worth on the open market? An arbitrator awarded him a '99 salary of $5 million, which will seem like tip money if he files for free agency following the 2001 season. "With the way he's playing and improving," says Cincinnati Reds general manager Jim Bowden, "there's no reason he won't be able to get $15 million to $20 million a year."
In all likelihood the Yankees will fork over enough cash before then to secure Jeter's long-term commitment. He won't be a tough sell. He grew up worshiping the team, and he still occasionally gets choked up when he walks from the Yankees' clubhouse to the field and sees a sign above the tunnel inscribed with a quote from Joe DiMaggio: "I WANT TO THANK THE GOOD LORD FOR MAKING ME A YANKEE."
What Jeter loves about New York is more than just the baseball, though. It's the pizza that folds over and the go-for-broke driving and the time he saw Spike Lee shooting a commercial at Yankee Stadium before a game and said to the sports-loving director, "When are you going to let me be in one of your movies?"
"Can you act?" Lee asked. Jeter nodded.
"Well, act like a shortstop tonight."
Jeter chuckles at the recollection as he crawls toward downtown in a stretch limousine that's taking him to a photo shoot. In some ways he is like this vehicle: sleek and attention-grabbing. Everyone wants to get a good look inside, but only a privileged few are allowed that opportunity.
The limo comes to a halt across the street from City Hall. Rudy Giuliani may be the mayor, but Jeter could own this town, if only he'd get out more. You remind him of the homebody comment, and finally he lets down his guard. "Look, I'm like every other 24-year-old," he says. "This city is a melting pot, and the women here are the most beautiful in the world. Every night here is a Friday night—the places you go are going to be packed. During the season it's difficult to get into a pattern of going out, because the places are great, you lose track of time, and all of a sudden it's 5 or 6 a.m. Baseball's a game in which it's real easy to tell if you've been out late the previous night, so I have to pick my spots. But during the off-season, when I'm here, it's a totally different story."
Jeter lowers the window of the limo, and passersby take to him as if to a long-lost cousin. A college student takes a term paper from her book bag and hands it to Jeter. "Can you sign it, please?" she says. "I don't care if it's due today." Minutes later a city bus passes the limo and screeches to a stop in the middle of the street, in rush-hour traffic. Risking life and limb, the bus driver jumps out, rushes to the limo and hands Jeter a transit slip to sign.
The driver resumes his post without incident, and as the bus pulls away, Jeter pounds his fist on the leather interior. "Whaddaya think of that?" he asks his out-of-town visitor.
The prince of the city is in his element. It definitely doesn't suck.
COLOR PHOTO: COVER PHOTOGRAPH BY CHUCK SOLOMON COVER Good Field Good Hit Good Guy Why Derek Jeter is so easy to root for
COLOR PHOTO: WALTER IOOSS JR. [T of C] Prince of the City Gotham loves its real bat man, Yankees shortstop Derek Jeter, who's got what it takes-looks, poise, talent--to be the top banana in the Big
AppleCOLOR PHOTO: PHOTOGRAPHS BY WALTER IOOSS JR.COLOR PHOTO: CHUCK SOLOMON Speed and power One of the league's leading run producers, Jeter can steal his way into scoring position or knock the ball out of the park.COLOR PHOTO: PHOTOGRAPHS BY WALTER IOOSS JR. Keeping tabs New York's tabloids dog his every step, but Jeter finds refuge at an out-of-the-way joint in Little Italy.COLOR PHOTO: CHUCK SOLOMON By any means necessary Jeter's versatility at the plate helped him get on base in all of the Yanks' first 53 games this season.COLOR PHOTO: CHUCK SOLOMON Captain kid Jeter, congratulating Davis on a home run, is the Yankees' de facto leader, a youngster even veterans look up to.COLOR PHOTO: PHOTOGRAPHS BY WALTER IOOSS JR. Skyline's the limit Jeter's blend of athletic brilliance and personal modesty make him stand out even in icon-rich New York.
"The name Derek Jeter is made for stardom. He's got an infectious smile, and he's so handsome and well-behaved. He's just a fine young man who does everything right. He's like Jack Armstrong and Frank Merriwell, guys I grew up rooting for. Some guys come along who just measure up." --George Steinbrenner, YANKEES OWNER
"He's rather unique for a young man in the 1990s. Endowed as he is with all that talent, all that money and such impeccable manners--that makes him an anachronism. In this era of boorish athletes, obnoxious fans, greedy owners and shattered myths, here's a hero who's actually polite, and that has to have come from good parenting. You can't compare him to Joe DiMaggio, for DiMaggio didn't have bad manners--he had no manners. Where have you gone, man with manners? Here you are, Derek Jeter." --Gay Talese, WRITER
"He's a natural. Young. Handsome. He can play his ass off, playing shortstop for the Yankees. What more do you want? The fact that he's here in the greatest sports town--greatest city in the world--makes it that much better." --Spike Lee, DIRECTOR
"He's a hunk, and I don't even like that word. Women like guys who have a big presence but sort of play it down. It's very appealing." --Kim Basinger, ACTRESS
"He gets better every year, that's what's remarkable about him. Some guys are good and stay good. Some guys are good and get better. He reminds me of Kareem. Hubie Brown said that Kareem worked at the beginning of every season to improve some facet of his game. It's that way with the best, whatever the profession. That's the way this kid is." --Ed Bradley, CORRESPONDENT FOR "60 MINUTES"
"He's an incredible talent. I'm a lifetime Baltimore Orioles fan, so he's like my worst nightmare." --Edward Norton, ACTOR
"I think that he's most popular with the ladies. Last ticker-tape parade, they were lined up and down Broadway, screaming and holding up signs: I WANT TO MARRY YOU, DEREK! What can you say? He's handsome, and he plays well. Everyone wants to be near him." --Jaswinder Singh, NEW YORK CITY CABDRIVER