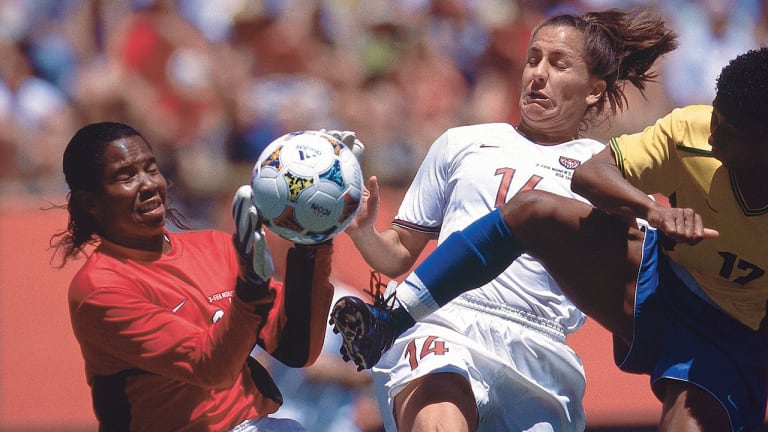 She's A Keeper
Thanks to the play of unflappable goalkeeper Briana Scurry, the U.S. advanced to the final against China
If a hurricane hadn't destroyed the house in Texas, and if an underground lake hadn't swallowed the home in Minnesota, Briana Scurry is convinced she wouldn't be playing in the Women's World Cup final against China this Saturday. It's that simple. Had these Stephen King plot twists not befallen Ernest and Robbie Scurry (tentative movie title: Scurrying for Safety), their family never would have moved from Galveston to Minneapolis's inner city and then again to its lily-white suburbs, and nine-year-old Briana never would have seen that flyer in school announcing tryouts for a soccer club.
Good thing she did. In the U.S.'s 2-0 semifinal win over Brazil at Stanford Stadium on Sunday, one factor was impossible to ignore: Scurry, like the freakish events that ultimately led her to the sport, is a force of nature. Goalkeeping becomes increasingly important in the latter stages of the World Cup, when one save or one mistake can change a tight game, and Sunday provided a perfect example. While Brazil's Maravilha made an unforgivable gaffe, muffing a cross and spoon-feeding striker Cindy Parlow for the U.S.'s first goal, Scurry's superheroic stops were worthy of escalating exclamations. She acrobatically arched back to punch Nene's looping floater over the crossbar! She launched herself sideways to parry a screaming drive by Nene!! She stoned lethal striker Pretinha in a one-on-one breakaway!!!
In a game in which the Americans were short on offense Scurry was the difference. "It was the best game I've ever played," said Scurry, 27, the U.S. starter for the last five years. "My team needed me more this time than any time before." Scurry's former coach at Massachusetts, Jim Rudy, sums up her skills this way: "Playing against Briana is like rock climbing a slab of marble. There are no weaknesses in her game."
Not now, at least. In college Scurry used to stay rooted to her goal line, relying on her extraordinary reactions to make saves. These days she roams around the box with confidence, snuffing out crosses before the opposing team can even get off a shot. "The modern game requires more from the goalkeeper, and she has increased her range because she has the athleticism to do it," says U.S. coach Tony DiCicco, himself a former national team netminder.
"She's the best goalkeeper in the world," U.S. defender Carla Overbeck said after Sunday's semifinal. "Having her back there has a calming effect on all of us."
Scurry's relatively reserved demeanor is by design. When many male keepers, most notably Manchester United's Peter Schmeichel, get angry with their defenders, they'll wave their arms wildly in disgust, as if they're trying to put out imaginary fires on their jerseys. Not Scurry. After teammate Brandi Chastain knocked the ball past Scurry for an own goal in the U.S.'s 3-2 quarterfinal win against Germany last Thursday, Scurry refrained from unleashing any five-alarm tirades. One reason is that she knew her teammates wouldn't respond well ("We'd be like, 'Talk to the hand....,'" says midfielder Julie Foudy), but there was more to it than that. "I don't want the other team to see me upset, because I like to win the psychological battle in a game," Scurry says. "Being ice cold is the way I do it."
It's only after the final whistle that Scurry's frost tends to melt. When UMass clinched a Final Four berth in 1993, she ran the length of the field, jabbed her face into a TV camera Maradona-style and maniacally screamed, "We're going to Disney World!" Then, of course, there is the Streak. No, not the five straight games Scurry has won during the Cup, but something different (in the) altogether. At the end of the 1996 Olympics she kept a promise by running through a secluded street in Athens, Ga., wearing her gold medal--and nothing else. The videotape of Briana's Excellent Scurry is kept under lock and key at her house outside Detroit, where she lives with friends. Requests for a private screening are met with smiling threats of bodily harm. "It's not like I'm going to whip it out at a party or anything," she says.
Inevitably, though, Scurry stands out for another reason. She is the only African-American starter on a team that plays in stadiums filled with more WASPs than a mud dauber's nest. It has almost always been this way, ever since that second natural disaster forced her family to move when she was five. After Hurricane Donna wiped out their house in Galveston in 1960, Ernest and Robbie headed with their sizable brood--Briana, the youngest, has three brothers and five sisters--for south Minneapolis. But soon after their baby was born, in 1971, the Scurrys' new house began sinking into the filled-in lake beneath it, causing it to list like the Leaning Tower of Pisa. "Every other year we needed two truckloads of dirt to fill in the hole" that endangered the house, says Robbie. "We decided we were going to find a place where the houses didn't sink."
They chose the suburb of Dayton, which was as white as a set of goalposts. "In the four-town radius where I lived we were the only African-American family," says Scurry. "But I never got singled out. My parents never let me think that I was alone in anything. They taught me that I could do whatever I wanted to do, and the odds against that didn't matter." Though Scurry's first love was tackle football--she scored nine touchdowns as a wide receiver in a league for 11-year-old boys--soccer was more readily available. Immediately cast as a keeper, she chose it over football and basketball as her No. 1 sport.
As a college sophomore Scurry had her first contact with the national team, which turned into an unqualified disaster. At the 1992 U.S. Olympic Festival she started for the North team in an exhibition against the U.S. team. DiCicco, who was the U.S. women's goalkeepers coach at the time, approached Scurry before the game, patted her on the shoulder and said, "I'm going to be watching you today." Scurry freaked. "It scared the crap out of me," she says, which was plainly obvious. She gave up three goals in 15 minutes and was yanked from the match before halftime.
Scurry thought she had blown her chances of ever making the national squad, but the U.S came calling two years later. "Training a goalkeeper is an evolutionary process," DiCicco says. "Back in '94 I determined that Briana was a player we needed to invest in. I look for two things in a goalkeeper: athleticism and mental skills, and she epitomizes both. I can teach techniques and tactics, but the other two are the most difficult to affect."
The alltime leader among U.S. keepers in caps (83), wins (77) and shutouts (52), Scurry is mindful of her position as a pioneer, appearing at clinics on the asphalt-covered playgrounds of Chicago, Detroit and New York City. "My role is to introduce choices to African-American girls," Scurry says. "Soccer isn't a sport that they're exposed to in the inner city, so you have to go in and make it fun. Being visible is the main idea for me, and the World Cup should help that."
Before long, she is certain, there will be other black starters on the national team. (The only other African-American on the squad is Scurry's backup, Saskia Webber.) Scurry is quick to point out that NCAA champion Florida had five blacks on its team last fall, the U.S. men used five African-Americans in their win against Argentina last month, and France won last year's World Cup with a melange of ethnicities. "The talent is out there," she says. "The complexion of this team could change pretty quickly."
In the meantime the most popular traveling band since the Grateful Dead has a more pressing worry: China, which became the Cup favorite last week after its stunning 5-0 semifinal whitewash of defending champion Norway in Foxboro, Mass. The Chinese have taken two of three matches from the U.S. this year, including a 2-1 victory at Giants Stadium on April 25, which ended the Americans' 50-game winning streak on home soil. Certainly China will have no fear of playing the Cup's host nation in a sold-out Rose Bowl.
Of course the last World Cup final played in Pasadena, the men's championship in 1994, was decided by a memorable, if maddening, penalty-kick shoot-out between Brazil and Italy. Though she's only been involved in one shoot-out--and she lost--Scurry says she's ready if the women's final ends in a deadlock. "It's all mental," DiCicco says of the tiebreaker. "The pressure is on the shooters because the goalkeeper isn't expected to save any. If she makes one save, she's a hero. If she makes two saves, there's a monument built in her hometown."
If Scurry repeats her semifinal performance on Saturday, she won't need to save any penalty kicks to deserve a monument back home in Dayton.
COLOR PHOTO: PHOTOGRAPH BY PETER READ MILLER EYES WIDE SHUT With the help of defender Joy Fawcett (14), Scurry thwarted Brazil's Pretinha in the U.S.'s semifinal shutout.
COLOR PHOTO: JOHN W. MCDONOUGH DRIVEN Akers will have to continue her midfield dominance for the U.S. to win the Cup.
COLOR PHOTO: JOHN W. MCDONOUGH OVER THE TOP On a tricky floater by Nene, Scurry made an acrobatic clearance above the crossbar for one of her six saves.
Unbreakable China? The U.S. will be tested by the tournament's hottest team
Which team will raise the $30,000 Women's World Cup trophy this Saturday at the Rose Bowl? These questions will determine the answer:
Can Michelle Akers continue playing magnificent two-way soccer? If not for goalkeeper Briana Scurry, the 33-year-old Akers would have been the player of the game in the U.S.'s 2-0 semifinal win over Brazil. Akers won nearly every ball in the midfield, sprung forward Mia Hamm with a header on Hamm's penalty-drawing dash, drilled home the ensuing penalty kick for the Americans' second goal and raced 60 yards to make a goal-saving clearance. Most important, she shut down Brazil's Sissi, who entered the game with a tournament-leading seven goals. Akers will face a similar challenge playing against nonpareil Chinese midfielder Sun Wen, who scored her sixth and seventh goals in a 5-0 semifinal win over Norway.
Can the American defense handle China's speed and overlapping runs? During their 2-1 victory in April, the fleet Chinese beat U.S. defenders on long runs to score both of their goals. The full-field defensive pressure the Americans applied to bottle up Brazil might not be so effective against China, which has midfield general Liu Ailing in charge of its more fluid distribution. "China has a lot of off-the-ball movement," says U.S. defender Brandi Chastain. "The key is going to be team defending. We have to put them under pressure and not allow them to play it out of the back easily."
Can Hamm and Kristine Lilly regain their scoring touch? The most surprising aspect of the elimination-round wins over Germany and Brazil was the bit part played by Hamm and Lilly, two of the U.S.'s primary offensive threats. Neither player has scored a goal in the last three games. Hamm has been the object of extra defensive attention, and Lilly for some reason has yet to put on a full display of her unsurpassed ball skills. If the Americans are to have any chance of winning, one or both will have to make a greater impact than in recent games.
Can Scurry outduel Chinese goalkeeper Gao Hong? Ultimately, the World Cup title could come down to the performance of the players between the posts. China's Gao has allowed only two goals in the tournament, Scurry three. Says Sun, in what amounts to no-holds-barred trash-talking for the Chinese, "We will bombard Scurry with all kinds of shots. She had better be prepared." --G.W.
"Playing against Briana is like rock climbing a slab of marble," Rudy says. "There are no weaknesses in her game."