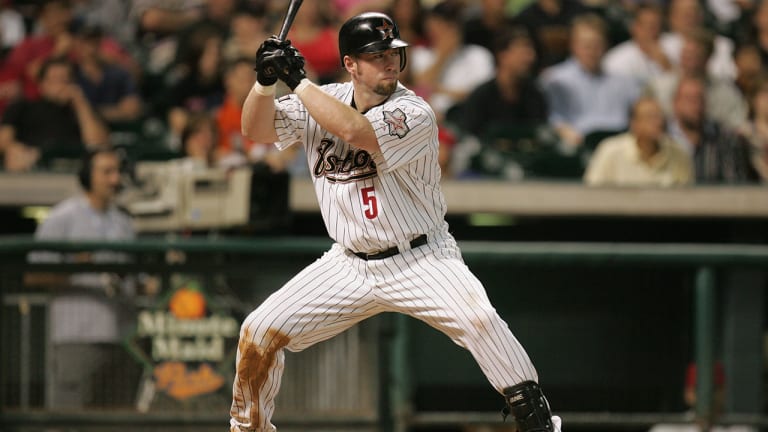 One Of A Kind
A self-made slugger with a screwy stance, Houston's uniquely gifted Jeff Bagwell is Mr. Indispensable
Jeff Bagwell confounds you from the moment he settles in to hit with that spread-legged stance. This is not the intimidating bearing of a home run hitter. It is a game of Twister breaking out in the batter's box.
It gets worse. "I do everything wrong," admits the Houston Astros' first baseman. He drops his hands with one of those classic high school hitches. He does not step in to the ball. He steps backward, with his front foot moving slightly toward his back foot, then plants the front foot. Kids, do not try this at home. Indeed, Bagwell once spoke at a baseball clinic and offered no more than the following bit of technical instruction: "Get a good pitch to hit and swing as hard as you can." Shampoo bottles give more detailed instructions.
This, too, makes no sense about Bagwell: He struggles to hit middle-aged coaches tossing 70-mph lollipops. "The guy is one of the worst batting practice hitters ever," says teammate Craig Biggio. "He's lucky if he hits one out a day."
Now you understand what Lou Gorman was thinking when he made that horrendous trade. Gorman was the Boston Red Sox general manager who shipped Bagwell (drafted in the fourth round in 1989) to Houston at the 1990 playoff roster deadline to get a 37-year-old middle reliever, Larry Andersen, who would pitch a total of 22 innings in a Boston uniform. Bagwell, then 22, was a 5'11", 185-pound third baseman who had hit six home runs in 711 career minor league at bats. Six. Who knew? Not the Astros.
"They sent him to the Instructional League after the trade," says Houston coach Matt Galante, who since June 13 has been serving as the Astros' interim manager while Larry Dierker recuperates from surgery to remove tangled blood vessels in his brain. "I called down there one day and asked, 'How's this Bagwell?' They told me, 'Well, he's a pretty nice hitter, but he's got no pop. None.'"
Go figure. Today Bagwell is so power-packed that he can carry a team, even if he does so with one of the shortest bats in baseball (33 inches). "I can't think of any single player who means more to his team than Jeff Bagwell," Houston general manager Gerry Hunsicker says. "Without Bagwell we don't win [the National League Central] the past two years."
Never has such praise rung more true than in 1999, Bagwell's ninth year in the dimly lit baseball market of Houston. The Astros' season has included more catastrophes than an ER episode. Dierker collapsed in the dugout with a seizure. Hitting coach Tom McCraw has been sidelined with prostate cancer. First base coach Jose Cruz missed more than a month with an irregular heartbeat. All-Star leftfielder Moises Alou tore up his left knee on a treadmill before the season even began. Third baseman Ken Caminiti still cannot run, nearly two months after straining his right calf muscle.
Amid the mayhem Houston reached the All-Star break percentage points behind the first-place Cincinnati Reds, mostly because of Bagwell. He had scored or driven in 28.6% of the Astros' runs. No other player in baseball had accounted for so much of his team's offense. Bagwell ranked first in the league in walks (83), runs (81) and on-base percentage (.464); second in RBIs (78) and slugging percentage (.648); and tied for second in home runs (28). He could finish with 150 runs and 150 RBIs, a feat accomplished only once in the National League, by Chuck Klein of the 1930 Philadelphia Phillies.
As if that's not enough, Bagwell, a Gold Glove winner, plays splendid defense (no one's better at throwing out runners at third on bunts) and "is the best base runner on the team," according to Galante. At the break Bagwell had stolen 17 bases in 23 attempts. He plays so hard every day that righthanded starter Jose Lima carries a pocketful of dirt to the mound in honor of him and the equally intense Biggio. Such a solid citizen is he that back in his home state of Connecticut, the folks from the Middlesex County Chamber of Commerce presented him with their Role Model of the Year award last January. The ceremony drew some 700 people, nearly all of whom left with an autograph and the touching memory of seeing Bagwell's eyes well up with tears.
"I went up to [leftfielder] Richard Hidalgo one day during batting practice and said, 'Ricky, when you make your $5 million a year, and you will, don't ever change. Be the same Ricky you are now,'" Galante says. "And you know what he tells me? 'Don't worry. I watch Baggy.' Bags is the most professional player I've ever seen."
Bagwell's combination of power and speed is unprecedented for a first baseman. He is on his way to his second 30–30 season. No other first baseman has had even one. His ability to hit for a high average to complement his power and speed is nearly as rare. Bagwell is a .305 lifetime hitter with 249 home runs and 145 stolen bases. Only two other active players have exceeded 240 home runs and 140 steals while maintaining a .300 average: Larry Walker and Ken Griffey Jr.
"The other thing that Bags does is, he'll take his walks," Galante says. Bagwell is on pace to draw 100 walks for the fourth straight season; Walker and Griffey have never drawn 100. "He really understands how pitchers work him," Galante adds. "He'll take that 3-and-1 pitch and just spit on it."
Bagwell also stands as a good representative of what has happened to baseball at the close of the century—it has become a game of powerball. Home runs never have been as easy to come by as they have this year; on average, one had been hit every 30.1 at bats as of the All-Star break.
There was a time when players such as Stan Musial, Al Kaline and Roberto Clemente forged Hall of Fame careers without ever hitting 40 home runs in a season. Now there are guys with names you cannot spell and faces you cannot recognize swinging from their ample behinds toward 40 home runs. Could you pick out Jeromy Burnitz and Magglio Ordonez from a lineup?
In the entire 1980s, the 40-homer barrier was crashed 13 times. Last year 13 players hit 40. The demarcation point for the home run explosion is 1993, the first of the two most recent expansion seasons. In the six seasons since then—two of which were shortened by a strike—players have hit 40 or more homers 53 times. That's four more 40-homer seasons than occurred in the previous quarter of a century (1967 to '92). What happened? Take a look at Bagwell, your basic protein-packing, iron-pumping, creatine-chugging, andro-popping, body-armor-wearing '90s kind of slugger, who is 25 pounds of muscle heavier than he was as a Red Sox prospect. How could Gorman have foreseen all that?
Any analysis of Bagwell's hitting, of course, must begin with that stance. "It looks like he's sitting on the john," Caminiti says. "He's the one guy who can work on his stance in the bathroom." Bagwell didn't always hit that way. He did use a slightly spread stance at the University of Hartford (where he played for three seasons), but never for long. The kid who grew up admiring Carl Yastrzemski adopted Yaz's penchant for employing a variety of stances. It wasn't until 1994 that Bagwell heeded the advice of the San Diego Padres' Tony Gwynn, who one day told him, "When you change your stance so many times, you have no foundation to get back to when you struggle." Early that year Bagwell settled on the Twister stance. "It keeps my head on the same plane," he says.
When Bagwell became a member of the Astros out of spring training in 1991, Rudy Jaramillo, then the Houston hitting coach, told him he was capable of hitting 20 home runs. Responded Bagwell, "You're kidding me, right?" He hit 15 and won the Rookie of the Year award. Bagwell annually improved upon his home run totals after that, to 18 in 1992, 20 in 1993—a season cut short when his left hand was broken in September by a pitch from the Phillies' Ben Rivera—and then to 39 in only 110 games in his breakthrough season, 1994. The '94 season was truncated in August by another broken left hand (he was hit by a pitch from the Padres' Andy Benes) and, two days later, by the strike. Bagwell finished with a slugging percentage of .750 (only Babe Ruth, Lou Gehrig and Rogers Hornsby, all between 1920 and '27, and Mark McGwire last year had higher percentages) and was named MVP.
"Crazy stuff happened that year," Bagwell says. "Every pitch that I was looking for, I got. And when I got it, I didn't miss it. It was ridiculous."
Bagwell hit 21 home runs in 1995 in a third straight season shortened by a pitch that broke his left hand (this one from the Padres' Brian Williams in July). Since then Bagwell, whose hands dip near the inside edge of the strike zone as he starts his swing, has worn a protective pad on his left batting glove.
Always an avid weightlifter, Bagwell hired a bodybuilder to train him after that '95 season. The trainer, Herschel Johnson, suggested a program to make Bagwell stronger for baseball without adding too much bulk, which might cause a loss in flexibility. "I don't care about that," Bagwell retorted. "I need to get as big as I can and be as strong as I can."
He added 20 pounds that winter through intense weightlifting and a high-protein, low-fat diet (heavy on egg whites, tuna, turkey and steak). Bagwell hit 108 dingers over the next three seasons, including a career-high 43 in 1997. His off-season regimen now includes not only Johnson's training but also creatine, the nutritional supplement, and the controversial testosterone-boosting androstenedione. "It may help your workout, but it doesn't help you hit home runs," he says.
Given where Bagwell plays his home games, the extra muscle comes in handy. "He'd probably have 350 home runs by now if he didn't play in the Astrodome," Biggio says of the team's domed stadium, where the fences are far back and the ball carries poorly. "When we're at home, he doesn't even think of hitting the ball out to right center. But when we get on the road, you can see that he can be power conscious that way." While Bagwell has only a handful more home runs on the road than at home in his career (128 to 121), he has hit only seven this year at the Astrodome, including only one to the opposite field.
At the break Bagwell was hitting .349 with runners in scoring position. Is there anything that Mr. Chamber of Commerce can't do? Well, yes. "Play hoops," Astros closer Billy Wagner says. "He's got no game. He played soccer in high school, so if the ball's on the ground, he's good at kicking it." There's this, too: Bagwell couldn't roust himself an endorsement deal if he tried—which he doesn't. Despite an MVP award, four All-Star Games, a better career on-base percentage than Rickey Henderson's and a better lifetime slugging percentage than Frank Robinson's, the guy is only slightly more recognizable than Thomas Pynchon.
"Houston," he explains. "It's a strange market for endorsements. Nobody on this team has a car deal. There are no sports bars in the city with an athlete's name on them. It's weird." After a pause he adds, "And we haven't done anything."
He means in October. In postseason games Bagwell's Astros are 1–6 and have scored a total of 13 runs. Bagwell went a combined 3 for 26 in the Division Series losses to the Atlanta Braves in 1997 and the Padres in 1998. Anxious the first time and unlucky the next—"I felt great, I just didn't get any hits," he says—he would love a third chance this season. There's reason to be encouraged: Dierker and Caminiti might be back by the end of this month, Alou by the end of August. And Bagwell is seemingly on his way to hitting 50 home runs, which might actually get him noticed. "Fifty home runs this year?" he says. "That's crazy. That's absolutely ridiculous."
Sure. It's as crazy as a self-made home run hitter who swings a stub of lumber while doing the limbo. Absolutely ridiculous.