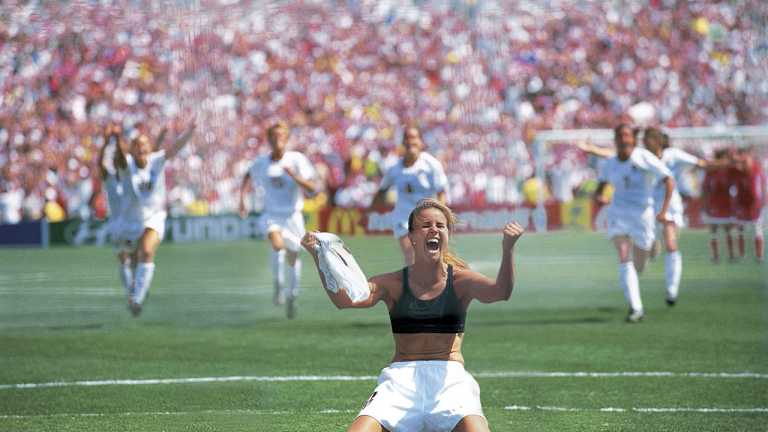 Out of this World
With the Cup on the line, a last-second hunch and a clutch left foot lifted the U.S. to a breathtaking victory over China
She wasn't even supposed to take the kick. Not when the list of
U.S. shooters was first drawn up, anyway. In the waning moments
of extra time during last Saturday's scoreless Women's World Cup
final in Pasadena, U.S. coach Tony DiCicco asked assistant
Lauren Gregg to write down the players who could convert their
shots with the weight of a nation on their shoulders in a
penalty-kick shootout. Only five would be guaranteed a chance,
and defender Brandi Chastain was not among Gregg's choices. She
was sixth on the assistant's list, a reserve to be used only if
the U.S. and China were still tied after five rounds.
Until four months ago Chastain had been among DiCicco's top
picks to take a penalty kick–but then she banged a rightfooted
shot off the crossbar in a 2-1 exhibition loss to China. Still,
DiCicco didn't feel comfortable leaving her off the list. He had
watched his team practice PKs in training all week, had watched
Chastain work on blasting shots with her less dominant left foot
and had liked what he'd seen. He also knew that penalty kicks,
like free throws, have almost nothing to do with physical
skills. In a city park on a summer day, most semiathletic
citizens–Americans, even–could poke the ball 12 yards past a
well-trained goalkeeper. But as a method of deciding a World Cup
final, penalties are without a doubt sports' most diabolical
invention, requiring a Zen-like concentration. As DiCicco would
say later, "Brandi always wants to take penalty kicks. Not many
players do."
So he played a hunch, sending Gregg over to Chastain for a short
talk. "Brandi, do you think you can make it?" Gregg asked.
"Yeah, I do," Chastain replied.
"You'll have to use your left foot."
Chastain nodded. Ten harrowing minutes later, taking the shot
that could break a 4-4 tie and give the U.S. the Cup, she sent a
laser past Chinese goalkeeper Gao Hong. With one swift kick
Chastain coronated the U.S. women as Queens of the World, which
seemed like the next logical step for a team that had gone from
near obscurity to a national conversation piece in just three
weeks. With an estimated 40 million U.S. viewers, the Cup final
was the most watched soccer match in the history of network
television, and the turnout of 90,185 at the Rose Bowl was the
largest ever at a women's sporting event.
A media throng of 2,100 attended the tournament as well–or
2,099 more than greeted the U.S. team in 1991, when it returned
from China carrying the first Women's World Cup trophy. Entering
this year's event, the favored Americans faced a doubly daunting
task: win the tournament and make a case for the start-up of a
women's pro league in the U.S. Their victory was a seminal
moment in women's sports and will no doubt engender years of
debate over who was the biggest hero of this Cup. Was it
goalkeeper Briana Scurry, whose diving save on China's
third-round penalty kick set the stage for the game-winner? Or
forward Mia Hamm, who keyed the U.S. attack without scoring a
goal in the last four Cup games, then overcame her self-doubt
during the shootout? Or Kristine Lilly, the midfielder who
robbed China of victory in extra time by heading a ball out of
the goalmouth? Or was it Chastain, who kept her cool before her
climactic boot and lost her shirt afterward?
All those Americans are worthy, but none more than the one who
wasn't even on the field during those last nerve-racking moments.
Instead, midfielder Michelle Akers was on a gurney in the U.S.
locker room, wearing an oxygen mask and with an IV in each arm.
At the end of regulation, Akers had smacked into Scurry on a
Chinese corner kick and slumped woozily to the turf. After being
led off the field, she was surrounded by doctors trying to decide
whether her concussion and dehydration merited a trip to the
emergency room.
"I was loony," Akers said late Saturday night, after absorbing
four liters of fluid intravenously, twice the postgame dosage
she normally receives to combat chronic fatigue syndrome. Akers
was so loony, in fact, that during extra time she kept asking
for the score, even though a TV in the room was tuned to the
game. She struggled to even follow the shootout, but when it
came time for Chastain's kick, she pulled herself up to watch.
As soon as Chastain scored, Akers ripped out her IV lines,
tossed aside the oxygen mask and walked–haltingly, but under
her own power–to the field for the awards ceremony.
The team's oldest player at 33, Akers was also its most
important–just as she had been in '91 when she scored a
Cup-high 10 goals. Because of chronic fatigue, she has since
been forced to move from forward to defensive midfield, yet
she's still dominant. On defense Akers retreated time and again
to make crucial clears. On offense she played the most
pressure-packed position, receiving the ball in the midfield and
making split-second decisions before defenders converged on her.
"She'll keep nine out of 10 balls when she's under pressure,"
says Jim Rudy, Akers's coach at Central Florida. "That gives the
midfield great confidence to go forward immediately, which
forces the other team to defend in numbers. It changes the whole
psychology of the game. It's like, Here they come again."
So go ahead, lionize Akers. Her teammates do. They call her
Mufasa, after the gallant feline in The Lion King, ostensibly
for her long mane of curly hair but just as much for her
unsurpassed strength. Though a devout Christian, she plays with
a vengeance, and it was no coincidence that she was the only
U.S. player to get a yellow card (two, in fact) in the
tournament. "It's not like I go out there and think I'm the
Terminator," she says. "I play hard, and people just bounce off
me, or I go through them. I don't notice it until after I get
hit in the face."
The KO of Akers nearly revived the Chinese, who had entered the
final with the tournament's most potent offense. For almost the
entire game the Americans had harried China with their version
of a full-court press–the 100 defense–which prevented the
Chinese midfielders from giving quick support to their forwards.
But with Akers off the field during extra time, the Chinese
began attacking with greater abandon. After taking just two
shots on goal in the game's regulation 90 minutes, they fired
three in the 30-minute extra time, including one that should
have been decisive: defender Fan Yunjie's header off a corner
kick. "I was like, Uh-oh, the ball's behind me," Scurry said
later. But so, too, was Lilly. Stationed at her usual spot on
the near post, she headed the ball off the goal line. "Just
doing my job," Lilly said.
The Americans recovered to force the game into penalty kicks,
which were knotted at two when midfielder Liu Ying faced Scurry.
"I saw her body language when she was walking up to the penalty
spot," Scurry said. "She didn't look like she really wanted to
be there. Her shoulders were slumped, and she looked tired. I
thought, This is the one."
Just as Liu approached the ball, Scurry sprang forward from her
haunches and immediately leaped to her left, where she parried
Liu's strong but poorly placed shot with ease. Though Scurry had
violated the rules–goalkeepers are allowed to move laterally
before the shot but forbidden from advancing toward the
shooter–she was willing to take the risk. "If I jump out and
save it, but the referee calls it back, they have to do it
again," she said. "Now I know where they're shooting, and it's
even more pressure on them."
Did somebody say pressure? After Lilly nailed her PK to give the
U.S. a 3-2 lead and China drew even again to open the fourth
round, no player had more pressure on her than Hamm, whose
ensuing shot was a fascinating character study. When asked
earlier in the tournament why she wasn't the team's top choice
for taking penalty kicks, Hamm, the greatest goal scorer in
soccer history, admitted that it was due to a shortage of
confidence. Sure enough, in the last anxiety-filled minutes
before the World Cup shootout, Hamm asked Gregg if forward
Shannon MacMillan could take the shot instead. She couldn't,
because DiCicco had already submitted the list–with Hamm's name
on it–to the referee.
None of it mattered. Hamm, who went goalless after scoring twice
in the first two games, banished her demons and buried her kick.
After China's last kicker, star striker Sun Wen, converted to
tie it at 4-all, up stepped Chastain, who had blamed herself for
the loss to the Chinese in March. "I thought I had let my team
down," she said on Saturday night. "In this environment everyone
works so hard and puts themselves on the line. They didn't look
at me and say, 'God, you let us down,' but I felt like that
inside."
At the start of the Cup, DiCicco had made an odd request of the
30-year-old Chastain: Switch to your left foot when practicing
penalty kicks. "Whenever Brandi kicked with her right foot, she
would always shoot to the goalkeeper's left," he explained. "It
got to the point where the keeper knew where she was going." But
Chastain is the U.S. player who is most adept with both feet,
and she didn't flinch, just as she didn't when DiCicco moved her
ahead of midfielder Julie Foudy on Gregg's list. Upon beating
Gao–to the keeper's left, no less–Chastain fell to her knees
like Bjorn Borg after winning Wimbledon and ripped off her
jersey, waving it above her head to the thundering crowd.
It was the second time that a World Cup final at the Rose Bowl
had ended on penalty kicks after a scoreless tie, though this
was an entirely different game than the 1994 men's final, in
which Brazil beat Italy. The main reason, of course, was that
American fans were following their own team, suffering with it,
waiting for that one tiny advantage that finally came in the
shootout.
Whether the U.S. team accomplished its other mission–to
generate a fan base and corporate support for a women's pro
league–remains to be seen. Mark Abbott, the former CEO of Major
League Soccer, is expected to present a business plan to the
U.S. Soccer Federation by the end of the year for a proposed
league that would begin play in 2001. The international soccer
community, however, is circumspect. "There's a huge difference
between the short focus of the World Cup, where all the stars
are concentrated, and week-in and week-out games at a lower
level," says FIFA spokesman Keith Cooper. "There are 30
outstanding, hard-core female players in the world. If you want
a national league, say 10 teams, you only have three per team.
There's a rapid falloff in talent from the top."
Crowds and TV viewers haven't exactly flocked to MLS, despite
the commercial success here of the '94 Cup and a broader talent
base of male players. Still, it's conceivable that a U.S.
women's league would cater to more women and more suburban
households than MLS. The U.S. team will also have another chance
to drum up national support next summer, when it defends its
Olympic title in Sydney.
While the U.S. squad should remain largely intact, Akers hasn't
decided whether she will retire or play for one more gold medal,
and she wasn't inclined to think about it last Saturday night as
she shuffled onto the veranda of the Pasadena Ritz-Carlton for
the team's celebration party. She looked typically drained. Her
face was wan and discolored with pale blotches, and she wore a
butterfly bandage on the crook of each arm where the IV's had
left their marks. She was smiling, though, cradling a
nonalcoholic beer and speaking with her parents, Bob and Sue,
and with 1991 World Cup teammate Carin Gabarra. As if on cue,
Gloria Gaynor's I Will Survive came over the loudspeakers.
Then Akers, whom DiCicco calls the best woman player ever,
couldn't resist repeating what President Clinton had told her
when he visited the U.S. locker room after the game: "From
someone who knows how to take a hit, I really admire you."