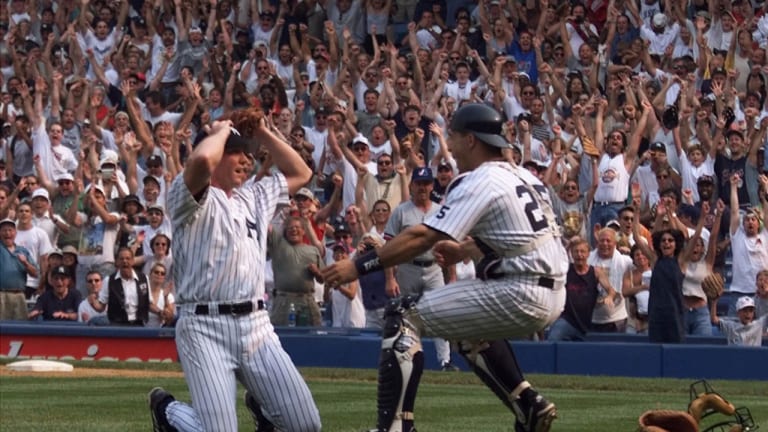 Masterpiece Theater
In a stellar career, David Cone had done everything but pitch a no-hitter. So he went out and threw a perfect game
In early May, while in the visitors' clubhouse at Kansas City's Kauffman Stadium, New York Yankees righthander David Cone sat back and reflected on his meandrous 13-year career. He sounded every bit the sage and satisfied veteran, one who had earned a Cy Young Award and three World Series rings and been paid millions of dollars for his good work. Using an arsenal of four pitches delivered from a seemingly infinite array of arm angles, Cone had just run his season record to 4–0 and lowered his ERA to 0.84 by holding the Royals to two hits and no runs over seven innings. The brilliant performance came nearly three years after Cone had undergone surgery to remove an aneurysm in his pitching shoulder and 19 months after a frayed rotator cuff in the same shoulder had been surgically repaired. "I feel like I'm playing with house money," the 36-year-old Cone said. "All the pressure is off me. I've been able to come back and ride it out and win two championships. Now I can go as long and as hard as I can."
Joe Girardi, the New York catcher, took Cone's self-analysis one step further. "It would be hard to improve on what he's doing," Girardi said, "other than to throw no-hitters."
The comment was pure hyperbole; no-hitters are as much happenstance as they are a product of a pitcher's mastery over opposing batters. Yet on Sunday, 14 months after David Wells threw a perfect game at Yankee Stadium, the planets aligned and the baseball gods smiled again. In blanking the Montreal Expos, 6–0, Cone not only threw his first no-hitter but also the 16th perfect game in major league history, becoming the second-oldest pitcher to do so. (Cy Young was 37 when he pitched a perfecto for the Boston Pilgrims in 1904.) "You probably have a better chance of winning the lottery than having this happen," Cone said after the game, a vein in his temple bulging and his face glowing red after working on an oppressively humid, 95-degree day.
Consider the cosmic lineup on Sunday: Cone's no-no came with many of Yankee Stadium's most hallowed spirits there in the flesh, on the field, before the game. Whitey Ford, Don Mattingly and Gil McDougald, among others, took part in Yogi Berra Day ceremonies honoring the Hall of Fame catcher. Then minutes before Cone took the mound, Don Larsen, who in the 1956 World Series threw the first and—until Wells struck last year—only perfect game at the Stadium, tossed the first pitch to Berra. That alone would have made for a memorable afternoon for the crowd of 41,930. "After the fifth inning I was going to take off and go back to my hotel," the 69-year-old Larsen said after the game. "Someone told me, 'You can't leave now, he has a perfect game.' I'm glad I stayed."
He nearly skipped out on a performance that was extraordinary even by perfect-game standards. The Berra festivities held up the start of the game by 45 minutes, and then rain caused a 33-minute delay in the bottom of the third inning. Nevertheless, Cone settled into a rhythm. He threw just 88 pitches (nine fewer than Larsen needed in '56), a ridiculously low number considering he had a season-high 10 strikeouts. Spotting a fastball with surprising pop and a slider that broke like a Wiffle ball on a blustery day, he failed to throw a first-pitch strike to only seven of 27 hitters and went to a two-ball count just three times. Cone retired the side on fewer than 10 pitches in four innings, including a five-pitch vaporizing in the sixth. "That's one of the best sliders in baseball," said Montreal catcher Chris Widger, who struck out in the third, popped out in the sixth and started the ninth by whiffing on three pitches.
"That was my best slider of the year," said Cone. "It was quick and hard, like I used to throw it. I had a good fastball, especially to lefthanded hitters, but my out pitch was the sharp slider, which I haven't had in a while."
That darting pitch—Expos shortstop Orlando Cabrera called it a Frisbee—is a relic from what was virtually another career for Cone, during which he was a strong-armed and sometimes churlish power pitcher who made as much news for off-field shenanigans as on-field success. During a period that began with his trade from the Royals to the New York Mets in 1987 and lasted through July '95, when he was dealt from the Toronto Blue Jays to the Yankees, Cone went 129–78, led the American League in strikeouts twice, helped the Blue Jays win the 1992 world championship and won the 1994 Cy Young Award in a second stint with K.C. He also became a poster boy for trade deadline mercenaries before finally settling in New York, where he won championships in '96 and '98.
With the Yankees, Cone has flourished both as a cagey All-Star who is unafraid to experiment with pitches and deliveries, and as a clubhouse leader who keeps the team relaxed. In a season that hasn't been nearly the joyride of last year, he was 10–4 with a 2.65 ERA at week's end, all the while taking the heat off teammates by being unfailingly cooperative with the voracious New York media. When Wells was pitching his perfect game, it was Cone who loosened up the lefthander in the dugout by encouraging him to throw a knuckleball in the late innings. Last winter, when he was a free agent, Cone made clear how much he loves playing in New York by twice extending a deadline he'd set on negotiations, as the Yankees, worried about his arm, hemmed and hawed over re-signing him. They finally gave Cone a one-year contract worth $8 million.
By the sixth inning on Sunday, the fans at Yankee Stadium were buzzing on every pitch. Cone had been close to throwing a no-hitter before. He has pitched three one-hitters, and in September 1996—in his first game after the aneurysm surgery—he spun seven hitless innings against the Oakland Athletics before manager Joe Torre removed him to protect his tender shoulder. "After the fifth inning I had to fight off thinking about the no-hitter," Cone said after his outing on Sunday. "I didn't know if I would ever get a chance to do something like this again, so in the sixth I just said, 'Go after them with fastballs, and see what happens.' When I got out of that, I thought, O.K., here's where we bear down and get them."
He had help from two unlikely sources. With one out in the eighth inning, Montreal second baseman Jose Vidro smacked a 2-and-0 pitch up the middle. Second baseman Chuck Knoblauch, who preserved Wells's gem last year with a sparkling play but has struggled in the field this season, darted behind second, made a backhand stop and gunned down Vidro at first. Then with one out in the ninth, pinch hitter Ryan McGuire sent a looper into left. Ricky Ledee charged in to make an awkward running catch. After the game Ledee, who also hammered a two-run homer, said he could barely see the ball in the glare of the late-afternoon sun. "But I was going to dive, catch that ball in my mouth, anything," he added.
When Cabrera fouled out to third baseman Scott Brosius to complete the masterpiece, Cone grabbed his head and sank to his knees in disbelief. A phone call from Wells, now with the Blue Jays, was waiting when he arrived in Torre's office minutes later. Larsen, meanwhile, patrolled the Yankees' clubhouse, congratulating Cone and warning him to keep his head. "There's still half a season to go," said Larsen. "This is your day, but tomorrow's another day of work."
Just don't expect him to improve on this.