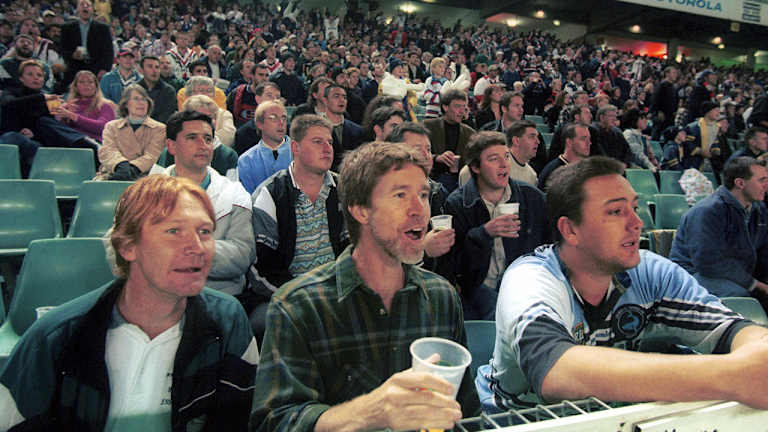 Aussies Rule
During a three-day footy-fest in Sydney, the author didn't have much luck convincing two mates that the NFL game measured up to two Australian brands
Ribs? For ribs I held no hope. Here he was, walking his ribby little redheaded body across the floor of a Sydney pub and shaking his ribby finger in the faces of the first three NFL players he had ever encountered. "This," Ribs declared to the blinking San Diego Chargers, two of whom were defensive linemen, "is the question: Why are American football players such skirts? Look at yuz! Buncha 300-pound wankers who need to wrap yourselves in steel and plastic so you won't get hurt. You seen the hits they cop in Rugby League? If you American football players copped hits like that, you'd never get up again, even wearing all those pads and crates on your heads."
For Nash, I had only slightly higher hopes. Nash was even more of an Australian Rules Football freakazoid than Ribs was a rugby one. On game nights Nash would paint his face the red-and-white colors of his beloved Sydney Swans, wrap his throat in his red-and-white Swans scarf and his chest in his red-and-white Swans shirt, and stride through the streets and pubs and train stations of his city bellowing, Go, them Swanners! To this day, Ribs's beige sofa wore the spooky red-and-white Shroud of Turin image of Nash's face from one of those nights when Nash had forgotten to wash his painted mug before collapsing.
But I wasn't a man in search of easy conquests. The Festival of Football was unfolding last weekend in Sydney, the closest thing to an international showdown the football world had ever known: three days, three games, three different strains of football, back-to-back-to-back, beer-to-beer-to-beer. Already Nash and Ribs and I had bashed, baffled and buffooned our way through Friday night's rugby and Saturday evening's Aussie rules games, each of us bent on proving that his football was the finest on earth. Now Sunday had dawned, my country's turn to stake its claim. At the beastly hour of 9:40 a.m. we trudged up to our nosebleed seats, wobbling like prizefighters in the final round, for the NFL preseason game between the Chargers and the Denver Broncos, the first American pro football game to be held in the Southern Hemisphere.
More than our pride and our brain cells were at stake, of course. For behind the smiles and beneath the neckties of the marketeers from the National Rugby League, the Australian Football League and the National Football League who were staging the festival, a war was being waged, a scrum for the hearts and minds and wallets of the Nashes and Ribs all over the planet, to resolve this question: Which game, as TV expands and the world shrinks, will be the global village's game? Even as we sagged into our seats for Round 3, Rupert Murdoch was hatching a professional rugby league in America to be televised by Fox, and the NFL—already seeding nearly three dozen countries with agents establishing both tackle- and flag-football clinics and tournaments—had discussed bringing a game to China in the next few years and was envisioning a day when a Pan-Pacific League might be formed of Australian and Asian teams, following the model of NFL Europe.
We were needed, men like us: Nash, as his pro-wrestling-loving buddies called Rob Lane, a fence builder from Sydney's southwest suburbs and father of four whose confession that he relished playing his children's NFL video game after they fell asleep gave me a ribbon of hope. Ribs, a train shunter and former Australian water-skiing champion named Scott Selby whose stubborn refusal to replace the left front tooth that a neighbor's brick had claimed 22 years ago had me deeply worried. And me, brand new to Sydney, rugby, Aussie rules and the nickname that Nash and Ribs had bestowed on me: Sepo, because Sepo is short for septic tank, which rhymes with Yank. We were a focus group, as the marketeers would call us, lacking just one characteristic, and that was before we had even exited the Captain Cook Tavern and crossed the street for the festival's first game: focus.
As the Chargers and the Broncos stretched their hammies on the floor of the 110,000-seat stadium where Olympic dreams will blaze and fizzle a year from now, I sat mulling over where the NFL and I stood. How could I feel confident? From the opening moments of the Sydney City Roosters' critical rugby match against Brisbane at Sydney Football Stadium on Friday night, I had blundered. Having noticed in the crowd San Diego backup safety Lloyd Lee, one of the three Chargers whom Ribs had harangued at the pub two nights earlier, I had pointed him out to Ribs and then compounded the mistake by pulling out the glossy flier for the rugby game. Ribs snatched it from my hands, scurried off like a ferret, thrust it at the American footballer and stabbed at the words emblazoned across its top: REAL MEN DON'T WEAR PADS. Curse these ambushes by Ribs, they were wearing the Chargers down, for moments later Lee was turning to a Sydney sportswriter and uttering words that were music to Ribs's ears: The contact in rugby is "incredible. It's really exciting to watch, but I'm surprised more people don't get hurt and get carried off in stretchers. To be getting tackled [without pads] by three guys and then get up to be tackled again, it's amazing. You'd have to have a couple of screws loose."
"Ahh, Lloydee Boy," cooed Ribs, whose favorite team, the Cronulla Sharks, was off that night. "C'mon down and 'ave a beer with the boys, you mug! Now you know what football is!" How was I now to argue that the NFL was the most violent of the three, what with Ribs on my right flank honking about the two busted ribs he had suffered in his pub's annual rugby game just a few weeks ago, and how ho-hum it was for ruggers to play right through fractured jaws and arms; what with Sydney City and Brisbane, wearing little more than jocks and shorts and shirts and snarls and mud, hurling their flesh and bones at each other over and over in a series of ground-shaking goal line stands in front of me; what with Nash dog-piling on from my left, bellowing, "Rugby's not even me game, Sepo, but look at 'em go at it! You can't even compare American football to this! Yours is just a chess game—your players spend more time deciding what to do than doing it, and then it's not even the players deciding, it's some 50-year-old bastard on the side sending 'em messages what to do!"
Uneasy, I shifted terrain. "Look at the crowd," I sniffed, gesturing to the 15,416 fans spread thin across the rain-sodden stadium. "We get 15,000 for high school games in hurricanes." Then, filching a line I'd overheard, I cheap-shotted the crablike scrum forming on the field's far side: "A scrum," I sneered. "One man trying to shove two men up three men's arses!" They surprised me, Nash and Ribs. They agreed. Emboldened, I went for the kill, citing the series of off-field scandals that were rocking the National Rugby League and offering an NFL man the last thing in the world he ever dreamed of attaining—the moral high ground. "What about the player in your league who admitted the other day to drinking 22 beers, god knows how many shots and chasing it with a half tab of Ecstasy?" I demanded.
"I've done lots better than 22," croaked Ribs, licking number 12 off his lips.
"And the best player on the Roosters, found unconscious drunk outside the police station last April?"
"Just boys bein' boys!" sang Ribs.
"And the star player"—all week I'd been boning up—"who exposed himself to the woman last April?"
"I've dropped my daks and danced on the bar of the Snake Pit a number of times."
"How about the sports psychologist from Tasmania who called your sport 'mindless bum-sniffing barbarism'?"
"Now that's a bit rough," protested Ribs.
He grinned again, the fury on the field absolving everything. The final seconds were ticking off, Sydney City and Brisbane in an 8-8 alley brawl, the crowd in a howl. Then, on the game's final play, one of the visitors drop-kicked a 30-meter goal through the posts for a 9-8 Brisbane victory, sending Ribs, just the sort of man who cherished the chance to aggravate the entire stadium by pulling for the out-of-towners, into rapture . . . and all of us back across the street to the Captain Cook to further our debate.
Nash sneered as the P.A. announcer boomed the pregame intros and the Chargers pranced through a hip-hop tunnel of high fives. "They're running amok! At least our blokes wait till they've done something to congratulate themselves," he mocked. He was a vat of conflicted emotions as we braced for Round 3, his angst over the Swans' loss to the North Melbourne Kangaroos the previous evening moiling with his joy over my whoop at an astonishing 60-meter Swan goal, all burbling beneath the dark crust of his double-layered hangover.
Saturday's Aussie rules game at Sydney Cricket Ground had been just what a local writer, Peter FitzSimons, had warned me it would be: an upturned bowl of spaghetti and the fall of Saigon, all rolled into one. One oval bladder and 36 human beings loosed on a green surface nearly twice as long and almost three times as wide as an American football field, the bouncing ball jitterbugging insanely as men in sleeveless shirts and tight shorts dove and kicked and punched and scooped at it, cloud-scraping 60-meter punts pulling a half-dozen bodies skyward, each trying to springboard off the small of the other's back, 30-point leads vanishing in a hop, kick and a bump, all befitting a sport whose inventor, Thomas Wills, killed himself in 1880 with a pair of scissors. Midair collisions bringing medics and stretchers on the gallop and Ribs back from his out-of-body Victoria Bitter experience like smelling salts: "Copped a beauty, he did! That bloke's not well!"
Lovely madness interrupted by dizzying lunacy: boundary umps responding to out-of-bounds balls by turning their backs to the players and blindly flinging the ball as high and far as they could, while the crowd went "Woooof!" and ruckmen and rovers trampolined in pursuit; stern white-coated and white-hatted goal umps looking like men who had come to drag someone back to the asylum, signaling scores with a stern six-shooter bang-bang of their index fingers followed by a snapping semaphore of white flags; a dozen white-suited water-bearing trainers and neon-green-clad message runners sprinting onto the field whenever a player plucked a punt from the air inside the 50-meter line to record a "mark" and earn an unimpeded kick on goal, all of it timed by a field clock regularly at five to 10 minutes' variance with the scoreboard clock, causing the hooter, as the quarter- and game-ending siren is endearingly called, to startle everyone no matter when it honked. "Don't tell me that's not great football," Nash kept wheeling toward me and erupting, spewing spittle and beer on the poor sap in front of us, and dang if I could gather my wits to reply.
Now, at last, came order and regiment, 22 men aligned for an NFL kickoff wearing warriors' armor and tight, shiny pants that Ribs insisted they had strategically stuffed with an extra wad of socks, an allegation I ignored in the growing certainty that they would finally see what I had avowed all weekend: that all the padding and plastic insured that NFLers could slam each other with an abandon no rugby thug nor Aussie rules ping-ponger could match. The crowd, announced at 73,811—blowfish washing up from the week-old oil spill in Sydney Harbor weren't nearly that bloated—sat hushed but respectfully attentive, poised to catch such scoreboard cues as GREAT RUN after a Terrell Davis 10-yard gain, and P.A. pointers such as: "A touchdown is scored when a man carrying the ball crosses the goal line. The crowd gets very excited."
But Ribs's gaze was fixed on the sofas wearing numbers in the 70s and 90s down in the trenches. "Hell, they'd never survive five minutes of a rugby game," he proclaimed. "They'd run 20 meters and fall on their faces! No wonder nobody stays in this game for more than two minutes. And who are those wankers with the orange sticks?"
"Those are the men carrying the first-down markers," I huffed.
"And where's that wanker who slammed us for being rude?"
I pointed out Shannon Sharpe, the Broncos' tight end, standing on the sidelines in his civvies with a strained ankle. Sharpe had inflamed Australia a few days earlier by declaring Aussies rude and the whole 17-hour flight for a game a sorry concept.
"You mean the blouse is sitting out because of a strained ankle?" yelped Ribs. "A regular toe-stubber, eh? Rude, he thinks we are? If he'd met me, he'd have wanted to go home 10 days before he got here."
They groaned about "Nancy boys" making fair catches or slinking out of bounds to avoid a wallop, the quarterbacks dropping to their fannies rather than taking what they had coming. I reached a decision: I wouldn't take this lying down. "There's nothing in either of your games," I lyricized, as the Chargers stormed to a 14-zip first-half lead, "as lovely as a long, arcing forward pass."
They choked on that. Then I caught Ribs leering at the San Diego cheerleaders, noted all the oooh-la-las their dance numbers were drawing around the stadium and claimed a clear-cut score for the NFL. "No doubt about it," conceded Ribs. "Our cheer girls are crap bananas. These birds have worked hard as s--- to get all this mucky-muck together."
"Of course," added Nash, "we don't need cheer girls to entertain us because we don't have all these friggin' whistles and flags and TV timeouts. We have a game."
"True," sighed Ribs. "Nothing to do during all these bloody stops but perv."
"But, you know, it's not as bad as I thought," allowed Nash. "It's actually quite good when something happens."
All around him, his countrymen echoed this sentiment, expressing their admiration for the brief flurries of action tinged with their impatience at the infernal halts so the American audience could be sledgehammered with car and beer advertisements and the Stadium Australia crowd bludgeoned with Visa, UPS and Air New Zealand ads. "At least our ball doesn't have McDonald's arches on it, like both your footballs do," I jabbed Nash and Ribs, "and our players' uniforms don't have commercials plastered on them. Shameless!"
"Better our balls and jerseys have ads and our game keeps moving than stopping every 10 seconds for the Coors frogs," Nash ricocheted.
"Budweiser," I corrected.
"I drank that once," Ribs piped up. "Couldn't stand it, but I drank it anyway."
The Broncos stormed back with a pair of third-quarter touchdowns within a 42-second span and then knotted the score at 17 on a fourth-quarter field goal, ratcheting up all the drama a preseason game can possible ratchet—so I can't honestly explain what happened next. Perhaps it was the two consecutive nights of nonstop action I had just witnessed, perhaps it was the 17 numbing penalties on top of the 20 deadening TV timeouts and eight sedating team timeouts and the half-dozen anesthetizing measurements by the wankers with the orange sticks. But when you'd least expect it, with Denver about to attempt the winning 34-yard field goal on the final play and my $20 wager with Nash riding on it, I opened my mouth and . . . damn Nash!
"I caught you!" he crowed. "I caught you!"
I flinched. The kick was good. The world-champion Broncos had won, just barely, but their sport and mine had just gotten crushed.
"Did you see that, Ribs?" whooped Nash. "He never did that Friday night or last night! He yawned!"