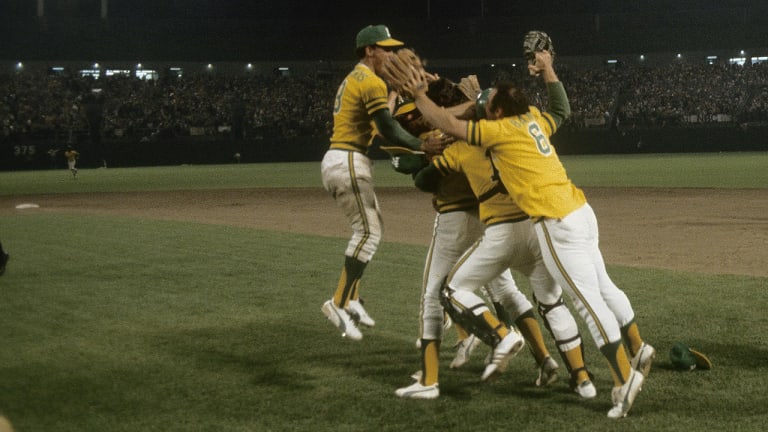 Motley Crew
The world champion 1974 A's were truly America's team, although most of us were too square to realize it
He stands unsteadily at the foot of a beautiful staircase. Its pine handrails are supported by 78 posts, each post a Louisville Slugger, each Slugger game-used by a Hall of Famer. The staircase ascends to a small attic that is floor to shoulder with baseball memorabilia, but from where he stands, gazing up, it really resembles a stairway to heaven.
"I go up there every once in a while and look at old pictures," says Jim (Catfish) Hunter, who now lacks the energy to climb these stairs off the living room of his small brick home in Hertford, N.C., unassisted. "The ballplayers, some of 'em, I don't even know who they are anymore. But I'll look and look and say to myself, Oh, yeah, that's so-and-so...." And the boys in his attic begin to stir.
Twenty years ago to the day, Hunter's friend and batterymate with the New York Yankees, Thurman Munson, was killed in a plane crash. "It's today?" Hunter says, coldcocked by the anniversary. "God." The air goes out of him, and he falls silent. Then a smile fissures out from beneath his white mustache. "I got the last picture of Thurman in uniform," he says. "It was the day before he got killed. He fouled a ball off his foot. I was jumpin' up and down in the dugout, screamin' like a dawg, imitatin' him, and a photographer took a picture: It's Thurman lookin' at me like, You stupid son of a bitch."
Catfish Hunter, who was once thrown into a bar in Chicago (the police wanted him off the street) and then thrown out of the bar he'd been thrown into--"Damn, we couldn't go anywhere," he says of himself and his Oakland A's teammates--thinks today's ballplayers are just slightly duller than tournament SCRABBLE. "We went out and raised hell," he says. "Five or six of us always went out together: Me, Lindblad, Sal, Gene, Dave Hamilton, Glenn Abbott. Geno always ordered the same thing Sal did, and Sal would always say it was because Geno couldn't read the menu."
Munson is gone. Paul Lindblad, 58, Hunter's roommate for 10 years in Kansas City and Oakland, moved to the Peach Tree Place nursing home in Weatherford, Texas, two years ago, his memories taken by Alzheimer's disease. Hunter himself can't raise his hands, much less hell: He has amyotrophic lateral sclerosis--Lou Gehrig's disease--diagnosed only 10 months ago but swiftly rendering his muscles useless. Hunter, a Hall of Famer, says he receives less mail today than he did before the diagnosis became public last November, "'cause people know that I can't sign anymore."
His arms hang like empty coat sleeves, both palms splayed backward, as if he has concealed a coin in one of them and is asking you to guess which hand it's in. "My arms and legs don't work like I want them to," he had said hours ago, after descending his concrete front stoop to greet me in the driveway, where I extended a hand he couldn't shake.
Six days from now Hunter will fall from that front stoop while saying goodbye to a visitor, hit the back of his head on the concrete and be rushed to intensive care; he remains hospitalized but is in fair condition and undergoing rehab.
But on this 100[degree] day he repairs safely to a wooden swing beneath a large shade tree on the property he purchased in 1969 with a $150,000 loan from A's owner Charlie O. Finley. The Finley A's, who won three consecutive world championships from 1972 to '74, remain the last baseball team to three-peat and the only club other than the New York Yankees to do so. "The '74 team was our best," says Hunter, who won 25 games and the American League Cy Young award that season, after which he became baseball's first de facto free agent and its first instant millionaire.
He's wearing shorts, and a spider is slowly scaling his right leg. "Would you get him for me?" Hunter asks. I carefully flick the spider off his thigh and apologize, disingenuously, for putting him through this, for imposing, for strip-mining him of his memories. But Hunter won't hear of it. "I don't get tired of this," he says in a thick east Carolina drawl that turns tired into tarred. "'Cause it brings back good memories, all the good times we had together, my teammates and me."
So where was he? Oh, yes. "The '74 Oakland A's," he says, "was one of the better teams that ever played baseball...."
And just like that, the boys in the attic come to life.
There was a time when all the world was young and shag-carpeted, kitchen appliances were avocado-colored and neckties resembled kites. "There was a time," says Sal Bando, third baseman and captain of the A's dynasty, "when men carried little purses. Reggie carried one. It was fashionable. I'll never forget, Mike Epstein got on the bus one day wearing saddlebags. It was hilarious."
There was a time, 25 years ago, when women were women and men were...well, they were women too, sometimes. The A's wore so many different uniforms, in such sundry color combinations, that confused players often had to change two or three times before taking the field. "Our favorites," says Hunter, grinning sardonically, "were what we called the wedding-gown whites."
Perhaps to compensate for all this femininity, most of the A's grew big porn-star mustaches, for which Finley paid them $300 each. "We broke the mold in baseball," says Bando. "The mold was short hair and black shoes and no mustaches. We brought color to the game and loosened people up. People thought we were radicals from Berkeley. In fact, most of us were politically conservative, but we enjoyed ourselves."
They enjoyed themselves and, on rare occasions, one another. "We were like a family of four boys," says reliever John (Blue Moon) Odom, who gave fellow Oakland pitcher Rollie Fingers five stitches in the Dodger Stadium visitors' clubhouse before Game 1 of the 1974 World Series. The A's fought with each other but wouldn't countenance assaults from the outside. "Try that," says Moon, "and you were messing with the family." Try that, he says, "and we'd rock your clocks."
After one long day of clock-rocking, in which Reggie Jackson drove in seven runs against the Texas Rangers, he swaggered through the Dallas/Fort Worth Airport carrying, on a string, a helium-filled balloon in the shape of a hot dog.
The Gothic, Hester Prynne A on their chests stood for Arrogance. Says Bando, "We were arrogant enough to always think we were the better team." That certainty came from years united in indentured servitude. Bando and Jackson had been teammates at Arizona State and--like most of the A's lineup--played in Finley's farm system. The players' confidence had to come from within: In 1974 the A's drew fewer than 850,000 fans to the Oakland Mausoleum. "Is that right?" says the manager, Alvin Dark, now 77 and enjoying his grandchildren in Easley, S.C. "Man, that's amazing."
America, too, paid scant attention. The Cincinnati Reds, with their sensible black shoes and strict no-facial-hair policy, were far more popular than the A's. So were the Dodgers, squarer than Steve Garvey's jaw. "To this day, everyone talks about Cincinnati's dynasty," says Bando, "and we beat them [in the 1972 World Series] without Reggie and [ace reliever] Darold Knowles! I don't think we've ever gotten the credit we deserve."
"We were just a matter-of-fact great team," Jackson says. "Seventy-four was the last year in which, if we had a two-game lead in the division, it was pretty much over."
Jackson was 28 years old in 1974, living rent-free in a penthouse apartment paid for by the team, with a painting of Jonathan Livingston Seagull over the bed, before he decided midseason to splurge on an $85,000 condo in the Oakland Hills. And why not? Salary arbitration was instituted in the winter of 1973-74, following the A's second straight World Series victory. For the first time the players knew what everyone else in baseball was making. Until then the champs didn't know how underpaid they were. An arbitrator ordered Finley to give Jackson, the '73 American League MVP, a raise from $75,000 to $135,000. "He was a lousy MVP," Finley protested to reporters. "They had to give it to someone."
Finley threw around compliments as if they were manhole covers. With money, he could sometimes be generous--lending Hunter the six figures for his farm, paying Odom a $75,000 signing bonus at age 19, investing second baseman Dick Green's money in the stock market to great profit. More often, though, he was tighter than the A's double knits. When Reggie hustled through DFW with that hot dog on a string, it was to catch a commercial flight, where he, world champion and MVP, sat in 4B, in front of some salesman from Topeka. Finley was too cheap to charter regularly, even though some teams had begun to do so. That season, Finley also cut off the players' franking privilege: The club would no longer pay the postage on their responses to fan mail.
In spring training for the '74 season, the '73 World Series rings were presented to the players--not in an elaborate ring ceremony, but by traveling secretary Jim Bank on a practice field in Mesa, Ariz. Fingers said the rings looked "like something out of a Cracker Jack box." Ron Bergman of the Oakland Tribune, the only beat writer to travel with the A's, speculated in print that the green glass in the ring's centerpiece was cut from 7-Up bottles. Hunter, who to this day thinks Finley didn't spend even the small subsidy the league office pays any World Series champion toward its ring costs, told reporters that his owner was "a cheap son of a bitch."
When Finley read that quote, he called Hunter from his insurance office at 310 South Michigan Avenue in Chicago, where he worked during most of the baseball season. "Tell me you didn't say that," said Finley, who had suffered two heart attacks in the past two years. "Tell me you didn't call me a cheap son of a bitch."
"Mr. Finley," replied Hunter, "you are a cheap son of a bitch." Hunter heard what sounded like a telephone falling to a desk and then Finley calling for his secretary: "Roberta! Bring me my pill! I think I'm having the big one!"
"Cat could get away with that," says Bando. "Cat had a special relationship with Finley going back to the day he signed."
On the day in 1964 that the 18-year-old Jim Hunter became a Kansas City Athletic, Finley asked him if he had a nickname. Hunter told him that he did not. "Well, you've got to have one," said Finley. "What do you like to do?"
"I hunt and fish," replied Hunter.
"Mr. Finley kind of hesitated on the phone," recalls Hunter. "Then he said, 'You were six years old when you ran away from home. You went fishing. Your mom and dad looked for you all day. About three o'clock your mom and dad found you. You had caught two catfish and were bringing in a third, and from that day on you were Catfish. Now repeat the story to me.'" When Hunter did, Finley said, "Anybody ever asks you anything, that's how you tell it."
When Finley died in 1996, Hunter and Jackson were the only players at his funeral. Then-acting commissioner Bud Selig came, but no other team owners came. "That surprised me," says Hunter. "I know Mr. Finley was different, but he was still the owner. He had his own ways, but everybody's taken up his ways now. He was the one that brought night baseball to the World Series, the buyin' and sellin' of ballplayers, the different-colored uniforms that all the teams wear today, different-colored shoes, different-colored bats, everything. Only thing is, he never got his different-colored ball."
Catfish shakes his head at the terrible injustice of it all: "Never got that."
Heaven knows Finley tried. He even had his team play some spring training exhibition games with the orange balls. "The pitchers couldn't grip the orange ball," Dark remembers. "If Finley could have found a hide that wasn't so slippery--or if another owner had thought of it first--the orange ball would be in today, I guarantee it. You could definitely see it a lot better. It really stuck out. But the other owners just didn't like Finley."
The other owners could ignore Finley, but Dark had to listen to him. A week before spring training for the '74 season began, Finley hired Dark to replace Dick Williams, who'd had enough of Charlie O.'s meddling. So Dark suddenly found himself in Mesa, managing the world champions. "The owner makes the rules," says Dark. "He's got the money." One of Finley's epiphanies that spring was to sign former Michigan State sprinter Herb Washington as a designated runner.
Dark says he was never ordered to play Washington or anybody else. "Charlie would try to influence you," he says. "If you were strong in your opinion, he'd say go ahead and do it your way. If you weren't strong, you did it his way. He didn't demand. He was just very...vocal." Washington would appear in 92 games in 1974, steal 29 bases in 45 attempts and never once appear at the plate. In Game 2 of the World Series, he would pinch-run for Joe Rudi and, before a single pitch was thrown, get picked off first base. No matter. It's remarkable enough that he appeared in a World Series, one more Finley first.
Finley's Cracker Jack rings lit a fire under the A's even before they left Arizona. "I predict a third world championship," Jackson said after receiving his 7-Up souvenir. "We got the turmoil going already."
Turmoil was their oxygen, and most of the A's produced it like trees. "There were a lot of guys on our team who talked a lot of smack," says Billy North, the Oakland centerfielder. "And sometimes somebody would talk it at what somebody else considered the wrong time, and there would be a flare-up or two. There's always somebody in a locker room who has the gift of gab. Sometimes I didn't know whether it was a gift or not."
Hunter had the gift. He could talk smack like Mozart could play piano. Still can. Hunter remembers a game in which Bando walked to the pitcher's mound bearing a ball he'd just fielded that had three broken stitches. Bando handed the ball to Fingers, called his attention to the damage and said, "You can throw at least two good sinkers with this before the ump checks the ball."
"So Rollie takes the ball," says Hunter, laughing preemptively, "looks in for the sign and then straightens up and says, 'Oh! Time out, Mr. Ump! There's somethin' wrong with this ball!' Man, he was the dumbest damn pitcher I ever seen in my life."
"Those guys had some truly vicious tongues," says North, a quiet, studious player who's now a financial planner in Kirkland, Wash. "When they'd start talking about each other, it was something to behold."
"Dick Williams always let us get on each other," says Hunter. "He called it corrective criticism. Bando and I'd get on 'em on the bus rides, and we'd get on 'em good. Every once in a while it would almost come to a fight. Sal and I would always get on each other just to get things goin'. Campaneris"--Bert, the A's great bantamweight shortstop--"would go to the front of the bus and tell Williams, 'You better get back there--Sal and Catfish are gonna fight!' And Williams would always tell Campy, 'Aw, let 'em fight.'"
North wasn't speaking to Jackson for most of the '74 season, not since early May, when Reggie had chewed him out in front of the team for not running out a ground ball hard enough. On June 5 the two fought in the visitors' clubhouse at Tiger Stadium in Detroit, and catcher Ray Fosse ruptured a cervical disk attempting to break it up. Fosse spent 12 weeks on the disabled list, while Jackson and North played on. By then the A's were notorious for their bare-knuckle brawling. It was expected of them. "Maybe we were playing to the crowd," says North.
In May, Dark fined pitcher Vida Blue $250 for contemptuously flipping the ball to him while being removed from a game. (Blue would pay the fine with a shower of small coins dumped on Dark's desk.) In another game Dark ordered Fingers to pitch to Munson, with a man on second and first base open. Fingers, who walked only 29 men all season, walked the Yankees catcher on four pitches and said afterward, "I lost my control momentarily."
In August, Richard Nixon resigned the Presidency, and some A's sensed that their own profane regime was in its final days. Hunter, for the only time in his career, asked each of his teammates for an autographed photo. Those teammates, many of whom he had played with as Kansas City Athletics, had become stars--a June SI cover billing coined a new noun for Jackson: SUPERDUPERSTAR--but oftentimes they themselves were scarcely aware of the fact because Finley frequently treated them like children. "We sometimes played Saturday-afternoon games when we were in Chicago," says Bando, "so the whole team would have to go out to Finley's farm in LaPorte, Indiana, on Saturday night for a picnic with all his friends and neighbors. God, the guys hated that."
On the field the A's seemed to toy with opponents. "What a great bunch of talented ballplayers," says Dark, reverently reciting the A's lineup: catcher Fosse, first baseman Gene Tenace, second baseman Green, whom teammates called Bass Jaws for his odd but infectious laugh. Campaneris was the leadoff hitter and shortstop. "Campy was very underrated," says Bando. "He was our offensive igniter. He could hit home runs and steal bases, and played excellent defense."
You want underrated? The Oakland leftfielder, Joe Rudi, was "the most overrated underrated player in baseball," according to Jackson. "I'm getting more ink about not getting ink than most people do who always get ink," Rudi said in 1974, when he was en route to hitting .293 and driving in 99 runs for the season. "Rudi was outstanding," says Dark. "He wasn't the fastest, but he always got a great break on the ball." Indeed, the A's were remarkably disciplined on the field. "We played the game generally without making mistakes," says North.
"We never had a real good bench," says Dark. "Had a great bullpen--Lindblad and a few other guys would get us to Fingers." The four-man starting rotation was the best in baseball, and balanced like a bookkeeper's ledger: righthanders Hunter and Abbott, lefthanders Blue and Ken Holtzman.
The nougat holding all these nuts together was Bando. "Everybody respected him as a leader," says Dark. "Just a class fella."
Far from subverting American ideals, as so many squares (and Dodgers fans) thought at the time, the A's exemplified E pluribus unum. They were 25 men of wildly divergent backgrounds--Jackson is a black Latin Methodist raised in a Jewish neighborhood--who stopped swinging their handbags at each other long enough to play a complicated game brilliantly. Out of many, one. "We had a 25-man team, and everybody had a job," says North, "right down to the designated runner."
The Kansas City Royals and the Texas Rangers were Oakland's closest pursuers in the American League West, but the A's never acknowledged them. Before the first game of their last series of the season, with the A's leading the West by five games, Jackson shouted at Royals outfielder Amos Otis during batting practice, "Otis, got that new TV yet?!" Otis, who wasn't in the market for a new television and couldn't fathom what Jackson was talking about, replied against his better judgment: "What TV?"
"The new TV!" said Jackson. "You're gonna wanna watch the Fall Classic!"
The A's won the division by five games over Texas.
As the Baltimore Orioles arrived in Oakland for Game 1 of the playoffs, Hunter was meeting with Finley and baseball officials. Hunter claimed, through his attorney, that Finley had paid him only half of his $100,000 salary in 1974, and that his contract, therefore, was voided. In the meeting the owner grandly produced a check and said, "Jim, here's your money."
"No," replied Hunter. "You pay it like the contract is written--not to me, to the insurance annuity."
"See, Mr. Commissioner, Mr. League President," said Finley, who addressed everyone as Mister. "I tried to pay him and he won't take it." Finley dismissed the commissioner and the other suits and then told Hunter, "Go beat Baltimore. We got to get in the World Series."
"And that was it," recalls Hunter. "He never said another word about my contract. Ain't never said a word. To this day, I wish I had asked him if he meant for me to be the first free agent. I believe he did. He always wanted to be the first in everything."
Almost bored, the A's steamrollered the Orioles in the playoffs. "Mike Cuellar and Ross Grimsley pitched a one-hitter in the final game," says Jackson, "and we beat 'em 2-1. We won the American League pennant, and we didn't even celebrate. We just went to L.A. to beat the Dodgers."
They literally couldn't wait to rock some clocks: Fingers and Odom attacked each other in the visitors' clubhouse at Dodger Stadium before the team's workout the day before Game 1. "That fight was my fault," says Hunter. "In Baltimore during the playoffs, Rollie got a phone call that his wife was in Oakland, and her boyfriend and her was packin' up all the furniture and movin' outta the house. Her boyfriend was drivin' Rollie's car. And so Rollie flew home, we beat Baltimore, went to L.A. and there's Rollie and his wife, arm-in-arm. And I told the guys, 'S---, Rollie and his wife was stayin' in the room next to me and they fought all night long, throwin' s--- at each other, bouncin' off the walls. I can't believe this s---. Only thing she's here for is the damn World Series money.' Blue Moon heard all this. And then Rollie comes walkin' into the clubhouse."
"I can barely remember what happened," demurs Blue Moon. Hunter can. He remembers Odom greeting Fingers thusly: "Who's leavin' tickets for your wife's boyfriend tonight? You?"
"The clubhouse attendant at Dodger Stadium had been telling me how nervous he was," recalls Bando. "He had heard so much about this team fighting, and I told him, 'Believe me, it's completely blown out of proportion.' At that second, Blue Moon and Rollie go after each other."
"Oh, s---!" says Hunter, seeing it all vividly a quarter-century later. "There they go! Rollie falls down and hits the corner of a locker and splits his head wide open."
"Fingers shoved a shopping cart," says Odom, his recollection refreshed, "and it hit my ankle and turned it."
"I was in the training room," says Dark. "Fosse, who had been injured breaking up that fight in June, came running in and said, 'Skip! Fingers and Odom are fighting, and I'm not getting involved!'"
"I played bridge through the fight," recalls Green. "It didn't matter one single bit."
This was the A's in all their splendor. Finley's seatmate for Game 1 of the World Series was the incumbent Miss California, Lucianne Buchanan. He had asked Richard Nixon, nine weeks removed from office, to throw out the first pitch for Game 4 in Oakland, but the disgraced President "regretfully declined because of health reasons." Hunter's lawyer, Jerry Kapstein, was on the field during batting practice the day before the opener, declaring his client a free agent because Finley had not made those payments to Hunter's insurance annuity--he was free to pitch for the Dodgers in this Series, if he chose to do so. Jackson led off the second inning with a home run, Fingers pitched 4 1/3 innings in relief and laughed off the five stitches in his head. "The team record is 15," he told reporters, "held by many."
With the A's leading by a run with two out in the ninth, Dark called on a surprised Hunter--in his first relief appearance that season--to pitch to Dodgers catcher Joe Ferguson. "This man can't hit a curveball with a paddle," Dark said when Hunter reached the mound from the bullpen. "What are you gonna throw him?"
"Fastball," replied Hunter.
Splat! Dark spat on the mound and said, "This man can't hit a curveball with a paddle! What you gonna throw him?"
"Fastball," said Hunter.
Splat! The pair repeated the exchange one more time, then Dark, exasperated, finally said, "Why are you gonna throw him a fastball?"
"'Cause I ain't got a curveball today," said Hunter, who struck out Ferguson on five straight heaters. The A's won 3-2 and destroyed the Dodgers in the Series, four games to one. By the fifth game, in Oakland, the A's had finally won a hometown following: Dodgers' leftfielder Bill Buckner, who had dissed the A's to reporters after Game 3, was pelted with Frisbees, garbage and whiskey bottles. The World Series, as an institution, would not be kind to this man.
Indeed, Game 5 would provide another indignity for Buckner and a coda to the A's greatness. Leading off the eighth, he singled to center and, when the ball got past North, took second base and headed for third. Jackson, backing up North, fielded the ball and fired to Green on the edge of the outfield grass. Green threw a perfect relay to Bando, who applied the tag. Buckner was out. "The play that epitomized the Oakland A's dynasty," Jackson calls it today. "We had played so long together as a unit that we knew where everybody would be without looking.... It was all instinct with us."
Jackson and Hunter would go on to win two more world championships--with the Yankees. In December 1974, an arbitrator ruled that Finley's failure to make payments to Hunter's insurance annuity in a timely manner voided his contract with the A's, and Hunter was free to sign with any team. He chose the Yankees, on New Year's Eve, for $3 million over five years. Thus ensued one of the longest and most diabolical wars in baseball history.
In the winter following the 1974 season, Bando purchased a new overstuffed leather chair to put in front of his locker. The first time the Yankees played in Oakland in '75, Hunter slipped into the A's clubhouse very early one afternoon and cut the chair to tatters.
Bando said nothing for two years, during which time he signed as a free agent with the Milwaukee Brewers after the 1976 season. Hunter pitched in Milwaukee one afternoon in 1977 and then retreated to the visitors' clubhouse. "I took a shower and put my pants on, and they felt kinda loose," Catfish says. "I go get my wallet out of the valuables locker, try to put it in my back pocket and it falls out on the floor. I walk to the mirror, take a look: I don't have the ass-end of my pants! I start yellin' for the clubhouse guy: Big Jim! Has Sal been in here? Big Jim says, 'Mmm-hmm. Sal has been in here.' So I have to wear my jacket around my ass to get to the bus. When I get there, Sal and his wife are waitin' in their car. He says, 'I've been waitin' two years, Cat.'"
Bando used to wear a beautiful white fedora. Once, when the Brewers were playing in New York, he returned to his locker after a game to find the crown autographed, in bold black Magic Marker: JIM "CATFISH" HUNTER.
"His personality has not changed one bit since 1965," says Bando. "From the time Cat signed his first contract through stardom in New York, he has remained the same, down-to-earth, good person. If you didn't know who he was, you would never guess he was a famous athlete."
Hunter lives in a small ranch-style house in Hertford, two miles from the house he grew up in. His wife of 33 years, Helen, is his former high school sweetheart. When Hunter's illness became public last November, Bando telephoned immediately. "Most of the guys didn't know if it was O.K. to call," says Hunter, "but then word got out"--he was the same old Catfish--"and a lot of people started callin'."
"It kind of brought guys together," says Bando.
People send him quack medications in the mail--"hoaxes," Hunter calls them--followed, two weeks later, by a bill. But he has also received cards and letters that have touched him beyond measure: Hank Aaron and Sandy Koufax and Harmon Killebrew are among those who have written. He received a donation for ALS research from the final batter of the perfect game he pitched in May 1968. Former Minnesota Twin Rich Reese wrote on the memo line of his check, "The Last Out."
There are two 1,000-yen notes on Hunter's kitchen table. They're not charitable donations. A Japanese man sent him baseballs to sign, and Hunter mailed them back unsigned. "Cost me $22 in postage," he mock-complains. "He sent me back Japan money."
Though flying is difficult for ALS sufferers, Hunter flew to Oakland in June for Catfish Hunter Day. Many of his '74 teammates were there. A current A, a young reliever named T.J. Matthews, introduced himself before the game, but his name meant nothing to Hunter. "My father," said T.J., "is Nelson Matthews."
"Nelly Matthews," replied Hunter. "Centerfielder. Did he ever tell you about the time in Cleveland?"
"I thought he made that up," said T.J.
"Oh, no," said Hunter, who then told a story. On an idle afternoon in Cleveland, Cat and Nelly decided to kill a few hours at the train station. The pair had their portraits taken from the front and side in one of those four-a-sheet photo booths. Then Hunter, wearing a trench coat and flashing a plastic badge, asked an old lady if she had seen this man in the photo, this unspeakable monster, this Nelson Matthews. She shrieked and pointed to the felon, standing nearby, and Hunter began chasing Matthews around the depot. "God, we were laughing," says Hunter, laughing all over again at the recollection. "Just runnin' around that train station while the lady screamed...."
If there's one photograph of Hunter and his A's to keep forever in your attic, to conjure to life at your leisure, it's this image: Catfish, running through a train station in a trench coat, flashing a plastic badge, chasing a teammate, and laughing like a little boy.