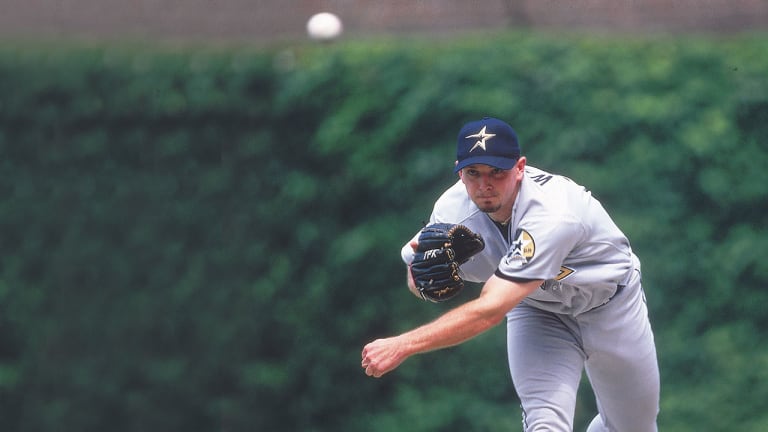 Astro Physics
To understand how Houston closer Billy Wagner can throw a baseball 100 mph, you've got to examine the dynamics of his rural upbringing
The Astrodome is a difficult park for a hard thrower. The temperature is always the same, 72 degrees; the air is dry; the fans are seldom boisterous, even this season, when the Houston Astros have led their division most of the way while in a tight race with the Cincinnati Reds. A large, buzzing crowd and hot air tend to add a few miles an hour to a fastball. Billy Wagner—Wee Willie Billy to some of his teammates—finds his heat elsewhere.
Wagner, the Astros' smaller-than-life closer, comes into games after 20 warmup pitches and trots to the mound calmly. There's nothing menacing or imposing about him. He doesn't have a crazed stare. He doesn't hide behind a sinister-looking goatee. He is 28 and has the body of a high school kid; he stands a couple of inches under six feet and would tip the scales at his listed weight of 180 pounds only after a third helping of grits. He tucks his glove under his left arm, his throwing arm, and says a prayer.
Then he brings it. First pitch, fastball, 95 mph. Strike one. Second pitch, fastball, 97 mph. Strike two. Third pitch, fastball, 98 mph. Next victim.
Wagner has struck out the side 40 times in his major league career, and he is finishing only his third full season. He throws fastball after fastball, one four-seamer after another, all in the A to A-plus range. The movement on his pitches is wicked. Batters speak of heaters that start at their heads and finish at the knees, on the outside corner of the plate. On Wagner you can guess fastball. (He throws only occasional sliders and changeups.) What you can't do is hit it.
Most of the best fastball hitters—Sammy Sosa and Barry Bonds, to name two—have had trouble handling his heater. (At week's end Sosa was hitless in six career at bats against Wagner, with five strikeouts; Bonds was batting .222 with two K's in nine at bats.) Ordinary players have no chance at all. To hit Wagner's fastball they would have to start swinging almost before the pitch is thrown. Randy Johnson, a foot taller than Wagner, says his former Astros teammate throws even harder than he does.
Through Sunday, Wagner had 36 saves, tying him with Trevor Hoffman of the San Diego Padres and Ugueth Urbina of the Montreal Expos for the National League lead. Batters were hitting only .128 against him. His ERA was 1.72, and he had 114 strikeouts in only 68 innings. If the Astros are to win their division—they had a three-game lead over the Reds and could even conceivably be the wild-card team if they are overtaken—and beyond that, if they are to do anything meaningful in October, Wagner must be at the top of his game in these back-to-school weeks. Then all of baseball will be looking at him and wondering the same thing: Where does he get his heat?
It is true that Wagner has superb mechanics, which is amazing when you consider that he is a natural righthander. (He broke bones in his right arm and right shoulder before he was five and learned to pitch with his left arm after the injuries.) It is also true that he drives off the rubber as well as any pitcher since Tom Seaver; his legs are thick and heavy for a man of his otherwise ordinary physique. It is true that he has a remarkable ability to throw first-pitch strikes. But those facts alone do not begin to answer the question.
In the Astros' media guide, Billy Wagner lists Tannersville, Va., as his birthplace, and in a manner of speaking, it is. Tannersville is a farming hamlet in the southern reaches of the Appalachians. There is no airport nearby. There's one store, two churches, no pay phone, maybe 70 houses. Many of the houses are built in a style that residents call "old-timey": wood-frame structures on a foundation of logs, with tin roofs that produce the most peaceful sound—p-tat, p-tat, p-tat, p-tat—in a rainstorm.
The Lamies—Sally and Jack and their daughters, Jackie and Cynthia, and son, Jeff—lived in such a house in Tannersville. Billy Wagner went to live with them, his aunt and uncle and cousins, when he was 14. Jeff Lamie, a year older than Billy, was the first person to suggest that his cousin move in. "But we can barely afford to keep the three of you clothed and fed," Jeff's father said. Jack Lamie was a mechanic who worked on mining equipment. Sally, the sister of Billy's father, was a factory seamstress earning the minimum wage. "How are we going to afford a fourth?" Jack asked.
Jeff didn't answer the question. "Billy's miserable," he said. His parents, too, could see that Billy was looking for some peace and a close-knit family he could claim as his own. In Marion, Va., 19 miles away, Billy's father signed off on the move, and so did his mother.
This was not a move to get an elite child-athlete into another school district with a better baseball program. Quite the contrary. Because of its baseball prowess, Billy's family has been well known in Marion, a town of 6,630, for four generations. Billy's great-great-uncle Richard (Horse Face) Cassell was considered the best pitcher in the long history of what Marion folks called "cow pasture ball," in which one rural town played another. Horse Face's nephew Edward Lee (Buck) Wagner was a slick-fielding second baseman in the late '50s. In the 1960s and '70s, Buck's four sons all starred on the Marion High team. The quartet consisted of Bill (Billy's father), who goes by Hotsey; Letcher, who goes by Runt; Ben, who goes by Brudy; and Sam, who goes by Kokie.
Hotsey Wagner grew up with a dream of playing professional baseball—he was an all-county righthanded pitcher—but a dream is all it was. Some of the ballplayers in his time wangled tryouts with the New York Mets, who had a Class A team in Marion back then. In 1965 Nolan Ryan, all angles and heat and 18 years old, began his professional career in Marion. Hotsey never even sought a tryout. He couldn't wait to get out of school and settle down. On June 6, 1970, he graduated from high school and, as they say in Marion, got himself married. The wedding ceremony was at 4 p.m. Commencement exercises began at 8. Hotsey was 18.
His bride, Yvonne Hall, was 16. She was through with school, having dropped out after the eighth grade. Yvonne and Hotsey had grown up together in and around a part of town known as the Brickyard. Her father, Randolph, who worked at the Pepsi-Cola bottling plant, was the same age as Buck Wagner, who did various jobs at the state mental hospital in Marion. Yvonne's three brothers played ball with Hotsey and his three brothers. But familiarity did not bring harmony. Tension between the two families was conspicuous from the beginning of the marriage. Though both families were headed by men who were poor and could not read, a legacy of the Great Depression, there was still a social chasm of sorts between them. The Wagners were moderns: They had been in Marion—a city, practically, by the standards of the region—for generations. They had gas heat and a car. The Halls were uprooted country folk. They heated their little house beside Highway 16 with a wood-burning stove. They had no car. They could have bought one, but Yvonne's mother, Mae, thought the family was better off without one, because of Randolph's drinking. Yvonne and Hotsey were both eager to leave their childhood homes.
In the Hall house and in the Wagner house, corporal punishment—whoopings, to use their term—was common. Hotsey got a whooping from his father's father, Will Wagner, when he was caught smoking at age 10. The cigarette got him an ordinary whooping; for talking back he got whooped but good. Fifteen years later, when Billy was a little kid, during a visit to his maternal grandparents, he was found playing in the middle of Highway 16. Randolph dragged him back to the house, cut a branch off a bush in the front yard and whipped him hard. That's how it was, and nobody questioned it. Billy loved his grandfather, loved him very much.
Billy had been born 13 months after his parents were married, on July 25, 1971. Two weeks later Hotsey, who had enlisted in the Army, left for Saigon. He was there for nine months, during the height of the Vietnam War. Hotsey's job was to watch U.S. soldiers who were heading home urinate in cups; then he tested the urine samples for the presence of illegal drugs. When he returned to Marion in May 1972, he and his little family—Yvonne and their infant son, Billy—finally started their lives together.
It was a struggle. Hotsey and Yvonne had little money, limited education and no special skills. They were practically kids, and they were trying to raise a child. Each was unfaithful in the early years of their marriage. Still, they were determined to make a go of it. In 1974 they had a daughter. They named her Chasity.
On the surface the Wagners' marriage seemed ordinary. Each fall Hotsey would help his father-in-law slaughter and butcher a hog, which the Halls would eat through the winter and into the spring. Hotsey and Randolph bowled together in a league, and Yvonne worked at the alley, the Hurricane Bowl, on Main Street in Marion.
The real hurricane was inside the Wagner house. The young couple fought—often. By 1976 the marriage was over. Billy was five. He spent the rest of his childhood angry, unable to understand why his parents could not be together.
He bounced around, sometimes living with his mother, sometimes with his father, sometimes with his paternal grandparents, sometimes with his maternal grandparents. Sometimes his sister was with him; often she was not. Billy usually decided where he went and with whom he stayed. At one point he lived with Yvonne and Chasity in a trailer in Wytheville, the next big town east of Marion, 25 miles away. They were on food stamps.
One day a man Yvonne was seeing came into the trailer. "You don't belong here," Billy said to the man. Billy was six.
Yvonne married the man. Billy refused to attend the wedding. He was eight.
Yvonne and Billy both tell the story about how once, during an afternoon of drinking, the man got into a violent argument with Yvonne while they were swimming in a lake. Billy raced out and started punching the man in the face. Billy and his mother and sister made a dash for the man's truck and took off. Billy was 10.
Soon after that, Yvonne was divorced again. She sought refuge for herself and her two children in her parents' two-bedroom house on Highway 16. Billy sought refuge outside. He took a baseball and threw it against the house day and night. He threw so hard, it scared his mother. He threw so hard, pieces of aluminum siding fell off the house. He did not get whooped. He just kept throwing. His father remarried and had another son and another daughter with his second wife. Billy would have nothing to do with this new spouse either.
"You know what I wish?" he said one day to his grandmother Mae. "I wish Dad would get divorced so that he and Mom could get back together."
"Don't wish that, son," Mae said. "Then there would be four sad children instead of two." Billy would never make that wish again. He was nearly 11.
Eventually half of Billy's wish came true. Hotsey and his second wife divorced. But he and Yvonne never got back together.
Billy and Chasity and their mother shared the Halls' cramped, sagging house, which smelled of cigarette smoke. Mae was deeply religious; she had been saved in 1980. Jesus was everywhere in that house on Highway 16: on the walls and the doors, in pictures and on crucifixes and in the form of statuettes. Before long, Billy too was saved. He and Yvonne and Randolph were all saved together. On Independence Day 1982, the Reverend Mike Sage of Freedom Tabernacle Baptist Church led Randolph and his daughter and his grandson, clothed, into the Holston River to be baptized. Preacher Mike had grown up with the Wagner boys and the Hall boys, and in his day he had raised hell with the best of them. But as a grownup his abiding interest was in salvation.
After the baptism Randolph quit drinking. His interest in Billy grew, and he taught the boy how to kill a hog. But no one saw much of a change in Billy. He had always been a good kid, but he was still an angry one. He just kept throwing a ball against the house, throwing harder all the time. He threw so hard, it scared his mother.
Hotsey and Yvonne seldom agreed on anything, but when Sally and Jack Lamie offered to take Billy in during the summer of 1986, as Billy was about to turn 15, the divorced parents saw the wisdom in that.
In Tannersville, Billy's childhood finally began. Jack bought him a rifle and taught him how to hunt, and in his first year as a hunter Billy killed a deer. On rainy days Sally played board games with her kids and Billy. Jeff, an excellent student who played football and baseball, was Billy's friend and role model.
Billy was supposed to enter the eighth grade in August 1986, having fallen a year behind in school because of his constant shuttling among relatives. But when the coaches and school administrators at Tazewell High—the closest high school to Tannersville, even though it was an hour's bus ride away—saw him play ball during the summer, they saw a kid who threw so hard that he could hurt his fellow middle-schoolers. Shortly before the start of school, Sally and Jack received a call from the Tazewell High principal. Billy would be "socially promoted" into his freshman year of high school, the principal said.
Billy was thrilled. All he wanted to do was to play high school ball. His aunt and uncle laid down a law: Any D's on your report card, and you will not play sports. In the first marking period of his freshman year, Billy made a D in earth science. The Lamies yanked him off the jayvee football team. But he got no whooping. Jack and Sally didn't much go for that.
Billy had four good years in Tannersville, attending Tazewell High, being with Jeff. In school he made mostly B's and C's. In the fall he played football. In the spring he was a centerfielder and dominant pitcher. In one seven-inning game Billy struck out 19 of the 21 batters he faced. His only sadness came when he looked in the stands and saw the parents of his teammates, moms and dads sitting together. His aunt and uncle were always there. His father sometimes; his mother almost never.
On the mound Billy could be pretty wild at times—his darting fastball often darted right out of the strike zone—but his coach, Lou Peery, wrote letters to Division I colleges and to professional scouts, trying to drum up interest in a schoolboy lefthander who was throwing, by his senior year, up to 84 mph. That's usually enough to draw attention. But none of the coaches or scouts made it to Tazewell, having apparently decided that the trip was too long to see a runt of a kid with control problems. So Billy did what he had been doing for several years: He followed his cousin's lead.
Jeff Lamie was attending tiny Division III Ferrum (Va.) College, where he played football and baseball. Billy loved football. He loved hitting, and he loved getting hit. He too went to Ferrum. He got student loans and financial aid and loans from the Lamies.
The Ferrum football coach told Billy to stick to baseball. It was good advice. During his sophomore year, in the spring of 1992, Billy set an NCAA record by striking out an average of 19.1 batters per nine innings. He was throwing in the mid-90s. By his junior year baseball insiders knew all about him. Agents poured into Ferrum and took Billy out for dinner. That was against NCAA rules, but Billy knew he wasn't coming back to school for his senior year, and a free meal was a free meal. In June the Astros drafted him in the first round.
His signing bonus was $550,000, negotiated by Jack Lamie. Billy bought a truck, of course. He bought Randolph and Mae a gas heater for their house. He paid back the Lamies and his student loans. He squirreled away the rest.
Only two things made him hesitate to leave Ferrum: He would be passing up the chance to become the first Wagner to earn a college degree, and he would be leaving behind the first real girlfriend of his life. Sarah Quesenberry, a college basketball player, a daughter of rural Virginia, too, would be going back to Ferrum for her senior year. She was studying psychology. She was eager to become the first member of her family to earn a bachelor's degree, which she did.
Things started coming together for me at Ferrum," Wagner was saying. He was sitting in the home dugout of the Astrodome in July, telling the story of his life, talking a blue streak. All the Wagners are talkers. He was chewing tobacco and talking and spitting, loose as could be, as the hours before a game passed by.
When he was a starter, he said, he was a basket case on the days he pitched. He'd vomit, as he had before games going back to high school. That nervous thing runs in the family—all the Wagners are high-strung. When the Astros, desperate for a closer, made Wagner a reliever in June 1996, they did him, and themselves, an immense favor. Now he never knows when he's going to pitch. Anticipation was his enemy, and now it is gone.
At Ferrum, Wagner said, his anger over his parents' divorce started to fade, and another side of his personality, warm and funny and talkative, started to emerge. In November 1993, in his gleaming truck, he returned to Ferrum. He watched Sarah play a basketball game, then took her out on a date. They drove up to the Ground Round in Roanoke, 45 minutes from campus. The young couple entered the restaurant but returned to the truck because the Ground Round was smoky, and Sarah dislikes smoke. Billy opened the door for his girlfriend. Sarah got in and leaned over to open the driver-side door. She realized that her door was still open, so, without looking, she tried to shut it. The door wouldn't close. Billy's head was in the way. His knees were on the parking lot pavement, and a ring was in his hand. Finally he said, "Sarah, will you marry me?"
They were married 13 months later: a promising minor league baseball player with a couple of hundred thousand dollars in the bank, and his college-graduate wife. The only tension in their marriage was caused by the fact that she had a better jump shot than he did. Sometimes Billy would shoot around with Sarah's father, Steve. His father-in-law had a better jumper than he did, too.
By mid-May 1995, Billy was in his third year in the Houston organization and pitching well, still as a starter, for the Astros' Double A team in Jackson, Miss. His manager told him he was being placed on the Astros' 40-man roster. Wagner knew this meant that if he pitched well for the rest of the season, he might get a September call-up to the big team. He called home. "Can I tell Dad?" Sarah asked. "Sure," Billy said.
The next night Billy was in a motel in Wichita, Kans., sound asleep after a road game, when the phone rang. It was Sarah, sobbing hysterically, almost unable to get out a sentence: "Dad ... and ... Tina ... were ... killed." (Tina was Steve Quesenberry's second wife.) The details would come later. What Billy knew at that moment was that his wife needed him and that every heartache he had known in the nearly 24 years of his life now had a purpose, to prepare him to be at her side. He called his manager and told him that he needed to get home at once and didn't know when he'd be back.
By daybreak the basic facts of the tragedy had emerged. Tina's sister Teresa was separated from Dennis Stoneman, an abusive husband who had served time for rape. She and their two sons had recently moved from a shelter for battered women into an apartment in the small Virginia town of Hillsville. Steve and Tina had heard that Stoneman was looking for Teresa. With Tina's six-year-old son, Ross, in the back of the car, they had driven over to Teresa's apartment complex and into the parking lot. So had Stoneman. According to court documents, he jumped out of his truck, took out a .38 caliber handgun and fired fatal shots into Steve and Tina's heads, leaving Ross unharmed. Steve and Tina had been married only one year.
Stoneman was sentenced to life in prison, with no possibility of parole. The grieving families had wanted the death sentence. Four months after the murders, Billy got his September call-up. He appeared in one game, faced one batter, got him out. Billy's joy in all this, naturally, was muted.
The next two years were better for the Wagners. In the second half of 1996 and in 1997, Billy emerged as one of the best closers in the game. The murders of Steve and Tina receded to the background. Sarah and Billy seldom talked about them. What was there to be said? "We were lucky to be in baseball," Billy says. "It kept us moving."
"Somehow, though," says Sarah, "it made our marriage stronger. I can't explain how."
The Wagners bought a house in a gated community in the Houston suburb of Pearland. They live on a cul-de-sac. Billy helped one of his neighbors, Donne Wall, a pitcher for the San Diego Padres, build a backyard pitching mound. Life went on. On Sundays, Sarah and Billy went to church.
Last year Billy's season started spectacularly. By July 14 he had 22 saves. He had developed a routine that kept him sane: Leave for the park around five hours before game time. Talk to teammates and read the paper for a while. Watch the first inning of the game from the dugout, then retreat to the clubhouse. In the sixth inning, have the Houston trainer stretch him out and rub him down. If there's a chance he'll pitch, go down to the bullpen and throw a dozen warmup pitches, two dozen at the most. Ask the bullpen catcher, "I got good life today?" The answer never changes. He's got good life daily.
On July 15, 1998, playing the Arizona Diamondbacks on the road, Wagner went through his routine. The Astros were leading 8–7 going into the ninth, and he was looking for his 23rd save. He trotted out to the mound and said his prayer, thanking God for the opportunity to play baseball. It was a prayer he'd learned playing ball at Tazewell High. He gave up a single to Matt Williams but got the next batter, Travis Lee, to strike out. Then Diamondbacks catcher Kelly Stinnett came to the plate.
Back in Pearland, Sarah Wagner, eight months and two weeks pregnant, woke up from a nap. She turned on the TV, and the first thing she saw was Stinnett ripping a line drive that thwacked Billy in the head so hard that he took to the air before falling down. The ball caromed all the way to the backstop. There was blood coming out of Billy's left ear, and his feet were twitching.
A shot like that can kill a man, and people were scared. For once, Billy—number 13 in your program—was lucky. He writhed in pain, couldn't formulate a sentence, but he never lost consciousness and was able to make a speedy recovery.
On July 29, while Wagner was on the disabled list, his son was born. Billy and Sarah named the child William James and decided to call him Will. On Aug. 9, Billy was pitching again. By season's end he had saved 30 games in 35 chances. He had struck out a major league record 14.6 batters per nine innings. In the off-season he signed a three-year, $10.3 million contract with Houston.
Wagner doesn't make it home to Marion much now, nor to Tannersville. Sally and Jack Lamie have moved to Salem, Va. Yvonne has moved to Colorado Springs. Jeff Lamie, now a husband and father and a scratch golfer, has moved to Burlington, N.C. Both of Billy's grandfathers died in April 1998, each at his home. They were 70.
Billy went back for Randolph Hall's funeral. The obituary in the local paper listed Billy as one of Randolph's sons. This didn't please Hotsey Wagner. Still, he attended the wake. Hotsey knew how much his son had admired and loved Randolph, a man who could grow and butcher just about anything.
When Buck Wagner died, Hotsey told his son not to come to the funeral. Too much time away from baseball; too many people in Marion just wanting something from him.
Chasity is 25 and still lives in Marion. She was working two jobs until recently, but now she's just got the one as a cashier at a local gas station. She has three children, one with her first husband, from whom she is divorced, two others with a boyfriend, with whom she no longer lives. All three children spent this summer with the former boyfriend.
Mostly, Billy's family visits him. Cincinnati, Cleveland, Atlanta, they're all about a six-hour drive from Marion. Recently Hotsey loaded his Voyager with Wagner kin for a trip to Atlanta to see the Astros play the Braves. Billy paid for the hotel rooms and took his grandmother Ruby Wagner out for lunch at Benihana. Billy doesn't like eating out. He misses the foods of his childhood, grits, corn bread, biscuits and gravy. He hates being away from Will and Sarah. But that's the life of a ballplayer. That's the life he has chosen. The whoopings he got, the constant moving, the food stamps, the parental turmoil, the murder of his father-in-law and his father-in-law's wife—they have made him the pitcher he is and the man he is. They've made his fastball about the liveliest fastball in the game.
He sees his mother the most. His mother and wife and son. His son is the center of his life. His son is his chance to break the cycle.
"When Will was born, Billy started a whole new chapter," his mother says. She's Yvonne Hall again, just as she was for the first 16 years of her life. "When he holds Will, he glows. His cheeks get rosy. His eyes get bright. He laughs."