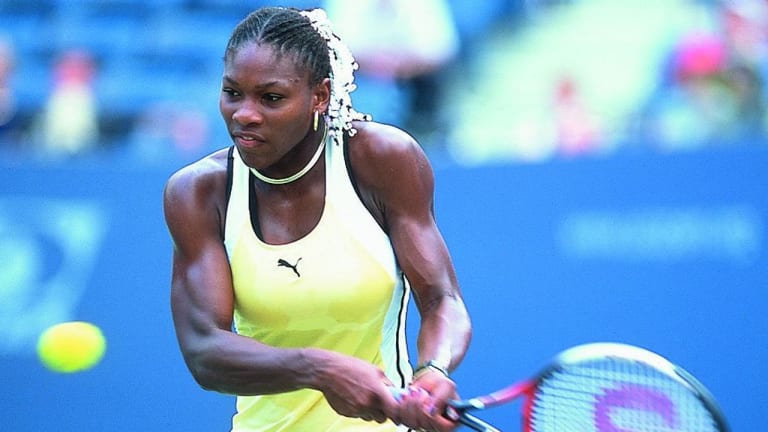 Father Knew Best
With her galvanizing win at the U.S. Open, Serena Williams proved Dad right—he predicted that she, not older sister Venus, would be the better player—but may have created family tension
All night the mother felt it coursing through her, flowing all the way from the nearby hotel room where her daughters tried to sleep. Joy and pain, elation and regret, winning and losing: positive and negative currents commingling, plunging straight into her heart. Was this part of the plan, too? Not really. Back in the 1980s, it had been just talk and dreams when her husband, Richard Williams, stood on a cracked court in Compton, Calif., and predicted huge things for daughters Venus and Serena, boasted that they would upend the tennis world and someday rule the game.
No one thought about how it would play out. No one thought about complications. But now here it was, the night before the women's final of the 1999 U.S. Open, and Oracene Williams lay awake, listening to the hum of New York City after dark. Earlier that evening, everything had gone right and everything had gone wrong. The younger daughter, until now overshadowed, had won and would play for the family's first Grand Slam singles title. The older daughter, long anointed the star, had lost again and could only watch. Serena, 17, was all but vibrating with anticipation. Venus, 19, could barely speak. Mom got to handle the wreckage.
"It was almost like a death, that loss for Venus," Oracene said. She was sitting in the players' lounge underneath Arthur Ashe Stadium. It was late last Saturday night, hours after Serena had made history and scored a massive upset by outmuscling and outthinking No. 1 Martina Hingis 6-3, 7-6 to become the first African-American since Ashe in 1975 to win a Grand Slam singles title and the first African-American woman to do so since Althea Gibson in '58. The room was empty. Her husband, who had stirred the pot before the Open by predicting a Williams-Williams final, baiting Hingis into saying he had a "big mouth" and sparking a dopily orchestrated hug between the two in the first week, had already boarded his flight home to West Palm Beach, Fla. "Venus didn't sleep, and I felt her emotion all night, so I couldn't sleep well either," Oracene said. "She thinks since she's the oldest, she should've been the first, that maybe she should've been tougher. That's something they've thought about all their lives: Meeting in a final, two sisters. She feels she let everybody down."
Down? Hardly. Along with the 18-year-old Hingis, 23-year-old Lindsay Davenport and Serena, Venus had concocted one of the most uplifting 24 hours in women's Grand Slam history, a bruising span of high-octane, high-quality tennis that closed the century with a satisfying bang, eclipsed Andre Agassi's run to his second U.S. Open title and showcased the rivalries that should dominate the women's game for the next decade. Historic shifts hit tennis like hurricanes; you see them coming, but never know exactly where or when they'll make landfall. Suddenly, at this Open, the future came blowing in. Steffi Graf had retired a month earlier, fellow veteran Jana Novotna announced midway through the tournament that she'll be following suit at the end of the year, and stalwarts such as Arantxa Sanchez-Vicario and Mary Joe Fernandez folded before the quarterfinals. "The new generation is here, and it is ready to take over," Novotna said at her retirement press conference. "I think those players will be great, and they'll be tough as well."
For anyone doubting that, allow last Friday's semifinal showdowns—Serena versus defending champion Davenport and Venus versus Hingis—to serve as Exhibit A. After being delayed five hours by rain, Serena and Davenport squared off in a slugger's delight of huge serves and monstrous groundstrokes, with Serena gutting out her fourth straight three-set win, 6-4, 1-6, 6-4, over one of three former champs she would vanquish en route to the title. "I fear no one," Serena said afterward. "I only fear God."
Then came the match of the year: an exhilarating battle between Venus and Hingis that pitted power against guile, athleticism against versatility, and depended ultimately on who was resilient enough to survive a mesmerizing string of furious rallies. After Hingis rolled through a sterling first set, Venus rebounded to take control in the second. But Serena didn't like what she was seeing. Sitting in front of a TV in the interview room while her sister broke to a 4-1 lead, Serena said, "Venus just doesn't seem to be doing the right things. No, she's definitely not doing the right things." Venus held on to win the second set 6-4. Serena still didn't like what she was seeing. She got up and headed outside to the family box. "She needs me," Serena said.
She did. For although Venus is far more imposing, Hingis proved to be in better shape. After being shoved all over the court by Graf at this year's French Open final, the once-pudgy wunderkind spent four weeks training at her new home at the Saddlebrook Resort in Wesley Chapel, Fla., and came to Flushing Meadow looking fitter than ever. Hingis rolled into the semis without losing a set and then, after dropping an exhausting second set to Venus, came back to pull off the shot of the tournament. With Venus assaulted by cramps and serving limply into the net, Hingis had built a 5-3, 30-15 lead when Venus dropped a forehand just over the net. Racing from four feet behind the baseline, Hingis snagged the ball with a one-handed backhand just before it hit and flipped it up the line for the winner. One serve later, she had the 6-1, 4-6, 6-4 victory, and a meeting with the next Williams sister in less than 24 hours. "Another one?" Hingis said.
A better one. Richard always claimed that Serena would be the superior player, but when Venus made her spectacular run to the 1997 U.S. Open final, most observers dismissed such talk as another Richard hype job. It turns out that Father knew best. After joining the tour two years ago, Serena rocketed up the rankings and then early this year uncoiled a 16-match winning streak. That ended when Serena played flat against her sister in the Lipton final—an act of deference, Serena said while watching Venus and Hingis battle, that she has no intention of repeating: "I don't care who I play now. I'm ready." Then, just to make sure, she grabbed a court after her sister lost to Hingis and worked on her strokes for about a half hour.
"She's outside practicing?" Hingis said when she heard the news. Venus, meanwhile, declined an interview with CBS. Then she was asked if she wanted to say something nice about Serena. Venus said, "No." She'd better get used to such requests. With the best forehand in women's tennis, a more consistent serve and a light-footed transition to the net, the seventh-seeded Serena had been recognized by tennis peers as the more accomplished Williams even before the Open. Agassi picked her to win.
"I thought she was ready," Agassi said after his compelling 6-4, 6-7, 6-7, 6-3, 6-2 win over a better-than-ever Todd Martin in Sunday's men's final. "I like her game. She and Venus are incredible athletes, but it's my belief that Serena was more ready to win a big tournament. Her second serve is a lot better. Her forehand is better. And she's a more efficient mover. They're both fast, and Venus can elevate into greatness as well. But she's going to end up taking a bit more work."
Stunningly, no one on tour has become more of an authority on that subject than Agassi. After 11 years marked as much by flameouts and Taco Bell runs as by streaks of on-court brilliance, Agassi became a man in full this year. He won the French Open to become the fifth man to win all four Slam events, fell to Pete Sampras in the Wimbledon final and then lost serve only six times while blazing through a Flushing Meadow draw that was riddled by injuries. With Sampras out with a herniated disk, Patrick Rafter sidelined with a torn rotator cuff and third-seeded Yevgeny Kafelnikov content to pocket his checks and buckle under serious fire, Agassi provided the men's tournament with its one spectacle: Day after day, at the first opportunity, he would strip off his shirt and parade his shaved chest about the practice courts and locker room. It was a comical display of self-love—but well-deserved. After beginning the latest comeback of his career in 1998 with a string of impressive showings at lesser tournaments, Agassi confronted his personal trainer and close friend Gil Reyes last January and declared it time to carve himself into greatness. Reyes told him, "You have to mean it, Andre. If you're going to dream big, you had better get big."
Reyes then retooled Agassi's fitness program, directing him straight from two hours of practice to two hours in the weight room and then over to a paved hill near Agassi's house in Las Vegas that they took to calling Magic Mountain. Almost every day Agassi would chug up the 320-yard-long hill countless times, lungs searing, stomach heaving in the 112[degree] heat. Each time, Agassi would hear Reyes yelling, "Your legs will never let you down!" Agassi kept going. On Sunday, even after five grueling sets, Agassi looked ready to go five more. "I've got to be honest: I'd rather throw up on Magic Mountain than throw up in front of 20,000 people," he said. "Without that I wouldn't have won today."
​
Without that, too, he wouldn't have achieved the best comeback of his career. After sinking as low as 141st in the rankings in the fall of 1997, Agassi is now in the No. 1 spot, and with his two '99 Slam titles, he can lay undeniable claim to the one thing that matters: At 29, he's the best player in the world. "The reward and the fulfillment is so much greater knowing it's something I had to fight for," Agassi said. "I lost my first three Grand Slam finals. It would have been a lot easier if I had won even one of those. In hindsight, I could have done a lot of things that would have made my life easier, but I wouldn't be half the person I am."
As a result, Agassi's name is on the lips of any tennis player seeking inspiration. Everyone from Jennifer Capriati—who at 23 won her first Open match in seven years, played her way into the fourth round and then proceeded to break into tears at her final press conference—to Hingis cited Agassi as an example, but only time will reveal how this new generation will respond to adversity. Its first test has already begun. Hingis, who succumbed to a spasm of petulance at the French Open and then lost in the first round at Wimbledon, concedes that Serena's rise will make her recovery tougher. "I didn't know what to do," she said after Serena blasted her off the court. "I felt lost out there. I didn't know if Serena was going to hit to my forehand or backhand. I couldn't read her game."
​
Oracene sat in the family box during the final, more nervous than she had ever been. "As a mom you think, Not the younger one first," she said hours later. "You want to pull it back to the natural order of things. But sometimes things just come unnatural."
Once Hingis's final backhand sailed long to end the match, Serena staggered backward and clutched her chest. She didn't know whether to laugh or to cry or to scream, so she did them all. The court was bathed in an odd wash of sunlight and stadium lights; her yellow dress glowed like a new school bus. "I touch everyone," Serena had said the night before. "Everyone wants to see me. I don't blame them: Got to get a look at Serena."
She was right: CBS's rating for the 1999 women's final increased by an astonishing 100% over the '98 final. Oracene leaned out of the players' box and hugged her. Richard came down to the court level and hugged her, too. "I knew it," Richard told her. "That's great. You did terrific." The 22,000 people in the stands cheered. In the family box Venus wore a black hood. Her face was a complete blank. She looked as if she were in mourning.
"Maybe this is a wake-up call for Venus," Oracene said. "To be tougher. This will be an example. Venus has ability that no one has seen yet; it would be impossible to even describe it. It's that side of her—what Serena has—that Venus needs. So hopefully she can gain something from this."
Oracene didn't sound convinced. Who knows? This hadn't been part of the plan. She had seen Venus in the box, watching her little sister become a champion. Venus tried clapping, but her hands barely touched.