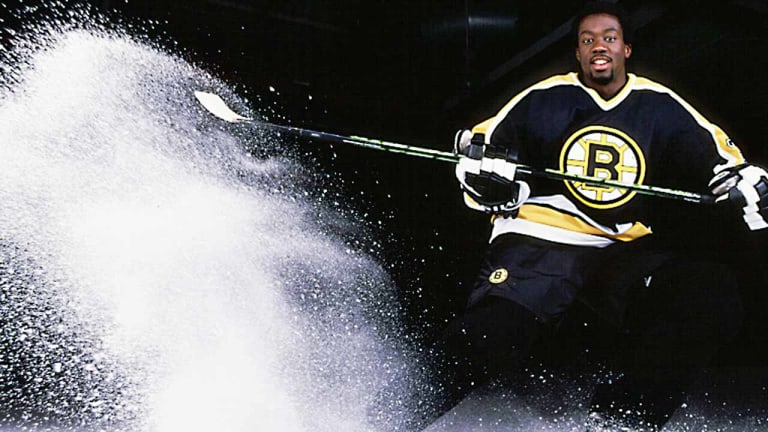 Soul on Ice
A growing number of black players are making their mark in a league that until recently has been known for its insensitivity.
The moisture was running in rivulets, beads dripping and mingling to form capillaries of sweat down Anson Carter's back. He was in the midst of circuit training last month at a gym in Venice, Calif., and the workout was a relentless hour of steps and hops and weights that made his heart pound up to 184 beats per minute and reduced his usually cool and carefully shaped thoughts to ellipses: third period ... playoffs ... fresh ... Stanley Cup.
Carter—showered, massaged, fed—would connect the dots later. In soft words sometimes muffled by the sound of the Pacific breakers in the distance, he explained that the torturous workouts might provide him with the will and strength to help push the Boston Bruins, for whom he is a right wing, closer to a Stanley Cup. The temperature was in the low 70s and a mild breeze blew off the ocean, but Carter, whose percentage of body fat is so low it could almost pass as the interest rate on a savings account, was shivering. "I'll walk along the beach, but I don't go in the water," he said. "Too cold." Anyway, he doesn't summer in California for the waves. He is the wave.
In a sport in which, for much of its history, only the puck has been black, Carter is one of hockey's emerging black stars. He and other black players, such as wingers Jarome Iginla of the Calgary Flames and Mike Grier of the Edmonton Oilers, can shatter the NHL's image as a white sport, a niche sport, the NASCAR of the north. Their success could broaden the sport's fan base and talent pool and open new vistas for the league. Hockey won't be Everyman's game until skates are as common as Air Jordans, until equipment becomes affordable for families with less than middle-class incomes, until the sport becomes as comprehensible in Brownsville, Texas, as it is in Boston. These players can help nudge it in that direction.
By its own count the NHL had 18 black players between the 1917-18 and the 1990-91 seasons. This year the league will have about 20 blacks among its nearly 650 players. While theirs is not the face of hockey—there are roughly as many Finns in the NHL as blacks—neither is the black player a fly in a pail of milk, to borrow the title of the memoir of Herb Carnegie, a Quebec senior league star of the 1940s and '50s who was denied a spot in the NHL because of his race. But Carter, Iginla and Grier are destined to be forces, not footnotes.
For many black players of the past 25 years, their careers have been wham (fighter Val James, 11 games with the Buffalo Sabres and the Toronto Maple Leafs in 1981-82 and '86-87), bam (former first-round draft choice Reggie Savage, 34 games with the Washington Capitals and Quebec Nordiques from 1990-91 through '93-94), thank you, Graeme (enforcer Graeme Townshend, 45 games with the Bruins, the New York Islanders and the Ottawa Senators from 1989-90 through '93-94). Only goalie Grant Fuhr, a Vezina Trophy winner who played on five Stanley Cup champions with Edmonton between 1983-84 and '89-90, and left wing Tony McKegney, who scored 320 goals before leaving the NHL after the 1990-91 season, had long, distinguished careers. Even so, circumstances skewed their imprint on the game. That the 37-year-old Fuhr, now with Calgary, is a minority player has been rendered almost invisible, despite 398 career wins, because he's a light-skinned man who has been camouflaged by a mask. McKegney had the misfortune of following a journeyman's itinerary through seven teams in 13 seasons although his statistics say he deserved better.
It will be hard for any black player to match Fuhr's accomplishments, but several in their 20's are on the cusp of prominence. Grier, 24, an effective hitter whose once stevedorelike hands are getting softer, hit the 20-goal plateau for the first time last season. (At press time Grier was holding out in a contract dispute.) "Mike's got good speed and intelligence, but he's also a great guy, full of personality, outgoing," Oilers general manager Glen Sather says. "He could be captain material."
Iginla, 22, whose impact as a rookie in 1996-97 made him a finalist for the Calder Trophy, was second on the Flames in goals with 28 last season and had 62 in his first three seasons—three more than Detroit Red Wings star forward Brendan Shanahan had at the same stage of his career. Canucks goaltender Kevin Weekes, 24, a key figure in the trade that sent scoring star Pavel Bure to the Florida Panthers last season, has yet to win an NHL game in 15 starts. He will open the year as Garth Snow's backup, but he'll grow into a first-stringer if he can build upon a sound technical base. Three of the top seven NHL heavyweights are black: Edmonton winger Georges Laraque, 22, who scored a TKO over Sabres enforcer Rob Ray last year; Vancouver Canucks forward Donald Brashear, 27, who has matured from a pug into a bona fide bruiser and has earned about 12 minutes playing time per game; and Florida wing Peter Worrell, 22, who could barely skate backwards five years ago but has improved to the point where Panthers general manager Bryan Murray envisions him becoming a second-line player.
The 25-year-old Carter might be the best of them all. Despite playing in only 55 regular-season games in 1998-99 because of a contract dispute and an ankle injury, he scored 24 goals, including 12 in the last 18 games. He also had the winning goal in double overtime of Game 5 against the Carolina Hurricanes in the Eastern Conference quarterfinals and iced that series by scoring the second goal in a 2-0 win in Game 6. Like Grier, he's entering his fourth season in the NHL—the year elite forwards such as the Hurricanes' Keith Primeau and the Philadelphia Flyers' John LeClair became standouts. "I really like Carter," Montreal Canadiens forward Trevor Linden says. "Explosive speed, tough kid, a guy who can score. You can see he really thinks out there."
Says Carter, "Black players are scorers. Black players are checkers [the St. Louis Blues' Jamal Mayers]. Black players are enforcers. Black players are tough stay-at-home defensemen [Jean-Luc Grand-Pierre of the Sabres]. We have different roles on a hockey club. Black players are bringing different things to the table, which means that black players are the same as everyone else."
The emerging black player won't reshape hockey the way Europeans transformed the NHL over the last two decades, he won't rack up Gretzky-like numbers, and he won't turn the crowds from a sea of white faces to a Def Comedy Jam. But he already has started a revolution. In 1999-2000 the NHL will begin diversity training. The black player has made the league sensitive to its insensitivity.
At a rink in West Orange, N.J., last month a troupe of actors who could skate assembled to make a video and a little history. The actors performed five skits; the scenes involved two players questioning a teammate's sexuality, a black player being called a gorilla by an opponent, players dropping their towels in front of a female reporter, a misunderstanding between Russian and North American teammates, and a crowd of fans chanting, "Chicken Swede!" Every NHL team will be shown the video either during training camp or early in the season as part of the league's diversity training.
"There's a certain romanticized ugliness to hockey, but [commissioner] Gary Bettman isn't selling a Neanderthal game," says Colin Campbell, the NHL's senior vice president and director of hockey operations. "There are problems in the workplace, and like any other workplace, we're educating people and dealing with those problems. We're feeling our way. All sports are. Society, too. It's just not what people have seen in the headlines that has prompted this, although that's been part of it."
The NHL has suspended three players a total of five games for slurs against blacks in the past two years, the only league to suspend players for racial remarks. In November 1997, forward Chris Simon of the Capitals was suspended three games for calling Grier "a nigger"; two days later Simon flew to Toronto to apologize to Grier in person. Two weeks after that incident, one of Simon's teammates, forward Craig Berube, called Worrell "a monkey," for which he was suspended one game. Berube, who said he had also directed that remark at white players, claimed he was unaware it had a racial connotation. (Simon and Berube are Native Americans who have been the targets of slurs themselves.) San Jose Sharks defenseman Bryan Marchment also received a one-game suspension in April for calling Brashear "a big monkey." The NHL investigated at least three other allegations of racial slurs over the last two years, including a lip-reading reporter's claim that he saw Philadelphia center Chris Gratton hurl a slur at Worrell, plus a he said-he said tiff between Tie Domi and the Flyers' Sandy McCarthy, who's part black, during the 1999 playoffs. "It would be a lot better," Sather says, "if they just called each other f------ pricks."
NHL players do that, too. There's hardly a rumor, allegation, peccadillo, physical feature or, for that matter, noun, verb or adjective that isn't given voice in a sport rooted in intimidation. Racial taunts, while shocking if uttered off the ice, weren't considered out-of-bounds in traditional hockey culture. "When you're mad at somebody, you pick out the most obvious thing about him and abuse him with it," Maple Leafs president Ken Dryden says. "In our worst moments, in the moments we can't finesse, things come out of us that we're not terribly proud of. That's why sensitivity training is so difficult to make work. The problem isn't that people don't know the words are hurtful. The problem is they know the words are.
"In the heat of battle—and that's what hockey is, a battle—you want to hurt the other person. In a way, think of eye-gouging. In a fight you know you can punch somebody in the nose but you shouldn't gouge his eye, probably because you know how much it would hurt if it were done to you. You condition yourself not to, which is what the NHL is trying to do."
The league has adopted vague terms like "inflammatory words" and "common sense" in promulgating its guidelines for judging slurs. Like former U.S. Supreme Court Justice Potter Stewart and his view of pornography, the NHL might not be able to define unacceptable taunts, but it will know them when it hears them. ("Chicken Swede has been grandfathered, don't ask me why," says Campbell, who imposes league suspensions.) If the subject is an uncomfortable one for Campbell—"I don't only have to be a lip-reader but also a mind reader, figuring out the intent of the words," he says—it's no less so for black players, who say verbal abuse in the NHL is less severe than it was in youth hockey, juniors, the college game or the minors. While they welcome the NHL's crackdown, they also regret that it has shifted attention from their games to their race. The black player again is being painted not by numbers but by color.
"It's tricky," says Carter. "I suppose the league could list all the banned names, but at the same time, we're also professionals. It could get to be like grade school: You can say this, you can't say that. When my friends heard about the Simon and Berube stuff, they told me if that had happened to them, they would've cracked those guys over the head with a stick. But those were just words, and words have no effect on me. At the same time, I recognize those words are wrong. There's going to be a fine line of policing this without making the guys think they're in kindergarten."
Says Worrell, "Maybe it's because of the Berube incident, but I'm singled out as the politically correct guy. That's not me. Obviously I shouldn't say what I'm about to say, but I'm not a guy to cleanse the league. Berube called me the next day and apologized. All was forgiven. Those other two things had nothing to do with me." (In addition to the groundless accusation against Gratton and the unresolvable Domi-McCarthy matter, the NHL investigated a contention by Panthers officials that Tampa Bay Lightning center Darcy Tucker made a racial slur toward Worrell in an argument under the stands during an exhibition game last October, a comment Worrell says he never heard. The league found no basis for disciplinary action.) "That thing with Gratton was ridiculous," says Worrell. "It made us both look bad. People wonder if I'm a crybaby, trying to stay in the league by playing the race card."
Worrell prefers to play the card he was dealt. He's 6' 6", 235 pounds and preternaturally aggressive, even if his skating is still raw. His size and his role as an enforcer are cause for even more invective to be thrown his way, but it was color, not Worrell's playing style, that prompted a man in suburban Montreal to scream "Nigger!" every time Worrell touched the puck in a pee-wee game when he was 12; that prompted fans in Val d'Or, Que., to pelt the penalty box, whence Worrell had been banished for roughing, with bananas and jump up and down like chimps during a 1994 Quebec Major Junior Hockey League exhibition game; that four years ago caught the eye of a man with a bullhorn when he called the Hull (Que.) Olympiques, for whom Worrell played, "19 yellow bastards and one nigger." Worrell ticks off the litany of insults by rote, less concerned with his past than his future.
"That stuff went beyond the call, but you have to understand I was living the Canadian dream," says Worrell, a native of suburban Montreal. "Hockey nets in the street. Move them for the cars to pass. Game on. I used to hear from other black kids in my neighborhood, 'Why do you want to play that? You're a big man. Play basketball. Play football. You have a better chance of playing these sports professionally. Hockey is for the white man.' I was, like, So? They see me now and tell me how proud they are, how they knew I'd make it, how great it is to see more brothers in the NHL. I tell them thanks, but maybe if they realized it's an open game, they could let go of the stereotypes. A lot of us are first-generation Canadians. Me, Kevin, Anson. Our parents were from Barbados. We had none of the biases, none of the baggage."
The emergence of the black player is a reflection of demographic change in Canada, which still supplies three of every five NHL players. In 1971 there were only 34,445 blacks in Canada (.02% of the population); 25 years later, after heavy immigration from British Commonwealth nations in the Caribbean, Canada had 573,860 blacks (2% of the population) and 62% of them lived in hockey-mad Ontario. "When I say I'm a hockey player, a lot of people say, 'Really?'" says Carter, who's from the Toronto suburb of Scarborough. "Then I say I'm Canadian, and it's like, 'Yeah, all you guys do that.'"
Grier is the only American-born, American-trained black among the approximately 40 black players who have played in the league, a distinction that paints him as the great black hope in the scores of letters he receives from black children, who share their hockey experiences with him. The 6' 1", 227-pound Grier, who was born in Detroit and moved with his family to suburban Boston when he was three, always has been an anomaly. Too big to qualify for youth football—his father, Bobby, a former running back at Iowa, is vice president of player personnel for the New England Patriots—Grier gravitated toward hockey. He starred in high school and then in 1993-94 through '95-96 while at Boston University, became a Hobey Baker finalist, resisting the pressures of being the rare black kid in the sport that drove his brother Chris, a once promising goalie, to give up hockey. (He's now a scout for the Patriots.) "He just got tired of dealing with it," Mike says.
Grier was taken in the ninth round of the 1993 draft by the Blues and was traded two years later to Edmonton, a franchise that has had four black goalies in the past two decades and currently has two other blacks on its roster, Laraque and defenseman Sean Brown. "If any of the black players have success, kids will want to emulate us," Grier says.
The NHL, which is "trying to put hockey on inner-city kids' radar," as league vice president of business development Bryant McBride puts it, hopes Grier is right. "A few black American kids are going to dribble through soon, but the real impact is going to be the next generation—maybe 20 years from now," says Lou Vairo, director of special projects for USA Hockey. "In the inner cities we're dealing with talented, bright, good kids. They're going to grow up to be good parents, they're going to improve their standards of living. They will push their children into hockey."
The NHL, in conjunction with USA Hockey, sponsors a diversity task force that has created a hockey infrastructure for disadvantaged children in 40 communities. The concept is noble, the budget meager. The NHL contributes $50,000 annually and runs a used-equipment bank, but as McBride says, "This isn't just for black children. This is to help to break down barriers for all kinds of people who don't have the disposable income to get through the gate. Are there a large number of minorities who are part of this group? Sure. We're just trying to give them access. Tiger Woods is Tiger Woods because he had access. Arthur Ashe was Arthur Ashe because he had access."
The five-year-old diversity task force also holds an annual Willie O'Ree All-Star Game, which is played by 10- to 12-year-old boys and girls, to celebrate minority involvement in hockey, a match named in honor of the NHL's first black player. O'Ree, director of youth development for the diversity task force, made his debut for the Bruins in Montreal on Jan. 18, 1958. He's;hailed as the Jackie Robinson of hockey, the man who skated through the barrier. After O'Ree played his final NHL game, in '61—he scored four goals in 45 games there would be no other black player for 13 years.
If the current generation of black NHL players is interested in its real progenitor, he's driving a bus in Toronto. Saturdays are always Mike Marson's busiest days, and on this sultry eptember morning he awoke at 3:30. After putting in 10 hours behind the wheel for the Toronto Transit Commission, he hustles to the north of the city to unlock the doors of a storefront martial arts studio. For the next two hours Marson, a third-degree black belt, gives a private lesson and then teaches a class in karate that physically challenges boys and men and his abdomen. Near the end of class Marson walks down the line of white, orange, green and brown belts to take punches to his stomach, an ample target considering he is 5' 9-1/2", 265 pounds, or about 50 pounds heavier than his playing weight. He never winces when he takes a shot to the gut. After the last student bids goodbye, Marson turns to his visitor and says, "Gee, I think I broke me toe again." If he'd been that tough 25 years ago, his life might have been different.
O'Ree had been "a sideshow," in Marson's phrase, a player merely passing through the NHL. Marson, a left wing, was destined to be a factor, no matter what obstacles he might encounter. He was the 19th player drafted in 1974—three spots ahead of future Hall of Famer Bryan Trottier—and scored 16 goals the ensuing season, when he was 19, for the expansion Capitals. But according to a Washington Post story in 1977, when Marson was among the Capitals summoned to do an early-season publicity shoot, one teammate sang out, "If I get my face painted, will they pick me?"
"I went into hockey as a young man," Marson says, "and I became a young black man."
He had grown up near Toronto and played junior hockey in Sudbury. He had been influenced by Martin Luther King Jr. He knew Eldridge Cleaver's Soul on Ice was not about Zambonis. The rare taunt had been nothing but background noise. In the NHL there were jokes from teammates, stares when he went out with his white girlfriend, Patty, who later became his wife, and finally a death threat before a game in Philadelphia. "At the time I felt this tremendous sense of alienation," Marson says. "I felt it was me against the world of hockey."
Even after Bill Riley, the NHL's third black player, joined the Capitals as a regular in 1976-77, Marson felt isolated. Riley was older and had thicker skin. "How many times can you be called Uncle Ben?" Marson asked. His play suffered. After the promising rookie year, he shuttled back and forth between the NHL and the minors and later was traded to the Los Angeles Kings. When L.A. assigned him to the minors in October, 1979, he walked away from hockey.
"I thought I was a failure, and it took me a long time to realize that no matter what, nobody could take away the fact that I stood up for six years," says Marson, who scored 24 goals in 196 NHL games. "When other guys were still living at home with Mom, I was out fighting the beast, fighting a tradition. I won for a while. I think I opened the doors significantly.
"I learned a lot of lessons," he says. "One is, I should have reported to the minors. Another is that I should have maintained my focus, something I get now from martial arts. Another is you need support. You see what the league is doing now, suspending guys for racial stuff. That's important. Mr. Bettman is doing a good thing. You see the black players today are going after their dreams, and some of them are going to be great."