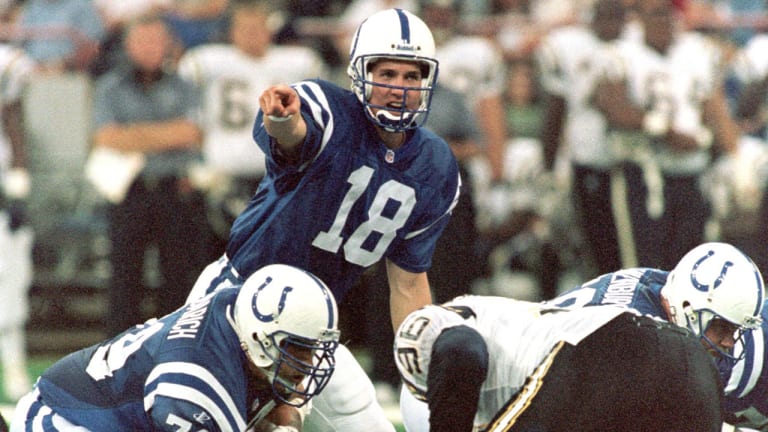 Thoroughbred
The Colts' Peyton Manning is more than living up to his pedigree. Now if he can just figure out how to open a can of soup
The Polaroids sit in a small manila envelope in the upper reaches of the bedroom closet. In times of distress Peyton Manning strips down to his boxers and takes comfort in the several dozen photos. He stares at a snapshot--perhaps one showing a baby-blue oxford shirt, nut-brown slacks and cranberry tie lying neatly on a sales counter--then sifts through a jungle of hangers. Thanks to these handy visual aids, the NFL's most commanding young quarterback can dress himself.
Manning, the Indianapolis Colts' second-year sensation, is as comfortable on the field as any passer with his limited experience has been in at least a decade, perhaps since Dan Marino blew into Miami in 1983. He is a burgeoning superstar who's at ease speaking in front of 10,000 people or singing before five times that many country-music fans. Yet for all his grace in the spotlight, Manning, 23, is often lost when it comes to menial tasks. He has flailed in the face of such daunting endeavors as opening a can of soup, ordering Chinese takeout and hooking up a TV set, and he has less fashion sense than Cher on Oscar night. That's why his clothes-shopping excursions--and those made for him by his mother, Olivia, in the Mannings' hometown of New Orleans--inevitably end with a photo shoot.
His fashion foibles may cause him some embarrassment, but nowhere near the humiliation that opposing defensive backs have felt at the way Manning has undressed them this season. Buoyed by his detailed preparation and unshakable poise, Manning has been the prime reason for Indy's sudden shift from cellar-dwelling afterthought to emerging power. A 27-19 win over the New York Giants on Sunday gave the Colts a 7-2 record, one marred only by last-minute losses to the AFC East rival Miami Dolphins and New England Patriots. Manning ranks among the NFL leaders in passing yards (first, with 2,519), touchdown passes (tied for second, with 17) and completions (third, with 186), and he has thrown a touchdown pass in 22 consecutive games, the longest active streak in the league and the eighth-longest in NFL history. His growth curve approximates the upward trajectory of one of his end-zone fade passes. "He's easily one of the top 10 quarterbacks in football, and that's a conservative statement, because there aren't nine guys I'd put ahead of him," says Fox analyst John Madden, who came away awed by Manning after working the broadcast of Indianapolis's 34-24 victory over the Dallas Cowboys on Oct. 31. "I always had the theory that a quarterback doesn't have a clue until his fifth year, but with this guy that goes right out the window."
In that come-from-behind victory over the Cowboys, Manning suckered Deion Sanders, freezing the NFL's best cornerback with a wicked play-fake before zinging a 40-yard touchdown pass to wideout Marvin Harrison for the winning points on the first play of the fourth quarter. The play, 218 Bastard, provided an example of Manning's scrupulous attention to detail. Manning, who has studied films of recently retired play-action masters Steve DeBerg and Boomer Esiason, sold his fake handoff to rookie running back Edgerrin James. Sanders stood flat-footed, and Harrison, who ran a post pattern from the right side, was wide open. "I lose the ball when I'm watching him sometimes, and you see defenses lose it, too," Buffalo Bills general manager John Butler says. "A lot of things he does are forgotten arts in this league. It's amazing how quickly he has adapted."
It's not as if Manning has sneaked up on the rest of the NFL. Almost from the time he became a starter during his freshman year at Tennessee, Peyton, the son of former New Orleans Saints standout Archie Manning, was the most eagerly anticipated prospect since Troy Aikman was drafted by Dallas in 1989. Yet Manning, a 6'5" 230-pounder picked first in the '98 draft, has been even better than advertised. In the months before the draft he was repeatedly compared with Ryan Leaf, the cocky, strong-armed quarterback who had led Washington State to its first Rose Bowl appearance in 67 years. Scouts, executives and coaches, most of them speaking anonymously, popped off about Manning's alleged liabilities: unspectacular arm strength, limited mobility, a lesser upside than Leaf. It became fashionable to depict Manning as the safe pick, with Leaf cast as the potential mother lode.
We all know how things have played out: The San Diego Chargers mortgaged their future to acquire the second pick so they could select Leaf, who flopped and is currently serving a four-week suspension for berating Chargers general manager Bobby Beathard. Manning, on the other hand, has thrived for precisely the reasons that made him so attractive in the first place: his upbringing in the sport, his intelligence, his work ethic and his leadership skills.
When he joined the Colts, Manning made a point of asking to have his locker placed amid those of the offensive linemen. "I've put a lot of thought into being a leader," he says. As he intended, the men charged with protecting Manning have embraced him as one of the guys. "Peyton's approachable, down-to-earth and treats everyone with respect," says Indy left tackle Tarik Glenn. Right tackle Adam Meadows says Manning "is like an extra coach on the field. He even knows what the offensive linemen are supposed to do, so he commands respect immediately."
Manning is universally regarded as a good guy. Relentlessly polite, he gives motivational speeches ("Basically, 20 minutes' worth of ways to say, 'Work hard,'" he says), has a foundation (PeyBack) devoted to helping underprivileged youth and responds to messages sent to his Web site (PeytonManning.com). Manning not only accommodates autograph requests but also carries a pen to aid the cause. Yet Manning has an ambivalent relationship with his image: It both comforts and annoys him, clearly beating the alternative--would he rather be Leaf?--while sometimes making his actions appear contrived.
"I've tried to keep myself out of bad situations, and if that means I'm a Goody Two-shoes, so be it," Manning says. He's sitting at his favorite Indianapolis restaurant, the St. Elmo steak house, eating a shrimp cocktail that has enough horseradish to bring most men to tears. "I see myself as very normal," he adds. "Growing up in New Orleans as Archie Manning's son, I felt like a target, and I've always known that whatever I'd do, people would hear about it. So I've had my guard up, and maybe that's molded my personality. But if there's something I want to do, I'm going to do it."
Manning's older brother, Cooper, who's in the oil business, never felt so burdened by the weight of perception. "When I was 12 and he was 10," Cooper recalls, "I remember taking my shirt off on the golf course, and Peyton would say, 'What are you doing? You're gonna get us kicked out.' Peyton has sacrificed a lot to get to where he is, and he knows people are looking at him, waiting for him to screw up."
Friends tell of Peyton being so self-conscious in bars that he would conceal his beer when certain onlookers--or cameras--were present. "He's more of an instigator," says Baldwin Montgomery, a lifelong friend. "He might tell you to do something stupid, but he's not going to be the one to get nailed for it."
Though he was intentionally low-key as a rookie, Manning, a self-described "smart-ass," has let his sense of humor shine in '99. He's a frequent locker-room prankster, dumping cold water and baby powder on teammates in bathroom stalls, placing clear shampoo on third-string quarterback Kelly Holcomb's towel while his teammate is in the shower. In the Colts' season-opening win over Buffalo, Manning livened up the huddle with a dead-on impression of stoned Fast Times at Ridgemont High savant Jeff Spicoli: "There's nothing wrong with a little feast on our time." When Holcomb trotted out to a recent practice sporting a mild outbreak of acne, Manning altered his presnap cadence, barking out, "Whitehead 80!"
Manning also has a throwback brashness. He detests the modern specter of players prancing after making routine plays, which he views as "bush league. If a defensive back breaks up a pass and poses, I'm going right at him on the next play." Manning typically won't call out a teammate for dropping a pass in a game, but if a decoy receiver goes half-speed on a route during practice, he says, "that's worthy of an ass-chewing." Another of Manning's pet peeves is the ebullient postgame fraternization that goes on between opponents. "Just get the hell off the field," he says disdainfully. "You just lost; what are you smiling about?" Even pregame schmoozing irritates him. Manning and Holcomb often spot Indianapolis players and opponents kibitzing, then amuse themselves by conducting mock conversations: "Y'all are gonna kick our ass today.... How are the wife and kids?... Cool, dude, it's all good."
Ashley Thompson is on the phone from eastern Tennessee, playfully discussing her boyfriend's penchant for "being boring," when she hears a call-waiting beep. Manning's number comes up on her caller I.D.
"Do you need to click over?" you ask.
"Nah, whatever, he'll call back."
"Uh, are you sure?"
"Trust me, he'll deal with it."
All right, then. Manning may be a take-charge dude in the huddle, but he chose a pistol of a mate in Thompson, a marketing manager for a land development company. "Sometimes you have to remind him that there are things in life other than being a star," Thompson says. "When he decided to stay at Tennessee for his senior year, everyone started treating him like a god, and I think he sort of got caught up in that for a short time. No one else will criticize him, so I've had to put him in his place a little bit, to keep him down-to-earth. So he has to call me."
Thompson, who grew up in Memphis and graduated from Virginia, was introduced to Manning while visiting friends at Tennessee just before his freshman year. They spoke briefly at a frat party, and she wasn't overly impressed. "He was wearing this really ugly pastel shirt," she says, "and I had a feeling he was going to be a nerd." But Thompson agreed to go out with Manning when she returned for another visit later that fall, and he won her over with his manners (opening doors and pulling out chairs, for starters) and maturity.
Manning has long been bombarded with female attention--a Tennessee student asked him to sign her chest while Thompson glared coldly; Manning politely declined--yet he's clearly locked in on his first read. Though their relationship has been mostly long-distance, Thompson attends all Indianapolis home games, and she and Manning, in this cyber era, actually write each other letters. "She can flow through all the madness, and she's bright and funny," Manning says. "I probably like her so much because she's like my mom, thoughtful and caring."
When Thompson's not around, Manning, an obsessive watcher of game films, lives a spartan existence. He spends part of his off day at the Colts' training facility, and he has been caught raiding the coaches' dinner spreads during midweek viewing sessions that run late into the evening. Manning sometimes goes to movies alone and has eaten his share of drive-through dinners in Wendy's parking lots, figuring it's the best way to avoid attention when he's on the go. His two-bedroom apartment is sparsely decorated, and he ends his nights alone in bed with a spiral notebook and a cassette recorder, the latter to record a verbal diary he has been keeping since high school. "At times I do get lonely," he says. "A lot of my buddies are married, and I get tired of being the third wheel. One reason I put in so much work at the facility is that I have nothing to go home to. That's by design."
With Manning, almost everything is by design. His approach to assuming the role of Indy's team leader was as scripted as his Gatorade commercial with Michael Jordan and Mia Hamm. On the day he was drafted Manning received a playbook from Colts quarterbacks coach Bruce Arians. The team had a minicamp scheduled for the following weekend. "He showed up for the first practice, got in the huddle and started rattling off everything to everyone," Arians recalls. "Players were like, 'Whoa,' and by the third practice he had taken over the team."
Still, Manning lay low for most of '98, relying on advice he had received from John Elway and others. To offset the hype surrounding his arrival Manning tried to portray himself as a commoner. Of his dedicated approach to weight training, he says, "I don't believe in having a separate workout for quarterbacks. Other players hate that." During practice Manning has regularly volunteered to fill in on the scout team's kickoff coverage unit. "Part of that's for conditioning," he says, "but that defensive tackle who has been going hard on every rep sure does appreciate the breather."
All of that maneuvering is nice, but it wouldn't work without the charming clumsiness that accompanies it. There's something disarming about a multimillionaire innocently hanging up jeans in his locker with PEYTON printed in indelible ink on the inside of the waistband. "The great thing about Peyton is he comes across as being very mortal," says Carolina Panthers quarterbacks coach Bill Musgrave, who was Manning's training-camp roommate at the end of his playing career in '98. "The only other person at that level I've seen who can convey that was John Elway. He and Peyton are both tremendous athletes who don't carry themselves like they're superhuman, and people can relate to their mortality."
"He's too easy to make fun of," says Montgomery, Manning's childhood chum. "He's mature beyond his years as a public figure, and he has an amazing grasp of what to do on the field, but he can't do anything else on his own. He's always going to be the guy who steps in dog poop, and every time he eats a sandwich or a hamburger, he'll end up with ketchup down his leg, mustard on his ear. He's a terrible driver, and he can't sing, though he thinks he can." To his friends' dismay, Manning, who while visiting Thompson at Virginia was known to enliven parties with warbling renditions of Montell Jordan's rhythm and blues hit This Is How We Do It, has become a highly confident crooner. Last April country singer Kenny Chesney, with whom Manning grew friendly after the two performed a duet for the NFL Country CD in '98, allowed him to hack away at an unplugged guitar and sing backup during a sold-out show at the Superdome.
Cooper calls his brother "somewhat of a domestic idiot. My mom went up to his apartment after training camp this year, and she caught him turning his underwear inside out so he wouldn't have to use the washing machine. A couple of weeks ago he called my wife and asked her how to heat up soup." Amazingly, that's not even Manning's worst soup-related display of cluelessness. Once, when he was sick, he called Thompson to ask her how to open a can of soup. "He didn't know what a can opener looked like," she says. Another time Manning placed a long-distance call to Thompson from his dorm room and expressed a desire to have Chinese food delivered. Flustered by the process, he persuaded Thompson to call a Knoxville restaurant from her apartment in Charlottesville and make the order for him. Last year Manning complained about the poor reception his television was getting. When Thompson showed up a month later for Indianapolis's season opener, she says, the set wasn't hooked up to the cable wire.
Musgrave, who became an assistant coach with the Philadelphia Eagles last season after being cut by the Colts in training camp, recalls "sitting in my office at Veterans Stadium trying to game-plan and getting a call from Peyton in his car asking for directions somewhere around Indy."
When it comes to his football career, Manning needs no navigational assistance. He took some lumps as a rookie, juxtaposing occasional bursts of brilliance with maddening mistakes and enduring a whole lot of losing. He set NFL rookie records for completions (326), attempts (575), passing yards (3,739) and touchdown passes (26), but he threw a league-high 28 interceptions, and Indy finished 3-13. Most significant, Manning says, he hung tough through the misery; he was the only quarterback in the league to take all of his team's snaps.
After a brief break he spent the bulk of his off-season in Indianapolis working with Colts receivers. The chemistry is beginning to show. "There are no secrets, no shortcuts," he says. "It's all about preparation. I was glad to be drafted by a team that has struggled, because I feel I can make a contribution and help us establish a tradition."
To Manning, every minute of practice is precious. "I've never been so impressed watching a quarterback," says Madden, who coached the Oakland Raiders to victory in Super Bowl XI. "He's nonstop; the guy never sits still. If they're not using him, he's pulling a receiver off to the side and working on plays. Then you see it pay off in a game."
Madden was particularly struck by a Manning-initiated scramble drill--Peyton says he learned it from his father--in which he and various receivers simulate broken plays and get a feel for one another's improvisational tendencies. One of many payoffs this season came late in the game against the Cowboys. With Indianapolis clinging to a seven-point lead and facing third-and-eight from its own 21, Manning was flushed out of the pocket before flicking the ball down the right sideline to James, who busted loose for a 54-yard reception that set up an insurance field goal.
James, the fourth pick in last April's draft, has been even more of a weapon than versatile halfback Marshall Faulk, a Pro Bowl player in '98 whom the Colts traded to the St. Louis Rams two days before the draft. James and Harrison, a fourth-year player who ranks first in the NFL in receiving yards (996) and touchdown catches (11) and is tied for the league lead in receptions (64), are hard workers who have grown accustomed to Manning's pace. "I see exactly the same thing from those three in practice that I saw with Steve Young and Jerry Rice in San Francisco," says Indianapolis defensive end Mark Thomas, who was with the 49ers from 1992 to '94. "Peyton prepares like a champion, and it rubs off."
Manning's upside seems boundless. There are no more concerns about his arm strength, and his lack of mobility is offset by his rapid release and his ability to slide away from pocket pressure. If this description resembles that of a certain future Hall of Fame quarterback in Manning's division, the comparison is not far-fetched. "Marino came in and made a quick impact," says Bills defensive coordinator Ted Cottrell. "This guy's the same way. He's going to take Marino's spot."
Like Marino, Manning is difficult to sack. The Colts, who allowed an AFC-worst 62 sacks in '97, gave up only 22 in Manning's rookie year despite facing frequent blitzes; Indy has surrendered just seven through nine games this season. Arians says Manning's footwork and other mechanics have improved, as has his ability to read defenses. "Of all his strengths, his greatest asset is that he gets the ball to the right person," Patriots defensive coordinator Steve Sidwell says. "He may rewrite the record books before he's finished."
For now there's a youthful awkwardness to Manning that makes him seem more human than the typical preordained superstar. His calculated efforts to maintain that good-guy image are counterbalanced by an unrefined strand of sincerity that comes out when his guard is down. Last March, on the night before Cooper's wedding, Peyton, the best man, recited a rhyming poem he'd written that lacked the sarcasm and zingers usually reserved for rehearsal-dinner pronouncements. "It was long, a little corny and very touching," Cooper recalls. "He speaks from the heart when it really matters, and you've got to admire a guy for that."
Thompson certainly does. How else, she wonders, could she have fallen for a lanky dude who showed up for a date wearing an all-denim outfit and thought he looked sharp? "He's a very genuine and real person, but not everyone sees that," she says. "Even if he wasn't a big star with a famous father, he'd still hold back in public because that's his personality. He knows what he wants, and he has a passion for it. Football makes him happy."