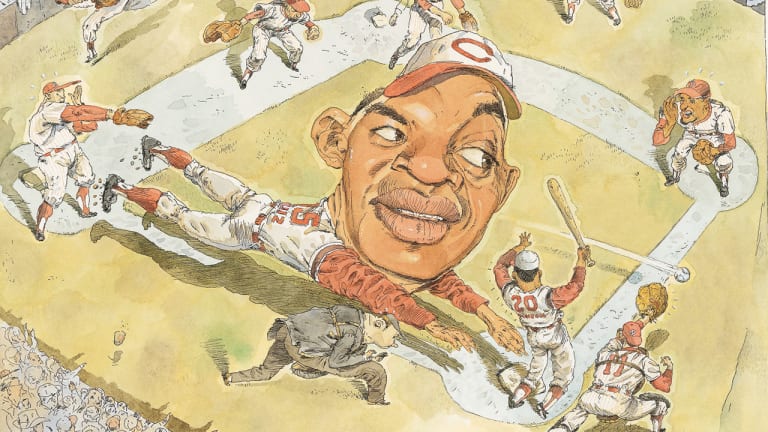 Don't Do It, Chico! No, No!
On September 21, 1964, the Reds' Chico Ruiz stunned the Phillies.
There's Chico Ruiz, hip-hopping off third. There's Art Mahaffey, giving him no more scrutiny than one would a cricket in someone else's yard. There's Frank Robinson, flicking that murderous yard of lumber. There's the Philadelphia Phillies' pennant, dangling by a thread, only nobody knows it . . . except me. Please, God. You can have Ali-Foreman and the four golds Jesse Owens stuck up Hitler's arsch and all the other seismic moments in sporting history that I never had the good fortune to witness, if only you'd let me be at Connie Mack Stadium on Sept. 21, 1964.
Because I would know. I'd know what Ruiz, the Cincinnati Reds' rookie utilityman, on a cockamamie Cuban whim, is about to do in the sixth inning of a scoreless game. I'd know that it's going to send my hopeless, hapless Phillies to the first of 10 straight losses and the most catastrophic late-September collapse in baseball history. I'd know that a 6 1/2-game lead and my life, at age 10, are about to go up in stinking, sulfuric smoke. O.K., O.K. So maybe I did watch, oh, 93 too many Friday-night episodes of Time Tunnel, but please, let me go back in time, for just that one ball game.
There I'd be, leaping on my box seat behind the Philadelphia dugout, brandishing a homemade sign as large as the one my nine-year-old son holds up for shortstop Desi Relaford every time I take him to the ballpark to watch his beloved Phils (yes, the brainwashing is virtually complete), only mine would say: LOOK OUT!!!!!! CHICO'S STEALIN' HOME!!!
Mahaffey, the Phillies' lanky righthander, would glance over at me and scoff, because how in blazes could a first-year scrub like Ruiz, who spent so much time in the Reds' dugout that he settled into a folding chair at every home game and onto a cushion inscribed RUIZ BENCH SPECIAL at every road game, have the balls or the brainlessness to swipe home with Frank Robinson up to bat? Doesn't he know that if Mahaffey throws anything near the plate, Robinson will be swinging and Ruiz's head will be coming off, because nobody, but nobody—not Robinson or Cincinnati acting manager Dick Sisler or third base coach Reggie Otero—has a clue as to what Ruiz is about to do.
Sure, Mahaffey would scoff at my poster, but I'd scream and wave and tippytoe it even higher, at least planting the possibility in Mahaffey's skull and stealing just enough of the thunderclap surprise element that Ruiz would have to let this lunacy pass. And Mahaffey would never be spooked into a wild pitch by Ruiz's streak for home, and the Phillies would never lose 1–0, and manager Gene Mauch would never panic and start his two star hurlers, Jim Bunning and Chris Short, again and again on just two days' rest, and the St. Louis Cardinals' ungodly 19–1 record in the final three weeks just wouldn't be quite enough, poor laddies, and the Phillies would win the pennant! The Phillies would win the pennant! And rookie slugger Dick Allen, having treated Philadelphia to its first world championship, would not get booed out of town five years later, and Ruiz, God bless him, in the chain of events that are inexorably and cosmically linked, would never die in an automobile accident near San Diego in 1972. Because--isn't this obvious?--his audacity that night at Connie Mack Stadium would never have taken place and thus never have required such retribution.
I'll rest now. The cold rag being pressed to my forehead and the circle of loved ones staring down at me are making it too difficult to continue.