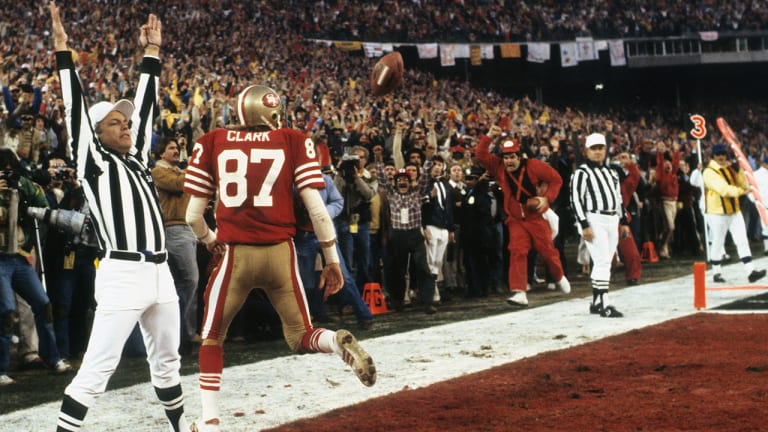 Publish date:
The Day The 49ers Struck Gold
January 10, 1982: San Francisco 49ers beat the Dallas Cowboys on "The Catch"
My little sister barged into the den shrieking, convinced there had been an earthquake. My mother, having been banished as a bad-luck charm, dared not leave her bedroom. As San Francisco 49ers wide receiver Dwight Clark soared to make the catch we never saw coming, knotting the 1981 NFC Championship Game at 27 with 51 seconds to go, my father and I hugged and danced and screamed with abandon, releasing years of pent-up frustration from crushed hopes and bad luck.
Then my dad and I went back to our respective posts on the beat-up couch and waited for the Niners to blow the extra point. Three hundred fifty miles to the north, in Candlestick Park, 60,525 disbelieving fans knew exactly how we felt.
The Catch has been called the most meaningful play in modern NFL history. It essentially ended the Dallas Cowboys' long run of excellence and launched a 17-year stretch of 49ers greatness. But to understand what that game meant to a true Niners fan, you had to be at the 'Stick--or in the den of our house in West Los Angeles. While living in Northern California during my infancy, my dad had fallen hard for the 49ers, an exciting but perpetually maddening team that reflected San Francisco's uproarious, unbounded spirit. I was thus born into a life of torment, including three heartbreaking playoff defeats from 1970 through '72, all to the Cowboys, the first two in NFC title games.
Now, after an amazing emergence under courtly coach Bill Walsh, supremely confident quarterback Joe Montana and rowdy rookie cornerback Ronnie Lott, the 49ers had set me up for another emotional mudslide. San Francisco had walloped the Cowboys 45-14 during the regular season, but a true Niners fan knew that didn't count for anything now. Any minute, reality would rear its ugly head.
The game unfolded just as we feared it might: Dallas seized a 27-21 fourth-quarter lead, then Montana threw his third interception, San Francisco's sixth turnover of the game. When the 49ers got the ball back at their own 11 with just under five minutes left, an Eagle Scout couldn't have tied a knot any tighter than the one my stomach was in. I looked to my dad for hope; he offered only pity. He surely felt guilty for having dragged me into this abyss. But wait, the Niners were driving! Inside the 20...third-and-three from the 6....
Montana rolled right for what seemed like forever, chased by Too Tall Jones and two other Cowboys. Finally he released the pass, and for a split second I felt relief. One more down; the dream lives. Suddenly a red blur that shouldn't have been there appeared on screen, and then Clark was spiking the ball. My dad gave me the purest, most joyful embrace I'd ever experienced. I was 16--same age as the Super Bowl, same as Montana's uniform number. I wasn't looking for a dynasty, just one miracle victory, one Monday of parading around my high school wearing my way-too-tight, mighty-mite 49ers jersey.
On TV we saw the Candlestick zanies screeching and gyrating in a way only first-time winners can. Around the Bay Area, on block after block, people opened doors, ran into the streets and yelled their lungs out. None of us thought it was close to over--but on the extra point Ray Wersching squeezed the ball between the uprights.
Then after the ensuing kickoff, Dallas wideout Drew Pearson caught a pass over the middle, swept past Lott and was gone--until rookie corner Eric Wright got hold of his jersey and yanked him down. Ball on the San Francisco 44, less than 40 seconds to go. This can't be happening! My dad and I held hands--psychically--with everyone in the stadium.
Short breaths, then the most beautiful play ever: Danny White back to pass, pummeled by Lawrence Pillers. My dad and I were so elated we didn't even see the fumble. Seconds later we were laughing through tears as Jim Stuckey trudged to the Niners' sideline with the ball aloft. Soon after, Montana raised his index fingers to the heavens, and fans streamed onto the field.
By the end of the century I would see the Niners play in person more than 100 times. But I would trade all those games to have been there with my dad that day at Candlestick.