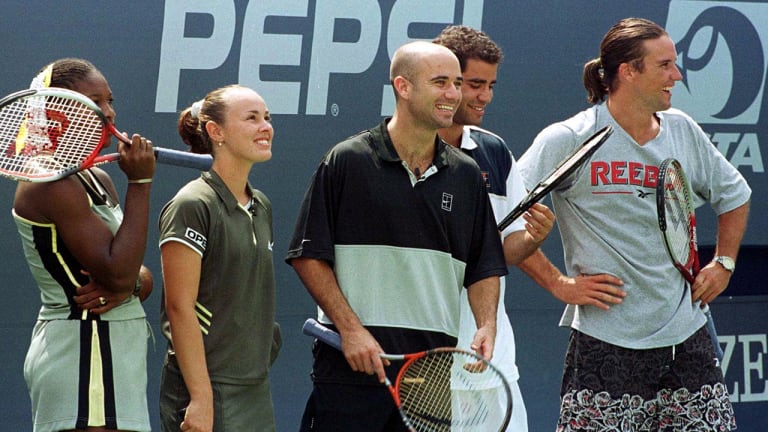 Boot Camp
The world's top-ranked players, Andre Agassi and Martina Hingis, had a chance to escape the heels of their respective nemeses in Australia, but only one of them did
The two of them had so little in common; how odd to find them thus bracketed by fate. One was a ponytailed girl in her last year as a teenager, traveling with her mother. The other a bald man coming off a divorce. Somehow last week Martina Hingis and Andre Agassi had each ended up, in the final days of a famous tennis tournament on the earth's other side, staring up at the same unsettling silhouette.
Both were what they had long striven to be, king and queen of their worlds, No. 1s. Yet both—such a strange condition for sovereigns—lived beneath a boot. When minions hushed and well-wishers receded, both heard the same squeak: Am I really No. 1?
Hingis's boot went by the name of Lindsay Davenport. Entering the Australian Open in Melbourne, Davenport had stomped her in straight sets the last three times they'd met; no No. 2 in women's tennis had ever done that to a No. 1 in the Open era.
Agassi's boot was Pete Sampras, the man who had kicked him around in four of their last five encounters and nine of their last 12. Whenever it mattered most, it seemed, Sampras, who had been relegated to No. 3 by last year's herniated disk, could arise from injury, layoff or lethargy and place Andre under heel again.
In no professional sport besides boxing does the possibility of domination hang more rancidly, more ruinously in the air. Both Hingis and Agassi believed their peril was temporary, changeable—they told people that. But there comes a moment when the boot no longer simply hovers and haunts, when it's about to come down and make that final crunching twist and then walk off wearing the poor bastard, like gum, for life. For the ponytailed queen and the bald-headed king, that moment had come.
What more could Agassi do, if he couldn't break Sampras's psychological grip on him here? He was in the best condition of his life, chiseled by a training regimen that lasted four to five hours a day. Where was Pete on Christmas Eve? As cars full of gifts and families flickered by on their way to dinners with relatives, Andre was huffing his 320-yard sprints up a hill in Las Vegas that he calls Magic Mountain. He'd never struck the ball as cleanly as he had in Melbourne nor played more fearlessly. Against Mark Philippoussis in the fourth round, Agassi had actually charged a 134-mph serve. He'd never been more focused or more at peace. He was rich in love with a woman sitting at courtside named Steffi Graf.
He sat in postmatch press conferences radiating a Buddha glow, arms folded, hairless head gleaming, bemused smile forever playing about his lips, twinkling eyes and thoughtful replies ready to meet each questioner—unless the questioner dared to ask about Steffi and tabloid rumors of a recent secret marriage in Hawaii.
Across the net, in last Thursday's semifinal, stood Sampras, who had played only a handful of matches in the five months before Melbourne, who had slouched and hangdogged his way across this newly coated surface he compared to glass, struggling to keep control of the lightest and hardest balls ever to pop from an Oz Open can. Good lord, a 148th-ranked Zimbabwean named Wayne Black had had him down two sets to none in the third round before Sampras's ears finally twitched. Sure, he was stalking history, but he looked slightly irritated that he had had to come 8,000 miles to tuck a record-breaking 13th Grand Slam singles title inside his racket bag.
If he couldn't beat Sampras now, no makeover or permutation would remain; Agassi would know the stark answer to the naked question: Is my talent enough?
Afterward, people would call it the best match they'd ever seen in Melbourne Park, the most electric of Agassi and Sampras's 29 duels. It crested in the second tiebreaker, with Sampras leading 4–6, 6–3, 7–6, 6–6 and now just a few more line-licking aces from complete ownership of Agassi. History's massive bulk leaned on Agassi. He hadn't taken a breaker from Sampras in five years, and the most recent one—the 7–0 anvil Pete had dropped on him just 45 minutes earlier—was surely ringing in his head.
Or was it? Each Agassi movement—the cocking of his backhand, the reaching for his towel, the gesturing for new balls—was performed with the jerky, relentless motions of a bird building a nest, oblivious to the howling gale, those 37 Sampras aces that kept blowing the nest down. Here was a 29-year-old who had entered a holy place with a tiny door, one who had learned to let go of the anguish or exultation of the moment past or the moment lurking, a man completely engaged in this instant . . . then this one . . . and now this. "Both of them [chewing on the past or the future] are a crime," Agassi would say later. "It's quite a profound simplicity. Having a second life is what got me to realize this. Being 140th in the world. I've had a lot of hard lessons, both on the court and off."
The second tiebreaker was theater of the sort once seen at epic prizefights. Fifteen thousand people leaning and rocking, grunting awe and gasping expletives as if they were taking and delivering the blows. More Agassi Zen: "Your ears are ringing . . . you can't even hear yourself grunt. And then in some strange way it's incredibly silent in your mind." The two men exchanged screaming, smote-on-the-dead-run forehands, god-have-mercy crosscourt backhands, aces that made seasoned journalists seize up. Sampras, 3–2. Sampras, 4–3. Sampras, 5–4. No indication at all of the hip-flexor tear that an MRI would reveal the following day, forcing Sampras to scratch from this week's Davis Cup tie in Zimbabwe. Finally, Agassi crushed a forehand to win the tiebreaker, the arena thundered, and the cameras all spun to Steffi, who stood and turned her back to shut them out. Finally, the wall of Pete Sampras had been broken.
Agassi ransacked him in the fifth set 6–1. He was now the first man since Rod Laver, in 1969, to make four straight Grand Slam finals, and when he melted No. 2 Yevgeny Kafelnikov 3–6, 6–3, 6–2, 6–4 in Sunday's final, giving him three of the last four Slam trophies, what could it be but an anticlimax? Agassi had burnt the boot.
What more could Hingis do, if she couldn't break Davenport's psychological grip on her here? She had settled last summer's spat with her mother and coach, Melanie Molitor. She had swallowed her teenage cry for freedom when she found, after a week of uneasy days on her own at Wimbledon and then a helter-skelter escape to Cyprus following her first-round loss, that life without structure, without Mom and tennis, was too empty and chilling a prospect. She had stopped the 2 a.m. phone calls—"to boys, girls, I don't know, maybe her horse," cried her mother—stopped moaning that she was bored and everything was boring, stopped pillaging the dessert trays and chocolate boxes, stopped pretending that her body hadn't changed and her agility hadn't diminished, stopped denying that the emergence of the Williams sisters and the grinding improvement of Davenport meant that she could no longer pick up a racket for 45 minutes a day and dominate her sport as she had for the previous three years.
She'd begun working out four hours a day—three on the court and one of conditioning—had increased the velocity of her serve, and she looked more catlike and cunning than ever through the Aussie Open's first six rounds. She'd even declined another of those tempting, psychic-energy-sapping roles in the tour's weekly soap opera, ceding the front pages to Jelena Dokic's claim that tournament draws were rigged to keep her down, and to Anna Kournikova's parking-lot smooch with Philippoussis, even resisted the easy slam dunk when Serena Williams showed up two days before the tournament, not having played a match in 3 1/2 months, performed dreadfully in her new flaming red-and-black dress and sneakers and was pitchforked back to fashion school in the third round.
Hingis burbled with confidence; this was her court, her house—the tournament she had won three straight years in both singles and doubles, played on the very same Rebound Ace surface she practiced on at both her houses, in Zurich and at the Saddlebrook Resort in Wesley Chapel, Fla. And look at Davenport, the big woman who had dominated her in their last three head-to-heads: heavily taped, gimping on a hamstring she had strained while ending the tournament's feel-good story, prodigal daughter Jennifer Capriati's first trip to a Slam semifinal in nine years.
But Hingis is still 19, just beginning the long, painful journey to herself, still miles behind Agassi on that trip. Last Saturday, on the morning of her final with Davenport, she awoke to turmoil: Aussie doubles specialist Rennae Stubbs's headlined fury because Hingis, having lost with Mary Pierce to Stubbs and Lisa Raymond in Friday's doubles final, had obsessed in the locker room about her own poor play instead of offering the winners any credit.
Hingis had barely walked on the court when the boot came down with a thud, then a sickening squish. Davenport's deep, powerful ground strokes pinned Hingis helplessly, until, as Davenport's breathtaking 11-out-of-12-game roll thundered on, Hingis no longer considered victory but only the clock, thinking that somehow, for dignity's sake, this 6­–1, 5–1 45-minute humiliation must be stretched to an hour. Davenport finally stumbled; Hingis took four more games before exiting and seemed grateful for the bone.
Her surrender to Davenport was astonishingly complete. "I just can't play you," she told Davenport as they waited to receive their trophies. "It's too hard to play her mentally," she told the audience in a galloping, emotional speech. She entered the tunnel, fell into her mother's arms and sobbed.
There it was, the tour's master for the past three years almost seeming to say, If I can't be in complete control of what's happening, the only safe harbor is, I have no control over what's happening. It flabbergasted Davenport, even in her joy over a remarkable third Grand Slam title in the last six tournaments. "I kind of knew it a little bit," she said, "but it's freaking me out that she admits it."
Davenport looked down at her feet, grinning sheepishly, a woman without the slightest pretension or slightest need, off the court, of domination. She looked in need of boots—it could get a little messy, in those flip-flops, wearing Hingis around.
Hingis had barely walked onto the court against Davenport when the boot came down with a thud, then a sickening squish.