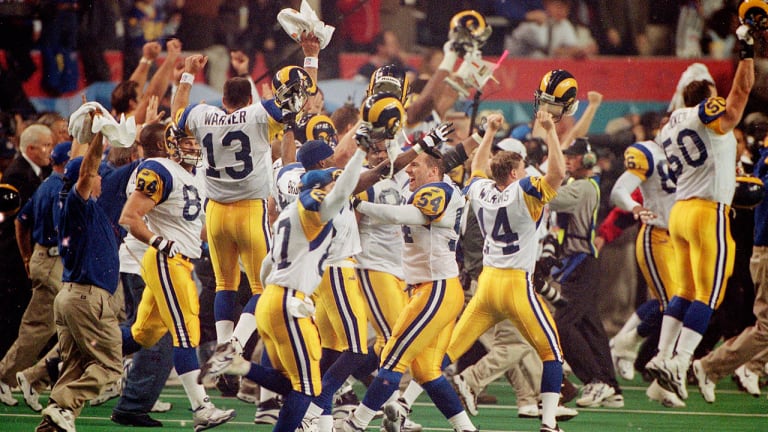 The Greatest: Kurt Warner Leads Rams to Storybook Ending
Kurt Warner was his usual stellar self as the Rams hung on to beat the Titans in the best Super Bowl ever.
He is a family man and a man of God, an out-of-nowhere sensation whose story has been called too schmaltzy even for Hollywood. But on the football field Kurt Warner is the quintessential quarterback, a cocksure leader who wants the ball in his hands when everything is hanging in the balance. With Super Bowl XXXIV slipping out of the grasp of the St. Louis Rams, Warner took over in a way that must have impressed even the game's legendary signal-callers. Two minutes and five seconds remained in a tie game with the tireless Tennessee Titans when Warner, already enduring the pain of strained cartilage in his ribs, jogged onto the field, inhaled gingerly and thought, It's time for me to win this game. As cool and slick as an icy roadway, Warner dropped five steps in the pocket and, an instant before absorbing a hellacious hit from defensive end Jevon Kearse, launched the 73-yard touchdown pass to wideout Isaac Bruce that gave the Rams a 23–16 victory in the greatest Super Bowl ever. All across the land spines straightened and eyes moistened, and anyone who has ever been doubted felt a surge of satisfaction.
When the game's wild ending played out a few minutes later, with St. Louis linebacker Mike Jones stopping Tennessee wideout Kevin Dyson at the Rams' one, confetti flew and fireworks exploded in the Georgia Dome, and the coronation of Kurt Warner, American Sports Hero, was complete. By now we know the 28–year-old's triumphant tale by heart—the family tragedy, the job stocking groceries for minimum wage at an all-night supermarket, the minor league football struggles—and it seems almost cliched, or somehow beyond belief. Yet the one person who appears unfazed by the improbability of it all is the guy doing the heavy lifting. You may have considered Warner a nobody before the 1999 season began, but the quarterback inside him never saw it that way.
"How can you be in awe of something that you expect yourself to do?" Warner asked late Sunday as he rode a team bus from the Georgia Dome to the Rams' hotel. "People think this season is the first time I touched a football; they don't realize I've been doing this for years—just not on this level, because I never got the chance. Sure, I had my tough times, but you don't sit there and say, 'Wow, I was stocking groceries five years ago, and look at me now.' You don't think about it, and when you do achieve something, you know luck has nothing to do with it."
No, Warner and the Rams weren't lucky, nor was it merely good fortune that electrifying quarterback Steve McNair and his Titans were down only 16-0 midway through the third quarter before they mounted a furious comeback. The lucky ones were the 72,625 fans in the stadium—and the tens of millions watching on television—who saw two proud and courageous teams wage one of the most stirring battles the NFL has known. While Warner, who eclipsed Joe Montana's 11-year-old Super Bowl record by throwing for 414 yards, was the game's MVP, the true measure of his performance and of this epic event transcended statistics. "This Super Bowl really was a representation of all that is good in the NFL," said St. Louis tight end Ernie Conwell, whose only catch, a 16-yard reception that helped set up the game's first touchdown, was marred by a frightening neck injury to Tennessee strong safety and defensive leader Blaine Bishop. "You had two class organizations that have fought their way up to this level, with two high-character coaches and two solid groups of guys. Today we showed the nation, and the world, why football is such a great game."
The game provided a passionate climax to an emotional eight days for pro football, a span that began with the horrific car accident that left Kansas City Chiefs linebacker Derrick Thomas paralyzed from the chest down (and killed Thomas's friend Mike Tellis); included an overblown winter-storm watch that rivaled the hysteria over Y2K; and finished with Titans coach Jeff Fisher whispering consoling words into McNair's ears as the Rams celebrated a few yards away. In the center of it all, as usual, was Warner, who in 4 1/2 months had gone from anonymous replacement for injured starter Trent Green to ubiquitous symbol of sudden, stunning athletic success. On the Wednesday night before the title game, when Conwell considered asking Warner to join him and other teammates for an evening out, one St. Louis player wondered whether they wanted to deal with all the hoopla the quarterback's presence would generate. They decided to leave number 13 alone; he spent the night holed up in his room. "I'm a mess," Warner said the next day as he sat fidgeting at a team reception for arriving family members. "Today my only break was a 10-minute lunch. I just want to crawl in a hole and hide."
Instead he took his wife, Brenda, to dinner—and then rebuffed her attempts to lure him back to her hotel room, because he wanted some rest. Fame has changed life dramatically for Kurt and Brenda, who still have a rock outside their modest St. Louis home that reads, THE WARNERS. The added tension took its toll on the family on the day last December when Kurt, the eventual league MVP, learned he had been selected as the NFC's starting quarterback for the Pro Bowl. "We were in a nasty fight," Brenda recalls, "and I went out to run some errands. My friend, Kim, was watching the kids [Zachary, 10; Jesse, 8; and Kade, 1] and called on my cell phone to tell me some flowers had been delivered. I figured they were from Georgia [Frontiere, the Rams' owner] because she's always sending them to Kurt, but there were 13 red roses, so Kim opened the card and read it to me. It was from Kurt, telling me he'd made the Pro Bowl: 'This is a great day for me, but it would mean nothing without you there to share it.'"
Leave it to Kurt, in difficult times, to be the Man. Like Montana, who guided the San Francisco 49ers to four Super Bowl titles, Warner, who completed 24 of 45 passes for two touchdowns with no interceptions on Sunday, thrives thanks to a scary combination of quick reads, pinpoint accuracy and grace under fire.
Yet unlike so many St. Louis opponents this season, Tennessee, which on Oct. 31 handed the Rams their first defeat, refused to sit back and let Warner score at will. Mixing coverages and varying blitzes, the Titans, while allowing Warner to throw for 277 first-half yards, put a major hurt on the quarterback—he injured his ribs while taking a shot as he overthrew wideout Ricky Proehl in the end zone 24 seconds before halftime—and tightened up where it counted most. The red zone was the dead zone for St. Louis, which staked out a mere 9–0 halftime lead despite moving inside the 20 on each of its five first-half possessions.
Oddly enough, the game didn't start shining until after a brush with football's dark side. With 8:24 left in the third quarter Conwell took a helmet-first hit from Bishop that left the defender lying facedown on the carpet. Conwell attends the same fundamentalist church as Warner, and he began praying for Bishop. Rams coach Dick Vermeil soon gathered his players for another prayer. Bishop was carted off with a sprained neck and taken to a hospital for precautionary X-rays. Tennessee, already missing free safety Marcus Robertson, who had fractured an ankle the previous week in the AFC Championship Game, seemed to be finished, especially after rookie wideout Torry Holt (seven catches, 109 yards) cradled a nine-yard dart from Warner in the middle of the end zone three plays later.
Trailing 16–0, the Titans did what they always do: They stayed in a fight they seemed to have no business in. Dual-threat McNair (22 completions in 36 attempts, 214 yards; eight carries, 64 yards) perked up, leading a 66-yard touchdown drive that ended on Eddie George's one-yard run with 14 seconds left in the third quarter. Tennessee missed the two-point conversion, but St. Louis went three-and-out, and George, who had 77 of his 95 rushing yards in the second half, finished the Titans' next drive with a gritty two-yard touchdown run. Tennessee held again and tied the game on Al Del Greco's 43-yard field goal with 2:12 to go.
At that point the Titans looked fresh and energized, while the Rams were breathing more heavily than a bunch of construction workers watching Ashley Judd walk past. Said Mike White, St. Louis's assistant head coach, "[The Titans have] had so much success in the fourth quarter all year, and they just turned it up. People have been calling them a team of destiny, and it was like they just believed it was their time."
The quarterback of destiny, however, had the final say. With the Rams taking over on their own 27, offensive coordinator Mike Martz called 999 H-Balloon, a play in which Holt lines up wide to the left and three wideouts start from the right: Inside man Proehl runs a post, and slot man Az-Zahir Hakim and outside man Bruce (six catches, 162 yards) join Holt in running go routes. When Warner saw that Bruce would be single-covered by cornerback Denard Walker, he knew where he wanted to go. But Kearse's vicious rush caused the quarterback to release early, and the ball was underthrown. "I was thinking, I hope Ike comes back for it, because it's not far enough," Warner said later. That's exactly what Bruce did, turning to catch the ball at the Tennessee 43, then freezing several defenders, cutting to the middle and outracing everyone to the end zone.
The race wasn't over, though, and Warner watched in wonder as McNair nearly willed the Titans to a tying touchdown. With 22 seconds remaining and the ball on the St. Louis 26, McNair produced one of the most scintillating efforts in Super Bowl history, scrambling more than 10 yards behind the line of scrimmage and bulling free of would-be sacks by defensive linemen Kevin Carter and Jay Williams before releasing a perfect pass to Dyson at the Rams' 10. Tennessee called its final timeout with six seconds remaining, and the season came down to one precious play.
The Titans sent tight end Frank Wycheck into the end zone, hoping to draw several defenders to the area and hit Dyson on an underneath slant with room to run. Dyson, whose kickoff return off a Wycheck lateral had given Tennessee a stunning wild-card victory over the Buffalo Bills, had another Music City Miracle in reach. He caught the ball in stride inside the five and had only one man between him and the first overtime game in Super Bowl history. Jones, however, wrapped up the wideout, and Dyson's lunge for the goal line fell short. "It seemed like slow motion," Jones said. "I couldn't see McNair throw the ball, but I could feel it."
It was the rarest of football events—a Super Bowl that exceeded its colossal buildup, and nice guys finished first and last. The victory was an inspirational validation for Vermeil (box, above), who returned in 1997 from a 14-year absence and by the middle of his second season was facing a near-mutiny by his players because of his relentlessly demanding approach. After a 4–12 finish in '98, St. Louis upgraded its roster, and Vermeil and his assistants wisely loosened the reins.
Soon Fisher's team will shake off the agony of defeat and celebrate the joy of the journey. As driven and intense as he can be, Fisher has more perspective than most men in his profession. Five hours before the game, just before he left his hotel room to attend chapel services, the 41-year-old coach returned a call to a dying man in Florida who had been moved by the Titans' rousing run through the postseason. "This will be my last Super Bowl," the man told Fisher, "and I want you to win it." As Fisher hung up the phone, his wife, Juli, looked on in awe. "He doesn't get emotional much," she said, "but he was really choked up. I thought, What a great man he is. Because isn't that what this is all about—touching people, using your success and good fortune to try to reach out and connect?"
Brenda Warner also used the term "great man" to describe her husband, who gets irked when people attribute his or his team's success to luck or astrology or the sage (allegedly used for cleansing) that burned inside the Rams' locker room before Sunday's game. Warner wears number 13 as a way of underscoring his aversion to superstition, because he believes such views are inconsistent with a faith in God. Clutching a Bible on the postgame bus ride, Warner didn't act like a man who had gotten lucky. Told by offensive line coach Jim Hanifan that he had broken Montana's Super Bowl yardage record, Warner replied, "The only record of his I want to break is to win five of these babies."
Later, he flashed back to perhaps his darkest moment, the night in 1996 when he was awakened by a call from a sobbing Brenda, then his girlfriend, telling him that her parents had been killed by a tornado that leveled their Arkansas home. Within five minutes he was out the door of his apartment in Des Moines, where he was playing for the Arena League's Iowa Barnstormers, and on the road to Brenda's, an hour and 40 minutes away in Cedar Falls. "The whole time I just thought I was dreaming," he said, "that I would get there and everything would be fine."
The bus pulled up at the Rams' hotel, and Warner was back to his rock-star reality. He and his teammates walked toward the main entrance, and when someone spotted Warner, fans converged madly, and he was ushered through a side door and up a service elevator. After a quick visit to his eighth-floor room, Warner was escorted through various kitchens, laundry areas and service hallways to the team's victory party, where he hugged Brenda and other family members and had his aching ribs blessed by Jeff Perry, the pastor of the Warners' St. Louis church, and Jeff's wife, Patsy. As a band played Eddie Floyd's Knock On Wood, Warner was asked whether he had seen Heaven Can Wait, the 1978 film in which Warren Beatty plays a quarterback who is taken by an overzealous angel after a bike accident and ends up winning the Super Bowl for the Rams.
It turns out that Warner saw the flick on TV as an eight-year-old in Cedar Rapids, and he doesn't remember much: the accident, a couple of football scenes and the ending, when Beatty gets the girl. That final scene is perfect: The Rams have won the big game, and Beatty, the hero, is the last player to leave the locker room when Julie Christie approaches. She sees something special about him, then it registers: "You're the quarterback," she says.
Now back to real life: As Sunday turned to Monday and the victory party raged on, the world's greatest quarterback looked lovingly into Brenda's eyes. "I miss our kids," he said, then kissed her and smiled.
Schmaltzy? You bet. It's the Warners' story, and they're sticking to it.