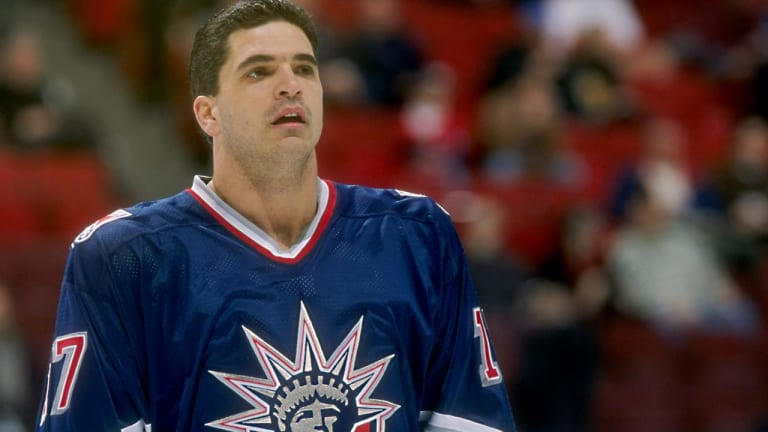 Life of the Party
Few NHL players are as affable and widely beloved as the Rangers' Kevin Stevens, but he's lucky to be alive after a hellish night smoking crack with a hooker.
The sharp knock on the door and the brusque shout of "Collinsville police" shattered the predawn quiet, the ominous soundtrack to a life that had fallen off a cliff. There is no telling where the sickly thud will occur when any mortal hits bottom, especially one as talented and handsome and gregarious and beloved as Kevin Stevens, a man without an enemy in the world if you overlook the demon of addiction. Room 239 of a Travelodge motel—$47.68 a night, double-double, smoking—in the St. Louis bedroom community of Collinsville, Ill., is as good, or bad, a place as any.
"Who is it?"
The voiced repeated "Collinsville police," but this time there was no reply. Stevens, a 34-year-old New York Rangers left wing, a former All-Star who was facing an uncertain hockey future, was inside, transfixed by the presence of something more powerful than even the law: crack cocaine. Stevens is a close friend of Wayne Gretzky, a former teammate in Los Angeles and New York. He is tight with Mario Lemieux, once his linemate in Pittsburgh. For more than a decade Stevens had walked with hockey's kings. In the early morning of Sunday, Jan. 23, in a modest motel on the eastern side of the Mississippi River, Stevens's companions were Pamela Velia and Darryl Crawford, described by police as a prostitute and her pimp. Crawford had his affiliation with the Vice Lords street gang tattooed on his right forearm.
The police knocked a third time, shortly before 7 a.m. "Finally he opened the door, and you could tell immediately—he had the deer-in-the-headlights look: Oh my god, it really is the police," says Det. Eric Zaber, the arresting officer. "He was pacing back and forth. He couldn't sit or stand in one place. He kept mumbling to himself, over and over, 'I'm going to lose my job. I'm going to lose my kids. Going to get divorced. My life's over.' He was really wired."
In interviews with SI, the Collinsville police traced, in graphic and often disturbing detail, the hellish descent of a fallen star: from an all-night club, to a drive-through liquor store where they bought the glass tube and Brillo pad needed to make a crack pipe, to a street drug buy, to a motel crack party at which, Velia told officers, Stevens was smoking the drug "like a monster." This might have been a personal apocalypse for Stevens and stunning news in the NHL, but for the Collinsville police it was just another of the 200 or so crack arrests they make in a year. "The only thing that made this interesting," Maj. Ed Delmore told SI, "is Kevin Stevens."
In a way, Stevens's arrest might have been the best thing that happened to him that night. After a few days in a Los Angeles-area treatment center following his release from jail, he moved to a rehabilitation facility in Connecticut, where he'll remain for several more weeks, working his way back to sobriety. According to Tom Reich, one of Stevens's agents, his wife, Suzanne, in the final month of a difficult pregnancy with the couple's third child, remains unflagging in her support. (Neither Stevens nor his family could be reached for comment.) Stevens's friends, legion throughout hockey, have rallied around him, starting with Lemieux, who spoke to him in jail the night Stevens was arrested. Like Crawford, Velia and Alfred Triplett, a cabdriver who was also arrested in the case, Stevens was
charged with unlawful possession of a controlled substance. Triplett and Stevens have entered a plea of not guilty; Velia and Crawford have yet to plea. Madison County state's attorney William Haine says that Stevens, if convicted as a first-time offender, could have his record expunged provided he goes through drug rehabilitation, pays a fine (probably around $3,000) and stays clean during a probationary period.
No, Stevens's life is not over, although it easily could have been. Velia told police that when Stevens peeled $500 off a wad of bills to pay a drug dealer in East St. Louis, an Illinois town that has no right side of the tracks, she was certain they would be murdered. Buying crack is not a simple transaction like filling a gas tank or calling a broker to buy 1,000 shares of Microsoft—not there. "My first question would be, What kind of automatic weapon are you carrying?" says Haine when asked what his counsel would be to anyone flashing a big roll of cash in East St. Louis, which is infamous for its high murder rate. "Second would be, How much ammunition do you have for that weapon?"
The news of Stevens's arrest was a kick in the groin to the hockey world. When Penguins strength coach John Welday heard it in the press box that Sunday night, he hurried to the dressing room between periods to tell equipment manager Steve Latin, ordering Latin to sit before breaking the news. "Not him," Latin moaned. "Not him."
When Jim McMorrow, Stevens's former hockey coach at Silver Lake Regional High in Kingston, Mass., heard it on WEEI radio, he was certain the announcer had made some horrible mistake. When Tim
Ceglarski, the assistant hockey coach at Elmira (N.Y.) College and one of Stevens's roommates at Boston College, heard it, he put his head in his hands and wept. Crack, prostitute, jail ... this made no sense. Who was this man, this other Kevin Stevens?
Latin knew the Kevin Stevens who carried the sunshine around in his back pocket, who never big-timed anyone, who laughed the loudest and the longest in the dressing room. McMorrow knew the Kevin Stevens who had an upper-middle-class upbringing and had been taught right from wrong, who once let the word "shit" slip en route to a high school all-star game in Boston, more than an hour away, and was instantly slapped by his mother, Pat, who was in the front seat. Ceglarski knew the Kevin Stevens who three years ago lent him $10,000 to keep an amateur hockey team afloat in Rhode Island; Ceglarski hasn't paid it all back, but Stevens never made the money an issue. Stevens enjoyed the occasional beer, like any college kid, but he also liked the blond brownies Tim's mother, Ursula, would bake. "A smart kid. Always respectful, humble, caring," says Tim Ceglarski's father, Len, who coached Stevens at Boston College from 1983-84 through '86-87. "My wife always calls him 'My Kevin.'"
"I think the reason people were so drawn to Kevin is he would give the shirt off his back to anybody who needed anything," Gretzky says. "A ride. Somebody to talk to. Kevin was always there. He was comfortable hanging with the captain or the young guys on a team. He was one of those guys nobody disliked."
That portrait of Stevens is jarring when juxtaposed with the Polaroids snapped by the Collinsville police. He looks frightened, roguish. There are no rest areas on the highway to addiction hell, none of the gently descending contours that Stevens's career has followed in recent years. The NHL's premier power forward in the early 1990s, Stevens is a 6'3", 230-pound  banger who ruled the boards and was harder to get rid of than lice when he parked in front of the net. He had 54 goals, 69 assists and the toughness to be assessed an astounding 254 penalty minutes for the Stanley Cup-winning Penguins in 1991-92. The following season he scored 55 goals in just 72 games as Pittsburgh successfully defended its title, and he was a second-team NHL All-Star--the third straight time he had earned either a first- or second-team honor. The Penguins looked unstoppable, an embryonic dynasty on the way to another Cup until May 14, 1993, when their world and their star left wing came crashing down.
In the first period of Game 7 of Pittsburgh's second-round series against the New York Islanders, Stevens leaped to bury defenseman Rich Pilon with a bodycheck in the corner. His forehead collided with Pilon's visor and Stevens was knocked cold, falling face-first on the ice. Put a potato chip on the table and smash it with your fist. The crumpled potato chip is roughly what the bones in Stevens's face resembled. In a 4 1/2-hour operation the next day, surgeons rebuilt his face. They cut an incision from ear to ear an inch beneath the hairline, then peeled the skin back to expose the jumble of
broken bones, cleaning out the fragments and replacing them with metal plates. His flattened nose was refashioned. Then the skin was rolled back over his face and attached with more than 100 stitches, his dark, matinee-idol looks restored. "One night at dinner he told me it was his fault," says Pilon, Stevens's teammate since the Rangers acquired him in November.
Like so many others, Pilon, once an archnemesis, has become one of Stevens's fast friends. "That's the kind of guy he is," says Pilon. "We always hated each other. We always went at each other. But people who knew us both said if we ended up on the same team, we would like each other. It was true. I hung out with him more than anybody."
The accepted wisdom regarding Stevens's career is that the horrific injury might have been the start of his professional decline. But Stevens remained a point-a-game player until 1995-96, when he signed as a free agent with his hometown Bruins and spent an unproductive half-year. He then bounced from Boston to Los Angeles and finally to New York, in 1997-98. By then he clearly had devolved from star to role player.
Why? Perhaps Stevens gave the answer while being booked. According to booking officer Barry Adler, Stevens told him he had been using crack cocaine on and off for eight years but that he had been clean for 18 months, until a recent binge.
Reich, the agent, insists that if Stevens had a crack habit, he was unaware of it. "I don't buy [a crack addiction] for one second," Reich says. "Kevin is not a drug guy. He's a booze guy. He's a classic, all-time binge-drinking addict. The activity he was caught in was a product of a binge addiction to booze." Reich cannot pinpoint when the drinking problem surfaced, though he says Stevens has had it "a long time." According to two NHL sources, the Rangers were aware of Stevens's drinking before they acquired him from the Kings in August 1997. While with Los Angeles, a Kings source says, Stevens was enrolled in the Substance Abuse and Behavioral Health Program jointly administered by the NHL and the NHL Players Association. (Citing confidentiality, the NHL and the NHLPA refused comment other than to acknowledge that he was in the program.) Stevens also spent part of the summer of 1998 in a Los Angeles-area rehabilitation facility. He and his doctor visited Wayne and Janet Gretzky at their home on more than one occasion during the treatment. 
Even if Stevens was clean when this season began ("I never saw him drink anything other than Diet Coke," Pilon says) his career was in the muck. He had become an expensive afterthought on a team rebuilding on the fly, making $3.2 million in the final year of his contract but hardly earning it. The first sign of trouble came on Nov. 7 in Chicago, when, team sources say, he arrived at the morning skate hung over and was sent back to the hotel; the Rangers scratched him that night with what was called the flu. Because of Stevens's history of alcoholism—and several NHL sources confirm Reich's interpretation of Stevens's disease—the frequency of the random drug tests and the scrutiny that are part of the NHL/NHLPA program increased after that incident. Police say that Stevens was tested before a Jan. 22 game against the Blues, in which he played only because forward Adam Graves had returned to New York. (His wife had recently given birth prematurely to twins.) Stevens had a quiet match, playing 9:38 without a point or a penalty in a 4-1 Rangers victory, his first action in four games. He knew his New York days were winding down as general manager Neil Smith tried to shape a deal that would send him back to Pittsburgh. Reich says, "There's no question he was laboring with depression over not playing."
According to Pilon, Stevens joined several teammates in the St. Louis hotel bar after the game and then left. At some point he arrived at Oz, a club in Sauget, Ill., an area renowned for its all-night strip joints. This is where the Collinsville police pick up the thread of a lurid tale. From Oz, Stevens called for a taxi, which took him, at his request, to East St. Louis. Velia, who told police she had been working as a prostitute for six months, said she was just standing in the parking lot of Maggoo's, a drive-through liquor store, when the cabbie, Triplett, approached and said that a friend in the backseat
wanted to speak with her. Velia told police that Stevens, who she claimed already was smoking crack from a glass pipe, offered her $500 "to hang out and party with him." She hopped in. They picked up some Pepsi, a bottle of Crown Royal for Triplett, a Brillo pad and a glass tube that contained a single rose, and drove off.
"They sell roses at Maggoo's in six-inch-long glass tubes, and they just stick a cork in the bottom of it," says Officer Zaber. "We all know what it's used for—it's drug paraphernalia—but they sell them legally as rose tubes. You throw the rose out, and you've got an instant crack pipe. You buy a Brillo pad to keep the crack from falling through. She said they bought her a pipe because [Stevens] didn't want to share his. She said, 'I'm a crack-head, but he's a crack monster. For every hit I was taking, he was taking seven to eight hits. I was getting pissed off because I couldn't get high, I was having to light his pipe so many times.'"
According to police, after they purchased an eighth of an ounce of crack—"an 8 ball"—in East St. Louis, Triplett, who was being paid $100 an hour to look after them, suggested they go to Collinsville, where Stevens and Velia could get a motel room to smoke it. Although Velia wanted to go to a Howard Johnson's, Triplett drove them to the Travelodge. Stevens paid for the room. When they reached it, Velia asked Stevens to instruct Triplett to take $40 to another area motel where a friend of hers was waiting for a signal that Velia was O.K. The Collinsville police say Stevens dispatched the driver on that errand, but that Triplett returned six times, pounding on the door. Velia told police that she thought he wanted more money. Through the peephole Velia saw what she thought was a gun in Triplett's waistband (police never found one), prompting her to call the front desk for help. The motel telephoned the police, who arrived at 6:50 a.m. In the interim, although Triplett had momentarily disappeared, a nervous Velia also called the 6'2", 295-pound Crawford and asked him to come over.
When the front desk called to say that the police were in the lobby, Velia went down and tried to persuade the three officers to leave. "She said she was with a hockey player, a New York Ranger, who didn't want to be bothered," Officer Zaber says. "She said he didn't need this kind of attention. When I asked her how she came to know him, her story became really fishy."
The policemen went to the second floor, where they ran into Crawford, who broke into a speed-walk when he saw them. After detaining Crawford the officers went to Stevens's room and rapped on the door. When he finally opened it, Zaber says, Stevens "had that head-down, shoulders-down, look of despair." The windows were closed. The drapes were drawn. The beds were still made. "We asked him if there was anything in the room, and he was just quiet," Zaber says. "Then we asked for permission to search the room, which he freely granted." When a policeman pulled back the pillows, a crack pipe fell out.
A life, not the glass, shattered. "He just kept mumbling and rambling on," Officer Zaber says of Stevens, who was pacing in anguish. "He was very physically intimidating when we got into the room. There were three [policemen], and all of us remarked that we were glad this guy didn't [resist] because he was a big dude. Yes, we cuffed him. I asked him to sit down for our safety but he said, 'I'll never, ever hurt you. I'm not like that."