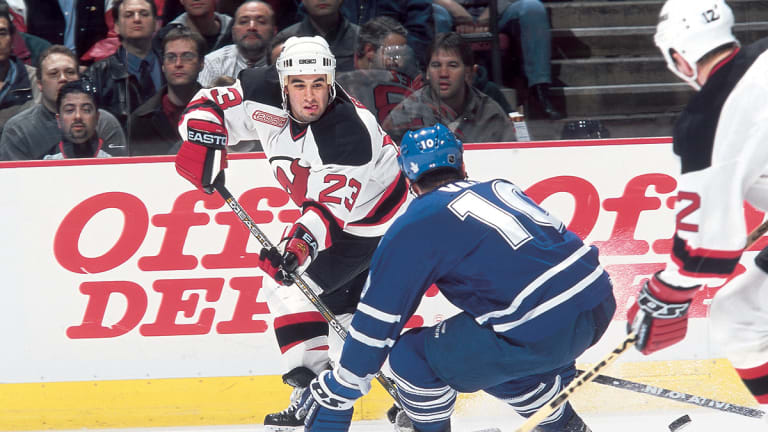 Devil May Care
The sensational Scott Gomez, a rare Latino from Alaska, has brought rookie-of-the-year talent and much needed levity to stodgy New Jersey
The New Jersey Devils were deep into their NHL-mandated sensitivity training in mid-December--the echoes of ethnic slurs in their sport reverberating faintly in their ears--when the diversity counselor turned to rookie Scott Gomez and simply asked him what he wanted out of life. Gomez is the first native-born Alaskan to play in the NHL. His father was born in California to illegal Mexican immigrants. His mother was born in Colombia. If affirmative action demands a first-generation Alaskan-Hispanic center-left wing, the list of job applicants will be short. Gomez considered the counselor's question with all the solemnity due the moment before blurting, "I want to date a model."
"This is a really serious session, and we're, like, Ohmigod!" Devils goalie Martin Brodeur says. "He cracked us up. This kid's unbelievable."
There has been some debate about this episode in the past 10 weeks--Gomez swears he was kidding, while teammates insist he was as serious as an audit--but that's the beauty of the world of Scott Gomez: He can have it both ways. He can prattle on at breakneck speed over lunch, a bundle of nerves, his knees jiggling under the table, his eyes darting, yet, with game time 10 minutes away and his teammates getting psyched up to play, he can sprawl on a couch in full gear in the Devils' lounge, absorbed in a USA Today story about Jennifer Aniston, his favorite actress. "I've been in the league 18 years, and I'm more nervous than he is," says New Jersey captain Scott Stevens. "Guys are always telling him to watch his heartbeat because as far as we can tell, he doesn't have one."
Gomez, 20, has hung on to the rookie scoring lead--he had 16 goals and 41 assists through Sunday, which also ranked him 20th in NHL scoring--and his astonishing innocence at the same time. "The boy is totally naive," says his father, Carlos. "No concept about what's going on in real life, about taxes, about grocery bills. He's never had to go through that. And you know what? I would wish it on everybody."
"As a kid, this is all that's on your mind, chasing a dream," says Gomez. "And I'm doing it. That's pretty good, right?"
This season has been a series of firsts for Scott: the first real job, the first apartment, the first time he absolutely had to be on time, the first paycheck. The difference between Gomez and the roughly 600 other NHL players is that when he received that first check--with bonuses, he could make close to $1 million in 1999-2000--he looked at the total and never at the deductions. He was introduced by the public address announcer during a New Jersey Nets game. He had never been singled out as a celebrity before, unless you count the time at the Thursday-night fights at the Egan Center in his hometown, Anchorage, when the P.A. man told the crowd that Scott Gomez, the two-time Alaska high school hockey player of the year, was in the house. When Gomez tagged along with teammate Sheldon Souray to SI's swimsuit-issue party in New York City last week, he arrived at Souray's New Jersey house with a camera dangling from his wrist. "I asked him what he was doing with the camera," Souray says. "He told me it was just for the limo ride into the city. Yeah, right. He's been to Manhattan a hundred times. Instead of memories in his head he wanted pictures to show his friends back home that he was there."
Gomez playing for the Devils is like Peter Pan getting a corner office at The Firm, which is also the nickname given to the New Jersey organization by some veterans in the early 1990s. There's blunt general manager Lou Lamoriello, who has shaped a team that led the Eastern Conference by eight points through Sunday. There's clench-fisted coach Robbie Ftorek. There's a hardened core of players who have been around the block and been embittered by stunning early playoff exits the past three years. The Devils are decidedly light on whimsy. "Maybe Scott represents a clash of cultures, but I think his approach is great for this team," says fourth-liner Jay Pandolfo, Gomez's roommate on the road. "He's always smiling, having fun. Older guys see how happy he is and think how happy we should all be, given where we are and what we take for granted."
Gomez does more than put a smile button on the New Jersey logo. He adds numbers, enough of them to be the leading scorer on the most prolific team in the East and the odds-on favorite for the rookie of the year award. "I wouldn't say he's made us better single-handedly, because we also picked up Claude Lemieux [in November], but Scott's given us a third offensive line," says right wing Randy McKay. "He gives us that, though you wouldn't think so by looking at him skate or shoot."
Indeed, Gomez is a knock-kneed and pigeon-toed skater who scuttles around the ice hunched like a question mark. His shot is so unprepossessing that teammates predicted he would score a hat trick against Buffalo Sabres goalie Dominik Hasek last week because Hasek would get bored waiting for the puck to reach the net. Gomez settled for one goal. His hands, however, are lullaby soft, and his passing is as accurate as it is sometimes needlessly bold. Ftorek, who has played Gomez on the wing instead of his natural center position for most of the season, says Gomez invariably picks the correct option in choosing where to pass but sometimes executes the wrong pass, trying to feather the puck through a crowd instead of caroming it off the boards to the same player. "No doubt Scott's a great passer and has great vision," Ftorek says. "That's not something you're born with. That came from good coaching or good advice from a coach or a father or a linemate, someone who could show him the fine points of the game."
Gomez was largely self-taught in hockey, having studied the geometry of the sport in his living room with a stick and a tennis ball. He would pretend to play for the Hartford Whalers—he figured the Carolina Hurricanes' forebears were the team most in need of a star—and simulate games against the dashing Edmonton Oilers of the 1980s. He would keep detailed notes of his one-man tournaments, a boy's love letters to a game that had gripped him from the second time he played.
The first time, he wanted to quit. "He was four. He told me he didn't like it and wanted to quit, so I said, 'Sure,'" says his mother, Dalia, who works at an Anchorage hospital as a breast-feeding counselor. "I'm like that."
"He fell on his butt a couple of times. He was a mama's boy, and he was whining," Carlos says. "I'd just spent $50 for a new pair of skates. No way in hell am I going to let him quit the first day. My wife and I worked out a deal that kept her away from hockey. She could baby him after."
While his background may be unique for a hockey player--he hails from a state that has produced only four NHL players--Gomez took a fairly standard path to the NHL: three years of high school hockey; one year of Tier II in South Surrey, B.C., (and an $1,800 phone bill because of homesickness); and two seasons of major junior for Tri-City in Kennewick, Wash. The Devils then landed him with the 27th pick in the first round of the 1998 draft after trading a pair of second-rounders to move up.
His parents' histories are more rococo. Carlos was born 47 years ago in Modesto, the sixth of 10 children of migrant crop pickers. The family was sent back to Mexico when Carlos was young, but he returned to San Diego--he was a U.S. citizen by birth--at six because an aunt who lived there thought he'd have better opportunities in America. When some of his older brothers moved to Alaska to work in construction in the 1960s and '70s, Carlos, an ironworker, joined them. He has been an Alaskan since '72, six years after Dalia arrived. She'd moved from Medellin to Brooklyn with an aunt in '61, and they relocated to Alaska to be with family. Carlos met Dalia when she was in high school and they eloped within a year.
While Dalia was fluent in Spanish, Carlos spoke what he calls "border Spanish," so they compromised and spoke English around the house, a decision that is now tinged with regret. Scott, who understands Spanish but doesn't speak it well, has had to do PEOPLE EN ESPANOL and Telemundo interviews in English, undermining the marketing impact of the NHL's nominal Hispanic star. "Scott's lazy," Carlos says, "and if he didn't have to do it, he didn't. We didn't make him learn Spanish." After getting a D in the subject, Scott did what any rational high school sophomore would--he switched to French.
Maybe in three years or so Gomez will be different. If any franchise can squeeze the joy out of the game and transform him into an emotionally desiccated shell, New Jersey can. Maybe he will sulk when Ftorek throws him on the left wing, where he feels locked along the boards in his defensive zone instead of free to skate with the flow at center. Maybe he will complain that the room service is slow—Pandolfo had to explain to him that there is a menu in each hotel room—or that the television in his hotel doesn't get MTV. Maybe he won't be satisfied dating a model. Maybe he will aspire to date a supermodel.
"Sure I have my bad days, but never really in hockey," Gomez says. "You've got to look at the big picture. As a kid this is all that's on your mind, chasing a dream. And I'm doing it. That's pretty good, right?"
There have been so many moments for him in such a short time. He had a hat trick at Madison Square Garden against the New York Rangers with his parents in the stands. He grabbed the microphone at the team Christmas party and became the deejay, dedicating songs to teammates and their wives and getting all the couples dancing. He sat next to Mark Messier in the dressing room at the All-Star Game, and Wayne Gretzky sauntered in, complimented Gomez on his start and posed with him for a picture. But the best moment of the season occurred before it even began. Some of the Devils were in an Atlanta hotel lobby waiting for him to join them and go to dinner on the eve of the opener, but Gomez lingered in his room, looking around at his swell digs and soaking in his good fortune. It was only mid-afternoon in Anchorage, and he knew his parents wouldn't be home, but he picked up the telephone anyway. He left a message: "Wow, I'm here. I don't know how long it will last, but I'm here."