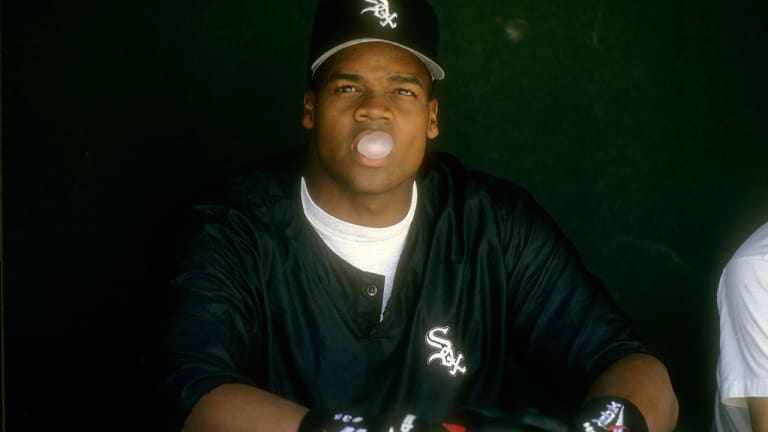 Hurtin'
After struggling for two years at the plate, Frank Thomas is trying to reclaim his place as one of the game's premier hitters
It was as though the two men had been tossing and simmering in an angry hibernation all winter long, just itching for the chance to have it out again at spring training--to rekindle the unresolved hostilities on which the 1999 season ended so badly. At 9:45 a.m. on Feb. 26, on a sun-washed field of grass at the Chicago White Sox spring training complex in Tucson, manager Jerry Manuel was strolling the grounds like a playground superintendent, watching his players do stretching exercises, when he stopped and leaned over the supine form of his $7 million-a-year designated hitter, Frank Thomas. Once known as the Big Hurt, the embattled Thomas is now often conjured up on T-shirts or in the Chicago papers as the Little Hurt. Or the Big Blurt. Or, in the sharpest needle of all, the Big Skirt.
Thomas was once on a very fast and certain track to Cooperstown, there to join the two hitters to whom he was most often compared, Ted Williams and Lou Gehrig, but today there is nothing either swift or sure about his journey to baseball immortality. For two seasons, since Manuel took over as White Sox manager, Thomas's numbers have slipped so far below his once lofty standards--from a .347 batting average in 1997 to .265 in 1998, and from 35 home runs in '97 to only 15 last year--that baseball men wonder whether the Thomas of old will ever return. "I've never seen the real Frank Thomas," Manuel still laments.
Yet a decidedly real Thomas was in Arizona on that February morning, all 6'5" and 270 pounds of him, rolling to his feet and, like a child trying to get out of climbing the rope in gym class, holding a note from a doctor excusing him from doing certain rigorous exercises, including the dread shuttle--a series of back-and-forth wind sprints between traffic cones set at varying distances. Thomas had undergone surgery on his right foot late last summer, and he was claiming that the foot was still too raw and tender for the sudden stops and starts of the shuttle. But Manuel wasn't buying the excuses. The scene was almost touching. The note was in Thomas's back pocket, folded up, and he was seen repeatedly taking it out, unfolding it, showing it to Manuel and then returning it to his pocket, as if he were nervous and unsure of what to do.
"Why aren't you going to do the shuttle?" Manuel demanded.
"Jerry, you're not listening to me!" Thomas pleaded. "I'm not 100 percent healthy. I'll run it when I am!"
"That's poor, Frank," Manuel said. "That's poor."
The two ended up at silent loggerheads. Manuel eventually ordered Thomas off the field, and as the team started running the shuttle, there was Thomas in a place and pose symbolic of his life as a player for much of last year: standing to the side by himself, away from his young team, his giant arms folded across his chest and his face marked by a scowl. General manager Ron Schueler saw the angry, embarrassed player head for the clubhouse and steered his golf cart over to Manuel.
"I've got a problem with him not doing the shuttle," Manuel said to Schueler. "I told him he couldn't be on the field. How do you want to handle it?"
Schueler thought for a moment. "This is something you have to work out," he said.
They worked it out, all right. The manager tracked his star player into the clubhouse. "Come into my office," Manuel said. He closed the door, but one could hear the two men shouting at each other, their voices rising and their words often profane. "That's a bunch of bulls---, and it had better stop!" Thomas yelled. "I'm not having it."
"This bulls--- is the reason why we are always butting heads!" Manuel said.
What happened over the next two hours, during which Schueler joined them and White Sox p.r. men guarded the entrances to the clubhouse like Dobermans to keep out the press, was really an extension of what had occurred last year, from the silent tug-of-war that Manuel and Thomas had waged over Thomas's role on the club--designated hitter or first baseman?--right up to a climactic doubleheader on Sept. 6 in Texas during which a furious Manuel ordered Thomas back to Chicago. On that day a physically distressed Thomas, hobbled by a massive bone spur in his right ankle and a large corn on the disfigured small toe on that same foot, had struck out as a pinch hitter in the first game. "An embarrassing at bat," Thomas says. The right foot is the one he plants for balance and pushes off of for power, and the pain he had been feeling in it since early July had forced him to alter his stance and stroke. "My swing was just screwed up," he says. So he decided to sit out the second game.
That Thomas made himself unavailable was not what stirred Manuel's pot; it was that he failed to inform his manager that he could not play at all in the nightcap. When the ideal moment arose for the righthanded-batting Thomas to pinch-hit--in the sixth inning, with two outs and the bases loaded and the White Sox losing 6-3, the Rangers brought in a journeyman lefty, Mike Munoz, to pitch--Manuel sent someone to fetch Thomas in the clubhouse. The emissary found the player out of sorts and out of uniform, in a T-shirt and shower sandals.
Informed that his superstar was indisposed, Manuel began to pace the dugout like a puma, biting off and spitting out a long chaw of expletives and later telling beat reporters that he was as angry as he had ever been as the manager of the White Sox. "I was upset," he told the Chicago Sun-Times. "I was yelling things on the bench. It was like one of my kids had rebelled against me." He finally told his trainer, Herm Schneider, in front of the players, that Thomas would not be traveling with the team from Texas to Anaheim. "Send him home," Manuel said, as he would recall it later to the Chicago Tribune. "I don't want to see him on our plane. If he has a problem with that, tell him he can see me in my office."
As the rest of the team winged off to California, a pouting Thomas blew off the press and flew back to Chicago. The next day Dr. Lowell Scott Weil, the team podiatrist, saw the bone spur on an X-ray and confirmed tendinitis through ultrasound. The White Sox were not in contention for a wild-card berth in the playoffs, and given the uproar caused by the Texas incident and considering the presence of all those impressionable young call-ups on the team, Schueler decided that the floundering Thomas should not wait for surgery. Indeed, the pain from the spur and the corn had worsened since the All-Star break on July 13, when Thomas was hitting .323 with 12 home runs and 57 RBIs. In the two months after that, growing increasingly helpless at the plate, he hit .271 with only three homers and 20 RBIs.
On Sept. 13 Weil cut the spur off Thomas's ankle, and he was flabbergasted by the size of it. A former podiatrist for the Chicago Bears, Weil says he has treated 30,000 patients during 35 years of practice, and to call that thing a spur hardly described it. "It was the biggest I have ever taken out," Weil says. "It was truly the size of a golf ball." The spur was rubbing on a tendon in the ankle. Weil also removed from the little toe a large corn, which was filled with nerves and blood vessels, and operated on the twisted digit to remodel the bone and reconstruct the ligament.
Thomas had come under withering attack in the press for his failure to pinch-hit in Texas and for taking an early exit from the season. He was depicted as a quitter who was tanking it to preserve his eighth .300 season. (He was batting .305 when he went down for the surgery.) He says that the ferocity of the attack was a factor that forced his flight to Los Angeles, where he rented a house in Beverly Hills for the winter.
Thomas stewed about the incident for months, feeling that White Sox management had minimized the injury and left him twisting in the wind. He arrived in Arizona 2 1/2 weeks ago seeking to unburden himself, and Manuel came prepared to deal more firmly with him. Thomas had been in Tucson for only two days when the inevitable clash occurred, with Manuel confronting him on the field and then in his office.
Manuel, a pleasant, soft-spoken man, is an admirer of Gandhi and Martin Luther King Jr., but on his desk that week he had a copy of a book called Cigars, Whiskey & Winning: Leadership Lessons from General Ulysses S. Grant. He obviously stole a page from that and went on the offensive, riling Thomas by questioning his desire to be a team player. "I don't think you want to do what we do as a team," Manuel said. "It's important you do this with the team."
Bristling, Thomas reminded Manuel of his foot surgery. "Don't play games with me like that," Thomas said. "I've been here 10 years. I'm going to be 32 years old. I'm a man. Treat me like a man. You don't need to play mind games with me. I've been through all the wars. I'm closing in on the tail end of my career, Jerry. I'm under the gun to get my s--- together. So don't question my desire."
The confrontation cleared the air and left both men looking relieved and at peace with each other. That same day Thomas called a meeting in the clubhouse to address his teammates. He apologized for not having done the shuttle, explaining that his foot was not completely healed, and told them why he could not pinch-hit in Texas. "I didn't quit on you guys," he said. "It was a medical thing. Jerry didn't know how bad it was." Thomas said all those media reports about him being "an individual player"--read, selfish--were not true. "I just want you to know I'm with you," he said. "I'm one of the guys. I'm O.K. I'm not an island. You can b.s. and joke with me. I'm an older guy, but I have a young-guy mentality."
In the spring of 2000, after nine full years in the major leagues and two seasons as the American League MVP, and with a locker full of glowing stats, Frank Edward Thomas finds himself confronting more than questions of desire. For nearly all his adult life, since he was roping fastballs for coach Hal Baird at Auburn, Thomas has been a hitting prodigy--a Mozart with a bat for a wand and an eye for a pitch that is eerie for its keenness in foreseeing location and measuring velocity. His eye gave him confidence and patience at the plate. It shaped his strike zone. It disciplined his swing. It was his surpassing gift.
"The thing about Frank that I'd never seen in anyone before or since was his awareness of the strike zone," says Baird. "For a hitter that young, he had a remarkable ability to stay away from pitches he couldn't handle. We had this competition, even when he was a freshman, in which we'd wager a Coke on whether he could guess--within one mile an hour--how fast a pitcher was throwing. We had a radar gun. He'd call out the velocity. He was always on. Almost never fooled."
He brought those eyes, like two precious stones, to the major leagues full time in 1991, and over the next eight years--until that surgery-shortened '99 season--he never had fewer than 109 walks. In '91 he had a league-leading 138 walks. Only once, that first full year, did he have more than 100 strikeouts. That he has established himself among the greatest hitters of his generation (chart, page 67), there is no doubt. In 1997, the year he won the American League batting title with that .347 average, he became the only player in history to hit over .300 with at least 20 home runs, 100 RBIs, 100 walks and 100 runs scored through seven straight seasons. In fact, in '95 he had become the only player to do it five years in succession. Only Gehrig (1929-32 and 1934-37) and Williams (1946-49) had strung together four such seasons. Further, through the 1998 season, before Thomas's serious travails began, he was the only active player among the alltime top 10 hitters in on-base-plus-slugging percentage. Thomas's 1.027 OPS percentage ranked him fifth, behind only Babe Ruth (1.164), Williams (1.116), Gehrig (1.079) and Jimmie Foxx (1.037).
Walt Hriniak, the chief apostle of the late hitting guru Charlie Lau, says Wade Boggs is the best batter he has ever seen for getting a base hit. "But Frank Thomas is the greatest hitter all-around," says Hriniak, who was Thomas's swing doctor with the White Sox for six seasons, through 1995, and who still works with him privately. "For batting average, for taking a walk, for not striking out, for hitting a three-run homer or a single to rightfield, or getting a hit in the first inning or the ninth inning, for getting a hit with the game on the line--oh, yeah, he's the best hitter I've ever seen. And the greatest front-runner, too. If he's got three hits, he'll go to the plate for his fourth at bat and get another hit. Most guys have two or three hits and don't bear down like that. Pete Rose was as intense going for his third or fourth hit. That's Frank. Greedy bastards, they are."
For years that intensity and those numbers were propelling Thomas to the Hall of Fame, a goal that early on became his obsession. He was, in the words of former teammate Mike Cameron, "a stat rat," poring over digits and decimal points like a clubhouse idiot savant, like Rose chasing Ty Cobb, intent on where he was going and what he had to do to get there. Former teammate Robin Ventura used to look at him and think, This is going to be the best hitter I'll ever play with. So Thomas was. What really struck Ventura was the sharpness of Thomas's concentration, his capacity to almost will himself to fulfill his goals.
"He had an amazing ability to focus on things and get them done," says Ventura, now with the New York Mets. "He could look at the stat sheet and tell himself, I need five home runs this week. And he'd hit five home runs. If he was 10 RBIs behind, he'd drive in 10 runs in a week. He used to look at the sheet, the American League leaders, in front of the whole clubhouse, and tell himself, This is what I want to do. This is what I want to be. He wasn't really talking to us. He was just talking in front of us."
Thomas was a part of the team yet apart from the team, and all through his glory years there was no need for him to lead or cultivate an image of the man in command. When he came to the bigs, a year after Ventura, the White Sox had plenty of veterans to point the way, from catcher Carlton Fisk to shortstop Ozzie Guillen to pitcher Bobby Thigpen. Over the years Thomas got away with having no professional responsibility beyond pursuing his own agenda and chasing his own dreams. If he was widely perceived as selfish, that self-absorption served the common good. He helped Chicago win--leading them, for instance, to the American League Championship Series in 1993, his first MVP season.
"He knew what he wanted," says former White Sox pitcher Roberto Hernandez, who joined the team the year after Thomas, "even though he may have rubbed some people wrong because he was always looking at what he could do. But back then, when you had veterans, you could let a guy like that do his stuff. If he does what he wants to do, it helps the team anyway. He knew what it took to become an MVP, and he did it. You've got to give this guy his due. Maybe it was bad not to get on him more to be a leader."
Of course, for all of Thomas's years as the finest baseball player in Chicago, he never achieved anywhere near the celebrity of Michael Jordan, whose image loomed above the lakefront city like the Sears Tower, or even that of his counterpart on the North Side, Cubs first baseman Mark Grace--not to mention Sammy Sosa. This is largely Thomas's own fault, though he did set out in the right direction. In '93 he launched the Frank Thomas Charitable Foundation, which raised and gave away hundreds of thousands of dollars to assorted causes, and through Big Hurt Enterprises he marketed himself, signing endorsement deals with Wendy's, Pepsi-Cola and Reebok, among other companies
Nova Lanktree, a sports marketer in Chicago for 15 years, says Thomas was a natural for any firm seeking an athlete to endorse its product or for any dinner needing a celebrity jock to make an appearance. "He was a big guy with a beautiful face, a fun nickname and a small-town [Columbus, Ga.] background," says Lanktree. "All he had to do was smile and hit. He did that for a while, but he did not take advantage of the early impression that he made. Someone would call him to make an appearance and say that it paid $10,000. His response was always, 'Can you get a little more?'"
Moreover, says Lanktree, Thomas failed to show up at events scheduled by Reebok, which paid him a bonus that entitled the company to a number of appearances from Thomas. "It was a huge deal for Reebok and for him," Lanktree says, "and then he wouldn't show up. There was never an acceptable excuse. He just did not appear."
Thomas denies this. "I've always showed up for my appearances," he says. "You can ask any person I've done endorsements with. I've been one of the nicest, kindest people they've worked with in their lives."
Jerry Meyer feels no rancor toward Thomas, not even after Thomas failed to fulfill his contract with Meyer's company, Pinnacle Brands--a three-year, $1.8 million deal that required him to make appearances for the firm and to sign 2,000 to 3,500 Donruss baseball cards a year. "Frank was a very genial guy when he wanted to be," Meyer says. "I never found him confrontational. I found him...uninterested."
Thomas signed the cards every year--but, Meyer says, "it was always a struggle to get them done on time," and "we couldn't get him to make appearances. He always found an excuse not to do them." The company went bankrupt in 1997, but it had already decided not to pay Thomas for the last year of his contract.
Asked about Meyer's allegations, Thomas is contrite. "I'm sorry," he says. "I signed all that stuff, but all those appearances, along with Reebok appearances, there was just no way. Too much other stuff going on."
In fact, Thomas appeared to be sailing through his expanding world with the wind at his considerable back. In 1997 he stroked his way through another magnificent season, in which he cracked 35 homers and drove in 125 runs to go along with his batting title. By then he had clearly demarcated his own strike zone. His vaunted eye was so well-known around the league that umpires seemed to defer to it, calling balls on pitches that hit the inside corner, especially when Thomas made a show of hopping back in the box. "He used to jump out of the way of those pitches, and they wouldn't call the strike," says Cleveland Indians lefthander Chuck Finley. "You wouldn't even bother trying to throw there."
Thomas was at the zenith of his career. He was making $7.15 million a year, and he was about to sign a six-year, $85 million contract extension that would pay him through 2006. In December '96 he had moved his wife, Elise, and their three children--son Sterling, then 4, and daughters Sloan, 2, and Sydney, five months--into their new $8.1 million, 24,000-square-foot gated house inside a gated community in Oak Brook, Ill., the only Chicago suburb with polo fields. The white palace sits on three acres and has eight bedrooms, 13 bathrooms, six fireplaces, two four-car garages, an 83-by-23-foot indoor batting cage, two turtle doves and this vulture in its pear tree: annual property taxes of $93,247.01. "A dream house," Thomas says.
By December '97, just three months after signing that new contract and one year after moving into the Oak Brook house, the apparently idyllic world Thomas had fashioned began to come apart. He separated from his wife (though he insists, contrary to court records, that he did not move out of the mansion). "It was tough," says Thomas, who declines to discuss the separation. (In November 1999 Elise would sue for divorce, saying Frank had been "guilty of...grounds for dissolution of marriage" that she preferred not to disclose.)
Things would only get worse for Thomas. Early in the '98 season, still suffering the dislocation of a broken marriage, he seemed to lose his unspoken privileges at the plate all at once, in one game in April. "There were some very questionable pitches on the inside that could have been called either way," recalls Schueler of that day. "Frank, naturally, jumped back and took them in his own style. The umpire called strikes on two consecutive pitches. Frank didn't handle it right."
Thomas protested the calls publicly. Word of his reaction swept through the league, and the other umpires circled wagons. They began to call the inside-corner pitch a strike on Thomas, however far he jumped back. White Sox lefthander Mike Sirotka noticed a change in opposing pitchers. "They lost the fear of facing Frank," Sirotka says. "From 1995 to '97 you could see the fear in their eyes. When they started establishing the inside strike on him, you could see their confidence."
Thomas had a new zone to adjust to. "I faced him in '97, and I remember throwing him good pitches inside, right on the corner, and [the umpires] never called a strike," says the Toronto Blue Jays' Kelvim Escobar. "Good pitches! Then they started calling it, and he was in trouble. You threw a fastball in the 90s on the inside corner, and he couldn't hit it." Thomas still stroked 29 home runs, with 109 RBIs, but his batting average plunged to .265. It was the first time in his career he had finished a season below .300.
Those who knew him well could sense that he had also lost that passion for hitting and for the game that had driven and sustained him. "It was all gone in '98," says Ventura. "He had that same passion and ability to focus, but now it was directed at something other than baseball: his music company. He became obsessed with that. He talked about it as he had talked about hitting. That's fine. Nothing wrong with having an obsession. But it took over. And baseball didn't get that same level of attention."
Thomas says he has always had a deep love of music. As he grew rich playing baseball, he began investing heavily in the music business, founding his own recording label, Un-D-Nyable Entertainment, and searching for people to run it and for rhythm-and-blues and hip-hop talent to make it grow. He has yet to strike platinum with any performer in his stable--this summer Thomas is putting out an album by various Un-D-Nyable artists--and he denies reports that he has lost upward of $3 million in the business. "What I've spent is irrelevant," he says. "I still have a studio. It takes one record to turn things around."
Thomas's continuing embrace of the music business conspired with other factors--his injuries, his failure to adjust to the expanded strike zone and dramatic changes in the White Sox roster--to turn his abbreviated '99 season into the least productive and most controversial of his career. The loss of Ventura and Albert Belle to free agency left Thomas unprotected in a lineup consisting largely of young, unproven talent. "Who's going to protect me?" he asked Manuel before last season.
The question of the year, however, was, Who's going to protect first base? Thomas is only an average fielder with a serviceable arm, and he spent most of '99 in a tiresome struggle with Manuel over whether he would play the field or be the designated hitter. Thomas did not want to play first base. "Frank doesn't think he's adequate out there," Manuel told the press. "He doesn't want to be embarrassed in public."
When Thomas addressed the subject, he was wildly inconsistent. On the eve of spring training, noting that he needed to be a complete player to make the Hall of Fame--"I know I need to play first base to get in," he said--he announced he would play 125 games in the field. A week later he lowered the estimate to 80 games. He then cut it to twice or three times a week. Manuel said Thomas hit better as a first baseman than as a DH, and whenever this point was raised to Thomas, he said, "In 1997 I won the batting title DH'ing. I haven't heard one person bring that up."
That is simply not true, and a stat-hound like Thomas should have known it. In '97 he played 97 games at first and hit .363; in 49 games as a DH he hit .314. In '98, when he played most of his games (146 of 160) as a DH, his batting average went south. His young teammates seemed bewildered by his intransigence, and he isolated himself further by spending as little time as possible in the dugout during games in which he was the DH. At one game in '98 a Chicago player used a stopwatch and determined that Thomas was on the bench for less than two minutes.
When pressed to play first, Thomas showed none of the aplomb expected of a veteran. Last Aug. 8, for instance, he waved at and missed a soft two-hopper near first base that launched a five-run inning in a 7-5 loss to the Oakland A's. "I f------ booted it," Thomas railed. "That's why I'm a DH, not a first baseman. Throw me out there. I don't give a s---!" He did not play in the field again last year.
His season had turned into a litany of whining and excuses. Rather than adjust to the bigger strike zone, he complained about the pitches he was not getting. "I used to get two or three pitches a game right down the middle of the plate," he said in late August. "I don't get that anymore. They've been coming up and in on me four times a day. They pound me in, in, in! Now they're called strikes. A few years ago the pitchers didn't get those calls."
Even before the strike calls turned against him, Thomas's public statements weren't always endearing. Before the 50th anniversary of Jackie Robinson's breaking of the color barrier, in 1997, Thomas told a television reporter that he did not know much about Robinson and gave the impression that he didn't much care. Last August, as Sosa and Mark McGwire were engaged in a home run race in the National League, Thomas complained that he was nearly being hit by many inside pitches, and while he said he was happy for Sosa and McGwire, he insinuated that they wouldn't hit 50 homers apiece if they were in the American League. "Pitchers don't have to hit in [this] league," he said. "That's the difference." In other words, Sosa and McGwire had an advantage: National League pitchers were reluctant to throw inside for fear they would face retaliation at the plate. Right or wrong, Thomas was seen as diminishing the other sluggers' feats of power as he made excuses for himself.
Just two years after leading the league in hitting, five years after winning his second straight MVP, Thomas was a mess. His swing was a "jigsaw puzzle," as he put it, and he could not figure it out. His right ankle and foot were in constant pain, and his popularity had been diminished by the controversy that he stirred up almost daily. On Aug. 30 Thomas went 0 for 8 in a doubleheader against the Seattle Mariners, striking out with the bases loaded in the ninth inning of the first game, and the crowd at Comiskey Park booed him lustily for the first time. The next day, after going 0 for 3 against the Mariners and being booed again, Thomas agreed, at Manuel's urging, to take instruction from White Sox hitting coach Von Joshua, whom Thomas had virtually ignored since Joshua was hired the year before. Joshua worked with him for 25 minutes. The coach was buoyed by Thomas's effort. When the Tribune's Teddy Greenstein told Thomas of Joshua's enthusiasm, the Sullen of Swat deadpanned, "Good for Von."
The season was a bust for Thomas. It ended on the day that Manuel sent him home from Texas. That set off a storm that raged for days on Chicago talk radio. Mike North, a program host on WSCR, believes Thomas is "the most unpopular superstar who ever played in Chicago. Don't get me wrong. Frank is a nice guy, but he's a whiner. He's a crybaby. 'I don't wanna play first. I don't wanna do this. I don't wanna do that.' He cries to umpires when things don't go his way. Everybody is to blame but him. We're a blue-collar town. The town of Bobby Hull, Dick Butkus, Michael Jordan, Ernie Banks, Gale Sayers. These guys were warriors, and Frank Thomas is not a warrior. There wasn't anything those guys wouldn't do for the team. There are things Frank Thomas won't do for his team. He's no longer the Big Hurt. He's not The Man."
It was not the easiest of winters for Frank Thomas. He lost one of his best friends--Robert Fraley, his agent--in the plane crash that also killed Payne Stewart. "I heard about it when I got off an airplane myself," Thomas says. "I called my office, and my assistant told me. I had to sit down. I was in shock. I still find myself thinking to call [Robert] now and then. It was extremely hard. I'll never get over it."
In addition, on the eve of spring training, Thomas's father, Frank Sr., took gravely ill with kidney failure and heart problems. Frank flew home to Georgia to be at his side. "I thought we were going to lose him," Thomas says. "I have a very ill father right now. We're all on borrowed time."
Fame is as fleeting as life itself, and no one knows better about borrowed time than a 31-year-old former hitting star who is battling back from injury in a world of changing strike zones and 95-mph fastballs on the inside corner. He arrived in Tucson to begin training for a new season and immediately had the blowup with Manuel. "I feel like I've been at the center of a storm for a year straight now," Thomas says. "I've always tried to be positive and focused. Seems like everyone wants controversy out of me. I'm not a controversial person. I'm not a troublemaker." Finally, he says, "Maybe I wasn't made to be a superstar."
No sooner had he made his peace with Manuel than old teammates from camps around the country were putting the knock on him as a leader. "He's not the kind of guy to be around young talent," Guillen, now with the Atlanta Braves, was quoted as saying. "He's not going to pull a player over and explain something to him. The White Sox thought he'd be the man to teach the kids how to play the game. They were wrong, because he doesn't know how."
Thomas winces when he hears that. "That's childish," he says. "Ozzie is a fun guy, but sometimes he's full of s---."
For all that was swirling around him in Tucson, Thomas remained cheerful and composed. He no longer carries all of the freight that commanded so much of his attention. Big Hurt Enterprises, the company that marketed him, is "all but defunct," according to the Sun-Times, having slashed its staff from seven to one after Thomas lost or gave up most of his endorsement deals--including the five-year, $5 million contract with Reebok, which was canceled two years early when Thomas began wearing Franklin batting gloves. (One former Big Hurt employee told the Sun-Times that once Thomas signed his first big contract with the Sox, he lost interest in marketing himself; others, including Barb Kozuh, Thomas's former personal manager, say he became distracted by the music business.) Meanwhile, the Frank Thomas Charitable Foundation is inactive, according to the Sun-Times, though Thomas denies this. As for the record company, Thomas cut its staff by more than two thirds because, Kozuh believes, "he has decided to concentrate on baseball."
All he has to focus on now is getting his stroke back and adjusting to his larger strike zone. Several afternoons in late February, Hriniak would stroll into the White Sox camp, answering an alarm that Thomas had first sounded in January. Together the two men would hike to the batting cages for a private lesson in the science of hitting a baseball. Hour upon hour Hriniak flipped baseballs to Thomas in the cage, bellowing encouragement as beads of sweat coursed down the hitter's face. "Keep your head down," Hriniak growled. "Where your head goes, the rest of your body follows."
Thwack!
"You're going down too fast and coming up too soon. Keep your head down!"
Thwack!
"I like your head. Hit through the ball. Good contact!"
Thwack!
"Now you're a professional hitter! I'm liking what I see. Two strikes on you now! Two strikes!"
Thwack!
"That's it! Most guys get two strikes on them, they're history. Not you! Now gimme a real good finish with your head down!"
Thwack!
"Yep! Here's three-and-one! Don't pull it! Hit it hard up the middle. Knock the pitcher off the f------ mound!"
Thwack!
"Line drive home run!"
Frank Thomas smiles. The Big Hurt may be on his way back. Pitchers beware.