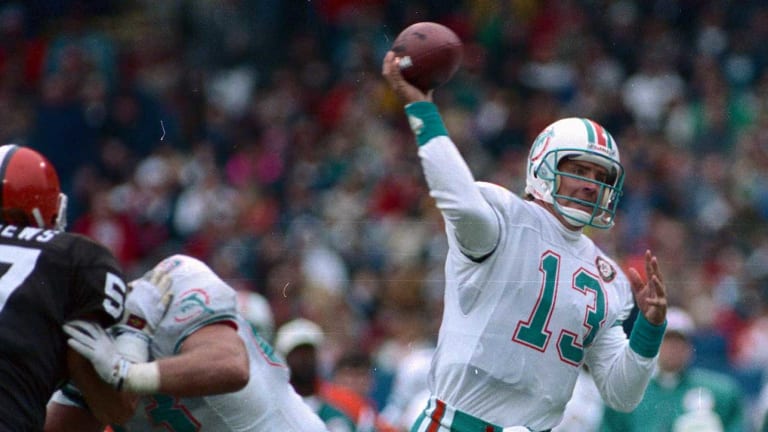 Letting Go
With everything but a championship to show for his illustrious 17-year career, Dan Marino turned down a tempting offer from the Vikings and proudly walked away from the game
The Seattle Seahawks flirted. Coach Mike Holmgren inquired about Dan Marino's availability. The Pittsburgh Steelers wanted Marino to return to his western Pennsylvania roots. The Minnesota Vikings? Marino knew they were the right fit for him. He knew it soon after coach Dennis Green walked into the Marinos' kitchen in Weston, Fla., on Feb. 29 for a lunch of chicken and tossed salad prepared by Dan's wife, Claire.
"Look," the 38-year-old Marino told Green, "I've got limitations. I can't throw the ball 70 yards anymore. And if you want me to throw it 60, you'd better put me in the shotgun."
"No problem," Green said. "We use a lot of shotgun anyway, and 45 yards is a deep pass for us."
Two hours later, after Green had described how Marino-friendly the Vikings' offense would be--"You'll have a power running game that works," Green said, mindful that Marino never had one with the Miami Dolphins--there was no question in the quarterback's mind that he wanted to be a Viking. Wow, Marino said to himself as Green left his house that day, I really want to do this.
Marino the competitor said yes. But Marino the loyal Dolphin and Marino the family man and Marino the sore-legged warrior said no. He waffled for two weeks about playing an 18th NFL season; he still loved to play, and his retired football friends were telling him how much he'd miss the game. ("It's never going to leave you," said Phil Simms, who retired in 1994. "It has never left me.") But after driving his kids to school last Thursday, Marino called together Claire and his parents, Dan and Veronica. Then, like the commonsense Pittsburgher he is, he did the right thing: He said he would quit football. He did it because going to Minnesota, even for the right reasons--for the love of the game and for a shot at that elusive championship ring--just felt wrong.
"We're sitting there at the kitchen table," Marino told SI on Sunday night, 14 hours before he would tell the world he was retiring, "and I said to them, 'I don't think I'm going to play anymore.' Claire cried a little. My father said it was the right decision and that I had had a great career. I know it was the right thing to do. In the end, the physical part of it was going to be hard. Minnesota plays, I think, 11 games on artificial turf this year, which would be tough on my legs. It was going to be hard on my wife and [five] kids, too. In this day and age, especially with the relationship I've built with this community, I didn't think it'd be right to go somewhere else for a year.
"It's tough. Believe me, it's tough. I still had trouble sleeping last night."
"Dan would love to play," Green said on Sunday from the NFL Competition Committee meetings in Tampa. "But in the end, he just decided he shouldn't. I could see the respect he had for the game and for his family."
So we have seen the last of Marino licking his fingers, giving that ice-blue stare, striding purposefully downfield after a completion. The most prolific passer in NFL history walks away with his dignity intact. He also leaves with almost every league quarterbacking record. He has 78 more touchdown passes than anyone else. He has thrown for 9,886 yards more than anyone else. Among starting quarterbacks, only John Elway won more games (148 to Marino's 147). His mark on the sport, professionally and personally, is indelible. "I love Danny," says Bruce Smith, the 15-year veteran defensive end who, with the Buffalo Bills, was Marino's chief AFC East tormentor. "Playing him, it wasn't just his talent that stood out. There was a professionalism, a mutual respect you didn't see very much with other guys. We'd get banged around and fall into a pile, and he'd look at me and say, 'You O.K.?' Going against him, I felt like baseball players must have felt playing against DiMaggio."
The hole in Marino's doughnut, of course, is that he never won a championship. This will diminish his stature in NFL history. Great quarterbacks win the Big One, and Marino lost the only one he ever played in: Super Bowl XIX in January 1985, a 38-16 loss to Joe Montana's San Francisco 49ers. Marino is certainly among the top handful of quarterbacks ever to have played, but he'd trade a bundle of stats for just one of the league titles won by Otto Graham (seven), Montana (four), Johnny Unitas (two) and Elway (two). In the postseason Marino was 8-10. His playoff losses included the game that he calls the ugliest he ever played: the 62-7 defeat by the Jacksonville Jaguars on Jan. 15, which turned out to be Marino's NFL finale.
In that game Marino threw an interception on Miami's first play from scrimmage. By the end of the debacle, Dolphins brass were convinced that Marino was through. The quarterback hoped that the subsequent retirement of coach Jimmy Johnson, who had lost faith in him, would give him the chance at least to compete for the starting job in 2000. But new coach Dave Wannstedt, Johnson's defensive disciple who had joined the Dolphins as assistant head coach in January 1999, was down on Marino too.
In fairness to the Dolphins, the weekly Marino sideshow (Would he be healthy enough to play? Would he feud with the coach?) was a distraction last season and would be next season, too, if a no-name such as '99 backup Damon Huard or free-agent pickup Jay Fiedler was beating out Marino. Yet at the same time Marino, at the Dolphins' request, voided the final two years of his contract to give the club salary-cap room to pursue free agents.
Despite that good-faith gesture, no Miami official leveled with Marino about the team's lack of interest in his services. He read the handwriting on the wall, however, and considered going to other teams. The Dolphins prayed that he wouldn't take a job if it were offered. Early this month Miami belatedly reopened the door for Marino to return, but it was a transparent p.r. ploy.
The tide of public opinion in South Florida regarding Marino and the Dolphins has turned dramatically. Johnson arrived in 1996 to return the franchise to its glory years and to deliver Marino the Super Bowl ring he desperately wanted. But when Huard went 5-1 in place of the injured Marino last season, fans were split on whether Johnson should reinsert the fading star when he was healthy again. The loss to the Jaguars should have sullied the reputations of both men. But now that Johnson and Marino have retired, only one of them is disparaged. Last weekend the radio airwaves were monopolized by callers such as the zealot who told WQAM host Jim Mandich, a former Dolphins tight end, on Sunday, "That backstabbing, egg-sucking Jimmy Johnson ruined the last chance Dan Marino had to win a Super Bowl!"
In fact, it was what Green saw in the first round of the postseason that persuaded him to pursue Marino. "The Seattle game showed me everything I needed to see," Green says. "It was vintage Marino. Vintage competitiveness." In that AFC wild-card game at the Kingdome, Marino turned back the clock during an 85-yard game-winning drive midway through the fourth quarter, converting a pair of third downs with laserlike completions against a relentless blitz.
Minnesota was the third team in line for the quarterback's services, however. Marino first spoke to Holmgren, but the player and the team were a bad match. Seattle has a young quarterback, 27-year-old Jon Kitna, and Marino didn't want to play 3,000 miles from home. The Steelers were hotter on Marino than the Seahawks had been. Club vice president Art Rooney Jr. spoke to Marino's agent, Marvin Demoff, three times--once to ask how to get the quarterback's medical records--and Marino and Steelers coach Bill Cowher talked at least twice. "Dan was convinced that Cowher was serious," says a source close to the Marino family. "The Steelers just had a deadline problem. But he was definitely their first choice."
By late February, however, Marino still wasn't sure he wanted to play, and the Steelers told him they needed an answer quickly, because they were concerned that free agents Gus Frerotte and Kent Graham, their other choices to compete with Kordell Stewart for the starting job, might sign elsewhere. "I've always been a fan of Bill Cowher," Marino says. "Going home to play one more year was something I really considered, but they needed a decision. I called Coach Cowher and said, 'Sorry. I'm not ready.'" On March 2, Pittsburgh signed Graham.
Minnesota had something Pittsburgh didn't, and that was the talent to seriously contend for a Super Bowl next season. "My biggest thing about any team was, Could it win right away?" Marino says. "Minnesota could." By replacing 1999 starter Jeff George with Marino, Green figured, he would gain in field savvy what he would lose in arm strength. "What Dan does so well is throw the quick post and throw all his balls with great touch," Green says. That's not how it looked for most of 1999, but Green thought he could play to Marino's strengths and use the power running game when Marino, who turns 39 in September, faltered.
Each of the three times he talked to Green, Marino got excited about playing. The Vikings even raised the prospect of paying to fly Marino's family to Minneapolis on home-game weekends. They also said that Marino could fly home to Miami on Sunday and not return until late on Tuesday, in time for Wednesday meetings. "But," Marino says, "if you play, you immerse your life in the game. It's hard to be leaving for two or three days every week."
He also questioned whether his body could endure another season of punishment; after a day at Disney World with his family two weeks ago, his legs were killing him. One side of the brain said, Play. The other side said, Be sensible. During one early-morning phone call to Demoff, Marino said, "This is tougher than when I decided to get married."
Finally, last Friday he told Green thanks but no thanks. He told Dolphins owner Wayne Huizenga, much to Huizenga's relief, that he'd never wear another uniform. On Monday, Marino drove to the Dolphins' training complex at Nova-Southeastern University to tell the world. Eerily, on Saturday the college had hosted something called The End of Life Seminar.
For Marino, who will look at his employment options in television and business, this is hardly the end. But for the fans who lined the street on Monday outside the Dolphins' practice facility in number 13 jerseys, it sure seemed like it.
Inside, before a packed house, Marino got choked up a few times, but at one point he smiled and said, "Come on. This should be a good, positive day." It was, especially after Huizenga told Marino that his number would be retired, that a statue of him would be erected outside Pro Player Stadium and that a street would be named after him.
Huizenga spoke for every Miami fan, however, when he looked at Marino and said, "The greatest disappointment as a team owner and a Dolphins fan is that you never won a Super Bowl." Which is why saying no to Minnesota, though probably the right thing, was such a hard thing for Marino to do.