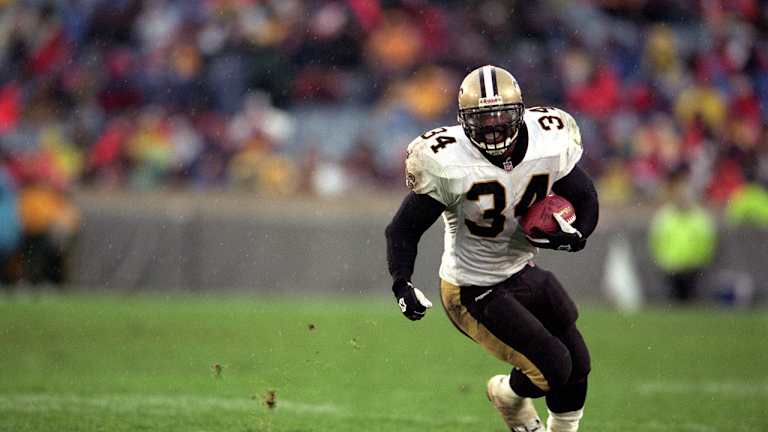 Lone Star
Ricky Williams was hailed as a savior when he arrived in New Orleans, but his heart's still in Texas, and his head's someplace else, far away, in a world of his own
What is wrong with you? Have you no respect? Why do you refuse to treat him like a person? It's all he asks for: some simple human decency sprinkled with a measure of compassion. Can that be so difficult? Perhaps he read you wrong.
Yesterday when he agreed to meet you at the Iron Cactus Restaurant and Margarita Bar in Austin, you thought you'd been so polite. You stood and offered your hand when he approached your table. (He was an hour late, and his publicist had to call and remind him to show up, but why bring that up now?) You talked about the classes he's taking at Texas, where but 14 months before he had won the Heisman Trophy after finishing as Division I's alltime leading rusher with 6,279 yards, and where he has returned to pick up 12 hours toward a degree in sociology. But tonight at P.F. Chang's China Bistro you've let him down. As a matter of fact, you've already gone and ruined the interview by daring to begin with questions about his disappointing rookie season with the New Orleans Saints.
He thinks that you're like the rest of them, that you treat him as though he were a piece of meat.
Ricky Williams, 22 and aging by the minute, sits sulking with a spoon tightly gripped in his right hand. The spoon circumnavigates a bowl of hot-and-sour soup. But Williams doesn't eat. To eat at this moment, to nibble even, would be to concede that he doesn't mind having to look at you across the table. Last season he gave interviews only once a week and conducted most of them with his helmet on, a protective plastic shield covering his eyes. His sarcastic and condescending replies failed to ingratiate him with reporters, many of whom privately referred to him as a moody eccentric and as a prima donna with a lot of growing up to do. Tonight it looks as if two helmets would be appropriate--one for him and, if you don't stop asking "dumb questions," as he calls them, one for you.
"You're really being negative," he mumbles, eyes on the soup. His head, covered by a baseball cap turned backward, hangs so low that his chin rests on his chest. He turns and glances at the exit.
Ricky?
"What?"
Let's move on to something else, something more positive. What did you do in New Orleans last season when you had free time? Must've been fun, huh?
"I didn't do anything."
No? Did you just stay at home, then?
"I didn't do anything."
Did you read books? Play video games?
"I didn't do anything."
Nothing?
"Nothing."
So you didn't watch TV? Not even that?
"I don't watch TV."
Did you talk on the phone?
"I don't talk on the phone."
But just a few minutes ago you were on a cell phone arranging an ice-cream date for after dinner with a coed from Bangladesh!
"I didn't talk on the phone, and I didn't do anything. I just sat there and waited for the next morning to come."
Did you cook dinner when you were home waiting?
"No."
Did you hire a cook to prepare your dinner?
"No."
So you went out for dinner?
"No."
So how did you eat, Ricky?
Williams puts down his spoon. Long ago the soup stopped steaming. This is not to say that he has. "I don't really know how I ate," he replies, carefully enunciating each word. "I ate, but I don't know how I ate. It really depended. Whatever came along, I guess I ate that."
You miserable lout. You callous, unfeeling man. If only you cared enough to get to know him for who he truly is, you'd understand that Williams, in addition to being the most prolific running back in Division I history, is a shy, sensitive person who aggressively defends his privacy. Well, some of what he considers private, anyway. Williams might be slow to discuss the game that has made him rich and famous, but it takes little prodding to get him started on other topics: how he and a girlfriend decided to name their infant daughter, Marley, after the late reggae star, Bob Marley; how in Austin he says he could get any woman he wants (but how deep-seated insecurities have kept him from chasing any but those who come on to him first); and how he could see himself as an aristocrat, though certainly not a peasant or a slave, in ancient Rome.
He just ate whatever came along? No, that isn't good enough for you. You have to know how he ate. "In training camp," says P.J. Franklin, the Saints wideout who shared a room with Williams for a month last summer in La Crosse, Wis., "I'm serious, man, Ricky would eat something, then just throw it on the floor and leave it there. I was like, 'Man, Ricky, would you throw that away?'
"I've never seen anything like it. I couldn't see the floor for a month. For real. Clothes were everywhere. Food. I mean, the bed covers! He'd just leave them there, piled on top of everything. It got so deep, it was like a tornado had hit. I said, 'Man, Ricky, don't you think you need to pick some of this up?' He was like, 'Man, P.J., leave me alone.'"
Being a slob is a sign of Williams's heightened sense of joie de vivre. This is what his publicist, John Bianco, would have you believe, anyway. Bianco, director of media relations at Texas, probably knows Williams as well as anyone. Their friendship was forged during the 1998 Heisman campaign, when as a senior Williams traveled the country making appearances and picking up awards. If not for Bianco, Williams might never be understood.
But Bianco admits that even he sometimes doesn't have a clue about Williams. "We'll be on a road trip," says Bianco, "and it's five minutes before we're leaving for the airport, and Ricky hasn't even thought about packing and getting everything together. He just throws everything in a bag. And after he walks out the door, I have to track behind him and find his wallet and his clothes. He always leaves a lot behind. Not a little, a lot. With Ricky it's always a question of whether he'll leave something really important."
With his fancy hair, body art and assorted piercings Williams looks as if he's searched out every Gen X cliche and claimed it as his own. His appearance is so derivative that it's gone full circle and become original again. He's retro even before the slacker fad has played itself out. When Williams moved to New Orleans last year, he might've joined other bohemian wannabes in a hip historic neighborhood such as the French Quarter or Faubourg Marigny. Instead he settled in a posh, gated community built on reclaimed swampland near the southern shore of Lake Pontchartrain. Williams has described his Kenner neighborhood as being straight out of Leave It to Beaver.
"When he moved there, people came around and left their business cards," says his sister, Nisey Williams, 21. "Let me do your lawn, let me clean your house, let me decorate. They were very nice. But Ricky doesn't call anyone. His house is so pretty. I just wish he'd take better care of it.
"He'll eat like part of a banana and throw it on the floor," continues Nisey (pronounced NEE-cee). "He says, 'You know I don't mean anything by that, right? I'm not throwing it on the ground so you'll pick it up.' But he throws it anyway, and out of instinct I pick it up. I guess he's been doing it so long I'm used to it by now."
Williams says he felt "like an outcast" last season while playing for the Saints. He and Franklin went to Hooter's once a week, and wideout Andre Hastings and tackle Willie Roaf stopped by his house on occasion. But Williams spent most of his time alone or with college friends who had flown in from Austin. Williams, who grew up in San Diego, says he came to feel as though he "didn't fit in at all--on the team or in the city." He "wanted to leave all the time" and return to Austin, he says, especially after suffering ankle, elbow and toe injuries that sidelined him for four games.
As a senior at Texas, Williams scored 28 touchdowns, but he was good for only two as an NFL rookie. In 12 games in New Orleans he rushed for 884 yards, 1,240 fewer than he gained in 11 regular-season games as a Longhorn in 1998. Although Williams showed considerable moxie by playing hurt, he says his efforts and sacrifice went largely unnoticed by Saints coaches and players. "When you're hurt," he says, "the coaches don't talk to you. They don't even look at you."
What about his teammates? Weren't they compassionate?
Williams shakes his head. "The strength coach said something, he was cool. But no one else did. I didn't take it personally. It's part of the game, and you learn that."
However, it wasn't only injuries that kept him from putting up big numbers. Williams, who gained more than 100 yards in only two games last season, says a lack of running room also added to his problems. "There wasn't any space," he says. "Sometimes I couldn't find the holes. I just couldn't find anything. I've always had really good vision. But I couldn't find anything."
"Ricky's a great, great football player who basically had his way with defenses in college," says New Orleans quarterback Billy Joe Tolliver. "But you realize early that NFL linebackers are a lot bigger, faster and stronger than any you've faced before. In the pros the holes don't stay open very long. In a college game you get, say, 30 carries. On maybe 10 of those 30 you run through holes that are five yards wide. In the NFL when you get the ball, the hole might be five yards wide but by the time you take your first step it's closed down to the size of a person. Running backs have to make cuts off blocks at the line of scrimmage. Ricky will do that. Give him time, and he'll do a lot of things."
At the end of the 3-13 season Saints owner Tom Benson fired the coaching staff and several front-office personnel. Most notable among the dismissals were general manager Bill Kuharich and coach Mike Ditka, who'd traded eight draft picks (all the team's 1999 selections and the first and third in 2000) to get Williams. In a display of solidarity with his marquee acquisition Ditka appeared at a draft-day press conference wearing a wig of dreadlocks. Williams had yet to take a handoff as a pro, but Ditka already was comparing him to some of the NFL's best running backs ever.
"Expectations were too high," says Texas coach Mack Brown. "I mean, Walter Payton dies, and it's like everybody wants Ricky to be the next Walter Payton. He even wears number 34, Payton's number, and he's going to lead the Saints to the Super Bowl. But that league is just too good and too balanced. People forget that this is a team sport, and no one should place that kind of burden on one guy--not even one as special as Ricky Williams."
Ditka celebrated the acquisition of Williams by strutting and stabbing the air with a monster cigar, but his excitement seemed lukewarm compared to the city's. "We got Ricky!" exclaimed long-suffering Saints fans, and media outlets, tired of covering a loser, joined in the refrain. "Run, Ricky, Run!" became a team marketing cry.
"When he was drafted, the treatment we received that first day was like he was a prince," recalls Ricky's mother, Sandy. "They shut down the city to give us a police escort from the airport to the hotel where we stayed."
Williams agreed to a seven-year package worth $68.4 million. The numbers may have seemed huge, but more than $5 million of his $8.84 million signing bonus was deferred, and most of his annual pay was tied to hard-to-reach performance incentives. While other players derided the deal as imprudent, Williams said he preferred to have his salary determined by his performance on the field. If he produced, pay him. If he didn't, then don't. It was yet another reason to love him. In a time when a pro athlete's commitment too often was determined by how much a team was willing to pay him, Williams expected no more and no less than an honest wage for an honest day's work. He stood for something.
Or so it seemed in those heady days before the season started and the injuries piled up. He reached only one of 25 incentives, which added a lousy $50,000 to his rookie-minimum $175,000 salary. Today Williams, wiser by a lot, and nowhere near as wealthy as he thought he'd be, shows every sign of suffering from a serious case of honeymoon fatigue: The Saints might be counting on him to carry the franchise, but Williams dreams of being elsewhere. "They should move [the team] to San Antonio," he says. "Change the name. I'd live in Austin. I'd rather live in Austin than San Antonio. New Orleans is a great place to hang out, but it's not a great place to live and to work, if that makes any sense. When I was hanging out there, I had the best time of my life. But when I had to go to work there, I hated it."
Williams, who says only winning will improve his attitude, also would prefer to "take all the guys from UT and put them on the Saints. It's not just the quality of the players, it's the quality of the people they were and the way they played for each other. There was a deep sense of pride [at Texas]. Like my linemen--they were so proud. When they missed a block and I got hit in the backfield, they would be right there and say, 'I'm sorry, Ricky.' You could see in their eyes that it really hurt them. In New Orleans when I got hit in the backfield, they'd pick me up but I never once heard anyone say, 'I'll get them next time,' or anything at all. I don't know what the problem was. I think they were too worried about themselves."
Some of his New Orleans teammates seemed to go out of their way to hurt his feelings, Williams claims. One day, Williams says, a player returned from a speaking engagement and told him that someone in the audience had referred to him as a "crybaby." During a film session another laughed and said, "Man, you got blasted," when San Francisco 49ers linebacker Ken Norton drilled Williams during an interception return. Yet another Saint, during practice the same week he was returning from his elbow injury, slapped at Williams's right arm, on which he was wearing a supportive brace. Then after a game, while traveling on a team bus, someone mentioned that Williams's contract was "f----- up." Williams says he was so embarrassed that all he could think to say was "Thanks."
What hurt most, he says, was not that he'd negotiated a bad deal, but that he felt as if his teammates had lost respect for him and didn't think he was smart for signing such a contract. "Hopefully the Saints will come to me and address [the contract]," he says. "But I don't think they will. Last season it bothered me to the point where I thought I would feel better playing if I had a better deal. Because we had a tough season, it made the contract even worse. I think if I was healthy, I'd have hit those numbers. I thought I had a chance until I hurt my toe [in mid-November]." Williams shakes his head. "I got zero help," he says, referring to his teammates.
"I ran into Ricky one day, and he said football in the NFL just wasn't the same," says former Longhorns fullback Ricky Brown. "He said the commitment from his teammates in New Orleans wasn't there, and he told me he wished I could play for the Saints because he knew I wouldn't sell out. He missed the camaraderie at the college level. He thought he could be all they wanted him to be, the franchise player who saved the team. But it wasn't long before he realized that he couldn't do it alone."
"It's only natural for Ricky to feel the way he does," says Tolliver. "The team gave up its whole draft and a Number 1 [pick] this year to get him, and now he's thinking, If this doesn't work out, it's all my fault. Ricky needs to forget all that. The kid's a New Orleans Saint, and he's going to be a New Orleans Saint for a long time. He'll probably go into the Hall of Fame as a New Orleans Saint."
As the 1999 season wore on, Williams's frustration with injuries and the team's losing ways manifested itself in behavior that hinted at a severe case of either boneheadedness or immaturity. He grew testy with reporters, and he showed up late for meetings and a practice--things he had never done in college, says his former coach Brown. In Baltimore for a game against the Ravens on Dec. 19, Williams missed the bus to the stadium. "I overslept," he says. "I got up and looked at the clock. It said 11, and I knew the bus had left at 10:45."
Williams, who wasn't going to play because of the toe injury, hitched a ride with some cops who had returned to the hotel to retrieve a playbook left behind by one of the quarterbacks. Sirens screamed and lights flashed, and rather than panic over the reprimand that surely awaited him, Williams says he surrendered to the moment. "It was fun," he says. "It really was. It's like when you're a kid and you do something wrong. You know you're going to get punished. I knew I was wrong, so I wasn't afraid."
Not long before the season ended, Ditka had a meeting with his star player and, according to Williams, said, "'Ricky, at first I took you for being naive. But you're just very immature.' He said it about 13 times, at least 13 times."
Ditka, who did not return phone messages from SI, also told Williams that he needed to work harder to stay in shape. "I think Coach kind of got fed up with me at the end," says Williams. "Because he said, 'Ricky, your teammates love you. But they don't understand you.' Then he said, 'You need to fix that.'"
Williams, by now, had little patience with what anyone had to tell him. He liked and admired Ditka, he says, but in New Orleans "losing engulfs you. It's bigger than one person. And it's bigger than two people." Williams was sick of hearing fans say, "Maybe next year" and "Keep your head up," whenever he went out. His confidence plummeted, he says, every time someone said, "Think you're going to have a better year next year?"
"Has there ever been a star player in New Orleans?" asks Williams, the names Archie Manning and Earl Campbell, among others, apparently eluding him. "No, there hasn't. So they don't know how to treat you--not that I expect any kind of treatment. But there are certain things that I've become accustomed to. Like support, just a little bit of support."
In December, Chris Rose, an entertainment columnist for the New Orleans Times-Picayune, chided Williams for granting interviews to out-of-town reporters and ignoring local ones. That item, though clearly tongue-in-cheek, so infuriated Sandy Williams that she E-mailed a letter to the newspaper's editor defending her son. Sandy seemed particularly concerned about correcting an error in the Rose report: that Williams was seen at a New Orleans-area restaurant eating his favorite menu item. "Everyone who knows Ricky knows he doesn't eat seafood, not at all," wrote Sandy. "Crab claws--that's almost as stupid as the column."
A month later another columnist for the paper, John DeShazier, riffed on the bizarre goings-on in what he called "Ricky World," notably Williams's falling asleep inside his locker after a game. "What we appear to have is a confused child on our hands," wrote DeShazier.
Williams says he read almost every article written about him, and the more he read the more he became convinced that local reporters were out to get him. Nisey visited him at home and found newspaper clippings scattered all over his dining-room table. "People were mailing them to him," Nisey says. "It made me so upset. I tried to talk to him about it, but he said, 'Shut up, it doesn't bother me.' But how could it not bother him?"
After the Saints' season finale against the Carolina Panthers--a game in which he gained a season-low seven yards on 14 carries--Williams decided that it wasn't only the New Orleans media who had him in their sights. He and a male friend, along with a couple of women, were lounging in Williams's outdoor hot tub when the police showed up at his front door. It was about 3 a.m. A neighbor had called and complained about noise at the Williams home. But Williams says he and his friends were "only talking quietly and drinking Dom Perignon."
"I don't understand people," he says. "I'm 22 and I have a nice house. Why did they have to do that?"
Just before the final game of the previous season, at a Texas practice for the Cotton Bowl, his last game as a Longhorn, Williams sat in the dirt and gathered a bunch of roly-poly bugs in his hand. Running backs coach Bruce Chambers approached Williams and asked him what he was doing. Williams, already named the Heisman winner in a landslide vote, said, "Oh, nothing." Then he flashed an embarrassed smile at Chambers and tossed the bugs on the ground.
But that's where his life in Texas differed from the one he lived in New Orleans, and where college football distinguished itself from the NFL. Would an NFL coach be amused by a player who fools around with roly-polys at practice? Says Williams, "I think my thing is, if a person makes me feel like a person and not an object, then I'll respect that person more and treat that person with proper respect. But when people treat me like a thing or a possession, and like a person second, then I'm not going to respect them."
So when the season ended, Williams moved back home--back to Austin, and back to where the respectful adoration he desired was a given. He moved into the same downtown apartment he had rented when he played for the Longhorns. He enrolled in school and bought a backpack, which, to those who know him, was symbolic of an eagerness to return to the way things used to be. "I'm in an excited-to-learn stage," he says.
"Ricky came by my house the first three nights he was back in town," says his mother, Sandy. "The first night he called, and I was really tired from work. I was half-asleep, and I could hear my cell phone. It kept ringing and ringing, and finally I answered. Ricky said, 'Hey, where are you?' I'm like, 'Ricky, I'm sleeping. Where are you?' He says, 'I've been at your front door for 45 minutes. Can I come in?'
"It was raining but there he was, standing at the door with his face up against the glass trying to peek in. You could see his face, straining to look. I said, 'You poor baby.' He didn't really want to talk. He just wanted to be here."
One day soon after, Ricky asked his mother, "Notice anything different about me?"
"Not particularly," Sandy replied.
"It's me," he said. "The old Ricky. I'm the old Ricky again."
Williams got excited a few weeks ago when a rumor circulated that the Saints were considering trading him and Roaf to the Cleveland Browns for a slew of draft choices. The rumor, however, apparently had no basis in fact, and Williams wearily accepted his destiny with a team that hasn't won a playoff game in its 33-year history. In February, Williams traveled to New Orleans to check on his house and to meet Jim Haslett, the former Pittsburgh Steelers defensive coordinator who was hired to replace Ditka. "He doesn't say, 'How's your elbow?'" says Williams. "He says, 'Have you been working out?'" (The answer to that question is no. Williams, still nursing his injuries, hasn't worked out at all since the season ended.)
"His questions bothered me," Williams says. "And the way, if you ever meet a football coach, they always look you up and down before they say anything to you. It's their job, I guess, but it didn't make me feel like a person."
"I was in there and Coach Haslett says, 'Ricky, I've heard so many things about you, it's hard not to prejudge you before I meet you,'" says Williams. "He said, 'I don't want to do it, but I've heard from people upstairs and the p.r. staff that you come whenever you want and do whatever you want, and Coach [Ditka] never did anything about it, never punished you or anything.' He said, 'Ricky, with me that's going to have to change.' I looked at him and said, 'It's not that bad, Coach.'"
Williams says he left the meeting with Haslett--who did not respond to repeated interview requests--feeling even more certain that he didn't fit in with the Saints. "I would never, ever, ever, ever flex my muscle" and demand a trade, he says. Williams thinks Benson didn't go far enough when he weeded out employees in January. "I'd fire everyone," he says. "The secretaries.... I like our trainer and our equipment manager. But some of [the other staff] will rat on you. It pisses me off so bad."
Now you come along, with your notebook and tape recorder, asking questions that provoke a silence so heavy and sullen that all the world's clocks might have stopped ticking. So how did you eat, Ricky?
You sit together--for the third day in a row--at a corner table in a waterfront restaurant called the Hula Hut. The dumb, insensitive queries have ended, and so have the monosyllabic replies. Now it's Williams's turn to ask a question. "What is a prima donna?" he says.
Momentarily stunned, you consider a variety of responses before settling on the most obvious one: It's a spoiled, pampered brat, you say.
Williams considers this. "I am not a prima donna," he says. "I might be treated as one, but I'm not actually one. Does that make any sense?"
Five days from now Williams will be arrested, booked and detained for several hours after refusing to sign a traffic ticket in Austin. At a press conference Haslett will remark as to how "Ricky needs to grow up some, obviously." Franklin, seeing Williams's mug shot on a TV newscast, will let out a laugh, recalling the nutty character from training camp. Today, however, all that is in the future, and the future, well, when you're Ricky Williams, it's often best not to worry about any time but the present.
Williams stands and offers his hand. A little earlier he had been upset with a parking valet for calling him "Rick," but he has put that episode behind him, and he's feeling better now. You shake hands and give him a smile. You thank him for his time. "Sorry if I was being negative," you say.
"Write a good story about me," Williams says, nodding as if he means it, "or I'll hunt you down and beat the f--- out of you."
Williams is joking, of course. At least he'd better be.
COLOR PHOTO: JEFFERY A. SALTER/SABA [T of C]
COLOR PHOTO: PHOTOGRAPH BY JEFFERY A. SALTER/SABA Greenhorn After a tough rookie season in New Orleans, Williams returned to his strong roots in Austin.
COLOR PHOTO: JEFFERY A. SALTER/
SABA
COLOR
PHOTO: PETER READ MILLER HARD FALL Because he reached only one of 25 contract incentives, Williams earned just $50,000 more than the rookie minimum in 1999.
COLOR PHOTO: BOB ROSATO ROOM TO ROAM Williams had little trouble finding holes during his Heisman-winning season at Texas.
COLOR PHOTO: MICHAEL HEBERT DOWN AND OUT The sight of Williams nursing an injury became all too familiar to the embattled Ditka, who was fired after a 3-13 finish.
COLOR PHOTO: MICHAEL HEBERT STRICTLY BUSINESS Even when signing autographs, Williams kept his helmet on.
COLOR PHOTO: JEFFERY A. SALTER/SABA SAFE HAVEN After his forgettable rookie season, Williams moved back into the same downtown Austin apartment he called home in college.
"I am not a prima donna," says Williams. "I might be treated as one, but I'm not actually one. Does that make sense?"
Williams says that he felt "like an outcast" in New Orleans as a rookie, that he "didn't fit in at all--on the team or in the city."
The Saints are counting on Williams, but he dreams of being elsewhere. "They should move [the team] to San Antonio," he says.
"Expectations were too high," says Brown. "Walter Payton dies, and it's like everyone wants Ricky to be the next Walter Payton."
Williams thinks that Benson didn't go far enough when he weeded out employees in January. "I'd fire everyone," he says.