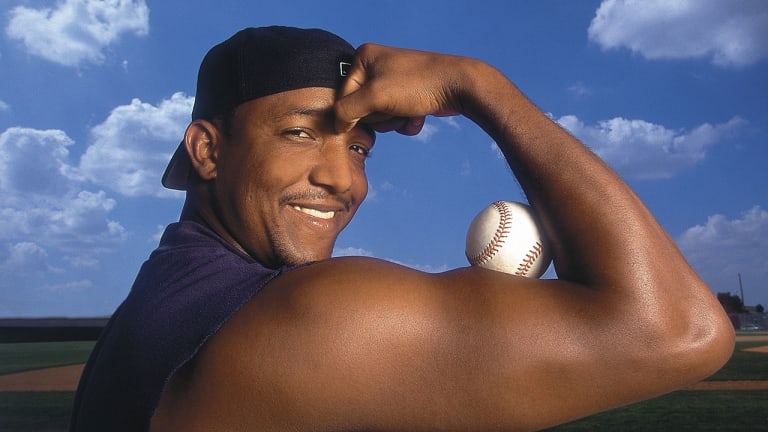 The Power of Pedro
Godlike in the eyes of heartened Red Sox fans, Pedro Martinez uses an astonishing mastery of four pitches and a ferocious will to win--not to mention that smile--to fuel Boston's fever for a World Series title
On a baseball diamond so scraggly that an impoverished goat would find it unappetizing, a schoolboy and the master cross paths while running sprints in centerfield. They are just two of a hundred or so professional and amateur ballplayers who have come to a rubble-strewn public park smack in the midst of the heat, grime and grit of Santo Domingo, capital of the Dominican Republic. The park, Centro Olimpico, is ground zero of the last place in the free world where baseball is the unchallenged national pastime. They are here to train.
The boy catches the master's eye and bows his head respectfully, dipping the bill of his thread-worn cap. He speaks in the worshipful manner of a peasant offering a proper "Your Majesty" to a king. "El Duro" is all the boy dares say.
Pedro Martinez returns a nod and a smile. El Duro is the loose equivalent of that obsequious Americanism, the Man. Its literal translation is more apt. El Duro means "the Hard One." When a baseball flies from the long, grotesquely concave fingers of the Boston Red Sox righthander, Martinez seems to possess the properties of misch metal, an alloy of iron and rare earth elements. Scratch it, as happens in a cigarette lighter, and sparks fly.
"Look at this," says Martinez to a visitor. He offers up his right hand, the very hand of God, as it were, if you happen to be among an extremist sect of Web-based Red Sox zealots, such as those who commune on www.redsoxdiehard.com. (The rest of the faithful, including Dan Duquette, the otherwise reserved Boston general manager, place him merely between sainthood and Providence. "He is a gift from God," Duquette gushes.)
Martinez points to the tips of the index and middle fingers of his right hand. Each one is calloused, even here in January, three months removed from his last pitch of '99. But the calluses are not where you expect them to be, on the lower part of the fingertip, the contact points of a pitcher's grip. No, the slivers of hardened skin are at the very top of the fingers, almost beneath the edge of the fingernails. But ... how could this be? "The longer the ball stays on your fingers, the more spin you get," Martinez says. Spin is the DNA of a fastball, its very code of life. Martinez's heater is a 97-mph double helix of hell for a hitter.
His fingers curve backward so easily that the baseball stays on his fingers longer than on most pitchers'. The last part of his fingers to touch the ball is not the part you would use to dribble a basketball, but the part you would use to push a doorbell. As a few of the baseball's furiously spinning 108 stitches of waxed red thread scratch the skin of his fingertips ... sparks fly. "I can feel a burning sensation from the seams," he says. "That's what it feels like—a burn."
That's El Duro, the pyrophoric pitcher. Human flint. The effort to imbue each pitch with fire and brimstone contorts his face so harshly that even he cannot stand the sight of it. "I hate signing action pictures," he tells autograph-seeking fans. "That is one ugly face."
Martinez possesses the power of Randy Johnson, the precision of Greg Maddux, the mound intellect of Mike Mussina and, at 5'11", 175 pounds, the body of Bud Selig. Baseball has never seen anything quite like him. In 1997 he became the shortest and lightest pitcher ever to strike out 300 batters in a season. Last year Martinez became the greatest combination of power and control in the history of the game.
Until last year Curt Schilling and Sandy Koufax had been the only pitchers in history to whiff 300 batters in a season while striking out more than five times as many batters as they walked. Schilling's strikeout-to-walk ratio was 5.5:1 in '97; Koufax's was 5.38:1 in 1965 and 5.28:1 in '63. In 1999 Martinez went where no man had ever gone before—8.46:1. His totals of 313 strikeouts and 37 walks seem implausible by any manner of achievement other than by joystick.
"I'm not afraid of hitting anyone," he says, "because I can put the ball where I want to. I only hit nine guys last year. When I do hit them, it's usually just a nibble. I can nibble their jersey with the ball. That's how much I can control the ball."
Martinez already has two Cy Young Awards (the National League's, in 1997 with the Montreal Expos, and the American League's last year), and he doesn't turn 29 until October. He put up more impressive figures in '99 than a Miss America pageant. He went 23–4 with a 2.07 ERA, won the pitching triple crown (wins, ERA and strikeouts), set a major league record with 13.2 strikeouts per nine innings, did not allow a home run in any of the 293 at bats against him with a runner on, permitted only three leadoff walks to score (he walked the first batter only six times in 213 1/3 innings) and struck out 37% of all batters he faced. That was not enough.
"Every day in Boston somebody will tell me, 'My father—or grandfather—wants to see the Red Sox win the World Series, just once. You are the one who can do it,'" Martinez says. "I tell them I will try, but I cannot do it by myself. It takes a team, and I think the team we have now is as good as any in the big leagues."
Martinez climbs the crude, cratered mound on one of Centro Olimpico's diamonds. He peers into the plate and smiles knowingly, even wickedly. He has no ball or glove. But even so, even here, as you watch him on that mound, you sense what it must feel like to know you can play tic-tac-toe with a baseball at 20 paces without ever using the center square ... this is what it feels like to hold 5.19 ounces of absolute superiority in your hands ... this is what it feels like to be El Duro.
"The plate," he says. "It looks so close. There are days when I first get out to the mound and it feels just like this, like the plate is closer than it's supposed to be. Then I know right away. It's over. You are f-----. F-----."
At that moment you can feel his fire, wavelets of passion and supreme confidence radiating from him. "I am a pitcher because I like the challenge of being responsible for the game, of being in charge of the action," Martinez says. "If the shortstop makes an error, I am responsible. I let the batter hit the ball."
Yes, standing in the wake of his fire, you understand perfectly that this is a man who can use a baseball to snip the button from a hitter's shirt, who is the last great hope of geriatric New Englanders and who sent the Cleveland Indians home for the winter, despite an injured arm he could barely lift above his head and with little more of his usual weaponry than the look of a lion tamer in his eyes.
This also is a man who wears jeans with Linus embroidered on the back pocket. A man who prepares for his starts by tending to flowers in his garden. A man who melts around children. A man who gave his entire $6,500 signing bonus in 1988 to his big brother, Ramon. A man who has built a church and three houses—with an elementary school, a playground, a ball field and more houses to come—for the impoverished people of Manoguayabo, his hometown in the Dominican.
This is also a man who, as a skinny boy, loved to climb the old mango tree in his backyard. Alone, the boy would study his school lessons high in the branches. Sometimes while in that tree he would remember his parents' yelling and screaming in his house and how it could still make him cry years later. He would explain it many times to many physicians and psychiatrists in many hospitals in Santo Domingo. They found a heart murmur in the boy but could do nothing for the sadness he kept inside. He was six years old during the worst of it. Too young to understand but too old to forget. When would the tears stop?
Yes, all that is part of the fire, too. That, too, is El Duro.
The doctors examined the strained muscle running from his right shoulder down his back and said Martinez might be able to throw 40 pitches, absolute max. Jimy Williams, the Boston manager, decided that if the Red Sox were tied or had a small lead in the eighth inning, Martinez would pitch that inning and, the good Lord willing, the ninth too. If Boston could beat Cleveland at Jacobs Field in Game 5 of the 1999 Division Series, it would play the New York Yankees for a spot in the World Series. If the Red Sox lost, they went home.
Williams's plan blew up early. Boston and Cleveland slugged away at each other with the kind of ferocity that made Ali-Frazier look like a church cotillion. It was 8–8 in the fourth inning when Williams reached for a tourniquet. He needed those one or two innings out of Martinez, and he needed them right now.
"I put my career in jeopardy that game," Martinez says. "I knew that. Why? We had to win the game."
With every pitch Martinez felt a stabbing sensation behind his shoulder. His fastball couldn't break 90 mph. It wasn't until he saw a video later that he realized he couldn't raise his arm high enough to throw the ball from his usual three-quarters delivery. None of that mattered, except to burnish a newly minted legend.
"I've always said that you could take five, six, seven, eight miles an hour off his fastball, and he'd still be a great pitcher," Red Sox pitching coach Joe Kerrigan says. "That game proved it."
Says Martinez, "I can change the way I pitch in 10 seconds—in the middle of a game, in the middle of an at bat. No problem. I know myself. I know my body. If I have to get you out a different way, I will do it."
The Indians were finished, and they knew it. One at bat in the fifth inning made it official. First baseman Jim Thome, who already had walloped two home runs, foolishly salivated at the opportunity to bat with a 3-and-0 count against Martinez. "I'm looking to hit the ball out of the stadium," Thome will explain later. "I'm in high gear mode. Grip it and rip it, basically."
But Thome is momentarily unnerved when he sees Martinez studying him. It's like getting one of those little pink WHILE YOU WERE OUT MEMOS scribbled with "IRS called." "What makes Pedro so great is he's so intelligent," Thome says. "You watch Pedro and it's like a cat-and-mouse game, and he's the cat, studying you. He's watching you, watching your feet to see if they've moved, watching your body language. He's looking at you all around and up and down. He's trying to figure out what I'm trying to figure out about him."
During the home-run-hitting contest at the All-Star Game, which most players treated as kindergartners would recess, Martinez watched Mark McGwire closely. "I watch and learn," Martinez says. "I noticed all those balls he hit out were in the same place. Middle [of the plate], up a little. I said, O.K., I'm not stupid. I know where he likes it."
This is what McGwire saw from Martinez the next night in the All-Star Game at Fenway Park: changeup away for a ball, changeup down for strike one, fastball down for strike two and fastball up—just enough out of McGwire's happy zone—for strike three swinging. Martinez struck out five of the six batters he faced that night, the home run king and four MVPs: Barry Larkin, Larry Walker, Sammy Sosa and Jeff Bagwell. The bricks and mortar of Boston's antique ballpark threatened to split wide open from the din and tumult of the home crowd. In Martinez's real backyard proud Dominicans tied any sort of junked metal to their bicycles—pieces of iron fencing, broken washing machines, various car parts—and dragged them through the narrow, darkened, dusty streets of Manoguayabo. Homemade fireworks: What better tribute to El Duro than sparks dancing in the night.
When Martinez went about reading Thome at 3 and 0, he found all the challenge of the Sunday comics. Martinez is adept at exploiting big-swinging sluggers. The eight top home run hitters over the past five years—McGwire, Sosa, Albert Belle, Vinny Castilla, Juan Gonzalez, Ken Griffey Jr., Rafael Palmeiro and Mo Vaughn—have a combined career average of .107 against Martinez, with just one home run (by Gonzalez) in 84 times at bat. Thome is 2 for 14 with seven punchouts.
"I knew he'd be swinging," Martinez says. "The Indians are aggressive. I told [fellow Boston starter] Bret Saberhagen before the game, 'Sabes, you've got to bounce some changeups to these guys. Bounce 'em.' He didn't do it. He has great control. Too good. The Indians swing at everything. It was a bad matchup. So I knew Thome was looking to hit it out."
Martinez flips a 3-and-0 changeup into the strike zone. Stunned, Thome doesn't dare swing. "I can't go up there looking for a 3-and-0 change," Thome says. "That's not good hitting."
Now Martinez spins a backdoor curveball that catches the outside corner. Thome does not—cannot—swing. A 3-and-1 hook? It's like seeing snow in August.
O.K., Thome thinks, now just try to hit the ball. But what's coming? He can't be certain. This predicament is why Yankees manager Joe Torre will say one week later—after Martinez has dealt New York its only loss of the postseason, a 12-strikeout, 13–1 laugher in Game 3 of the American League Championship Series—that trying to hit Martinez is "like trying to hit in a dark room." (It was the second time in five weeks that Torre had witnessed such frustration at the plate. On Sept. 10 Martinez had one-hit the Yankees, whiffing 12 of the final 15 batters to finish with 17 strikeouts.)
Martinez decides on a fastball. Of course, it is not just any fastball. It is a smart bomb laser-guided to skirt the inside corner of the plate. After the camouflage of a flirtatious changeup and a looping curveball, the fastball has the illusion of traveling faster than it actually does. "Put it this way," Thome says. "It had some hair on it."
Thome swings at it. He is too late. The pitch is past him. He's been eviscerated like a flounder. The Indians are finished. The most prolific scoring team in the second half of the 20th century cannot get a single hit off the wounded Martinez, who winds up chucking 97 pitches over six innings. Heroic? It was Kirk Gibson limping off the bench to hit his home run—and doing it five more times.
The Los Angeles Dodgers' Dominican training complex in Campo Las Palmas is a remote, pastoral pleasure of lush green fields, swaying palm trees and fresh paint—that is, once you get past the entrance gate with the guard carrying the sawed-off, semiautomatic assault weapon. The face of baseball is being changed at this academy, at others like it run by other organizations and on just about any available expanse of grass in the Dominican. One out of every five players now under contract to major league organizations was born in the Dominican, a country with the approximate population (7.5 million) of North Carolina. More are coming. The three fields of Centro Olimpico are busy every day with players training on their own. Three pickup teams fill each field on weekends, two playing and one, on the sidelines, that has winners. The basketball courts are virtually abandoned.
In May 1988 a kid from Manoguayabo came to Campo Las Palmas for a tryout. He was so skinny he could have slipped through the iron bars of the entrance gate if he wished, maybe without turning sideways. Pedro Martinez was 16 years old, weighed 137 pounds and threw his fastball no better than 82 mph. The Dodgers knew him as the younger brother of Ramon, a rising pitching star in their organization who would make his big league debut later that year.
"He wasn't impressive to look at, physically," says Eleodoro Arias, the academy's pitching instructor. "But looking into the eyes of Pedro, I could see he had el corazon. Heart. Guts. I recommended he not be signed at the moment, but that we work with him, and with some added nourishment he could be signed."
The Dodgers did sign him about four weeks and many meals later. Pedro turned over his bonus money to Ramon as a gesture of thanks for serving as his pitching mentor. It was Ramon who had taught him how to throw a curve and a changeup and counseled him with the tenets of pitching, such as, "Remember, in baseball you have no friends." Teammates with the Dodgers in 1992 and '93, the brothers Martinez were reunited late last season with the Red Sox after Ramon recovered from rotator cuff surgery. When Ramon presented Pedro with his second Cy Young Award at a dinner in Boston in January, Pedro said to his brother, "There is more of you in this trophy than there is of me."
"It's funny," says Pedro, who gave his first Cy Young to Dominican pitching legend Juan Marichal, "I like to think I am a man who knows what I want. But to this day, no matter what I want to do, first I must have Ramon next to me to ask him what he thinks. I will always look up to him. That will never change."
Pedro came to be known around the academy, where he spent 1988 and '89, as Chichilito, a pet name for a child. He was, however, so ferociously driven to win that after games he had lost, even those in which he had pitched splendidly, Arias would find him alone, crying. "I thought Pedro could be somebody," Arias says, "but I never thought Pedro would be as special as Pedro is now."
Every good pitcher has a strikeout pitch, the kind that should be marked IN CASE OF EMERGENCY, BREAK GLASS. The great pitchers have two from which to choose. Martinez is the only one today who has three equally lethal options. He commands them with near-equal precision. Last year he threw 67% of his fastballs for strikes, 67% of his changeups for strikes and 62% of his curveballs for strikes.
What makes him all the more treacherous is that Martinez offers no clue as to what's coming. Every pitch is thrown with his hand in the same release slot and with the same arm speed. What you think is a 97-mph heater leaving his fingertips may be an 83-mph curveball that can turn the bravest hitter's knees into gelatin, or it may be a 77-mph changeup that breaks like a hyperactive screwball. Those, too, have their own DNA, and you'd better be quick to decode their spin. The changeup is particularly perplexing. Martinez varies the speed and break of the pitch—he can make it wiggle six to eight inches, generally saving the biggest break for two-strike situations—by adjusting the pressure on the ball from his fingers. "It's a Bugs Bunny changeup; it moves so much," Saberhagen says. "Bugs Bunny is the only one with a changeup that can move like that, and he has the help of animators."
It is Martinez's fastball, though, that measures his growth as a pitcher. Five months after signing, in November 1988, Martinez was throwing 89 mph. Two months after that, he was clocked at 93. He attributes much of that gain to playing long toss, a drill he still regularly employs, in which he plays catch at distances up to 250 feet. "That's his holy grail," Kerrigan says.
In 1990 the Dodgers assigned him to their rookie league team in Great Falls, Mont. Great Falls advanced to a playoff series against Salt Lake City, an independent club stocked with older players, many of whom had played Double A ball. Martinez, scheduled to start Game 2, charted pitches in Game 1 from the stands next to Dodgers roving instructor Dave Wallace. "Tomorrow," he promised Wallace, "I will take care of these guys."
The next night the Salt Lake City leadoff batter dug his spikes confidently into the dirt as he stepped into the batter's box. Little 18-year-old Chichilito whizzed his very first pitch past the hitter's chin. Salt Lake City didn't score that night. "Right then I thought he was something special," Wallace says.
The Dodgers, though, never did give Martinez much of a chance. He made 67 appearances for them, all but three in relief, before L.A. traded him to the Expos after the 1993 season for second baseman Delino DeShields. The Dodgers had decided that someone that small who threw that hard could never hold up in the big leagues. Dodgers physician Frank Jobe, who the year before had performed an anterior capsolaral reconstruction on Martinez's left shoulder, cautioned that his small frame left him injury-prone.
"Tommy Lasorda never told me, but he thought I couldn't be a starter," Martinez says of his Los Angeles manager. "He pitched me five days in a row out of the bullpen, but thought I'm not strong enough to pitch once every five days? That makes no sense."
Martinez blossomed into a star in Montreal, going 55-33 in four years without missing a start for manager (and fellow Dominican) Felipe Alou, who believed in him as a starter and whom Martinez still quotes as a priest would scripture. To become a true master, though, Martinez had to harness his fastball. That 82-mph floater from Campo Las Palmas had grown up to be the most hazardous pitch in the majors. Martinez threw it with his index and middle fingers along two seams and slung it in such a way that it broke by as much as nine inches toward the hands and heads of righthanded hitters. That's the way Martinez and the Expos explained it, anyway. Hitters regarded him as a headhunter.
"He pitched inside aggressively and hit people for the effect," says New York Mets first baseman Todd Zeile. "He'd hit you or put the ball right under your chin, and he'd stare right at you, not like most guys who'll look away."
In 1995 Kerrigan, his pitching coach in Montreal, changed Martinez's grip to a four-seam fastball. Martinez gradually gained control of the pitch, trading that erratic, sideways-riding movement for a late, explosive giddyap that appears to make the ball hop as it nears the plate. In the past two years Martinez has also learned how to cut his fastball, making it bore in on the hands of lefthanded hitters. "Since 1994 I don't think anybody else has gotten better and better the way I have," Martinez says. "Every year I know more and more about the hitters and how they react to me. There are some guys I know how to get out every single time, and I'll keep doing it unless they make an adjustment—and then I'll adjust. I'm telling you, if my ability remains the same as I continue to get experience, I'll have a bunch of Cy Youngs."
Martinez threw the ball with his usual zing this spring training and pronounced himself fully recovered from his shoulder injury last October. Then again, his durability will always be a question. Only one pitcher under six feet tall born after 1900 has made the Hall of Fame: 5'10" Whitey Ford. In 1998 Martinez was physically unable to pitch on short rest in a win-or-go-home Division Series game against Cleveland. (Boston lost.) He missed two starts last July because of soreness in his right shoulder. He doesn't bother throwing off a mound between starts, choosing to conserve his candlepower by long tossing and lightly spinning his off-speed pitches on flat ground. The Red Sox dare not use him as a traditional workhorse at the top of a rotation. They give him an extra day of rest between starts whenever possible. He was 13-0 in 15 such starts last year.
"We'll do it again this year," Kerrigan says. "As Felipe used to always say, 'We've got to take care of the little man.'"
With each passing hour of the afternoon the air above four-lane Avenida George Washington in Santo Domingo, hard by the Caribbean Sea, begins to turn bluer. It is the noxious, hazy blue of fossil fuels being burned often and inefficiently. The boulevard is a cacophonous conga of compact rattletraps enmeshed with brazenly driven scooters that clatter like an army of power saws and leaf blowers. In the middle of this mayhem Martinez drives a ... spaceship.
Well, it is not exactly a spaceship. But the black Mercedes convertible might as well be an alien craft by the way everyone ogles it. Virgin steel and paint! Gleaming chrome and glass! Former Cincinnati Reds pitcher Jose Rijo used to drive his Bentley so deep into the Dominican countryside that children would gaze into the automobile's hubcaps, mesmerized. Twenty percent of the country lives below the poverty line.
"It's uncomfortable sometimes," Martinez says of the attention he gets driving his luxury car, "but I like having the top down." He is wearing jeans and a short-sleeve, button-down orange oxford shirt. Three years into a six-year deal that pays him $75 million (that's 1.196 billion pesos), he still lives in the modest fourth-floor apartment he's kept for five years. He gives away money, baseball equipment, houses and his time without ever an accompanying press release.
Martinez is driving the hour or so to Manoguayabo after one of his daily four-hour workouts at Centro Olimpico, sessions devoid of weights or baseballs. (He uses medicine balls and rubber tubing for strength training.) Of course, if you extracted all the time he spent laughing, yapping and needling, and boogying to the salsa blasted out of speakers the size of steamer trunks in another of his vehicles, a Lexus SUV, the workout would take about 2 1/2 hours. But then it would not be a Pedro Martinez workout.
One day a seven-year-old boy carrying a tennis ball approached Martinez as he worked under the concrete stands of the park's track and field stadium. "Soy el segundo Pedro," said the boy. ("I am the second Pedro.") Martinez hugged him, then played ball with the kid for 10 minutes, the two taking turns trying to strike each other out with the tennis ball.
"Pedro," Duquette says, "has natural charisma. He's comfortable being a star. He loves it."
No one in the pantheon of Red Sox icons has ever appealed to a more diverse audience than this slight man with a child's smile and an assassin's pulmonary system. At an autograph event in Boston in January, people began queuing up at seven in the morning to see him four hours later. One of the first in line was 69-year-old, Irish-born Margaret Flynn, a Red Sox fan since 1953. "Pedro's the one," she says. "He's going to get us there."
Here's how Martinez greeted Flynn upon meeting her for the first time: "Mommy!"
Parents handed their babies to Pedro for pictures—he didn't just hold them like sacks of groceries, he snuggled them and cooed—Latin kids shouted to him in Spanish, and women swooned and shrieked girlishly, including one who asked him to marry her. "I'm a nurse," she purred. "I can take real good care of you." Replied Martinez, "I'm not ready yet. I'm having too much fun."
Life in the Dominican is more tranquil, especially at the moment when Martinez blows the horn of his Mercedes at an iron gate in Manoguayabo and one of his nephews slides it open. This is where he grew up, though the tiny house he shared with three brothers, two sisters and two foster boys raised as brothers is no longer standing. In fact, no house stands in this compound, a place that serves as an informal gathering spot for the extended Martinez family. There is a small clubhouse attached to a four-car garage, and a two-story pavilion built expressly to host family parties. Between the two buildings there is a gravel parking area that overlooks a grassy ravine. As boys Pedro, Ramon and Jesus, the youngest brother, who is a pitcher in the Red Sox organization, would throw rocks across the ravine toward an abandoned house tucked behind trees and bushes. Then they'd listen for the triumphant tinkle of glass breaking. Even now the brothers will sling rocks across the ravine to see who can throw the farthest. The rocks always land out of sight, enabling each hurler to claim superiority.
Sometimes Pedro comes alone. The old mango tree still is here, though now he prefers to do his thinking on a brick wall at the end of the gravel parking area. What he does not like to think about is how his parents, Paulino and Leopoldina, used to fight before their divorce, when Pedro was six. The bouts of utter silence between them that hung over the house like a stalled front of Arctic air were bad enough. The arguments were much worse. Even now when he recalls their straining voices, he winces. "No, no, enough. Ugh!" he says, shaking his head as if it were an Etch-A-Sketch, making the picture go away.
The doctors never did help much. After his father left, Pedro would work in the garden with his mother, acquiring the love for flowers he has today. The garden and the mango tree and a diary he kept under lock and key provided respite. At 16, when he signed with the Dodgers, the crying subsided a bit. But two years later, during spring training, he could not pitch for a week because of the heart murmur, which he says was diagnosed as being related to the stress of his youth.
Around the same time Ramon blossomed into an established big leaguer and principal wage earner in the family. He found the confidence to bring his mother and father together on friendly terms. By 1993 Pedro, too, was a confident professional who encouraged Paulino and Leopoldina to share moments together. His heart murmur disappeared. He burned the diary. His cries of despair ceased. "Looking back, I have to say [the family strife] made me stronger," he says. "It forced me to become a man at a young age."
The little boy in the mango tree is all grown up. This gift he has for throwing a baseball has helped transform him. So, too, has he transformed baseball. "There is a time in baseball before Pedro and a time after Pedro," Arias says. "Before, no one wanted to sign a pitcher as small as Pedro. After, now they begin to think, He could be another Pedro."
One afternoon at Centro Olimpico an American asked Martinez to ask a teenage minor league prospect what Martinez meant to him and his country. The youth gave a lengthy, measured answer. Martinez turned his eyes away and said nothing. It wasn't until that night, about eight hours later, that Martinez translated the prospect's response. "I'm sorry I didn't say anything then, but it felt strange to ask about myself and hear the answer," he says. "What he said was that I am a great example for the young people and that I show what can be done through hard work. Wow. It makes you feel good. And if you think you can ever run away from that responsibility, you can't. It pushes you every day."
Nineteen ninety-nine, the year Martinez owned baseball, ended for him under a yellow-and-white striped party tent behind a two-story concrete building on Avenida George Washington. The tent serves as a church for a Catholic orphanage. Martinez had heard about the orphanage from a friend, watched a video about its mission and was moved to help with more than just pesos.
He decided to welcome the millennium in this makeshift church, at a New Year's Eve service with one hundred or so orphaned children. Most had been rescued off the street, including one infant girl who had been plucked from a trash can. Many wore the nice new dress clothes he had bought them for Christmas.
It had been a year worthy of its own time capsule: Martinez had won the All-Star MVP award, smothered the Yankees with the one-hitter, beaten Cleveland with his head and his heart, whipped New York in the League Championship Series and won the Cy Young. Time after time home plate had looked ridiculously close to him.
Those moments, though, were no more meaningful than when the last seconds of the year fell away. At the stroke of midnight, surrounded by children who felt like his own flesh and blood, he prayed. He prayed for peace, he prayed for his family, he prayed for his health, and he prayed for the children. He knew right then that this was one of the best moments of his life. El Duro felt sure about that, as sure as he could feel the tears falling down his face.