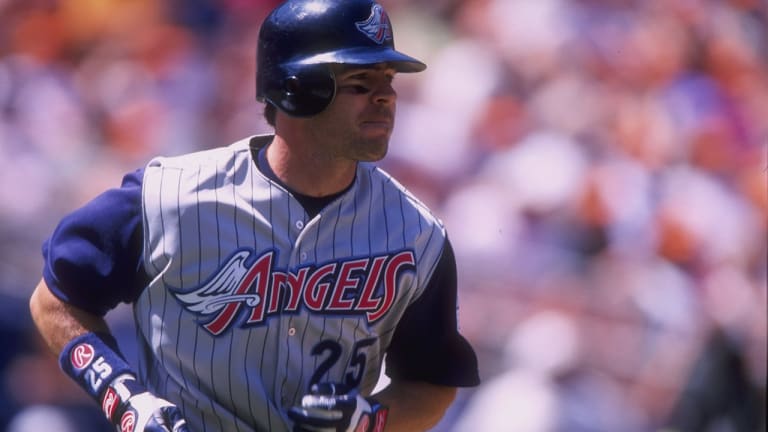 He's No Angel
Dogged for years by a hellish reputation, Jim Edmonds is finally out of Anaheim and hoping the outfield grass is greener in St. Louis
The duffel bag was big and dark blue, an official Major League Baseball model with an Anaheim Angels logo on the side. As Jim Edmonds held it for the final time, about to drop it into a garbage can in the St. Louis Cardinals' spring training clubhouse, utility infielder Shawon Dunston--thrifty if not sentimental--shouted, "Jim! What are you doing? You should save it."
Edmonds paused for a moment, turned his head toward Dunston and smiled. He then dropped the bag and walked back to his locker, where a brand-new, bright-red Cardinals duffel was already in place, one with Edmonds's number 15 on it. "Hell," he said, "I ain't saving that crap."
First days at the office are generally easy--lots of gladtameetcha's and directions to the coffee machine. It wasn't any different for Edmonds last Saturday, two days after St. Louis acquired the two-time Gold Glove centerfielder from Anaheim for righthanded starter Kent Bottenfield and second baseman Adam Kennedy. Edmonds handled everything smoothly, from a 20-minute tete-a-tete with Mark McGwire ("You'll like it here," said Big Mac. "We've only got one beat writer") to his initial encounters with the media (said Edmonds, repeatedly, "I'm just happy to be here") to his first hit as a Cardinal (a second-inning RBI single to left off the Baltimore Orioles' Calvin Maduro). All that was easy; the hard part will be overcoming the hellish reputation that has dogged him for years. A friendly .300-hitting slugger who signs autographs, produces in the clutch, is accessible to the press, hates to lose...and may be the most unpopular player in the game.
Baseball is a tight community. So tight that shortly after the trade was announced, several St. Louis players approached Mike James, the Cards' reliever and a former Angel, to inquire about their newest teammate. This wasn't an "Is he a gin rummy or dominoes guy?" inquiry. "They wanted to know if all the garbage that's been said about Jim is for real," says James, one of Edmonds's closest friends. "Probably everyone in [this clubhouse] has heard the stuff--that he doesn't play hard, that he's a showoff, that he's not a team player. I told them the truth, that 99 percent of it is totally false."
And the other 1%?
"Nobody," says James, "is perfect."
Edmonds isn't quite sure when his evil reputation began to take shape. Maybe it goes back to the minors, when, despite being a hot five-tool prospect, small-town newspaper columnists took swipes at him: Doesn't try hard enough. Showboat. Loafer. Maybe it was when he was a rookie, in 1993, when veteran Angels mocked Edmonds (mostly behind his back) for his cocky demeanor. Maybe it was his third season when, during a pregame workout, he was embarrassed by a prank former teammates still cackle over (which says more about them than about him). One day earlier Edmonds had made a dazzling catch to save a run and then milked the moment by rolling around on the turf, mitt raised triumphantly. The next day, as Edmonds was stretching on the field, teammate Tony Phillips approached him from behind and placed a ketchup-splattered napkin, made to look like a sanitary napkin, under his legs. "Who's the pretty boy!" Phillips shouted as teammates roared with laughter.
"No question, Jim sometimes has a problem with body language and image," says San Diego Padres third baseman Phil Nevin, Edmonds's friend and Angels teammate in 1998. "People interpret him as being conceited, and it's not the case." Edmonds usually wears his cap backward during workouts, and he runs with a smooth, easy stride. "When I first got to Anaheim," says Nevin, "everyone told me I'd hate Jim because I'm such a hard-nosed guy who cares about winning. Jim is confident, and he has his own way, but he wants to win, too."
That's not always obvious to all his teammates. Two years ago, after the American League West-leading Angels surrendered a four-game lead over the Texas Rangers with a month left in the season, several teammates were furious because of Edmonds's nonchalance. "Jim smiles a lot and is outgoing," shortstop Gary DiSarcina told the Los Angeles Times. "That's his persona. But you can't act like that when you're on the verge of elimination. You can't bounce into the clubhouse without a care in the world when your teammates are bloodied, ticked off and not wanting to go home." That September, as Edmonds batted .340 with five home runs and 20 RBIs, DiSarcina hit .241 with no homers and five RBIs. "What matters is what you do on the field," says Edmonds. "If we're mathematically out of it on Aug. 1, I'm not going to come in the next day and want to kill myself. If you treat it like that, that's when you have a problem playing the game."
Last spring training was the worst for Edmonds. For three years he had played with a sore right shoulder, but he says that while there was pain from time to time, it was never bad enough to consider an operation. Then, three days before the season began, Edmonds was bench-pressing in the Edison Field weight room when--pop!--he tore the labrum in his right shoulder. "I was devastated," says Edmonds, who has been on the disabled list four times in his career. "I felt I was letting the team down." Shortly after the injury, when Edmonds learned that he needed surgery and would miss at least four months, he told the Times's Mike DiGiovanna that his shoulder had been bothering him for several years. When DiGiovanna put that in his story, some Angels fumed. First baseman Mo Vaughn tore into Edmonds, saying, "Jim Edmonds is one of the most talented guys I've ever played with. The responsibility is what's in question."
Edmonds was hurt and furious. On April 20, while the Angels were in Toronto, he telephoned the SkyDome press box from his home in California. He asked for DiGiovanna, chewed out the writer and then threatened him, saying, "I'll kick your ass!"
Several Angels, including Vaughn, now concede that they didn't fully understand Edmonds's situation, that they mistakenly thought that he had selfishly put off surgery. "Nothing," says Edmonds, "could be further from the truth."
Edmonds missed all but 55 games last season, batting .250 with five home runs. He came back on Aug. 2, when the Angels were 17 1/2 games out and in last place, even though Edmonds says team doctors told him not to return if the Angels were out of contention. "I felt like I had to test it out and see what I could do," says Edmonds. "I owed it to the team."
This off-season Edmonds tried to ignore the machine-gun fire of trade rumors that, until last week, had laid siege to his life. Edmonds was raised in Diamond Bar, Calif., just an hour's drive from Anaheim. Playing for the Angels, he says, was a dream. "I gave my all to that team, whether people believe it or not," says Edmonds, who has hit .290 with 121 home runs and 408 RBIs in seven seasons. "I've never known why they tried so hard to get rid of me." One minute he was going to the Oakland A's, the next to the New York Yankees. Or the Colorado Rockies. Or the New York Mets. The low point came in early February, when numerous media outlets reported that Edmonds was headed to the Seattle Mariners as part of a three-way trade that would have sent Ken Griffey Jr. to the Cincinnati Reds. When the "deal" never occurred--says Anaheim general manager Bill Stoneman, "We were never involved in [discussions about] a three-way deal with Seattle and Cincinnati"--and Griffey was traded to the Reds for centerfielder Mike Cameron and three others, reporters wrote that Edmonds had refused to play for the Mariners. "I swear to god, I never said anything like that," says Edmonds, who is making $4.7 million in the last season of a five-year contract. "The only thing I ever said was, I don't want to make a decision about signing a long-term contract right now. I've played three games at Safeco Field. How could I make a decision? Hell, I hadn't even been traded."
Edmonds, a slow talker, has picked up the pace. His blue eyes become angry slits. Four lines crease his forehead. "I've heard everything I was supposed to have said--that I was afraid to replace Griffey, that I don't want to play there because the ball won't carry." Edmonds glances at a clubhouse table, where a copy of Baseball America rests. In an issue published after the Griffey trade, columnist Peter Gammons wrote that the Mariners may have been more interested in obtaining Angels outfielder Garret Anderson than Edmonds because Edmonds "continues to insist that he won't sign a long-term contract in Seattle because it's cold and damp."
"I never in my life have said that," says Edmonds, who--in the pursuit of a peaceful winter--declined all interview requests in the off-season. "For Gammons to print that and not ever talk to me is just totally ridiculous. That's the hardest thing to take. Once a rumor gets rolling, it seems like it's a snowball. It makes it easier for other people to say stuff." (Gammons, who admits he did not call Edmonds, says, "I think Jim is a good player. But Jim probably knows that [former teammates] Gary DiSarcina and Darin Erstad don't like him, and he probably thinks that I'm siding with them.")
There was no player more in need of a fresh start than Edmonds, which is why, shortly after Stoneman told him of the trade last Thursday, Edmonds began weeping. That outburst was fueled by several emotions, including the joy of a new start and the sorrow of impending separation. He left the Angels' spring training complex a short time later, then returned early the next morning to bid farewell to Anderson, his closest friend. As the two hugged, Edmonds again cried. When he joined the Cards on Saturday, his eyes still red, he began to speak of Angels rightfielder Tim Salmon, who had strongly defended him on Thursday, saying he was such a natural talent that people incorrectly assumed he wasn't playing hard. "I appreciated that so much," said Edmonds, taking deep breaths, trying to stay composed. "For Tim to speak up for me...god, I haven't been this emotional in a long time." Edmonds began to bend the rim of his new red cap. "I just hope to fit in here, show that I can help us win."
Minutes later he was in manager Tony La Russa's office, being told, essentially, that the past is the past and reputations mean nothing. As soon as the deal was concluded, La Russa moved centerfielder J.D. Drew to right and placed Eric Davis (still recovering from off-season shoulder surgery) on the bench to make way for Edmonds in center. Unwanted on a team that will most likely finish in the American League West cellar, Edmonds is suddenly a key component in one of the more potent lineups in baseball. He is, at last, wanted.
"I don't know Jim much," says Cardinals leftfielder Ray Lankford, "but I'll tell you this: If he's the player everyone says he is, and he hustles and works his butt off, nobody will care what they said about him in Anaheim. That's old news. He's not an Angel anymore. This is a new day. Jim's a Cardinal."