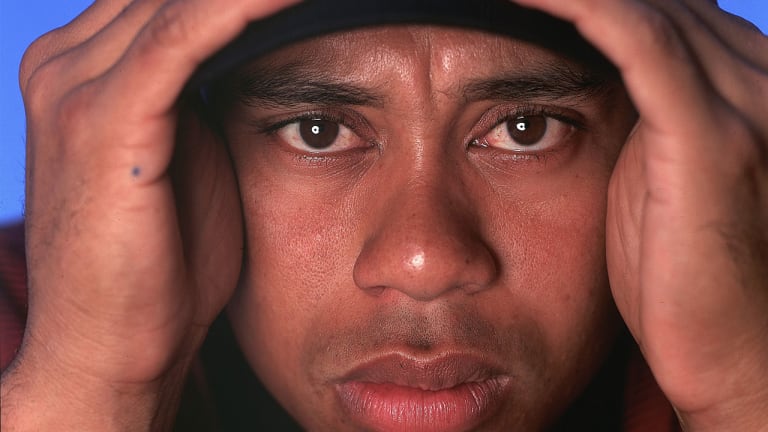 Tunnel Vision
Tiger Woods has pared down his life so that he can focus—and he's dominating the game like no player before him
The last time it happened, his son stood over the ball on a blistering Sunday at Medinah (Ill.) Country Club. Sergio Garcia, young and eager, threatened disaster from just one stroke back. Tiger Woods held the lead at the 1999 PGA Championship, but his putter had let him down again and again. For once he looked vulnerable. Eight feet from the cup on 17 now. Holing the par putt would erase the pressure, would virtually clinch the victory. His second major. His reputation intact.
Tiger stood over the ball. He heard the voice of his father, Earl, high and hollow, sounding in his head. He didn't know where it was coming from. Memory? Fear? Earl insists that he can do this anytime, talk to his son when he's on the other side of the course, talk to him through a television set all the way at the other end of the earth. Earl did it that day from his hotel room in Chicago, softly speaking to his son's image as it glowed on the screen: Tiger. This is a must-make putt. Trust your stroke. Trust your stroke.
Tiger heard, trusted, sent the ball rolling. It dropped into history. That night at the victory party, Tiger smiled at Earl and said, "I heard you, Pop."
The first time it happened, Tiger was 12. San Diego, junior world championships, final hole: He hit an approach shot over the green, needed to get up and down for the win. Earl, standing behind the green where Tiger couldn't see him, began muttering to himself, Don't do anything stupid. Put the ball on the green and trust your putting. Tiger pitched, putted, won. He came sprinting over the grass, yelling, "I heard you, Daddy! I heard you!"
"That's when we knew," Earl says. "He knows where I am at all times."
*****
Everything bends to him now. Parents, opponents, friends, interviewers, tour flacks, sponsors, tour directors, TV networks--all wait for Tiger to make the call. All hope he will give a minute, pay them just a little more attention, but they understand if he can't, and they wait some more. Greatness gives you power, and power allows you to control your world, and if your world keeps expanding beyond the wealthy little fiefdom of professional golf and into the mad plastic nation of pure celebrity, so be it. Woods is 24 years old and the biggest, richest, most powerful athlete in his game. He doesn't worry about money. He doesn't worry about what people think. His greatness has set him free.
Last fall, during a Ryder Cup practice round, Woods and Tom Lehman were playing alternate shots—one teed off on the odd holes, the other on the even—and Woods stood waiting for Lehman to tee up on the sixth. A fan with a thick Boston accent rasped, "Come on, Tigah! Hit one!" Woods stared into space. "Hit a ball, Tigah! Come on!" Woods waited for Lehman to drive and then strolled away. "Hit one for me, Tigah!" Woods didn't turn, wave, shrug. Nothing. Finally, here it came: "Tigah! You suck!"
"You get that a lot?" Lehman asked.
"Every day," Woods said.
"Most guys, it'd bother them or piss them off, but with Tiger it's just water off a duck's back," Lehman says. "It didn't even faze him."
Almost nothing does. Even the stresses of sport, the pressure that made Roger Maris's hair fall out in clumps, hold little power over Woods. He doesn't crack. He doesn't blow leads. When, last fall and winter, he captivated the country by winning six straight PGA Tour events, churning up talk about his breaking Byron Nelson's unbreakable record of 11 consecutive tournament victories, Woods showed no sign of noticing, much less wilting under, the mushrooming mania. That's because he found what everyone else considered astounding to be bogus. He'd lost a non-Tour event during the streak, so while his peers marveled and the scribes oohed and aahed, Woods had no use for any of it. "That wasn't a streak," he says. "I look at a streak as I don't lose—literally."
Such exactitude can be deflating to his admirers, but Woods's ambition leaves him no choice. He has won 18 Tour events in his 3 1/2 years as a pro, gathered $45 million in endorsements and already set the record for career winnings with $14.5 million, but to him those are mere numbers. He sets for himself a higher standard--he wants to be, simply, the greatest golfer of all time--and he rightly regards himself as not only the one proper custodian of his game but also its only bona fide judge. Woods doesn't care what a fan or some bloated golf writer or the average former pro with a microphone says. He doesn't need what they have to give.
This is cold, but who's going to argue? Woods broke the tournament records for 72-hole score (270) and margin of victory (12 strokes) at the Masters in 1997 and won that PGA at Medinah for his other major, staying roughly even with his Moby-Dick, Jack Nicklaus, at the same point in their careers. Woods's unique stature has forced a revolution that now washes over every corner of the pro game: Everyone in golf has been obliged to adjust to the fact that because Tiger rules, there are plenty of Tiger Rules. Tournament security has been beefed up. Tiger never commits to an event until the last minute. But few complain: Ratings skyrocket whenever he plays; purses have just about doubled in the last four years largely because of his soaring popularity; Nike's golf division has grown from $100 million to $250 million since Tiger signed a contract with the company four years ago. "We all ought to be thankful he's out here," says Tour veteran Steve Pate. "Because of him we're playing for a helluva lot more money."
Fat times always make it easier for subjects to bow their heads, but having his ring kissed has interested Woods far less than exercising suzerainty over his court. After several missteps following his leap onto the Tour in 1996, he has seized control of the career once steered by his father--the chain of command now begins and ends with Tiger--and purged everyone from the original Team Tiger except swing coach Butch Harmon. One by one they found themselves outside looking in: sports psychologist Jay Brunza (who retains a position on the board of the Tiger Woods Foundation), lawyer John Merchant, agent Hughes Norton and, last year, celebrated caddie Mike (Fluff) Cowan. In all cases, Woods father and son say, Tiger made the decision to cut the associate loose (though Merchant says he was fired by Earl). "I haven't talked to Tiger since," says Merchant of his dismissal in December 1996, after several years as an adviser to Earl and five months as Tiger's lawyer. "I was puzzled by it. But lawyers come and go, so I got out of Dodge."
The firings came for different and, perhaps, understandable reasons. Brunza, a Navy captain who caddied for Tiger when Tiger was in the juniors, carried his bag less once Tiger went off to Stanford. As for Cowan, caddies have about as much job security as migrant workers. Many observers note, however, that Cowan, Merchant and Norton all shared the fatal flaws of being older than Tiger and having outsized personalities that didn't jibe with his reserved style. The dismissals had a chilling finality. "Very tough, unemotional, very cold," says one longtime Tiger watcher. "With all his money and achievement, it won't matter, but there's this total lack of loyalty to anybody. Brunza, Merchant, Norton, Cowan—dumped. And Butch Harmon...someday. Tiger coldly cuts through and moves on."
Woods explains the firings vaguely: "You just want a better fit, just want things a little bit better." But if his off-course ruthlessness is merely a way to keep things simple, it dovetails with his on-course reputation for hammering opponents into the turf--"stepping on the neck," as the Woods family so delicately puts it. Yet Woods has also learned how to handle his dominance with grace. After Rocco Mediate fended off Woods and Justin Leonard in the final round to win the 1999 Phoenix Open (Mediate's first win in six years, including an absence from the Tour for the better part of two years for major back surgery), he was stunned when Woods approached him and whispered, "Glad to have you back."
In February, on the day her son gutted Michael Campbell 5 and 4 in the opening round of the Andersen Consulting Match Play Championship at La Costa in Carlsbad, Calif., leaving a carcass where the winter's second-hottest golfer once stood, Kultida Woods sat on a couch outside the locker room. Suddenly a player stuck a hand in front of her. "My name is Olin Browne," he said. "I played with Tiger at the Sprint International last year, just after he won the PGA, and I wanted to tell you that you raised a good man. He's a good man." Browne walked off. Tida beamed.
"This is what a mother loves to hear," she said. Tida went on to tell how she was the law in the house when Tiger was growing up in the Los Angeles suburb of Cypress; how she told him, "You will never, never ruin my reputation as a parent, because I will beat you"; how she--not her Vietnam-veteran husband--was the one who instilled in Tiger a cutthroat approach to the game. "I said, 'Go after them, kill them,'" Tida said, her English weighted by a heavy Thai accent. "'When you're finished, now it's sportsmanship. Before that, go for that throat. Don't let your opponent up.'"
Told that Earl says he would like Tiger to develop a more tender side as his career moves along, Tida laughed. "That's Dad," she said. "Dad wants him to be more compassionate. He's Green Beret and all, but he's more compassionate than I am. Tiger's personality is more like mine than Dad's." Asked if that also applies off the course, Tida nodded. "When Tiger says no, don't ever go ask him again--that's it," she said. "When he moves along, out, he won't come back. He's more like Mom: When I say 'Enough,' don't ever come ask me again. I cut and move on. Tiger's more like me."
*****
On TV, of course, golf still comes off as a whispering game, sports' last haven of leafy refinement. But when Tiger joined the field at the Nissan, in February, the crowd milling about the moneyed Riviera Country Club gave off the stink of a liquored-up circus. Following a trend seen earlier in the season at tournaments in Phoenix and Pebble Beach, an alarming number of seemingly average folks became so inebriated that they struggled simply to assemble coherent sentences. Most didn't wait for Woods's group to hole out; once Tiger was finished, they loudly scrambled to the next tee. On Sunday one red-faced man frolicked about in a Tigger costume. When Woods arrived on the green at 13, one of the half-dozen security men following him grabbed a colleague and said, "See that woman in the big fur hat, yellow, looks like a bumblebee? What's she carrying?" Later, a moment after Woods had passed by on his way to the locker room, a slack-faced man sitting on the clubhouse steps unleashed a proud trumpet blast of flatulence. No one in the throng reacted with anything resembling surprise.
This is part of the change Woods has wrought in golf, delivering with his personality and prowess a crowd that has little knowledge of the game's traditions or etiquette. "It's changing, and I like the way it's going, the way kids are getting involved," Woods says, "but it's up to the adults to educate these kids and not get belligerently drunk on the course and mouth off. It's a double-edged sword: You want everybody to participate, but not everyone who comes out is a golfer. You get some fans who are football fans, hockey fans, basketball fans who like to do other things on the golf course."
Yet drawing in such fans is the mission of any sport, and no one is doing that better than Woods. Even tournaments in which he doesn't play have seen a surge in gate receipts and sponsorship revenues over the last two years. PGA Tour commissioner Tim Finchem's ambition is for golf "to challenge to become one of the premier mass sports," to draw in the casual fan and the young minority audience that has been flocking to football and basketball. It's getting there. If Finchem or his NBA counterpart, David Stern, is seeking a line of demarcation between eras--the day that cool seeped out of one sport and into another--he need look no further than Sunday, Feb. 13. Woods's final round at the Buick International, in which he was gunning for his seventh straight Tour win, pulled in an 8.0 television rating, easily surpassing the 6.9 earned by the NBA All-Star Game that night. "The NBA All-Stars? Are you kidding me?" Mediate says. "This is golf we're talking about."
No, this is Tiger, quickly assuming the iconic status accorded to Michael Jordan. The number staggers the imagination: When Woods plays, the TV audience rises by as much as 40% above the average for tournaments he skips. "Everybody was looking for the next Michael, and they were always looking on the basketball court," Nike chairman Phil Knight says. "He was walking down the fairway."
Not since Mike Tyson rampaged across the go-go 1980s has a sports figure so perfectly reflected an era. In Woods, America at the millennium has found its embodiment. This is the age, after all, of twentysomething dot.commandos, of billionaires in T-shirts, of an older generation overwhelmed by a horde of young, smart, so-rich-so-fast workaholics. Who better to represent their world than a Stanford-educated, multiracial champion who, just when you thought he'd reached his peak (last year Woods won eight titles, led the Tour in five of 10 statistical categories and made almost twice as much prize money as his nearest competitor), keeps getting better? Heading into next week's Masters, Woods has won three tournaments in 2000 and, equally impressive, has been in position to win in the final rounds of three of the other four events he has played in.
"People said he was long but too wild, and he's become the best driver in the game," Harmon says. "They said he couldn't control his short irons because he swung too hard, said his wedge play wasn't any good. Now they're the strengths of his game because Tiger has worked. He hit 71 percent of his fairways last year; he led the Tour in hitting greens in regulation. He has got to putt more consistently, but when he putts well, he's phenomenal. He's a work in progress. Anything that's a weakness, he turns into a strength."
It's Woods's ability to identify and eliminate any frailty that makes him so daunting an opponent. Behind the dazzling smile lies the ultimate killer ap: Woods is the sporting equivalent of the iMAC, a multicolored (black, white, red and yellow) package with a cute nickname, state-of-the-art design and a Terminator software package that leaves the competition dazed and confused. "He's not human," says Mediate. "Cut him open, and I'll tell you what you'll find: a bunch of wires and levers, and a big-assed heart."
To compensate, golfers everywhere are shedding pounds faster than bad English gamblers--and putting on muscle. Woods's mysterious weight-training regimen, about which he refuses to divulge details, even to his father, has packed 20 pounds of muscle onto his once-willowy frame and sent guys such as David Duval into programs that have left them looking ripped. "I'm really making an effort to get stronger," says Jesper Parnevik. "It's all Tiger's fault."
For the first time, one golfer is so dominant that he's never out of a tournament. Woods hasn't missed a cut since 1998, and he has climbed inside the skull of every other player on the Tour. "When Tiger turned pro, he said, 'I expect to win every time,' and everybody was like, 'Yeah, right, sure,'" Lehman says. "He's made you realize he means it. So how does that affect me? It changes my mind-set. If I don't expect to win every time, how can I expect to compete? I need to learn what he's learned. I'd better trust in my talent, I'd better believe in myself under the gun, and I'd better expect to win."
Earl saw in his son the potential to be a new Gandhi, but if Tiger has changed only the parameters of what a golfer can do, that's plenty for now. Nothing seems out of reach: Nelson's 11 straight, Nicklaus's 18 majors. "He's better than the other players by a greater margin than I was," Nicklaus says. "He can get on a run and win three or four of these things in a row, and all of a sudden that majors record isn't that far away."
It's not only that Woods's power has made par-5s obsolete; it's also that Tiger is nailing shots that no one else would even try. In the semifinal of the Match Play Championship, Woods all but finished off Davis Love III on the par-5 12th hole when he muscled a second-shot six-iron out of deep rough, intentionally hooking it between two trees and sending it 221 yards onto the green. "You hate to keep blowing his horn," commentator Curtis Strange said on TV, "but every time you turn around, he's doing something no one else can."
It's that aura of unlimited possibility, the chance to see something like his stunning Monday charge at February's Pro-Am at Pebble Beach, highlighted by the 97-yard approach on 15 that disappeared into the cup for an eagle, that has split the Tour into two tiers. There are those 15 to 20 events that Tiger will play, and the rest that he won't. The difference between them is the difference between a Springsteen concert and a performance by anyone else. One is a happening, and the others are just...songs. "Every tournament wants to know, Is Tiger coming?" says Scott Montgomery, tournament director of the Doral-Ryder Open, which got an attendance spike of 15% in 1998, the last time Woods played there.
"If you had 13 of the top 14 players in the world but not Tiger? That's not a great field?" says Buddy Martin, media director of the International. "Does he get preferential treatment? No question. If Tiger wants hot and cold running beer in his house, anybody would arrange it to get him to play in their tournament."
Most pros commit to tournaments several weeks in advance, and most of the top 15 give at least one week's notice. But Woods rarely gives the final yes until the Friday before the event, which allows little time to sell tickets based on his presence. No tournament recruiter gets in Woods's face for fear of turning him off, but the competition for a Tiger commitment is fierce. Plenty of tournament directors wonder if Woods's recent $30 million endorsement deal with Buick, which sponsors four Tour stops, carries an unspoken quid pro quo when he makes up his schedule. Woods played one Buick event last year, and while his agent, Mark Steinberg, says that nothing in the endorsement deal obliges Woods to appear at Buick events, there's no way this relationship won't have some effect. "I'm sure it will come into the picture," Steinberg says. "We'd be crazy to say it wouldn't."
Once he arrives at a tournament, Woods hardly makes himself too comfortable. He is in and out of the locker room quickly, gets between the ropes as fast as possible and never lingers long enough for a reporter to make a move. Woods's relationship with the press is cool at best. He has never forgotten the 1997 GQ profile that revealed his penchant for dirty jokes, or the '97 National Enquirer photo of him dancing with a buxom blonde under the headline TIGER'S WILD NIGHT WITH TOPLESS DANCER, or the Enquirer's "Inside Tiger Woods' Love Life," a she-said account of his breakup with high school girlfriend Dina Gravell. A few days before the Match Play Championship, one British paper printed a story about Woods's engagement to be married to current girlfriend Joanna Jagoda—none of it true, Woods insists. "A lot of things they write are fabrications," he says. "Sensationalism sells: Don't let the facts get in the way of a good story. You have to understand that going in."
At press conferences Woods delivers wonderfully crafted sentences signifying little. It's no accident that the replacements for Gravell and Cowan--Jagoda and caddie Steve Williams--refuse to be interviewed. Bryon Bell, Woods's longtime friend from junior high school and his caddie at the Buick Invitational for the last two years, never responded to repeated requests for an interview for this story. Woods has laid down perhaps the strictest Tiger Rule for those around him: Talk, and you won't be around very long.
This is a far cry from what the golf public and press are used to from their superstars. When Arnold Palmer single-handedly dragged the game into the mass market in the 1960s, he did so New Frontier-style, chatting up people in the gallery and cultivating golf writers with a Kennedyesque feel for what they needed: care and feeding. Palmer always had time to talk to writers--he would sit in the locker room for hours buying drinks--and in return he earned their undying love and protection. Nicklaus, too, massaged egos. He learned every writer's name and repeated it in front of the writer's peers. To this day he holds semiregular State of the Bear press conferences to make sure everyone is happy. Woods will have none of that. He rarely gives one-on-one interviews, and he talks often of how "everyone wants to get a piece of me." Although he's correct on that score, his remoteness leaves the golf media outside the tent, waiting for the first opportunity to piss inside it.
Instead, Woods has adopted the Clintonian approach of communicating directly with his constituents, over the media's head. His ads for Buick are funny and self-deprecating. His fist pump transmits a hunger for winning far more viscerally than anything he might say. That Nike spot of him bouncing a ball on his wedge and hitting it perfectly down a fairway--done on just the fourth take--won him more nongolf fans than any reporter he might cultivate. Woods is fond of saying, "I always come from truth," but he proves he's up to the hairsplitting demanded by our time when he says with a smile, "I've learned you can always tell the truth, but you don't have to tell the whole truth."
That doesn't bode well for the Tour's long-celebrated coziness, but few officials have a problem with the direction in which Woods's greatness will take the game. "Where golf is going is really exciting," says Tom Pulchinski, tournament director of the Nissan. "Ten years ago it wasn't close to what it is now. What's it going to be 10 years from now? We can't imagine it."
Sure we can. Ten years ago the tennis boom ended, and that sport--dependent on personalities, dominated by agents and frosty with the press--has yet to recover. Ten years ago the NBA was swimming in money and looking forward to challenging the NFL. Today many of its overpriced seats sit empty, and ratings have plummeted.
Woods has effected radical change in a sport desperately in need of it, yet it's worth noting that he is, boiled down, quite conservative in dress, demeanor and language. Lord knows, golf probably couldn't tolerate anything more extreme. "God forbid that Tiger was Dennis Rodman or John McEnroe," says Earl. "The Tour couldn't handle him. It couldn't discipline him. Think of the kind of crowds he'd bring."
Earl is sitting in a spacious suite at La Costa during the Match Play Championship, chain-smoking. He thinks for a moment about what he started when he handed his son a golf club 22 years ago and then says, "I've got news for you: It's going to get worse, not better. Tiger is the lead tip of the new breed of golfer coming to the PGA Tour. And some of these kids are coming from the ghettos; they're not privy to the Woods Finishing School. Mark my words--I've seen them. You're going to get a Rodman, a McEnroe: Bitch like hell at everything, have little or no respect for the traditions of the game. He'll have qualified at qualifying school and gotten his card, so you won't be able to sit that guy on the bench. What's golf going to do then?"
*****
Tiger's father is courting death now. There's no prognosis, but Earl, 68, has had three open-heart surgeries, and he won't stop with the bad food and the Merits. His energy drains away so easily that he tends to doze off. He's short of breath. His refusal to change old habits hits his family like a suicide note. "He said, 'This is the way I want to live my life,'" Tida, 55, says. "But I want to see my son's future. I want to see my grandkids. Dad wants to check out first? Fine with me. But I want to stay longer."
What does their son think? Tiger, says Earl, is "reconciled" to his father's condition and stubbornness, and he's mostly gone anyway. Earl and Tida maintain a close, admiring relationship, but Earl lives in the old family house in Cypress, Calif., while Tida lives a few miles down Interstate 5 in a home Tiger bought for her in Tustin. She drives to Cypress often, sometimes just to clean house. Earl goes to tournaments but never walks the course; he sees his son win on TV. That, mostly, is where he talks to Tiger.
"We don't have to communicate with each other to validate our relationship," Earl said at La Costa. "I don't have to say 'Oh, Tiger, I love you.' Are you kidding me? I haven't talked to Tiger in two weeks, and he was in Los Angeles and San Diego. No big deal. All this rumor crap that came up about him being engaged? I didn't have to talk to Tiger. I know him. I trust him to come talk to me before making a decision like that. I laughed when I heard the damn thing."
Earl is the most conspicuous deletion from Team Tiger, though no one discusses it much. He's still chairman of the Tiger Woods Foundation and president of the Tiger Woods Corporation, which owns Tiger's on- and off-course rights, but mostly his son works alone. This was the plan. "I raised Tiger to leave me," Earl says, and that's exactly what happened.
"When I first turned pro, he was always there for me, we could talk at night," Tiger says. "Then as I began to understand what it took to play out here and the obligations that come with being a professional golfer, he gradually did what most parents do: let their child go. He's always there for guidance when asked. He may observe from the outside and may offer a suggestion every now and then. But he has never said, 'You really need to do this.' Now I do whatever I want to do."
Tiger has a condominium in Manhattan Beach, Calif.--"his bachelor house," Tida calls it--and it's a place she doesn't dare visit. "Do you want Mom to be around to see the things that you don't want her to see?" she says. "I understand him. I don't bother him; I leave him alone. But his Rat Pack, his Rat Pack goes down and enjoys."
The pack is tight-knit: Bell, college teammate Jerry Chang, Jagoda, sometimes Steinberg, assorted high school and college pals. It is, Woods says, "a lot easier than you'd think" for him to break free of his celebrity and enjoy himself. If you are outside the circle, no matter how long you've known him, he'll be polite, maybe even interested in what you have to say, but his supreme self-assurance ("If you truly love yourself," he says, "then obviously everything will be O.K.") can be off-putting. Unless you're a member of the pack, spending time with Woods is like walking into a bank vault: It's shiny and cool and quiet, but after a while you realize there's no place to sit. Soon you find yourself edging toward the door, and he doesn't contest that move for a second.
It took a while, but Woods has fame sussed out. His first years on Tour, he says, "were like somebody threw me into the fire and said, 'Deal with it.' No one could've prepared me or anyone else for the type of life I've had to become accustomed to." His schedule was packed, he traveled to exhaustion, and he was the focus of every Tour stop. "What he went through for two years was devastating," says John Anselmo, Woods's swing coach for eight years when Tiger was a kid. "So much was demanded of him; everybody was making money off him, let's face it. It's different now."
Woods's non-Tour schedule has been pared to a minimum. He does a handful of clinics a year for kids. As he has cleared distractions from his game, he has become less volatile on the course. He allows himself to play. After his second round at the Nissan, Woods went to the range to work on his swing, and all around him were colleagues: Corey Pavin, Vijay Singh, Peter Jacobsen. All drove ball after ball into the dusk, but after a while Woods got distracted by the blinding spotlight mounted high up on the range fence, 40 yards away. He grabbed a sand wedge, turned and went to work, grinning at the game: One, two, three shots, each getting closer to the bulb. On his fourth try, the ball clanged off the light's housing. Two shots later he hit it again. He never stopped smiling.
He's as happy as he has ever been. "No doubt about it," Woods says, "I have a wonderful balance in my life. I've come to an understanding of what I need, what I can and can't do. I've learned what's best for me." He has learned partly because he has as stellar a pool of advisers as a young superstar could dream of, and he has given them an alphabet soup of nicknames: M (Jordan), J.R. (Ken Griffey Jr.), Mark-O (Meara). But in golf Woods values most the kinship he feels with Nicklaus. "We have an understanding of each other, just because of the way we play," Woods says. "The passion and the competitive drive we both have, it's inherent. I definitely sense something when I'm around him. We're a lot alike."
Told that Nicklaus had talked recently about their bond, Woods casually asks, "What'd he say?" When the conversation veers in a different direction, he grows more insistent. "What'd he say?"
It's a late March morning in Windermere, Fla., damp air heating up. Woods has been off for a week, but his usual spring allergies (yes, the holder of two Masters records is allergic to azaleas) have left him sniffly. He steps to the edge of a dock, hawks and spits into the lake. Isleworth, Windermere's gated enclave, is Woods's other refuge, the home, too, of O'Meara and Griffey, the place where he can fish and relax. Today he'll meet with the architects of the new house he's thinking about building here. He's been staying in a modest two-bedroom house he owns. "It's not what everyone has reported, this mansion," says Woods, shaking his head. "It's interesting. People know more about my life than I do."
Setting and price tag aside, Woods's lair is your classic postcollege crash pad. The Masters trophy sits amid the mess that is Woods's office desk. His living-room sofa holds a giant stuffed ape wearing an Afro wig. On this morning Woods dons the wig to answer the door and yelps, "I'm ready!" A photographer has come to snap his picture. Woods endures the invasion with charm and humor, pulling his pants up to his chest like Urkel, brushing his nonexistent bangs down and saying, like the character in the film American Pie, "Laid-back Tiger?" and then brushing them up, "Or cool-hip Tiger?" His cheapness is legendary: Pulling on one shirt brought by the photographer's stylist, he asks in all seriousness, "Do I get it free, or do I get a discount?"
Later, during a break, he sits on the edge of the dock staring at a spiderweb woven into a corner. Woods is a freak for nature shows; something in the Darwinian scramble for supremacy leaves him entranced. "How does the spider get from here to there?" he says. He stares some more, talks about the prey and how the spider weaves its trap thicker in the middle, sticky on some strands and dry on others. "Two different web secretions," Woods says. "It just knows which one to use. It's hereditary."
Tiger doesn't think much about life after golf. "This is a sport I could literally play for a lifetime," he says. Earl often declares that his son will be an agent of social change, but Tiger feels at home in the world of the rich and powerful. His views on gun control ("It's up to each and every person to do what he wants"), the shootings at Columbine High ("What we have forgotten is our values and morals and understanding of proper respect; a lot of kids aren't taught that"), race relations ("We're making progress slowly but surely") and the South Carolina Confederate flag flap ("I'm a golfer. That's their deal, you know?") make him fit for the Republican nomination. Don't expect a flurry of cage rattling anytime soon.
"It's pretty out here, isn't it?" Woods says, gazing across the still water. "You can tell it hasn't rained in a while. Look: The moss is all brown. Usually it's a little more green than this."