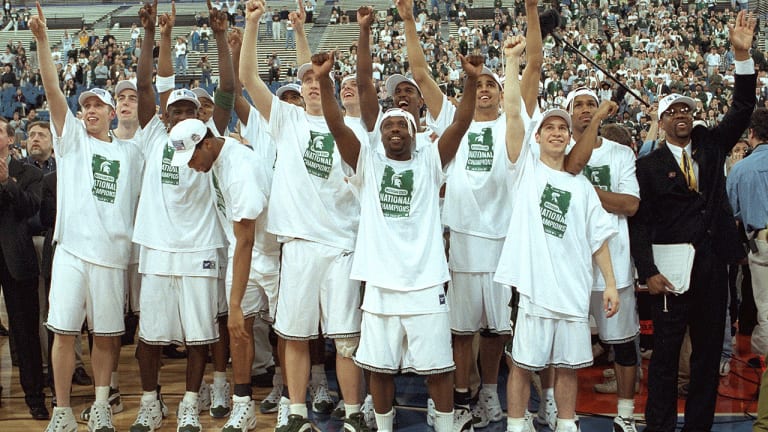 State of Siege
Michigan State overcame a nearly devastating injury to its leader to conquer Florida's vaunted pressure defense and win the national title
Up in the stands, the sign read TONIGHT WE'RE GONNA PARTY LIKE IT'S 1979—a fan's reference to Michigan State's long-ago NCAA championship. Down on the floor, index fingers bobbed high above a scrum of green and white.
There's a more contemporary gesture, though, that is just right for the team that gave Michigan State another NCAA title, its first since Magic Johnson's moment 21 years ago. To signify the Spartans' 89–76 defeat of Florida, we should raise a pinkie to the edge of the mouth, in the "You complete me" sign popularized by the Austin Powers movie The Spy Who Shagged Me. For in the RCA Dome in Indianapolis on Monday night, college basketball crowned a champion of consummate completeness. Michigan State won its championship with a lineup rich in juniors and seniors, carefully assembled and mindful of their moment. The Spartans had solved one of the nation's best zones to beat Syracuse in the Midwest Regional semifinals. They had subdued a superb individual star, Marcus Fizer of Iowa State, in the regional final. And then they passed the most daunting possible test of versatility in Indy, first outplodding Wisconsin, then outsprinting the Gators. "Like beating Randy Jones one night," said one courtside wag in admiration, "and beating Randy Johnson the next."
Michigan State finished its work after effectively losing the Final Four's Most Outstanding Player for most of the second half of the title game. Mateen Cleaves is a leader, a defender, a passer, a shooter, in that order. Cleaves is also a misnomer, for he unites, adheres—completes. "Cleaves didn't get to the rim a whole lot," said Florida forward Mike Miller of the Spartans' point guard, whose 18 points included three three-pointers. "But when he's knocking down shots, which is about the third-best thing he does, he's something."
With guard Charlie Bell and forward Morris Peterson, Cleaves is one of the Flintstones, the matched set of Spartans starters from the basketball badlands of Flint. Michigan State's very first possession of the title game augured what would come, and it was a Flintstones special: Cleaves passing to Peterson, who left a jump shot short, only to watch Bell emerge in traffic to spear the ball for a tip-in. Finishing what it starts: That's what a complete team does. Or as Bell put it last week, describing the extremes of what his team could do: "We can slow it down, get offensive rebounds and hurt people, or run with the best of 'em."
"They are good," Wisconsin coach Dick Bennett said before the Badgers' semifinal with the Spartans. "They are tough. They are sound. They are as complete as I can imagine a team can be."
Michigan State's fourth meeting with Wisconsin this season proved anew the adage, Familiarity breeds contemptible basketball. With the Spartans scrambling over every screen and laying a body on each posted-up Badger, Wisconsin's offense couldn't create what Bennett calls "comfort looks" for his three-point shooters, Jon Bryant and Duany Duany.
Yet even before Wisconsin could break a dry spell in which it failed to score a basket for a six-minute stretch of the first half, Michigan State embarked on a drought of its own that lasted almost twice as long. The Flintstones seemed to be dragging the game back into prehistory with them. The half ended with the Spartans leading 19–17. (In the Badgers' 1941 NCAA championship-game win over Washington State, long before the advent of the shot clock and the three-pointer, the teams scored two more points than that before intermission.) "The first team to 40 will win," former Spartans coach Jud Heathcote, the man who led Magic's team to that '79 title, had predicted on the eve of the game. But Heathcote hadn't allowed for the possibility that neither team would crack that mark.
To watch Michigan State play is to wonder sometimes whether the Spartans conjure up adversity just so they can rally in its face. Early in the season, after Cleaves suffered a stress fracture in his right foot that sidelined him for 13 games, they used the injury as an opportunity to develop depth and improve their half-court offense. In NCAA tournament play they surmounted halftime deficits in three of their six games, outscoring their opponents by an average of 11.5 points in the second half. With each Michigan State resurrection, the Spartans' star forward, Peterson, seemed to rise too, usually in response to hortatory halftime oratory. The team was so down against the Badgers, however, that Spartans coach Tom Izzo would say later, "We kind of had a little kiss-and-hug" at halftime. In that group encounter the occasionally reticent Mo Pete, who had missed four of his five shots to that point, spoke up. "Very seldom has Pete really asked for the ball," Izzo said. "But he felt he could post up, he wanted the ball down low, and the other guys felt obliged to get it to him."
Peterson's assertiveness cheered his coach. "I've often wondered if Morris is a guy who can handle success," Izzo says. "The kid broke down crying when I told him he was Big Ten player of the year. I think it was half his feeling sorry for Mateen [not getting the honor] and half his feeling good."
The Spartans' feel-good season seemed imperiled until they began to unshackle themselves from the Wisconsin defense in the second half, setting screens for Peterson closer to the basket so that their offense could get surer shots than the three-pointers for which they'd been settling. Mo Pete scored 10 points during the 13-2 stretch that consolidated Michigan State's lead after the break. Then he made a couple of his signature shots, majestic threes from the wing off double screens, as the Spartans muddled home 53–41. "It seemed like every time we started to make a run, Morris Peterson came up with a big basket," said Badgers forward Mark Vershaw, using the word run loosely.
Against Florida's all-court pressure and endless bench, Michigan State faced something as different from Wisconsin as Gainesville is from Madison. But as Bell said before the game against the Gators, who had outrun North Carolina 71–59 in their semifinal to reach the championship game, "Everyone on this team played up-and-down style ball in high school."
In a ballroom at the Holiday Inn Select, breaking down film in the wee hours of Sunday morning, Izzo mulled over ways to solve Florida's pressure. "We can beat this," he told his assistants. "The key is getting the ball into the right hands." Everyone in the room knew whose hands those were. The Spartans already had three offensive sets with which to break a press, but Izzo decided to install a fourth: Cleaves would inbound the ball, step across the end line, then take an immediate return pass so he could look upfield, like the option quarterback he resembles in stature and style. At 2:15 a.m. Izzo took a phone call from former Michigan State star Scott Skiles, who is now the Phoenix Suns' coach. Skiles's team had recently beaten the Boston Celtics, who are coached by Florida coach Billy Donovan's mentor, Rick Pitino, and use the same full-court press as the Gators. Sure enough, Skiles suggested exactly what Izzo was considering, and vouched that the tactic had worked against the Celtics.
As it turned out, Michigan State never had to deploy that fourth option. Forward A.J. Granger was usually able to inbound to Peterson or Bell on the wing, and they then found Cleaves—"the streak-up guy," Izzo called him—bolting up the middle of the floor. Not once in the first half did the Spartans lose the ball in the backcourt. They broke the press every which way: with Bell and reserve forward Jason Richardson finding short jumpers and layups; with Cleaves releasing to field long passes for chippies; with center Andre Hutson dribbling unharassed into the forecourt when Florida successfully denied a pass to Cleaves.
Michigan State so mastered the press that Donovan called it off with just under four minutes to play in the half, which ended with the Spartans leading 43–32. But refreshed by the break, the Gators pressed anew, and by the 16:18 mark they had pared the lead to six. That's when Florida guard Teddy Dupay, drawing a bead on Cleaves as he broke away once more, tried to end the frustration. He forcefully intercepted him, inadvertently hooking his right foot around Cleaves's right ankle, which struck the floor at a grotesque angle. Cleaves wound up in a grimacing heap by the baseline. "It's broke!" he mouthed. "It's broke!"
Izzo took a look at Cleaves, then returned to his huddled team and said, "We're going to war! They took out our leader. Who's going to step up?"
North Carolina had died against Florida when its point guard, Ed Cota, picked up his fourth foul. But Michigan State came to life. Bell returned to the point, his position during Cleaves's early-season convalescence, and played with unruffled purpose. Reserve Mike Chappell, who had struggled to find the basket most of the season, dropped in a three-pointer and a twisting putback. During the 4 1/2 minutes of action that Cleaves spent in the locker room—"I dropped a couple of tears," Cleaves would later say, "but I told the trainer he'd have to amputate my leg to keep me out of this one"—the Spartans actually extended their lead.
A scoreboard TV screen displayed the CBS feed directly across the arena from a great swath of Michigan State supporters, and soon they erupted at the sight of Cleaves making his way through a long backstage corridor toward the bench. If he could negotiate that distance on foot, he could surely return to the game. And he did, hobbling about for the final 12 minutes by the grace of ice, tape and a brace. But Cleaves's return was mere stagecraft. Florida was already broken.
A team can't set about completing a task without stipulating what needs to be finished. And Izzo planted the seeds of this title a year ago, in the hours following the Spartans' loss to Duke in the national semifinals in St. Petersburg. "After we got beat, we went back to the hotel and set our goals," he said last week. "Once you state them, the bull's-eye goes on your back. But if you don't make your statement, I'm not sure you get back to that level."
Still, the Michigan State coach said, "you almost feel guilty getting to the Final Four two years in a row," a comment of characteristic humility. Only two years ago, when Izzo was in his third season as Heathcote's replacement, it would have been hard to imagine his ever having the opportunity to utter such a sentence. Following a loss at home to Detroit that season, Izzo and assistant Tom Crean, now the coach at Marquette, tried to console themselves with a postgame drive. They stopped at a Burger King, then rode around East Lansing while Izzo underwent his own charcoal broiling on talk radio. "The comments were brutal," Crean recalled last week. "'He's in over his head'; 'They made a mistake'; 'Izzo's not ready for the job.' And Tom wouldn't turn the radio off. We turned it around that week--beat Wright State by like 30, went to South Florida and won, and a couple of weeks later beat Purdue at Purdue by 17. We were talking about that the other day, that we'd come a long way from that Burger King drive."
Yet even if the vox populi was raised against him, those who knew Izzo best always stood ready to grant him the benefit of the doubt. That same season, the Lansing State Journal ran a questionnaire inviting readers to sound off on what they thought of the Spartans' basketball coach. "It had like six major questions," Izzo says, and readers were asked to rate him from good to really awful on each. "I found out later that our football staff—every one of them, they and their wives—went out and got papers and filled them all out rating me high."
Izzo's values reflect the years he spent working for Heathcote. "Jud made me who I am: He was big on the program. I think in our profession too many times the coach thinks he's bigger than the program." But Izzo has departed from Heathcote orthodoxy in two basic ways. To win his title, he all but mothballed Heathcote's old matchup zone, preferring a man-to-man that kept his players in an attacking frame of mind. And unlike his predecessor, Izzo sent four players to the offensive glass, a policy that helped Michigan State lead the nation in rebounding margin, at +12.9. Their grinding persistence reflects the blue-collar beginnings of their coach, who grew up in Iron Mountain, on Michigan's Upper Peninsula, working for the carpet business founded by his grandfather (Tony Izzo and Sons and Grandsons). As Michigan State's six-game tournament run proved, it's a mentality that's equally applicable to the half-court or to 94 feet, to setting a screen or filling a lane, to lighting a guy up or shutting him down.
No one embodied that mind-set better than Cleaves. At any speed, on every plank of the floor, he brought his physical and mental strength to bear. "Of all the things I love about this kid," Izzo said, "I most like that he's able to take criticism."
Taking criticism is simply a matter of knowing what's incomplete so it might be finished. "I saw them coming three years ago," Wisconsin's Bennett said last week. On Monday night he and the rest of college basketball watched the Spartans arrive, in a rush, as one.