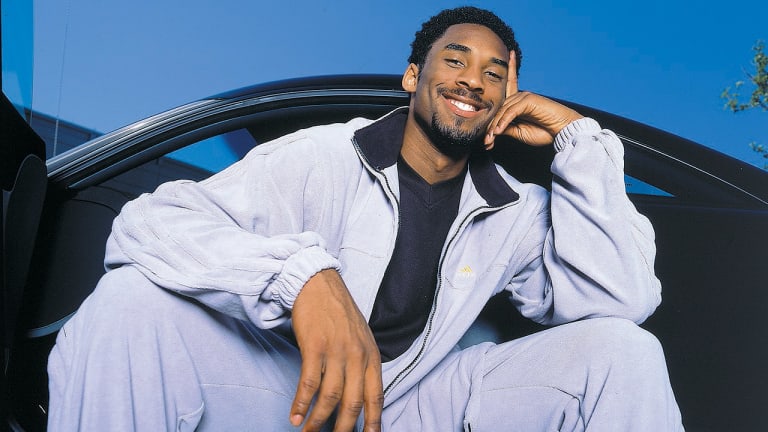 Boy II Man
Erstwhile teen hot dog Kobe Bryant has grown into a consummate team player, which is a big reason the Lakers are huge favorites to win the NBA title
[pullquote][quote]I had a dream that jealousy
Was a thing of the past.
And we all understood
It's all vanity and it won't last....[/quote]
Visions, a song by Kobe Bryant​[/by]
Most mornings Kobe Bryant awakens to an ocean view. Before his
feet touch the Italian marble floor, he sees the Pacific
sparkling outside his bedroom window, a vast blue blanket
beneath an endless sky. It's an awesome tableau, yet you suspect
that when Bryant gazes at it, there might be something even more
spectacular in his mind's eye. He has a way of seeing things
that others don't; it's little wonder that his favorite cut from
his soon-to-be-released hip-hop album, K.O.B.E., is a wistful
tune entitled Visions.
Bryant's visions have been ridiculed, but that has never
deterred him. When he was nine years old and living in Milan,
other kids would laugh at his certainty that he would one day be
an NBA star. In response he would scribble his name on scraps of
paper and hand them to his doubters. "You might want to hold on
to this," he would say. Bryant smiles sheepishly at the memory,
but he relishes having had the last laugh. He has a way of
making cockiness seem lovable, which is one of the keys to his
popularity. Why shouldn't he be impressed with himself? If those
kids had listened to him, they would have the autograph of a
two-time NBA All-Star who, at the tender age of 21, is perhaps
the best shooting guard in the league.
Some of Bryant's visions are eerie. When he was chosen 13th in
the 1996 NBA draft by the Charlotte Hornets, who promptly traded
him to the Los Angeles Lakers for center Vlade Divac, Kobe told
his father, former NBA player Joe (Jelly Bean) Bryant, that
someday he'd play for Phil Jackson and his assistant Tex
Winter--although Jackson and Winter were coaching the Chicago
Bulls at the time. In February of last year Kobe phoned Winter
to pick his brain about the triangle offense. Not until four
months later did the Lakers sign Jackson, who took Winter and
the triangle to L.A. "Freaky, isn't it?" Bryant says.
It doesn't take a visionary to see a championship in the Lakers'
near future. With a 67-13 record through Sunday, Los Angeles has
secured home court advantage throughout the playoffs, and it
looms as the kind of prohibitive favorite that few people
expected to see so soon after the dissolution of Michael
Jordan's Bulls. The Lakers' brilliant year has been largely the
result of Jackson's orchestration, Shaquille O'Neal's domination
and Bryant's maturation. These days Bryant is far less inclined
than he was as recently as a year ago to indulge in one-on-one
forays, which often delighted fans but irritated teammates.
Instead he integrates his flights of improvisation into the Los
Angeles offense. "He doesn't make his game a personal game
anymore," says L.A. forward Rick Fox. "You don't see him doing
the things on the floor that used to get him in trouble and get
us in trouble."
The 6'7", 210-pound Bryant has also recognized how many ways he
can leave his imprint on a game. Not only does he score, but he
also initiates the Lakers' attack and has developed into a
fierce defensive stopper. "Kobe's a model of what a young player
should aspire to be," says Philadelphia 76ers coach Larry Brown.
"Year by year he has learned and made his game more solid, and
now he's not just a highlight-film guy but an accomplished NBA
player."
This has been the best of Bryant's four NBA seasons by any
measure: His averages of 22.6 points, 6.2 rebounds and 4.9
assists through Sunday are career highs. It has also been the
season in which he was least noticed. O'Neal is a lock for the
MVP award, erasing any doubt that the Lakers are his team. He
has been magnanimous in acknowledging Bryant's growth, referring
to their partnership as the Combo, but it's clear that anyone
who plays with O'Neal is at best the side dish to his entree.
Moreover, while the MVP votes are going to Shaq, the style
points are going to Toronto Raptors forward Vince Carter, who
has passed Bryant in the line of succession to be crowned the
next Jordan. Observers have looked closely for any hint of envy
from Bryant, but he has shown only one fleeting sign. During a
postgame interview on NBC in February, he was asked if the fact
that Carter had scored 51 points earlier in the day had spurred
him to try to do something equally spectacular. A look of
annoyance crossed Bryant's face. "Man," he said, "why do you
guys want to ask those questions?" Then he quickly regained his
calm and denied any rivalry with Carter.
Otherwise, if Bryant has been annoyed at being overshadowed by
O'Neal and Carter, he has hidden it well. "It's actually
perfect," he says. "I can learn every facet of the game without
everyone analyzing every move I make. It's funny how much people
wonder about jealousy. Am I jealous of Shaq? Is he jealous of
me? Am I jealous of Vince? I'm not about that. Shaq's been
unbelievable, and nobody wants to see him play this way more
than I do. Vince? I'm very, very happy for Vince. I love what
he's doing."
Bryant and Carter should feel more sympathy than envy for each
other, because they are both doomed to be held up to Jordan's
standard. Thanks to His Airness, the definition of a superstar
has forever changed. It's not enough to be a perennial All-Star,
an essential part of a winner, a sneaker-company pitchman. A
player can't separate himself from the pack unless he is all
those things and more: a corporate mogul, a player in the
entertainment world, the leader of a dynasty. Bryant is doing
his best to reach the bar Jordan has raised. In December he
purchased half-ownership of an Italian basketball team, Olimpia
Milano, and he has endorsement deals with Adidas, Mattel and
Sprite, among others, that will generate more annual income than
his six-year, $71 million deal with the Lakers. Bryant is also
testing the waters in show business with his CD, on which he
wrote or cowrote all the songs, and in a deal with Columbia to
produce albums for other artists. He has plans for Kobe Family
Entertainment, his film production company, to produce movies
and sitcoms. When Bryant was a gangly senior at Lower Merion
(Pa.) High, many observers feared he was ruining his future by
deciding to skip college. In March he was on the cover of
Forbes, decked out in Armani.
An NBA title would seem to complete the picture of Bryant as an
all-around success, the rare young player who has found a
balance between sport and celebrity. But to measure up to
Jordan, Bryant will have to be the player who leads a team to
several championships. He's not in a position to do that with
the Lakers. It's hard to be Michael Jordan when your team needs
you to be Scottie Pippen.
That's why Bryant's willingness to tone down his game is
significant. It doesn't mean, however, that he's content to take
a backseat indefinitely. His visions don't include an image of
himself as a careerlong second banana. "Somewhere down the line
when Shaq comes to me and says, 'Kobe, I don't want to have to
put up the big numbers every night, you've got to help me out,'
I'll be ready," Bryant says. If O'Neal never makes such a
request? "I'm only 21," Bryant says. "When I'm 28, Shaq will be
what, 40?" He smiles at his exaggeration, knowing O'Neal will be
only 35 then. "Point is, my time will come."
Bryant usually doesn't talk about the future so freely,
preferring to concentrate on the present. Ask him what else he
envisions for himself five, 10 years from now, and he shakes his
head. "I'm not going to tell anybody that," he says. "It's
better to keep things like that to yourself. Certain goals you
love to share, like winning a championship. Others are to keep
yourself interested. I'll just leave it at this: People would be
surprised at some of the goals I have."
[pullquote][quote]>If you say murder that means I'm a thug poet.
If I say my mind kills that means I'm a thug poet.
[/quote]
Thug Poet, a song by Kobe Bryant[/by]
The thug poet sits in the lounge of the Four Seasons Hotel in
Vancouver, sipping a virgin pina colada. The only alcohol Bryant
drinks is champagne on New Year's Eve and the occasional glass
of red wine, a custom to which he was exposed when he lived in
Italy while his father played pro ball there. He says Jennifer
Love Hewitt is one of his favorite actresses, and his
six-bedroom house in Pacific Palisades is within walking
distance of his parents' house. This is hardly the profile of a
thug, even a poetic one, but that's not the point. Bryant may
not be from the streets, but he can speak the street language;
he can fit in when he wants to.
Kobe was 13 when his family moved back to the U.S. He'd been
born in Philadelphia but moved to Italy when he was six, and he
had a hard time assimilating to life in America. The slang
baffled him, but he soon picked it up, absorbing it without even
realizing he was doing it. He has undergone a similar process as
a player in his four years in Los Angeles. He was 18 when he
joined the Lakers, a teenager among grown men. "I don't think he
was shy, but a certain amount of shock was there," says guard
Derek Fisher, who broke in with L.A. the same year that Bryant
did. "He was reserved because he wasn't sure how to act. Some
guys misinterpreted that to mean he didn't want to hang out with
us."
It wasn't until this year that Bryant began to fit in, taking in
the occasional movie on the road with teammates, joking around
more on the team bus and plane. "It's like he realized that
before he could establish himself in this league, he had to
establish himself in this room," Fox says, referring to the
locker room. Bryant denies that he has tried to open up more to
his teammates, but perhaps, as he did after returning to the
U.S., he adapted without realizing it. "If you ask me, I acted
the same way my first few years, but for some reason the
perception is different this year," he says. "If I'm doing
something that makes them feel more comfortable around me, then
I'm happy about that."
His relationship with O'Neal was the trickiest, but the days
when Shaq would publicly express thinly veiled displeasure with
Bryant's play are, if not gone, increasingly rare. O'Neal's
appearance at Bryant's 21st birthday party last August was the
Lakers' equivalent of the end of the cold war, and the two seem
at ease with each other on and off the court. "Me and Kobe are
cool," says Shaq. "We got to know each other, and we found that
there's room in this offense for us both to do our thing."
The triangle helped O'Neal and Bryant learn to coexist. The new
offense called for more movement and cutting than the systems
used by previous coaches Del Harris and Kurt Rambis. "Basically
it was just Shaq in the post and four guys on the perimeter,
waiting to see what happened," Bryant says of the old offense.
"You couldn't feed off each other in that setup."
"They had to learn that this offense isn't predicated on plays
being called for one guy or the other," Jackson says. "It's
predicated on how to read the defense and hit the open man, move
without the ball and give it up. Sharing breaks down a lot of
barriers. There's been the idea in the past on this team that
people had different agendas, and the agenda had to come around
to 'one for all.' Kobe didn't have a selfish agenda; he just
felt that the way he had been playing was the best way he could
contribute. Gradually, he's seen there is a different way to
contribute that incorporates more of the team."
Bryant believes one reason he and O'Neal struggled to get along
is that they are so similar. "We're both attackers," he says.
"We both want to get 40 points. I had to figure out how to
attack in a different way. I've got it pretty much figured out
now--not completely, but almost." And when he figures it out
completely? "Then," says Bryant, "I'll be ready for more."
[pullquote][quote]Favorite children's book: Curious George, by H.A. Rey. He's always looking for an adventure, just like me.
[/quote]
From Bryant's Web site[/by]
A little-brother analogy is often used to describe Kobe--and not
just by his two older sisters, Sharia, age 24, and Shaya, 22.
It's cited by others, too, because Kobe is childlike in the best
sense, playful, inquisitive, mischievous. A horror movie fan, he
has been known to put on a long black trench coat and a mask he
got from Scream director Wes Craven and hide in the bushes
outside his house, popping out to scare his parents and sisters
when they come to his door. When he was a boy in Italy, he liked
to jump out the family's second-floor window onto the lawn. His
jump from high school to the NBA was riskier than those
second-story leaps, but his motivation wasn't much different; he
wanted to know what would happen when he landed. "I just want to
see what I'm capable of," Bryant says. "That's what drives me
more than anything: curiosity."
It's curiosity that brings him to longtime Lakers assistant Bill
Bertka in search of tapes of great players of the past, such as
Pete Maravich. Curiosity led Bryant to seek out exceptional
defenders like Eddie Jones, Gary Payton and Scottie Pippen and
ask them for tips on how to improve his own defense. When he was
traded to Los Angeles, he immediately called the coaching staff
and asked for tapes of guards around the league he would soon be
facing.
Bryant learned his lessons well. He has added a new dimension to
the Lakers' defense with his ability to smother small, quick
guards. His work against the 76ers' Allen Iverson during an
87-84 win in February was masterly. With a seven-inch height
advantage, Bryant barely let Iverson see daylight in the second
half, hounding him into 0-for-9 shooting in the fourth quarter
and stuffing his final shot. Like Jordan, Bryant uses his
defensive prowess to exact revenge on opponents. Larry Hughes of
the Golden State Warriors scored 41 points, many of them against
Bryant, in a 109-92 L.A. victory on March 9. When the two faced
each other again on March 22, Bryant was determined to make
Hughes pay for his impudence. He attached himself to Hughes
during the first quarter, blocking two of his shots and
harassing him into missing six of seven attempts. Meanwhile,
Bryant picked up 18 points and four assists. The game was such a
blowout--the Lakers won 119-96--that Bryant didn't play enough
to torture Hughes further. "I told Phil I wished we had kept the
game closer so I could have stayed out there," he says.
Given that kind of performance, it's no wonder that Bryant is
curious, above all, about his gifts. He talks about his ability
as if it were an object, something to examine from every angle.
"I've decided to take my talents to the NBA" is how he began the
press conference in which he announced he would bypass college.
Now he says, "People say I've made it, but I haven't come close
to being where I want to be. It intrigues me to see how far I
can go with this thing."
It's hard to blame him, because he hasn't had the freedom that
young stars often have. Think of it this way: Bryant never got
to sow his oats, at least not many, as a young player. He never
went to college and dribbled rings around a future chemical
engineer from Drexel. He doesn't seem to have missed that,
judging from his incredulous look when he's asked if he regrets
never having played in the NCAA tournament. "I get to play with
and against the best players in the world," he says. "Why would
I feel I missed anything?"
Bryant seems unlikely to become some malcontent consumed by his
ego or by jealousy, but he may be consumed by his curiosity. The
Lakers have a bright student on their hands who needs to be
constantly challenged, and as they move toward what seems to be
an inevitable championship, they would be wise to begin planning
his next lesson.