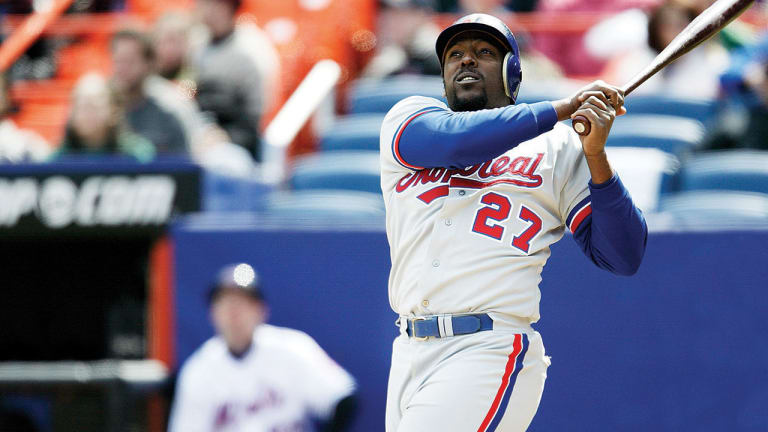 Publish date:
Expo 2000
He may be next to invisible, but Montreal's Vladimir Guerrero might be the best player in baseball, and he's off to the kind of start that could produce a historic season
Think back to a time when baseball heroes came unadorned by batting gloves, wristbands, jewelry, tattoos, endorsements and ego. Go back to the days without televised games, when a box score and a picture in the morning paper left wide berth for imaginations to fill in the rest of the majesty of a player. Go back to when hitters were defined by how often they made solid contact with the baseball, not by how far they mashed it every once in a while between strings of strikeouts.
Go all the way back to last Friday. Go back to Vladimir Guerrero, the 24-year-old Montreal Expos rightfielder who seems as likely to have been discovered in amber as on the rural sandlots of the Dominican Republic. He plays baseball with a purity of purpose and talent rarely seen in a game that increasingly rivals the Academy Awards for overproduction.
Last Friday was a typical day in his small and simple world. His mother, Altagrasia, with whom he lives during the season in a downtown Montreal apartment (along with his brother and teammate, Wilton), cooked lunch for her sons and sent them off to play ball. At Olympic Stadium, Vladimir slipped into his Expos uniform and pulled on his stereo headphones, cranking merengue music to decibels that cause his teammates to worry about his auditory health. Then for nearly two hours he played a PlayStation baseball game—he always chooses to be the Expos, matched against various other teams—on a monitor in the middle of the clubhouse that has become his fiercely private preserve. Later, in the real game, he scorched three hits to knock in every Montreal run in a 5–1 win over the Milwaukee Brewers, with one hit going to left, one to center and one to right. Two of them were home runs. Finally, he drove back home with Altagrasia and Wilton.
The Guerreros do this for every Expos home game. Mom's cooking, the merengue, the video game, the hits and the family piling into the car for the ride home. O.K., not exactly the same every time. Sometimes Vladimir gets only two hits.
Guerrero is following up last year's 42-homer, 131-RBI bustout with a season that hints at being bigger, perhaps even historic. Through Sunday he had ripped 29 hits in 66 at bats for a National League-leading .439 average, stroked seven homers and driven in 25 runs. Most shockingly, he had struck out only three times in 102 plate appearances dating to last September. Baseball hasn't seen a hitter quite like him, at least when it comes to hitting for power and not striking out, since Joe DiMaggio.
Guerrero had swung at 110 of the 174 pitches he had seen this year (not including intentional balls), and only seven times did a pitcher slip a called strike past him. Twenty-one of his 66 at bats lasted only one pitch. "What I do is see the ball, hit the ball," Guerrero says through an interpreter. He speaks almost no English. His study of pitchers doesn't venture beyond PlayStation, which he considers a training aid. It helps him, he says, track pitches: "Sometimes all I know is a pitcher's name."
Asked to name the pitcher he faced in his first big league at bat, in 1996, Guerrero says, "I don't know." Asked to name the pitcher against whom he collected his first hit, he says, "Glavine." It was Steve Avery.
"The rest of us have all this information and think too much," Chicago Cubs catcher Jeff Reed says. "He just sees the ball no matter where it's at and hits it no matter where it's at. He keeps it simple. It's a beautiful thing."
"I believe God reached out with a finger and touched him and said, 'You are a baseball player,'" Montreal outfielder Rondell White says of the 6'3", 205-pound Guerrero. "He's blessed. God gave him everything to be a baseball player. He's the best in the game—by far."
"He has the most talent I've ever seen in baseball," says Philadelphia Phillies first baseman Rico Brogna, whom Guerrero threw out at third base on April 14 with what's considered the best arm in baseball.
Last Friday, Brewers manager Davey Lopes had righthander Jimmy Haynes pitch to Guerrero with two outs and first base open in the sixth inning of a tie game, rather than intentionally walk him. Guerrero whistled a 1-and-0 curveball into the leftfield seats for a two-run home run. "Who do you want me to compare him to?" Lopes snapped when asked after the game if Guerrero reminded him of another hitter. "I've never seen anyone do what he does."
Guerrero's manager, Felipe Alou, generally concurs, though he does compare Guerrero's balance at the plate to Hank Aaron's. Like Aaron, Guerrero rarely takes an awkward swing. "This guy went 80-something at bats without a strikeout," Alou says. "But this guy swings from his ass. He's not just trying to make contact. The guy is the strangest hitter I've ever seen.
"I don't believe he truly knows what he wants to do yet. If he wants to hit 50 or 60 home runs, he can do it and hit .310. If he decides to bat .350, he can do that because he has outstanding bat control. He can hit 15 straight ground balls to first base in batting practice if he wants to. Then he can hit 15 straight to third base. He's just swinging the bat right now. One of these days he's going to decide what he wants to do. Then it's really going to be interesting. I hope I live long enough to see which way he goes."
Through last Friday, Guerrero had played in 434 games, exactly as many as DiMaggio did over his first three seasons. Guerrero's numbers (.319, 99, 304) are fairly close to Joltin' Joe's (.331, 107, 432). Also, having reduced his strikeouts from 95 in 1998 to 62 last season, Guerrero is bidding to follow DiMaggio and become only the second righthanded hitter to launch 40 home runs in a season while striking out fewer than 40 times.
Like DiMaggio, Guerrero makes consistent, hard contact more than any of his peers. Also like DiMaggio, he is rarely seen except by those who venture to the ballpark, which few do in Montreal. The Expos have no local television contract. (They have no English-language radio broadcasts, either. Games can be heard in French over the radio or in English over the Internet.) Of the 150 games scheduled for possible national television coverage by ESPN and Fox on Sundays, Thursdays and Saturdays, none involve the Expos.
Combined with his inability to speak English and a natural shyness, Guerrero's underexposure makes him the least-known superior talent in the game. Last season, for instance, he finished 13th among National League outfielders in the All-Star Game voting. The Expos have talked to Guerrero about taking English lessons after the season, but neither side seems to see an urgent need. "I just enjoy where I am right now," Guerrero says, downplaying the need for marketing and endorsement opportunities. "I can't tell you about those things yet. It's too early in my career. Too early to talk about that."
Says Montreal owner Jeffrey Loria, "The best way to market him is to let him play. He defines himself and his own stardom. In the meantime he's very private, and we give him that space he needs."
Vladimir is one of four boys and a girl born to Altagrasia and Damian Guerrero, she a housewife and he a farmer, in Nizao Bani, about 45 minutes west of Santo Domingo. He also has four half-siblings. Vladimir dropped out of school before he was a teenager and went to work selling fish. When he was 16, he was invited to attend the Los Angeles Dodgers' Dominican academy for an extended tryout. Wilton, an infielder, was in his second year in the Dodgers' system at the time. Another older brother, Albino, had played two years in the Los Angeles system before he was released. The Dodgers looked at Vladimir over two four-week sessions—even trying him as a catcher—before deciding he wasn't a prospect. They marked him down as too much like Albino: a slow, fat player with a long swing. "I knew I would be signed," Vladimir says. "There are so many teams. The Dodgers thought I had a long swing and I was slow, which I was because I was fat. I started to lose weight in the Dodgers' camp because I was practicing two times a day."
Later that year the Texas Rangers gave Guerrero a look but also passed. Then Fred Ferreira, a Latin America scout for the Expos, invited Guerrero to a tryout with 25 other players. Guerrero hitched a ride on the back of a motorcycle and showed up with a mismatched pair of spikes. Ferreira signed him for $2,000 after watching him take one at bat, after which he pulled a groin muscle running to first base. Guerrero had impressed Ferreira with his arm, respectable speed and athletic build. He was a trim 158 pounds when he signed on Feb. 24, 1993, two weeks after turning 17.
The Expos asked Guerrero to fill out a routine questionnaire for signees. On the line that asked for winter occupation, he wrote, "practicar baseball" (to practice baseball). Asked to list his hobbies, he provided one: "pelotero" (ballplayer). He quickly slashed his way through the Montreal system, getting to the big leagues within three years, on Sept. 12, 1996. Just two years later, the Expos signed him to a five-year contract that will pay him $28 million.
Guerrero swings the bat as ferociously as he did as a teen. The only major advancement in his hitting technique is that this season he has begun to look for balls in certain zones around the plate. But no pitch is safe from the violently quick arc of his long arms and 34-inch, 32-ounce bat. At least twice in the minors he hit doubles on pitches that bounced in front of the plate. Last year he lashed at a pitch from the Brewers' Eric Plunk that was shin-high and two inches off the outside edge of the plate and drilled it through the leftfield gap for a triple.
"He's got so much plate coverage it's kind of scary," says Phillies righthander Andy Ashby, who sweated out an intentional walk to him last month. "I was scared to throw ball four because I was afraid he could reach it. What's really scary is, he's probably going to get better than he is now."
"You know how you pitch around hitters sometimes?" Cubs pitcher Kevin Tapani says. "He's impossible to pitch around. He can hit any pitch, and I would never, ever throw him the same pitch twice in a row."
On Opening Day this year Guerrero came muttering back to the dugout after grounding out against Dodgers ace Kevin Brown. "Next time, I get him," Guerrero said to catcher Lenny Webster.
"You mean home run, Vladdy?" Webster asked.
"Home run," Guerrero replied.
Next time up Guerrero smashed a homer to dead centerfield. Webster broke up laughing.
No one appears to be less excited about his success than Guerrero. He considers himself a religious man who believes in praising God as he crosses the plate after every home run and living a humble life without such extravagances as liquor, jewelry and, apparently, batting gloves. Brewers second baseman Ron Belliard joked with him during batting practice last Friday about going out for salsa dancing. Guerrero admonished him, telling him he should "focus on baseball."
Nearly all of Guerrero's waking moments are focused on baseball, including his computerized version. Last Thursday teammate Michael Barrett shooed away a photographer hunched near Guerrero and his PlayStation. "I wouldn't do that if I were you," Barrett warned. "That's his thing."
There may be no odder sight in baseball than watching Guerrero operate his virtual self with the same concentration he brings to the batter's box. "We are about the same," the real Guerrero says. The lines blur. He's playing games day and night. It's a baseball life of another time. Simple. Blessed. There's no rush to learn English, peddle soft drinks, eat in fancy restaurants and get the packaged treatment of Canada's other great young sports star, Vince Carter. Alas, inevitably, that will come all too soon.