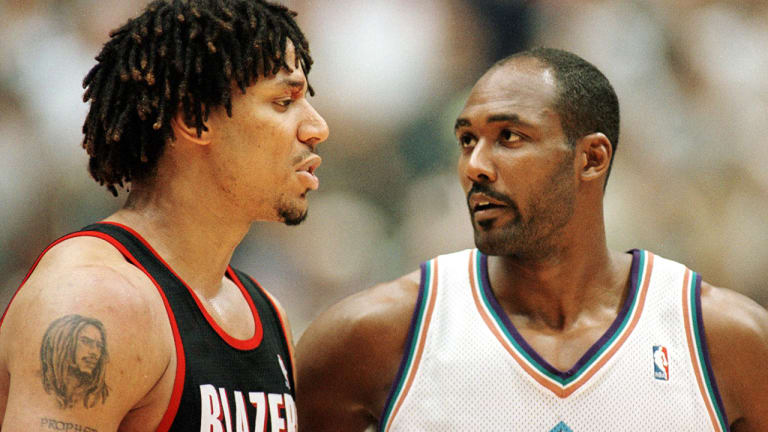 Publish date:
Grant in Aid
Brian Grant emerged from a funk just in time to help the Blazers top Utah in Game 1
Would the real Brian Grant please show up? As he exited the court midway through the second quarter of Sunday's Western Conference semifinal opener at the Rose Garden, the Portland Trail Blazers' 6'9", 254-pound power forward threw his mouthpiece toward the bench in frustration. He had missed four of his five shots; two had been blocked by the Utah Jazz's unimposing 6'7" rookie, Quincy Lewis. "I was forcing things too much," Grant said. "That's not my game."
The game that Grant and the Blazers were hoping to see was the one that made him an intimidating presence at this stage of the playoffs last year. Going toe-to-toe, and occasionally jaw-to-jaw, against Karl Malone, Grant averaged a solid 13.3 points and 9.8 rebounds to Malone's 20.2 and 11.5, helping Portland advance in six games. But surgery last July on his left knee slowed Grant early this season, and in March he was sidelined for 12 games with plantar fasciitis in his right foot.
Those setbacks, plus the arrival of Scottie Pippen from the Houston Rockets and the All-Star play of 6'11" Rasheed Wallace, trimmed Grant's minutes from 31.8 per game in 1998-99 to 21.0 and led to rumors that the Blazers would bundle him in a sign-and-trade deal for San Antonio Spurs free-agent-to-be Tim Duncan. Grant also struggled to adapt to rule changes that curtailed his forceful play in the paint. "You can't do anything," he said last month. "I have to play with energy and fire and hope that lights everybody else up."
Sources close to Grant say his reduced role might prompt him to exercise an option to terminate his contract, which has four years and $38 million remaining, and become a free agent this summer. Grant has refused to dwell on his future and has not appeared selfish or bitter. As he sat in the locker room on Sunday, reviewing his three-point, four-rebound first half, he resolved to take a different approach after intermission. "What I love about Brian is that he's such a team guy," Portland point guard Greg Anthony would say later. "He said, 'I'm just going to go out and dominate the boards in the fourth quarter.'"
Grant was true to his word. He had six rebounds in the final quarter--including five at the offensive end--to help Pippen (20 points) and Anthony (12 in the fourth quarter) turn a close game into a 94-75 rout. With 5:46 to go, Grant produced the game's key play, diving into the first row to save the ball from going out-of-bounds and allowing Pippen to nail a three-pointer to open up a 13-point Blazers lead.
"Brian didn't hang his head," Anthony said of Grant's disappointing first half. "He realized what a lot of guys on this team have learned: You don't have to get 20 points a game. You don't have to lead the team in rebounding or steals. You just have to help the team win."
After all he has been through this year, Grant was taking nothing for granted for the remainder of the series. "It always changes," he said. "I definitely want to continue to rebound and play defense, but some night I also may have to contribute on offense. I've got to be ready for whatever."