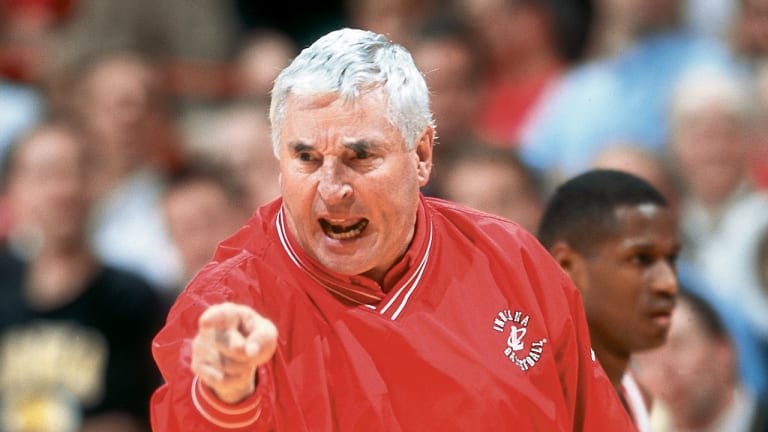 General Amnesty
After an investigation that uncovered evidence of repeated serious transgressions, the Indiana hierarchy let Bob Knight off with a slap on the wrist.
When college basketball's most combustible coach made his way to the woodshed last Saturday night—the woodshed being Bryan House, the campus residence of Indiana president Myles Brand—a question came with him. How do you fire Bob Knight, anyway?
The answer is, you don't. You let him sweet-talk you into one more chance. In an equivocal conclusion to what had turned into a kind of off-season on the brink, Brand hauled Knight back from what would have been an abysmal end to his career in Bloomington. At a press conference on Monday, after a seven-week investigation by the school's board of trustees that uncovered example after example of Knight's misbehaving, Brand announced that the coach would remain at Indiana, notwithstanding "a pattern of inappropriate behavior." The president, a philosophy Ph.D. who specializes in action theory, took action, but it was mild: He suspended Knight for three games next season, docked him $30,000 in salary and laid down "zero tolerance" rules for his behavior at practice, in games and in all public capacities, including his dealings with the press. "Should Bob Knight violate any of these requirements, he will be terminated," Brand said, adding that Knight would have been fired if he hadn't agreed to all these conditions. "We want to send a clear message that abusive, uncivil and embarrassing behavior will not be tolerated."
Brand all but said that Knight's late-night visit had allowed Knight to coach another day. "Before the meeting I didn't believe he could change his behavior," Brand said. But the mood of his visitor, he added, was "clearly unique. I'd never seen him before contrite and apologetic...sincere. He made a personal pledge to me to change his behavior. He gave me his personal word. And I believe him."
For 29 years people beyond Bloomington, seeing only the hurled chairs, the churlish bullying, the physical and verbal abuse, wondered why Indiana put up with Knight. If only you knew him as we do, his defenders replied, citing his loyalty, honesty and devotion to stout standards for his players in a world gone lax. So the pattern held, even as recently as two weeks ago. To be sure, a handful of former players earlier had joined the chorus raised against Knight, but true believers had dismissed the critics from within the fold as disgruntled or embittered. Even after CNN/SPORTS ILLUSTRATED broadcast a videotape of a 1997 practice showing the head of one of the complainants, former Hoosiers guard Neil Reed, snapping back from a Knight hand thrust to the jugular, the faithful had insisted, That's just Bob—"placing his right hand in the vicinity of Reed's neck," as the hometown Bloomington Herald-Times exculpatorily put it.
But by last week even those within Assembly Hall, the swaybacked redoubt of Indiana basketball, had turned. It was as if, after years of denial and silence, a critical mass of people had finally decided to convene a huge group-therapy session. A secretary in the athletic director's office, Jeanette Hartgraves, 66, came forward to describe how two years ago Knight called her a "f------bitch" and advanced menacingly toward her as she sat in her office, and how, during the 1980s, Knight hurled a ceramic flowerpot at a picture frame behind her desk, causing her to be hit with flying glass. A former athletic department secretary, Terry Cagle, told of an episode from the 1980s in which Knight stormed into the office of then sports information director Kit Klingelhoffer and, furious over a press release, threw him to the ground. Even Bob's son Tim, who handles his father's business affairs, confirmed that during a hunting trip in Argentina in 1994, Bob broke Tim's nose and dislocated his shoulder in a fit of anger.
Then, just before a Sunday meeting of the board of trustees to hash out Knight's future, a new witness came forward, one from Hoosier basketball's sanctum sanctorum, with the timeliest story yet. According to sources close to the probe, Ron Felling, who served Knight as an assistant coach for 12 years, told the trustees that he hadn't chosen to retire, as a Dec. 4 university press release claimed. In fact, Knight had fired Felling—and had done so moments before launching into yet another violent episode.
Felling told the trustees that on Dec. 1, the day after Indiana had struggled to beat Notre Dame in overtime, he fielded a call in the office from former Hoosiers assistant Dan Dakich, now the coach at Bowling Green. The two chitchatted about drills and defense, and Felling mentioned that the Indiana players were doing a good job of picking up Knight's defensive teachings. Then Dakich asked about Knight's reaction to the game. In spite of the victory, Felling told his former colleague, Knight had vented at the Hoosiers. It was the same old stuff, Felling said: Knight was taking the fun out of winning, and Felling wondered how the players would hold up under such mental strain over the length of the season.
Felling's concerns were hardly original—basketball aficionados have long believed that Knight's style accounts for the late-season fades that have kept Indiana from advancing beyond the second round of the NCAA tournament for six years in a row. But Knight had been listening in on an extension and at this point cut in. He berated Dakich, then accused Felling of disloyalty and fired him on the spot. Moments later, brought to Knight's office, Felling apologized for not having shared his opinions directly with the boss, but he said he stood by their substance. At that, Knight lunged at Felling, striking him in the chest with two closed fists and driving him into a bookshelf full of videotapes.
Knight refused comment to SI on this or any other matter after he returned to Bloomington last Saturday, following a bonefishing trip with his son Pat and several friends in the Bahamas. But in advance of his two-hour personal appeal to the president, Knight had already gone straight to his public. A statement faxed from the Bahamas revealed a sort of 12-Step Knight who fit perfectly into the web of dysfunction in which the entire university seemed to be ensnared. In a passage that read like something lifted from a self-help book, Knight credited the success of his teams to the "three-braided rope" of his intensity, his demanding nature and his temper. He spoke of "my temper problem," mentioning that "I'm not very good at just forgetting about something and moving on, and I'm truly sorry about that."
But with contrition he showed flashes of his intractable, insuperable self ("I've always been too confrontational, especially when I know I'm right") and evidence of denial, such as his assertion that his temper "was not a factor in the investigated incident." By this he presumably meant that he had acted with premeditated control when he went at Reed's windpipe, an alarming admission if true.
Brand said that Knight would personally apologize to Hartgraves. But there was no sign that he would be apologizing to Reed—even though John Walda, one of the two trustees Brand had put in charge of the investigation, agreed that Reed had been grabbed by the neck in an action that "cannot be tolerated."
Brand's indulgence means Knight still has a chance to break Dean Smith's Division I record for career victories, which stands 116 wins away. But it left uncertainty hanging over the program. Would the new Knight really bow to Clarence Doninger, the athletic director with whom he has clashed and whom Brand has appointed to chair a special commission to establish guidelines for coaches' behavior? "I definitely think there's division [in the athletic department]," said Dane Fife, a sophomore guard, on Monday. "That's all I'm going to say." If this meant that Knight and Doninger weren't going to be able to work together, Brand would have none of it. "Normalization and professional interaction will be the order of the day, period," he said.
What if more revelations surfaced about bad behavior in Knight's past? "If something comes out that's worse, we'll take action," Brand said. But Walda added, "I don't anticipate that anything significant is out there that we don't know about."
Asked why Knight hadn't agreed to attend Monday's press conference, Brand said the coach was embarking on "a long-scheduled trip." In fact, only five minutes before the president began the conference in Indianapolis, Knight had delivered a surly refusal to an interview request by reporters outside his office in Assembly Hall. Apparently the new Knight would not emerge until after Brand announced the transformation in Indy.
"It's an embarrassment to the state and the university," said David Pisoni, a psychology professor, upon hearing of the deal. "This demonstrates the priorities of the university. Athletics come before moral and ethical conduct. The revenue stream is more important than credibility."
As much as the investigation turned up, it was clearly one for which the school at first had little stomach. Two months ago, when CNN/SI aired a report that Knight had choked Reed, brandished soiled toilet paper in front of his players and kicked Brand out of practice, Brand denied the last of these charges and asked Walda and another trustee, Frederick Eichhorn, to investigate them. Walda, a Fort Wayne lawyer, had already said publicly that "I would put no stock in" Reed's allegations. Brand originally stipulated that the inquiry would look only into Reed's allegations—not into physical threats that Knight had made to Doninger after Indiana's loss to Ohio State on Feb. 19; not into former Hoosiers forward Ricky Calloway's charge that Knight had struck two of his teammates, Steve Alford and Daryl Thomas, during the mid-1980s (both deny that Knight ever hit them); not into the account of Butch Carter, a former Indiana co-captain who's now coach of the NBA's Toronto Raptors, that Knight had used a racial slur during the early '80s; not into a report that two years ago, Knight had prevented the transfer of one of his stars, Luke Recker, by threatening to quit and thereby bring down on Recker the wrath of the state. However, in his charge to the trustees, Brand did ask them to look into "the timing of the report" from CNN/SI, as if someone might have had it in for the Hoosiers by airing such unpleasantness on the eve of the NCAAs. Only after the videotape surfaced on April 11—it confirmed the essence of Reed's charge that he had been choked, if not all its particulars, and contradicted the claims of Knight and others that nothing of the sort occurred—did the probe begin to range farther afield. At Monday's press conference Walda even acknowledged an incident that hadn't yet come to light in which Knight had failed to promptly break up a fight between two players at practice.
To be sure, the administration found itself in a pickle: How much was Knight really at fault when the school had been his enabler, deep in a denial of its own? The chain of command had long ago gone kerblooey. Knight's contract assures him the right of approval of matters pertaining to the basketball program, a clause that essentially exempts him from having to report to his nominal superior, Doninger. It also provides for his termination if he engages in "personal conduct which would be grounds for punitive discharge of any employee of the university generally," meaning that he could have been fired in the past but got nothing worse than a slap on the wrist. Though Brand emphasized that Knight had been quietly penalized for previous transgressions, the president seemed to contradict himself when he said, "Given the fact that in the past he hadn't had such guidelines, I believe the ethical approach is to give him one last chance."
Yet keeping Knight on could have even more damaging repercussions for Indiana's image. The coach's last refuge—the integrity so often invoked in his defense—no longer stands. Knight lied about the circumstances of Felling's departure. He lied about the incident with Reed, trotting out members of his team and staff to testify in his behalf, including All-America guard A.J. Guyton, whom the videotape depicts looking right at Reed as Reed is choked. He oversaw the release of unflattering revelations about former players who backed up Reed's charges or lodged allegations of their own. All this mocked a school whose motto is Lux et veritas—Light and truth. High graduation rates are all well and good, but what's the degree worth when it comes from a university where you get fired for merely expressing an opinion, as Felling was?
For years Knight has kept in his office a plaster statue of Gen. George S. Patton. It was Patton who in 1943 berated and struck two soldiers hospitalized with shell shock, accusing them of malingering during the Seventh Army's Sicilian campaign. The act drew strong condemnation on the home front, even calls for his dismissal. Gen. Dwight D. Eisenhower ordered Patton to apologize publicly, and after he did so, Patton retained his command.
But through 661 basketball victories there'd been no Supreme Allied Commander in Bloomington. While the university has vowed to rein Knight in, the revelations that led to Monday's announcement exacted a huge cost. The public now knows that Knight's virtues come freighted with conditions. Knight is loyal—to those who meet an excruciatingly demanding test of devotion to him. He's honest—when the truth also serves to veil his program and consolidate his power. He does believe in discipline—for others, but not for himself. Brand is betting what's left of his school's soul that Knight will suddenly consent to submission. Or simply rack up a few more victories. "If we win a lot of games, all this will die down," said Jared Jeffries, the state's Mr. Basketball, who will be a freshman at Indiana in the fall. "People love winners."
And people know this: In pro basketball the player chokes the coach, and in college basketball the coach chokes the player. On Monday fans learned another distinction. They learned that in the pros, the choker is at least dealt with severely. At Indiana University, he's not.