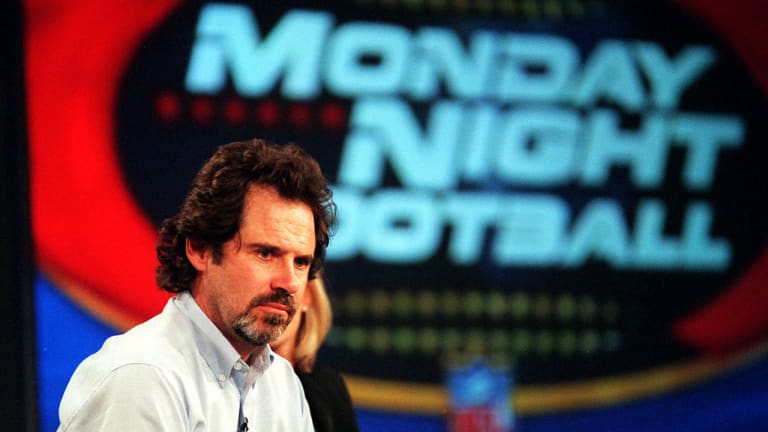 'Live From New York, It's Monday Night!'
ABC's surprise hiring of Dennis Miller to man the booth with Al Michaels and Dan Fouts may put the buzz back in Monday Night Football
Are you ready for some Greek philosophy? Are you ready for a football game spiced with references to shiatsu, cavity searches and Fitzcarraldo? Are you ready for the second coming of a man bubbling with self-regard and bristling with phrases and associations that you may not get (he couldn't care less), all delivered in a vocal cadence that begs to be mimicked? No, Dennis Miller is not Howard Cosell, but when ABC Sports announced last Thursday that Miller would be joining play-by-play man Al Michaels and analyst Dan Fouts this fall in the latest revamp of Monday Night Football, there was a Cosellian buzz in the air, that old-time "he's a genius/he's a blowhard" split in opinion that has long been missing from the show and that can mean only one thing: Come Sept. 4, the first Monday Night broadcast of the regular season, millions of people will tune in to see whether one of the most audacious experiments in recent television history flies, crashes or sputters to an embarrassing halt on the runway.
"It may not work," says ABC Sports president Howard Katz. "We may find out that this is a bad idea. But I love taking the risk."
He'd better. For it is largely upon Miller, a Saturday Night Live alumnus with no sports-broadcasting experience, that Katz and the man who made the hire, celebrated producer Don Ohlmeyer, are staking the fortunes of one of television's most valued properties. The booth of Monday Night Football is a high-profile cauldron in which mistakes are magnified and boneheaded lines are parsed by critics as if they had been delivered from the floor of the Senate. At a time when the secrets of the human gene are about to be revealed and a presidential campaign limps along without excitement, Ohlmeyer's search provoked daily updates in newspapers, a USA Today readers' poll and more than 125 calls from journalists to last week's teleconference announcement.
Only Miller seemed unimpressed by all the attention, and he casually promised not to tailor what he calls his "quasi-Dean Martin insouciance" to the supposed dictates of a football broadcast. "I'm not going to go into that booth and turn into Ed Murrow during the Blitz, for god's sake," he told SI last Friday from his office in Los Angeles, where he was preparing for a broadcast of his HBO series, Dennis Miller Live. "I know when I sit at home and somebody gets between me and the game, and it becomes about self-aggrandizement, I get a little pissy. So I have to find a Wallenda-like line. I think I'm getting paid to be Dennis Miller, but I'm also getting paid to be a sort of Pliny the Elder and just chronicle this."
Pliny. One day on the job, and already a first: It's safe to say that no one discussing football, not even Cosell, conjured up the first century's answer to Steve Sabol. "I'm throwing Pliny the Elder out on my first show," Miller says, cackling. "Believe me! I'm bringing it out just as a litmus test: Are you ready for some PLINEEE! Good evening! We're here at the Will and Ariel Durant Bowl!"
Get it? Ohlmeyer and Katz are betting plenty that you will get it, or will want to. After spending three months picking through hundreds of tapes, 20 auditions and 40 candidates ranging from former coaches Jimmy Johnson and Bill Parcells to Hall of Fame shoo-ins John Elway and Steve Young to conservative talk-show host Rush Limbaugh--whom, Ohlmeyer says, he hopes to involve in this season's show in a limited capacity--and after spending weeks trying to hear different combinations of voices in his head, Ohlmeyer decided that only a radical recasting of the traditional three-man booth would create the energy the show has so lacked. Though Ohlmeyer's career took off with his production of Monday Night Football during the glory years of the mid-1970s, he had no illusions about re-creating the Cosell-Don Meredith chemistry so often cited as the show's apex.
"Howard's dead, and Don's communing with the peaks in Santa Fe," Ohlmeyer said during the search. "You had two unique characters, and I don't think you'll ever again have anybody like Howard, who, for his time, was a perfect lightning rod. There can't be a Howard Cosell today."
Instead, Ohlmeyer was looking for a 21st-century take on the game, something more free-flowing, edgy and humorous. Retaining Michaels was a no-brainer; a 14-year veteran of the show, he is widely considered the best play-by-play man in the business. In Fouts, the former San Diego Chargers quarterback, Ohlmeyer believes he can unearth "an engaging and impish quality" that did not surface in his recent work on ABC's college football broadcasts. But it's Miller who is, as Michaels puts it, "the greatest wild card of all time" and the one who will determine whether Ohlmeyer's gamble pays off or goes bust.
After he came out of retirement on March 8 to take the assignment of remaking Monday Night, Ohlmeyer says Miller's name was the first he thought of--but only as a comic who would appear occasionally to unleash one of his famous "rants." Ohlmeyer didn't know that Miller grew up in Pittsburgh enthralled by the championship Steelers of the 1970s, that he engorged himself yearly on the minutiae of the NFL draft and that he had contacted Fox when it landed football in 1994 to see if he could land an announcing gig. Ohlmeyer didn't know what he was getting when Miller's agents said their man wanted to audition for a far greater role in the show. On June 12, Miller sat down in a studio in Los Angeles and, with Michaels, taped a mock broadcast of a portion of last season's Tennessee Titans-Buffalo Bills playoff game.
"It was way beyond what we expected," Michaels says. "I had no idea that he knew as much about football as he did. He made points that other analysts we brought in never made, and his points were more salient, more interesting and better stated. He was giving his riff, analyzing the plays and providing the humor. Amazing would not be an overstatement. Then I thought, Maybe he's shooting his wad here, and that's all we're going to get. But he kept going. Hell, it was almost perfect. Don and I looked at each other and said, 'Wow. Where did this come from?'"
"I've done it my whole life," Miller says. "I sit with my friends and do Mystery Science Theater 3000 with the football. Don't you all? When you watch the game with your friends, it's not exactly like a Christian Science reading room. You call the announcer on his bulls--- and say, 'Christ! He's sucking up to the league. I can't believe he won't take a stand on that!' Well, I'm going to take a stand on that. If that gets me whacked, that gets me whacked."
Example? "I'm just amazed that they care about measuring sock height and stuff like that," Miller says. "You're talking about primal man-on-man combat. There's a danger involved, but most of the 80 men who participate any given week walk off the field at the end of the game; the guys at home get to have some testosterone-driven catharsis, and nobody really gets hurt. For the league to get into all this stuff about sock height and the little peep-show booth they go into for the replay...what's going on over there? The game is what it is. They have to cop to the fact that what they're selling is big collisions. Why can't the ground cause a fumble? I've been thumbing through my Plato to try to unravel that Rubik's Cube. Who sat down in a meeting about such a violent game and said, 'You know what my theory is? Terra firma cannot cause actual disengagement of the spheroid!' Let's go to Stephen Hawking about that one. What sort of empirical law are we quoting there?"
Whether so snarky a form of free association can mix comfortably in a booth with two other sensibilities is one question, and whether the viewer will want to sit through it for three hours each Monday for five months is another. But the real dilemma for Monday Night Football is much larger, and it has to do with the number of channels available to viewers today and the programming competition and the fact that executives at ABC did plenty over the last few years to damage one of their most prized possessions. Monday Night is a rock-solid vehicle, a venerable institution that guarantees big audiences for advertisers and a sense of continuity for viewers, yet last week it found itself naming its fourth combination of announcers in as many years--all in a quest to recapture a booth dynamic that may do little to boost the show's market share in television's fractured new world.
"I honestly believe that as long as the game is good, you could put three chimpanzees up there and people would watch," former Monday Night analyst Boomer Esiason says. "If the game is not as good? People will tell you that's where the announcers make a difference. But let me ask you something: If the game is 40-7, what are we going to say that's going to keep people watching?"
Howard's ghost still haunts Monday Night Football. Anyone discussing the show's recent flatness, or trying to describe its uniqueness as a prime-time vehicle, or debating the merits of a three-man booth versus a two-man inevitably brings up the unpredictable program that the arrogant, bombastic and unignorable Cosell helped to create when he became the first man named to the announcers' booth. With a voice and face perfect for radio and a preposterous toupee pasted in place, Cosell was an original, a broadcaster who cared not a whit whether people liked him so long as they paid attention.
When Roone Arledge pieced together Monday Night Football in 1970, he created the three-man booth solely to put Cosell on the show. During the very first broadcast, Henry Ford II called the president of ABC and demanded that Cosell be taken off the air. People lined up in bars for the honor of hurling a brick at the TV when Cosell appeared on-screen. He was, Ohlmeyer says admiringly, "dangerous." He was great television.
Teamed after the first season with former New York Giants star Frank Gifford and former Dallas Cowboys quarterback Don Meredith--a country boy who could puncture Cosell's pretensions with a verbal pitchfork and work in the most altered of states ("Welcome to the Mile High City," Meredith crowed while opening a broadcast from Denver, "and I really am")--Cosell was the volatile element in a chemical reaction that caused a ratings explosion and revolutionized television. Monday Night Football showed not only that a sporting event could dominate prime time but also that the quality of the game hardly mattered.
In a broadcast early in the first year, while Dallas was losing badly to the St. Louis Cardinals, "Howard started teasing Don, and Don started coming back, and you could see the whole thing come together," Arledge says. "We were opposite very tough competition that night--I think it was a Johnny Carson special on NBC and a strong lineup on CBS--and we beat them all. It proved you could get a great audience with a terrible game. In a way it was better than had it been a closer game, because the chemistry between Don and Howard might not have developed as quickly. The way the game was presented became what was appealing."
In the end, then, it was the memory of that kind of success, coupled with the unappealing way Monday Night had been presented the past few years, that led to last week's announcement. How else to explain it? By one measure, the show has never been more popular. From 1994 to '98, Monday Night ranked in the top five in prime time--during Cosell's tenure it never rose higher than 10th--and last season it finished third, the highest ranking in its 30-year history. The preponderance of meaningless games helps explain the program's perceived decline, but, as Michaels says, "It still winds up as the Number 3 show on television. What does this show have to do before people say, 'It's back to where it was'? In the so-called glory years the show was 20th out of 54, and everybody said, 'Fantastic! What a raging success!' Now we're third out of 150, and all of a sudden the picture being painted is that the ratings are the lowest ever. Yeah, in raw terms you can look at it that way, but look at the competition. In the old days the other networks didn't even program against Monday Night Football. Now they throw their big guns at us--topped off by, of all things, wrestling."
What Michaels is ignoring is that nobody did more to paint last season as a failure than executives at ABC, especially Katz. It was Katz who decided on March 8 to pull the plug on Esiason and, perhaps more remarkable, on Monday Night Football's widely respected producer-director team of Kenny Wolfe and Craig Janoff. "Kenny did nothing wrong," says Katz. "I just felt he had been doing the same show for too many years and there was a sameness to it, and it needed a fresh approach. Same with Craig."
Such an admission about TV's No. 3 show demonstrates how shaky the network's confidence is these days. Despite its high ranking, Monday Night's ratings share, like that of all network programming, has dropped precipitously with the mushrooming of choices on cable and satellite television. The show's 13.7 share last year was an alltime low. It's clear that with pro wrestling drawing young male viewers, with NBC and the World Wrestling Federation's Vince McMahon readying a take-no-prisoners football spectacle in next February's debut of the XFL, a sense of panic is in the air. The Monday Night Football buzz factory of Cosell's day had, in ABC's eyes, become merely a well-done football game--superbly called by Michaels and competently analyzed by Esiason--but in this brave new world of television, that wasn't enough.
"There is so much football on the air," Michaels says, "so much redundancy, so much jock talk--the same play analyzed the same way thousands of times, and that towel-snapping mentality. What's exciting now is that we've got two new guys in the booth who won't be anything like that."
That Katz tapped Ohlmeyer for the job of making the show "special" again is perhaps the most telling move of all. In the 1970s Ohlmeyer, a protege of Arledge's, teamed with Monday Night director Chet Forte to create the look of the modern football telecast. In his most recent stint in television, as NBC's president of West Coast operations, Ohlmeyer helped shape the medium's last programming juggernaut: NBC's Must-See TV lineup of the '90s. An outsized figure with a robust laugh and a profanely blunt delivery, Ohlmeyer is known for his eagerness to take chances (he once broadcast a game with no announcers), and Katz says he probably wouldn't have made any changes to Monday Night Football this year if he hadn't been able to pry Ohlmeyer out of retirement. "Don was the one person smart enough and strong enough to make a difference," Katz says. He's also no stranger to controversy.
In 1998 comedian Norm McDonald blistered Ohlmeyer after he removed McDonald from the cast of Saturday Night Live. In 1994 Ohlmeyer backed his friend O.J. Simpson during his murder trial, and three years later he angered many in baseball when he said he wanted the World Series to end in four games so it wouldn't hold up the beginning of the fall prime-time season. ("The playoffs were starting, but most of America couldn't have cared less," Ohlmeyer says dismissively. "That's why their ratings are so bad.")
Ohlmeyer's return sets up an intriguing dynamic. When he left ABC Sports in 1977, he was working for an operation in which money was no object. Helicopters were kept on stand-by at the stadium to ferry broadcasters to the airport. For the ABC-covered '84 Olympics in Los Angeles, Forte had his chauffeur drive Forte's limousine from New York to L.A. instead of simply renting a limo in California. But by 1986, after Capital Cities completed its purchase of ABC, belts were being tightened. When Michaels joined Monday Night Football that year, Alex Wallau, then an ABC Sports producer and now president of the network, called him and said, "Congratulations, you got invited to the orgy after the girls went home."
No corporation, however, is more notorious for its parsimonious, conformist culture than Disney, and when it acquired Cap Cities/ABC in 1996 and began trying to meld it with ESPN, the days of freewheeling expense accounts at ABC died forever. The thought of Ohlmeyer's working for Disney is somewhat like envisioning Hunter Thompson going to work for Scrooge McDuck. "Will it take?" says Brian Brown, who produced features for ABC's Super Bowl telecast last January. "Ohlmeyer's the 800-pound gorilla, and he's absolutely opposite to what the culture has become. He's all the things television was, and all the things ESPN is not."
What Ohlmeyer has going for him is Katz, a close friend who owes much of his career to Ohlmeyer. He hired Katz fresh out of college in 1971, made him a production assistant on Monday Night Football the next year and, in 1983, when he started Ohlmeyer Communications, hired Katz as president. When ESPN bought Ohlmeyer's company in 1993, Katz went to ESPN as a vice president and oversaw the network's rapid expansion, which led to his promotion to president of ABC Sports in March '99.
Ohlmeyer's return, however, has less to do with the performance of Janoff and Wolfe and even of the men in the booth than with the recent work of Katz's fellow executives at Disney and ESPN. For if Monday Night Football had recently become a small event plagued by "sameness," no one was more responsible for that than those who drained it of its uniqueness in the name of corporate synergy.
In 1996, ESPN president Steve Bornstein was handed the reins of ABC Sports, and his mandate was obvious: Merge the resources of ABC and ESPN into a sports leviathan. Problem was, nearly every public move Bornstein made weakened Monday Night Football. (Bornstein declined repeated requests for comment.) In January 1998, just after removing Gifford from the booth and giving him a token role in a pregame show, ABC tried to hire Fox's John Madden for the second time in four years. Irked by Madden's insistence on a deadline for making a deal, ABC and Disney executives gave up on him and leaped at Wolfe's suggestion that they hire the inexperienced Esiason. The first thing Disney CEO Michael Eisner said to Esiason was, "Good to have you on the team. Whatever you do, don't ever deadline me."
Esiason's first season, 1998, was arguably the worst in Monday Night history. Fears that ABC Sports had become a poor sister to ESPN were confirmed when it was leaked that Disney executives had considered renaming the show ESPN Presents Monday Night Football on ABC. In an effort to pump up ESPN's Sunday Night Football broadcast, both Monday Night's graphics and Hank Williams Jr.'s adrenaline-pumping anthem Are You Ready for Some Football? were lifted and moved to Sunday night. "It was a big mistake," Wolfe says. "It disgusted me, because it destroyed the uniqueness of Monday Night. Now there's this fight to get it back."
The first time that Michaels and Monday Night analyst Dan Dierdorf--who had teamed with Gifford for 11 years to give the show its steadiest team--heard the Williams theme on ESPN, they were in the Broncos' offices in Denver, preparing for the next night's game. Dierdorf and Michaels felt their stomachs drop. Some Broncos players walked in, glanced at the exploding graphics on the screen and asked, "What night is it?"
"To this day, what kills me is when I hear our music on ESPN," Michaels says. "Wait a minute.... That's Monday Night Football! I don't want to hear that anyplace else. That music means Monday night, those graphics mean Monday night, Hank Williams means Monday Night Football. What the hell is this all about?"
"It was all about benefiting ESPN, even at the expense of Monday Night Football," Dierdorf says. "We felt it was our fields that were being burned and our villages that were being plundered."
That was only the beginning. To appease East Coast viewers, ABC began its '98 broadcasts an hour earlier, at 8 p.m. Eastern time, but rather than have an immediate kickoff, the show started each week with a rambling pregame segment hosted by ESPN's Chris Berman from an ESPN Sports Zone in Baltimore. There, in a strange Plexiglas enclosure, sat Gifford--the NFL legend, the man who'd logged more hours on prime time than anyone in history and who'd imbued Monday Night with class and continuity--reduced to introducing a short pregame feature from a sports bar. (Gifford declined to be interviewed for this article.) So it went through the season, with morale plummeting, Gifford looking more and more pathetic and Dierdorf dangling because he was in the final year of his contract and no one would say whether he'd be back. By the time the game kicked off each Monday, at about 8:20 p.m. (though ABC never got that nailed down either), Michaels was miserable.
"That was the worst," he says, "because for all those years we'd come on and there was a certain energy. We were in the stadium, and we'd do a tease, and Hank Williams would come on, and the crowd would go wild. You would get goose bumps. Then all of a sudden the show was opening up like some bad MTV rendition, where the camera is wheeled through a bunch of half-drunk people in a bar in Baltimore. I went from being so charged up to where I was almost embarrassed. I felt as if I were part of a very cheap carnival act."
The chemistry in the booth didn't help. From the start Esiason tried to instill locker room shtick into the game coverage, phony quarterback-lineman banter with Dierdorf that gave the false impression that the two men didn't get along. In reality it was Esiason and Michaels who had little use for one another. This was a match destined for failure. Michaels is often described as brilliant and has a fine sense of humor, but he is tightly wound, vocal about his likes and dislikes and exacting about his craft. When Dierdorf, who considers Michaels a close friend, joined the broadcast in 1987, Michaels warned him, "Say anything you want, but make sure you get your facts right." Esiason is looser, less savvy, far less talented than Michaels on-air, and he often rubbed Michaels the wrong way.
Esiason feels that Michaels not only stifled him as a broadcaster but also had a hand in his removal. Citing Michaels's and Ohlmeyer's frequent golf dates (they both belong to the Bel-Air Country Club in Los Angeles), Esiason says, "I imagine Howard [Katz] and Don Ohlmeyer spoke about me, and Ohlmeyer said, 'I couldn't work with him' or 'He's no good'--and I'm sure Al had something to do with that." Since Esiason's firing, some of Michaels's former broadcast partners, such as Tim McCarver, have come forward to defend his on-air generosity. "Boomer thought Al wasn't a team player," says a source close to the broadcast. "Al is a team player. But it's Al's team."
Michaels dismisses Esiason's complaints, saying that at the NFL owners' meeting in Palm Beach, Fla., in March, "two of Boomer's former coaches, in one 10-minute span, came up to me and said, 'Typical Boomer. It's always everybody's fault but his.'" The joke, Michaels says, is that "the best thing that could've happened for me, personally, was for Boomer to have been terrific, because a two-man booth is easier and less unwieldy than a three-man, and the two of us could've gone marching into my retirement. That was my dream scenario. I wanted this to work."
By early in their first season together, however, it was obvious that only a miracle would save this team. While on-camera Michaels and Esiason seemed amiable enough, off-camera they couldn't have been frostier. Michaels, who thought Esiason's frequent references to his own career did little for the broadcast, infuriated Esiason last December by telling the St. Petersburg Times that "once he decides for sure that his QB days are past, we'll truly see how effective Boomer can be on TV." By the Pro Bowl, things had gotten so bad in the booth that, off the air, the two men were barely speaking.
The Saturday morning before a playoff game in January '99, Gifford did two feature pieces--one on Doug Flutie, one on Jake Plummer. He recorded the voice-overs and the tease. He did not know they would be his last pieces for ABC. No one said it was the end of an era. Just before he walked out of the control room, Gifford said, "Are we good? Is there anything else you need from me?" No, Frank, he was told, you're good.
Two days before the team was to broadcast the Pro Bowl, Dierdorf was told he was finished at Monday Night Football. "I look at all the good things in my life and I say, Am I going to get upset because Steve Bornstein wanted to take me off the show after 12 years?" says Dierdorf, who has a three-year contract with CBS for its Sunday schedule. "No. My plate has been far too full for me to lose any sleep over that. I was in the circus for 12 years, and I was under the magnifying glass for 12 years. Do I enjoy what I'm doing now without that bright light? Absolutely. I work just as hard, but it's different. There's a scrutiny you feel when you do Monday Night. I don't miss that part of it, not one bit."
Not long afterward, Gifford got the word. A man named Brian McAndrews, who had little TV sports experience before being named executive vice president and general manager of ABC Sports in March '98, called him. Gifford listened, hung up and then phoned someone he knew at the network. He was puzzled. "Who is Brian McAndrews?" Gifford asked. "I think I just got fired by someone I've never heard of."
Ohlmeyer has a theory about announcers, about what makes a trio such as Gifford, Cosell and Meredith work and a trio such as Dierdorf, Michaels and Esiason fail, and about what makes the matter of who should be the announcers on Monday Night Football pressing enough to spark months of speculation and spur an army of ditto-heads to turn out and make Limbaugh the runaway winner of USA Today's poll. It comes down to whom people choose to spend their valuable leisure time with. No man, maintains Ohlmeyer, likes seeing a game with someone he doesn't like.
"You watch with friends, having a couple of beers, some good lines going back and forth--you have a fun afternoon," he says. The pictures and replays play a huge part in a broadcast's feel, but, Ohlmeyer continues, "the announcers bear the brunt. Watching a game with John Madden is a hoot, because he's like the guy next door. You believe he knows what he's talking about, and he says it in an entertaining way. That's what Howard and Don did."
This, then, is the big reason Esiason was fired: "Al was the only thing I enjoyed listening to," says Ohlmeyer. When Monday Night Football opened last season, Dierdorf was gone, and just Michaels and Boomer were in the booth, showing only a little more warmth for each other than they had the season before. Who's comfortable hosting a party at which two guys talk at each other for three hours with hardly a hint of affection? And without a third man in the booth, Esiason's weaknesses--his tendency to state the obvious, his heavy-handed humor--combined with Michaels's severe demeanor to create a broadcast notably short on fun.
Meanwhile, in the production truck, Wolfe and Janoff had little affection for Katz or his new vice president of production, John Filippelli. Wolfe and Janoff had worked with Esiason during his short stint on World Football League games in 1991 and 1992, and it was Wolfe who got ABC president Bob Iger thinking about Esiason when the Madden deal fell apart. Lines were drawn in the production truck over the tension between Michaels and Esiason; staffers took sides or got caught in between.
The sports-bar pregame show was gone after one excruciating season, mostly because Monday Night Football was moved back to its old 9 p.m. slot for '99, but Berman still hosted halftime, and no one involved in the show had any illusion about a return to the good old days. Limousines were eliminated, and other perks were axed by the finance department's Bob Apter--nicknamed by some the Wicked Witch. The crew was assigned to less luxurious hotels than the on-air talent. That was "strange and unprecedented," Wolfe says. "We're a team, with camaraderie, and now we're in separate places. It made no logistical sense."
It wasn't all bad, though. Esiason got better in his second year. When the New York Jets played the New England Patriots last Nov. 15, he and Michaels put together one of their best shows. Contrary to what Esiason says, Michaels often "teed him up," as TV types say, pulling him into the broadcast with questions. Esiason also did what an analyst should, laying the blame for the Jets' skid squarely on the shoulders of Parcells, the universally lauded Jets coach; calling New York's star receiver, Keyshawn Johnson, "arrogant"; and pointing out the error in Patriots coach Pete Carroll's decision to go for it on fourth down. Michaels agreed. It was all a football fan could ask for. Even the guys you went to the game with, Al and Boomer, seemed to be getting along.
Still, Esiason had no idea whom to trust. Rumors had swirled that he had been responsible for Dierdorf's firing (not true) and that ABC people were unhappy with his work. He didn't know what to think in the season's 12th week when Filippelli told him, "Boomer, you guys are doing great! I'm not getting the calls from Al anymore."
Super Bowl XXXIV was Boomer's last hurrah. The meeting between the Titans and the St. Louis Rams was spectacular, close right to the finish, a broadcaster's dream--but Esiason was not on his game. He predicted plays that didn't happen, said what the pictures already showed, kept reminding viewers that he had been a player too. But there was one key moment when it was Esiason who brought Michaels back to earth: With 6:34 to go and the tension peaking, Michaels spent precious moments chatting about how Rams owner Georgia Frontiere had changed the pronunciation of her name to Fron-teer. "Well," cut in Esiason, "they're on the last frontier right now, because the Tennessee Titan defense has taken over this game."
A moment later they had switched roles. In the final six minutes Esiason tried again and again during commercial breaks to get Michaels to tee him up to talk about his own experience trying to lead a drive in the waning minutes of a Super Bowl. Michaels ignored him. With 0:31 left and the Titans driving, Esiason said Tennessee should burn its final timeout. Michaels disagreed, and three plays later was shown to be correct when the Titans used their last timeout to stop the clock at 0:06 and set up the final play. Esiason had to be sick, but give him credit: He said, "Way to go, Al!" and laughed.
Then came the worst moment of all. After the game ended and the trophy was presented, Katz pulled the plug on Esiason. Instead of finishing with his play-by-play announcer and his analyst reflecting on the greatness of the game, Katz, citing a shortage of time, told Wolfe to tell Esiason he was done for the day. Michaels would close the show alone. It was a harsh move against a star analyst, and Esiason knew it. He stormed out, flagged down a car and got in with his family. While they were leaving the grounds, Michaels ended the broadcast with a perfect summation, at once wry and full of wonderment.
It was a great close to a great game, and the pictures and replays had been, as usual, superb. Within a few weeks Wolfe and Janoff received letters from Eisner. "The Super Bowl was fantastic," read the note to Janoff. "Congratulations on a show well done. Everything looked great and I know that you worked hard to make it happen. Thank you." When Katz called to fire him on March 8, Janoff was stunned. He still has no idea why he was sacked. "Does [Eisner] write letters to everybody?" Janoff asks.
Many believe Esiason wounded himself by accusing Michaels of undermining him, but Esiason isn't backing off. "Not at all," he says. "It's one thing to be arrogant and hypocritical, and it's another to be arrogant and honest. They hired me to tell it like it is--Howard! Shades of Howard!--so I told it like it was. There's nothing I can do now. But it should make a wonderful book one day. I've got the title: They Told Me So. Either that, or it's going to be The Making of ABC--Al's Broadcasting Company."
No, not Al's. Two months before next season's first Monday Night broadcast, with most television critics lauding Ohlmeyer's hire of Miller and with a season yet to unfold, it is Ohlmeyer's network, if only for the moment. He came back on the condition that he could choose his own team, so Ohlmeyer also replaced sideline reporter Lesley Visser with ESPN's Melissa Stark and Hall of Fame running back Eric Dickerson. He also hired Drew Esocoff to replace Janoff as director and made it clear that he wants a high wall between Monday Night Football and any other Disney property. "I always thought synergy was a s----- word," Ohlmeyer says.
He has Katz watching his back, too. "It's interesting," Katz says. "I am guilty of having created part of the problem, because when I was at ESPN, I thought that having a similarity between Sunday Night Football and Monday Night Football would be great, and ESPN would benefit greatly by it. But when I took the job at ABC, I had a totally different perspective on things. For Monday Night Football to be special, it needs to be different."
In early May, Ohlmeyer, a first-class flier, wanted production assistant Brian Lockhart to sit next to him on a flight from New York City to Los Angeles. When ABC colleagues heard about this, they joked that Ohlmeyer was going to like sitting in coach. Lockhart's request for a first-class seat was turned down by Apter's office, but Ohlmeyer insisted that Lockhart sit with him up front. "And he did," says one Monday Night staffer. "So we're all thinking, Finally, the Wicked Witch is dead."
The show, Ohlmeyer promises, will feel different from the start. "We'll have no exploding helmets," he says. Each game will be milked for maximum emotion. "Selfishness, selflessness, drama, envy, hubris--things everybody can identify with," Ohlmeyer says. "The opening of the Jets-New England game will be something along these lines: 'These two organizations hate each other. You thought the Hatfields and the McCoys was a battle? It doesn't matter what their records are. What matters is the owners don't like each other, the coaches don't like each other, the staffs don't like each other, the players don't like each other. They want to knock the living crap out of each other.' We're going to get that message across in the promotion and the tease, and that will be the underlying theme of the game until some other underlying theme takes over."
It is all his call. He is, at 55, a player again. "I admire Ohlmeyer's cojones," Miller says. "He dwells halfway between a creative world and a corporate world, but you're not talking about a house man here. I think I'm a pretty quirky hire. I admire him for that."
Whether such warmth will last depends on what happens this fall. Television is a slippery business, one in which, Ohlmeyer says, "not only do most people desperately want to succeed, but they believe everybody else must die a slow and painful death." He has little to prove, and he has no intention of staying on the job very long. His mentor, Arledge, is writing his memoirs now. Ohlmeyer has less lofty ambitions.
"When Howard Katz asked me to do this, even though I was predisposed to say no, it intrigued me because, a year from now or whenever I go back to retiring, I'd like to sit at home and watch a Monday Night Football telecast I enjoy," says Ohlmeyer. "What's important is that I can put together a telecast that people can enjoy watching more than they have in the past. If it clicks and some magic happens between what we do and the audience, so much the better. But I can't predict that. Nobody can predict magic."