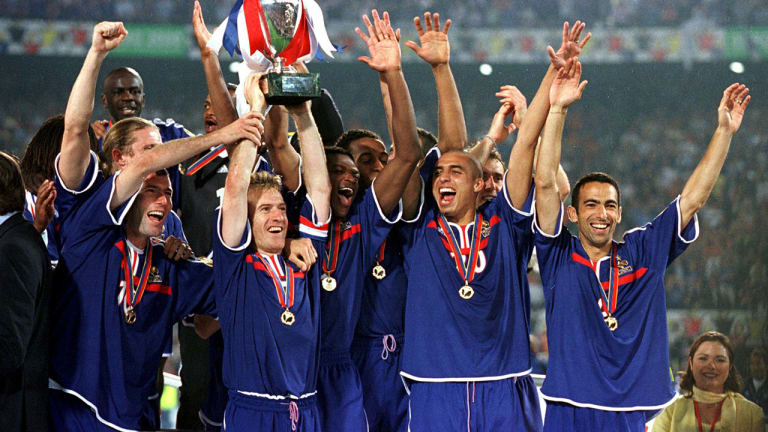 C'est Magnifique!
By winning Euro 2000, well-balanced France joined the elite teams of all time
In France, where strikers are seemingly de rigueur (see truckers, meatpackers, airline workers), it has long been a mystery why Gallic authorities have been unable to find a decent one on the soccer field. At World Cup '98, France somehow won with a crew of forwards as bumbling as Inspector Clouseau, none of whom scored a goal after the first round. Well, the national search can now be called off. At Rotterdam's De Kuip Stadium on Sunday, a goal in second-half stoppage time by Sylvain Wiltord and one in the 103rd minute by David Trezeguet--substitute strikers both--helped lift Les Bleus past Italy 2-1 for the European championship and into a hallowed place in soccer history.
By becoming the first World Cup holder ever to win the European crown, France earned a spot among the best teams of all time, in the category of Brazil's Pele-led world champions of 1970 and the European Cup-winning clubs from Real Madrid (1956 to '60) and Ajax Amsterdam (1971). Indeed, the French fielded a frighteningly gifted and complete lineup at the monthlong tournament played in Belgium and Holland. They had goalkeeper Fabien Barthez, the electric daredevil whose recent $12.5 million purchase by Manchester United made him the most expensive keeper in the world. They had their Four Musketeer back line--Lilian Thuram, Laurent Blanc, Marcel Desailly and Bixente Lizarazu--that with Sunday's victory has gone an astonishing 22-0-4 as a unit. They had rock-solid midfield support from captain Didier Deschamps, Youri Djorkaeff, Emmanuel Petit and Patrick Vieira. Above all they had playmaker Zinedine Zidane, the 1998 FIFA Player of the Year and the most sublime creator of his generation.
The 28-year-old Zidane said he was "at the height of my powers" in the Low Countries, beguiling opponents with his preternatural ability to slow down time as chaos enveloped him. In the World Cup '98 final Zidane scored two goals with his head, but his majesty in Euro 2000 came from his feet, which he used to curl candy-cane free kicks into the net (as he did in a 2-1 victory over Spain in the quarterfinals) and to spin around defenders, ball in tow, as though they were stationary orange cones. "When we don't know what to do," Lizarazu says, "we just give it to Zizou and he works something out."
Yet for all of Zidane's masterly exploits, France would never have joined soccer's alltime elite had it not discovered a front line that could score. For Euro 2000, coach Roger Lemerre assembled an arsenal with ties to Arsenal--Thierry Henry, 22, who scored 26 goals for the English club last season, and Nicolas Anelka, 21, whose $35 million transfer from Arsenal to Real Madrid last year gave him a higher price tag than any player in the tournament. "We're even stronger than we were at the World Cup," Zidane said before the final. "We've had two years to mature, and we have several talented strikers now."
None is more adept than Henry, France's top scorer in Euro 2000 with three goals in six matches. With his sprinter's speed and a nose for the net, Henry should have been playing striker all along but didn't get his chance until a year ago. As a 20-year-old wing midfielder he led Les Bleus with three goals in World Cup '98, but after languishing in that role with the Italian power Juventus, he signed last season with Arsenal, whose French coach, Arsene Wenger, moved him immediately to center forward. "He told me I was wasting my time on the wing and that it would be great for me to play in the middle," says Henry. "I had to trust him, and look what happened."
Henry was reborn. Eighteen months after being dropped from the national team, he rejoined it in March, and at Euro 2000 he finally realized his dream: playing alongside Anelka up front for France. Hailing from neighboring Paris suburbs--Henry from Corbeil-Essonnes, Anelka from Yzelines--the two have been best friends since being selected as 13-year-olds to attend France's renowned national soccer school in Clairefontaine. Each day they would share a classroom with boys from around the country, terrorizing their teachers until it came time to train.
Familiarity has its advantages, so it was no surprise during France's 2-1 semifinal win over Portugal that Henry would deliver the tying goal after Anelka broke free, chased down a through ball and fired a clever back pass. When you've played together since puberty, you just sense these things. "I know when Nico wants to go behind the defense and when he wants the ball at his feet," Henry explains. "I don't even have to look when I give him the ball."
So precocious are their forwards these days--Juventus-bound Trezeguet, 22, and Bordeaux star Wiltord, 26, round out the position--that Les Bleus might suddenly have the world's finest, deepest and youngest batch of finishers. "When you see their ages," says Wenger, "you can only say the French attack has many great years ahead of it."
Yet if Euro 2000 will be remembered for the joy of Frankrijk, as the Dutch call their Gallic neighbor, it will also be known for the despair of Frank Rijkaard. A defender on Holland's 1988 European championship team, Rijkaard, 37, took over as coach of the Oranje two years ago and inherited a dazzling array of creative talent, to say nothing of the crushing expectations that came with it: Win Euro 2000 on your home soil or else.
As the Dutch blitzed through their first four opponents by a combined score of 13-3 (including a 3-2 defeat of France's B team), all of Holland turned into a tangerine dream. One farmer in Arnhem dressed 11 of his cows in orange and outfitted one heifer in dark goggles, a la Dutch midfielder Edgar Davids. Even the Sky High hash bar got into the act, installing a big-screen television, tacking up a poster of the Dutch team alongside one of Bob Marley and offering contraband Euro 2000 T-shirts emblazoned with the slogan of a joint-paper company: DRAAIT ORANJE NET ZO LEKKER (Only Holland Will Roll So Well).
Then the Dutch dream went up in smoke. After slamming Yugoslavia 6-1 in the quarters, Holland choked in last Thursday's scoreless semifinal against Italy, failing to convert two penalty kicks in regular time and botching three more in the tiebreaking shootout. Within minutes of Italy's victory, Rijkaard resigned as coach. "I failed," he said, "and I have to take the consequences."
In Sunday's thrilling final, even stodgy Italy decided to engage in an up-and-down battle with France. As the Azzurri nursed a 1-0 lead into the final minute of injury time, their subs rose from the bench and--certain they would soon be the new European champions--saluted their fans. But when Wiltord raced down the left side and sent a miraculous bullet into the net, Trezeguet's game-winner was almost a fait accompli. After the match ended, golden confetti rained down, and a delirious French fan raised a sign that spoke for a nation: ENCORE!
COLOR PHOTO: THOMAS KIENZLE/AP Christophe Dugarry (left) helped France become the first World Cup champ to win the European title.
"The French attack has many great years ahead of it," says Wenger.