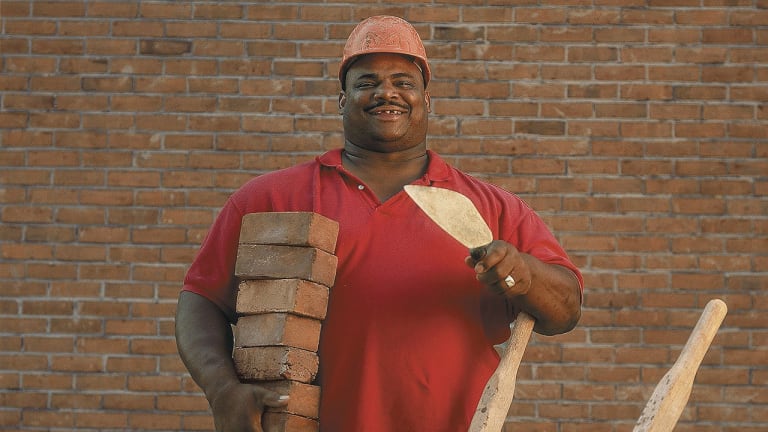 Chillin' With The Fridge
He was the biggest of big stars for the Super Bowl-Shuffling Chicago Bears. So you'd think it would have been difficult for William Perry to leave it all behind. Nope. He's a brick-layin', bass-hookin' picture of contentment
Where is he now, you ask? As William (the Refrigerator) Perry was wont to do with opposing backs, let us turn the question on its head: Where isn't he?
The Fridge is everywhere and inescapable on this vessel, a 29-foot fishing boat which, under normal circumstances, would pass for a fair-sized craft. Those circumstances do not include occupancy by an energetic giant who is monitoring four fishing rods and lumbering periodically across the deck to crack open a fresh can of beer.
On a sultry June afternoon four years after his final football game, the ex-Chicago Bear, ex-Philadelphia Eagle, ex-London Monarch and one-time Super Bowl Shuffler is doing what he most enjoys: "wettin' a hook." Piloting the boat in search of crappie is Perry's father-in-law, Crosby Broadwater, known hereabouts as Mr. B. The Fridge, Mr. B and Mr. B's son Robert co-own a subcontracting company out of Aiken, S.C. The Fridge spends his time bidding on jobs, erecting scaffoldings and laying bricks or cinder blocks. "I like working with blocks the best," he says. "A block just sits more comfortably in my hand."
The 37-year-old Fridge has been laying brick and block ever since he pulled down the curtain on his football career, leaving the Monarchs with two games remaining in the 1996 World League of American Football season and returning to his native Aiken. In that time he has come a long way as a mason. It's been a year or so since Perry has had to "tear one down," as he says—disassemble a flawed wall he's built in order to do it over again. The Fridge is not what you would call a natural for this line of work. The man who must now climb scaffoldings as high as 50 feet has not exactly been wasting away since hanging up his worldwide football pants. Asked about his weight these days, Perry says he doesn't know. Pressed for a ballpark figure on his ballpark figure, he offers 355, which, to a casual observer, seems a conservative estimate indeed. Put it this way: His former self is a shadow of him. "When he comes up that scaffold, you know it," says Mr. B.
Safety is not compromised. Extra attention is paid to ensuring that the scaffolding is sound. "I make sure it's right," says the Fridge. "I tell the guys, if it holds me, then no one else has a problem."
He has become extremely handy with the tools of his new trade. Earlier this summer a snake slithered into Perry's view as he angled in a pond. Alertly seizing his bricklayer's level, the Fridge clubbed the serpent to death, then continued fishing.
Today he and Mr. B have chosen to try their luck in Mr. B's "honey hole" on Lake Thurmond, an hour's drive from Aiken. They have been fishing for a quarter hour when, inexplicably, the boat begins to drift. By walking from the bow to the stern, the Fridge has raised the front of the boat a yard or so out of the water, inadvertently weighing anchor. This earns him a rebuke from his father-in-law, a wiry man with a mischievous grin and a competitive streak, a man who has elevated piscatorial trash talk to an art form.
"I ain't jivin' now!" Mr. B exclaims when a fish strikes his line. "You can't believe I got another hit that fast, can you?" If, while backpedaling as he reels in the fish, he happens to step on one of the size-13EE feet of his son-in-law, Mr. B snaps, in lieu of an apology, "Get out the way if you ain't catching no fish!"
It is all in fun between these two. It always has been, dating to the days when an 11-year-old William—then a waifish 200 pounds—was the scourge of the pool at Aiken's Eustace Park, dunking everyone in sight, lifeguards and his future father-in-law included. William's behavior toward Mr. B improved markedly when he discovered that this man was the father of his classmate Sherry Broadwater, upon whom the hulking adolescent had a correspondingly massive crush.
Sherry returned his affections, to a degree. "I think my daughter liked him pretty good," says Mr. B, "but he ran every other boy away from her. She said, 'I like him, Dad, but he comes over, and the boys just take off.'"
Perry courted in the same style that he played football: without subtlety. What you saw was what you got, and what you saw eclipsed the sun. A schoolboy All-America out of Aiken High, Perry played his college ball three hours up the road, at Clemson. In his senior year he had 100 tackles, the first time in Tigers football history that a down lineman led the team in stops. His ferocity against the run was the trait that made Perry a first-round pick of the Bears and the trait that would enable him to play 10 solid seasons in the NFL. He was a force of nature in the face of running backs, a wrecking ball replete with fast-twitch muscle fibers.
His quickness off the ball, his ability to split the double team—none of that explains how, at 23, Perry became an international sensation, the most publicized rookie in the history of the league. What does explain it? "Bill Walsh started it all," says the Fridge.
Indeed, Walsh, the San Francisco 49ers coach at the time, used 264-pound guard Guy McIntyre as a blocking back on the goal line in the Niners' victory over the Bears in the 1984 NFC title game. Looking on with lacquered hair and constipated expression was Chicago coach Mike Ditka, a man with a short temper, but a long memory. The following October, as the Bears prepared for a rematch with the Niners, Ditka put his spherical rookie in the backfield.
The Fridge had two carries in that game. Neither was on the goal line; neither went for more than two yards. Both times, however, Perry moved the pile as if it had been bulldozed. Eight days later, on Monday Night Football against the Green Bay Packers, the Fridge cleared the way for two Walter Payton touchdowns and scored one himself on a thunderous plunge from the one-yard line. A cult figure was born. Two weeks later Perry caught a touchdown pass against the Packers. As Payton's goal line blocking back he annihilated defenders, causing Bears linebacker Jim Morrissey to say, "Fridge, you're knocking more guys out of the league than the drug policy."
Even his foul-ups were charming. In a game against the Dallas Cowboys, unaware that there was a rule against it, Perry picked up Payton and threw him over the pile and into the end zone. The Fridge was flagged on the play, but no one got too mad at him. Midway through that rookie season Perry was made a starter at defensive tackle. He responded superbly, occluding the middle for defensive coordinator Buddy Ryan's 46 scheme. "William was unbelievably quick," recalls Bears linebacker Ron Rivera. "We had great players up front—Dan Hampton, Steve McMichael, Richard Dent—and Fridge was beating them all off the ball."
But who are we kidding? It was Perry's proclivity for stuffing his face, rather than the run, which netted him 17 commercial endorsements in his first season, flogging everything from fast food to long johns. Here was this good-natured slob, a gigantic black Buddha with one of the alltime great nicknames (courtesy of Clemson teammate Ray Brown) playing both ways for the NFL's most dominant team—and doing it with a bemused, gap-toothed grin.
His appeal would have quickly evaporated had he responded differently to fame, if he had begun to take himself too seriously. It didn't happen. Perry never had the entourage of toadies that so many superstars since have found indispensable. As the 10th of the 12 children of Hollie and Inez Perry, the Fridge had a built-in posse whenever he returned to Aiken—which was as often as he could. His family kept him grounded, humble and happy. "We had fun with it, joked about it," he says of his adventures on offense. "I enjoyed it, and, when it was over, I just went on with life."
When Payton died last fall, Perry made a rare descent into the basement of the 18,000-square-foot mansion he and Sherry built outside Aiken. Rummaging through a cardboard box, he found what he was looking for: a 45 titled Together that he and Payton had recorded shortly after the Bears' 46-10 rout of the New England Patriots in Super Bowl XX. While Payton did not score in that game, the Fridge barreled in for Chicago's final touchdown. There has been talk that Sweetness begrudged the rotund rookie that score, and much was made of Perry's failure to attend Payton's funeral. Perry told The Charlotte Observer he "just couldn't make it up there at that time."
The suggestions that Perry did not get along with Payton and had slighted him by no-showing at his funeral hurt the big man in a way that jokes about his weight never could. Perry says that he and Payton got along just fine, and that he grieved for Sweetness in the privacy of his basement. As he looked at that old album cover picturing the pair of them, "all of that accumulated stuff started to dawn on me, and it touched my heart," he says. "I just stood there thinking, 'It's hard to believe this guy is gone.'" There is irony in the fact that the athlete renowned for his fanatical fitness regimen died before this bulging, oversized former teammate.
Collecting dust along with that record is a copy of The Super Bowl Shuffle, the rap video the Bears recorded before Super Bowl XX. Perry's contribution to that embarrassing period piece:
You're looking at the Fridge, I'm the rookie. I may be large, but I'm no dumb cookie.
Perry did not entirely back up that claim in the years that followed. He vexed Ditka annually, reporting to camp scores of pounds overweight. The farther north of 320 the Fridge pushed the needle, the less effective a player he was. Ditka fined him, publicly humiliated him and all but eliminated his role with the offense. The Fridge carried the ball only once in 1986 and once in '87. Both times he fumbled.
Perry absorbed the fines and the insults with equanimity, only flashing temper when Iron Mike publicly criticized Sherry for allowing her husband's weight to balloon. "I told him," recalls the Fridge, 'You can say anything you want about me, that's fine. You say something about my wife, I got to put you back in your place. Because you got no right to talk about my wife. Whatever she's doing is her business.' He apologized."
Weary of his weight problems, the Bears waived the Fridge in '93. After one-and-a-half nondescript seasons with the Eagles, he found himself in London, where the Fleet Street press delighted in reporting how many stone he weighed, and where he single-handedly doubled attendance at Monarchs games. "It was all fun," said Perry, while discussing the fleeting nature of his NFL fame with a British reporter in 1996. "It came, and it went."
This bad body has always housed this good attitude. "I had some god-given talent," says the Fridge. "I put in 10 years in the league. I'm grateful for that, and I'm happy that it's over. I'm real happy where I am now."
His life is more than full. He and Sherry have three girls and a boy: Latavia, 17, Norie, 14, "Little" William, 8, and Sherria, 3. The Fridge's work is hard and satisfying. If he's put on a few (dozen) pounds since his playing days, Perry still contends that he's in pretty good shape. "You put up six scaffolds, then lay brick all day in 100-degree heat," he says, still smiling. "We'll see what kind of shape you're in."
When he's not working, he heads for the water. "Don't get no better than this," says Perry, sitting on the deck of the boat. A zephyr ripples the water of Lake Thurmond. The bream and shellcrackers are biting. The big man is asked if he misses celebrity and its trappings. Here it comes again, the gap-toothed grin. "This is me now," he says. "Those things you're talking about, that's just stuff in the breeze."
COLOR PHOTO: BRIAN LANKER COVER Where Are They Now? Catching up with sports' great characters (and you thought you'd never see them again) Refrigerator Perry BRICKLAYER, Aiken, S.C.
COLOR PHOTO: PHOTOGRAPHS BY BRIAN LANKER LINE MAN After putting in a hard day of construction, the Fridge likes nothing better than "wettin' a hook."
COLOR PHOTO: BILL SMITH TWO-WAY TALENT Perry was the guts of the Bears' 46 defense, but fame came when he joined the offense.
COLOR PHOTO: PHOTOGRAPHS BY BRIAN LANKER FISHIN' BUDDIES Mr. B, Perry's father-in-law and business partner, keeps the Fridge laughing—and keeps him humble.
COLOR PHOTO: PHOTOGRAPHS BY BRIAN LANKER HEAVY LIFTING The Fridge aims high in his new line of work, putting just as much heft into building a wall as he did carrying a ball.
"We had great players up front," says Rivera, "and the Fridge was beating them all off the ball."
His appeal would have quickly evaporated had he begun to take himself too seriously. It didn't happen.
"You put up six scaffolds, then lay brick all day in 100-degree heat," he says. "We'll see what kind of shape you're in."