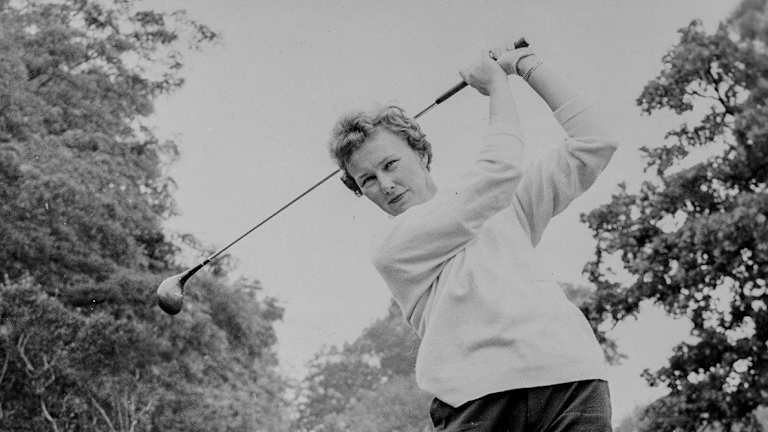 The Queen Of Swing
After dominating golf like no one else, Mickey Wright took her leave. Though she won't let you visit, she's happy to tell you why
All she did was put everything she had into the shot, then move
on. When the football writers, stuck covering golf in their
 off-season, would ask her to go through her entire card--often a
69 or a 68 during her prime, on two occasions a 62--she hated
 it. She couldn't remember the shots, well-played or not. They
 didn't matter. All that mattered to Mickey Wright was the next
 shot.
Bad feet, a chronically injured wrist, 11 pairs of shoes, two
 dozen pairs of Bermuda shorts, seven cocktail dresses, the hopes 
of the sponsors, the demands of the writers, the anxiety before
 teeing off late on a Sunday afternoon--she hauled around a lot
of stuff. But she coped, she coped. From 1955 to 1980 Wright won 
82 times on the LPGA tour, 13 of those in majors. No golfer, man
or woman, has dominated an era the way Wright did hers. No
 golfer ever swung a club the way she did, every part of her
  swing ideal, the sum of those parts perfection. Ben Hogan,
Wright's match in the pursuit of precision, said in 1989, "She
 had the finest golf swing I ever saw."
All the time she knew, as few do, that she was working her way
 toward a final swing. She spent much of her career anticipating 
it and a smaller portion welcoming it. She was a realist.
That final swing came five years ago, and of that shot she has 
total recall. "I was playing in the Sprint Senior Challenge at
the LPGA headquarters in Daytona Beach, in 1995," she said one
 recent morning. She is 65 now. She'd already had her morning 
coffee, smoked several cigarettes and read The Wall Street
 Journal, which arrives at the day's first light, when Wright
rises. "On the last hole, a par-5, I hit a pull-hook drive into
 the rough. The ball was way above my feet. There was water left 
of the green and traps on the right. I used a four-iron. I
wanted to work the heel of the club through the ball and hit the 
inside part of the ball. The ball sailed, nice and high. I liked
 to hit the ball high. I two-putted for a birdie. It was a
 wonderful way to go out." She has not played a round of golf
since.
She is on the phone. Those are the ground rules. You can talk to
her on the phone. You can write her, and she'll write back. But 
you can't see her. She sees the people she wants to see, and she
 doesn't want to see anybody she doesn't know. Wright seldom
leaves Port St. Lucie, Fla., where she lives in a modest white 
stucco house with a backyard that abuts the Club Med Sandpiper 
Sinners Golf Course.
Last January the LPGA celebrated its 50th anniversary with a
 glittering dinner at The Breakers, in Palm Beach, an hour south
 of Wright's home. Virtually every living LPGA star, past and
 present, was there. Mickey Wright was not. She does not do 
dinners, unless they are her own. She eats breakfast at 6:30
 a.m, lunch at 11 a.m. and dinner at 5 p.m. She has her habits
 and her routines, but she does not, she says, wash her hands "50
 times a day." She follows the stock market, plays poker and
 canasta with her friends and spends time with her longtime
 housemate and best friend, Peggy Wilson, with whom she played 
the tour. The house in Port St. Lucie is their second together,
going back 28 years.
Wright also watches a lot of golf on TV. The U.S. tours--the
 men, the women, the old guys--frustrate her. She'll see a poorly 
played chip shot or a lapse in concentration and turn off the
box. She prefers European tour golf, which she regards as more 
varied, rugged and creative, and follows it on The Golf Channel. 
Wright herself shows up on the channel, but only--to the
 frustration of its producers--in clips from the game's past.
"When we started in January 1995, we drew up a dream list of 
guests," says Peter Kessler, the host of Golf Talk Live. "There 
are only two people from that list we haven't had on: Ben
 Hogan--who even then was in poor health and who has since
 died--and Mickey Wright. We've mailed her tapes of my work, had
 people call on our behalf. We've told her she could dictate all
 the terms. Nothing. I would love to ask her, 'What's the most 
important thing in the golf swing?' And then listen to her
answer. That would mean everything to me."
If you want that question answered, she refers you to her book,
 Play Golf the Wright Way, a 96-page classic published by 
Doubleday in 1962 that's still available in its second printing.
 The guts of it may be found in two lines on page 92: "This is my
anodyne for your future in golf. You will be better if you
 practice and you won't be if you don't." The italics are hers.
The last three lines of the book border on haiku:
"I think and do everything just the way I have said.
"It has helped me.
"I hope it helps others."
If you want to know about her life, Wright refers you to another 
book, The Illustrated History of Women's Golf, by Rhonda Glenn.
 The part about Wright is 15 pages and called "Golf's Golden 
Girl." One sentence, in particular, bears repeating: "She viewed
 golf as a form of self-expression rather than a contest between
 people." That pleases Wright, to be portrayed with such economy.
 She despises the limelight. The less time spent on her, the
better. "You never hear her say, 'My swing,'" says Glenn, one of
 the few people to interview Wright extensively. "She always
 referred to 'the swing.'"
When Charlie Mechem took over as LPGA commissioner in 1991, he
 made it a point to get to know Wright. "I just called her up and 
said, 'I'd like to see you,'" Mechem recalls. "'I'm not coming
 to ask you to do a thing.'" He could not have chosen better
words. Had he wanted something, he would have never seen the 
inside of her front door. They struck up a friendship. By 1993,
Mechem wanted to have Wright play in the Sprint Senior
Challenge, but he was too smart to ask. "She's a person who 
likes to lead her life her own way, and you have to respect
that," Mechem says. "The only thing I said to her is, 'It would
be very, very meaningful to the LPGA if you played.'"
"That darned Charlie Mechem," Wright says today, laughing. She
 has a low voice and a slight twang, although she did all her
growing up in San Diego. "I still don't know how he got me to do 
it."
Before that 1993 senior event Wright had not played a
competitive round in eight years. She got out her 1962 Wilson 
Staff irons, hit thousands of balls and played daily for months.
 On her first morning at the 36-hole Sprint Senior Challenge at
 the Killearn Country Club in Tallahassee, when she walked onto 
the practice tee, scores of LPGA players were on hand, eager to
 see the legendary swing and the woman who made it.
"Everybody knew Mickey didn't want pictures taken, so I just
 watched, by myself, trying to take it all in," says Patty
 Sheehan, the Hall of Famer who had never seen Wright in person 
and to this day has not had a conversation with her, which she 
regrets. "I had seen old film clips of her swing. It looked the 
same: very fluid, very powerful--flawless. You could see she was 
in love with golf and dedicated to hitting a golf ball purely. 
She had these old clubs, old as dirt, and it was clear they were
 her best friends. She had an inner confidence. I picked up on 
that very strongly. You knew that ultimately all those wins came
 from something deep inside."
Wright played in that event in '93, again the next year, then 
for a third time, in '95. She hit that four-iron shot on the
 last hole, took her final two putts using the same Bulls Eye
putter she had used in all 82 of her wins, and she was gone.
The truth is, Wright started talking about retirement in 1965.
 One of her confidants then was Lenny Wirtz, the LPGA's 
tournament director. He feels that no golfer did more to
contribute to the growth of the LPGA. "We were struggling to 
find 30 girls to play the tour because we weren't paying enough 
money to the lower spots," Wirtz says. "I said to Mickey, 'I
 want to reduce the winner's percentage of the purse from 20 to
 15 so we can pay more to the others.' The only player it was 
going to affect was Mickey, because she was winning everything.
 She said, 'If it's going to help the tour, I'm for it.' Nobody
knows this stuff. She made sacrifices, put up with all sorts of 
crap: sponsors who threatened to cancel their tournaments if 
Mickey didn't play, writers who treated it like an insult if she
 didn't win their hometown event. She felt so much pressure to
play, so much pressure to win. She'd say to me, 'I can't do it 
all.' She didn't have a life of her own. The people who don't 
know Mickey, those are the ones who say she's a recluse. She's 
not. Mickey's leading the life she wants to lead."
She'll give you hours of her time--on the phone, of course--if
she is so inclined. She'll talk about personal things, her 
father's five marriages, her mother's three. She'll talk about
her one year at Stanford, following a San Diego boy there in 
pursuit of a romance that never worked out. "I thought that
 fellow hung the moon," she says. She'll talk about her pain when
 that boy, Jerry Wood was his name, died in a military-training
 exercise in the late '50s.
She enjoys, particularly, talking about her late father, Arthur ,
a prominent lawyer in San Diego, a poker player, a fisherman, a
 weekend golfer, a smoker, an investor, a horse-track gambler.
 Her father was always doing something adventurous, and he
allowed his only child to come along. Her father gave her $1,000
 when she left Stanford in '54 with the goal of playing the tour,
 which had started four years before. She never needed to go back 
to him for more.
There's no one reason that she dramatically curtailed her
 schedule in the 1970s, no one reason that she didn't show up at
 the splashy LPGA dinner in January. "It's just like my fishing,"
she says. "Caught all the bass I wanted to, and now I don't want
 to catch any more. Been there, done that." She did The Ed 
Sullivan Show when the whole country watched Ed Sullivan. She
got all the acclaim she needed.
She is modest, but not falsely so. "The greatest winners in
 golf--Hogan, Nicklaus, Jones, you might have to think about
 Tiger Woods--they were all great swingers, but their inner drive
was off the charts, too," she says.
"Would you include yourself on that list?" she is asked.
"Yes," she says, not hesitating. "Yes, I would."
She won't play casual golf. The game means too much to her to 
play it casually but also too much to her to abandon it. She
 hits balls almost every day, early in the morning, off a mat on
 her back patio onto the neighboring course, 40 or 50 balls,
 seven-irons that travel 155 yards, 15 yards longer than the 
seven-irons she hit when she joined the tour. One of the rangers
 from the course, a man named Harry Dobbs, goes by, just to
 watch, from a distance. He knows golf. He's a good player. His 
son, a club pro, is an excellent player. Dobbs could watch
Wright make swings all day, but the sessions are brief.
"She's beautiful to watch," he says. "Solid, even, fluid,
 smooth, round, not a wasted motion, no wasted energy. Her shots 
make a great sound, right on the sweet spot, shot after shot.
 She hits it high, with a little draw. It's a picture."
When Mickey Wright is done, she collects her balls and waves to
the man. She gets on with the rest of her day and the rest of 
her life.
"She felt so much pressure to win," Wirtz recalls. "She'd say,
'I can't do it all.' She didn't have a life of her own."