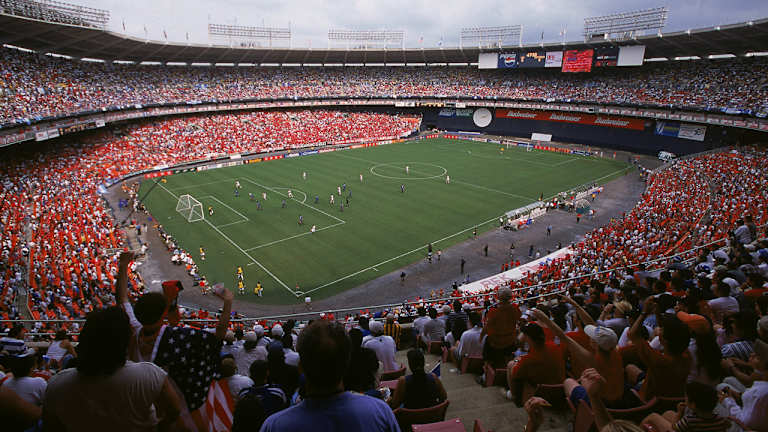 Remember the Mayhem
Unusually boisterous crowd support boosted the U.S. to a win over Guatemala
It was 1:52 on Sunday morning when 15 latter-day Paul Reveres
heard their final marching orders in room 1227 of the Arlington,
Va., Doubletree Hotel. "Let's go!" a bespectacled 35-year-old man
yelled. "Half to the right, half to the left! Let's go!" Just 12
hours before the crucial U.S.-Guatemala World Cup qualifier at
RFK Stadium, the men and women of Project Mayhem set out on their
mission: Wake up the 20 Guatemalan players sleeping one floor
below by making as much noise as humanly possible.
Mayhem, it turned out, was the operative word for what happened
over the next five minutes. The revelers descended the stairs.
Three of the Guatemalan team's security guards closed in. They
got rough. An overzealous one (rumored to be a former Mossad
agent) fired a taser–and missed. As the guards herded the crew
aboard an elevator, one rebel shouted, "Blast it!" Finally,
triumphantly, an air horn pierced the night. "U-S-A! U-S-A!
U-S-A! motherf-----s!" a member of Team Mayhem shouted as the
doors closed.
Police officers escorted participants from the premises (no
arrests were made), and though it was unclear whether a single
Guatemalan player lost any shut-eye, Project Mayhem's leaders
will be able to look back on the U.S.'s 1-0 win with pride. For
years American teams visiting Central America have been bombarded
with batteries, coins, even plastic bags full of urine. When
Guatemala hosted the U.S. for a World Cup qualifier in July, a
radio station announced where the Americans were staying; fans
blared music outside the hotel all night before the game, a 1-1
draw.
Last week, for the first time, U.S. fans returned the favor,
using the Internet to organize a dirty tricks campaign worthy of
the nation's capital. Yes, that was a handful of rabid Yanks who
welcomed the Guatemalans at Reagan National Airport with derisive
chants and flags bearing the Revolutionary War-era slogan DON'T
TREAD ON ME. Yes, that was deejay Elliot Segal on WWDC urging
listeners to "go to the Doubletree and piss on a Guatemalan
soccer player." (Thankfully, the hotel lobby remained a
micturition-free zone.) And yes, that was a tiny middle-aged
woman who pulled alongside the Guatemalan team bus at practice,
honking her horn and maniacally waving the Stars and Stripes.
What's more, after trying for years to cultivate support among
this country's Hispanic soccer fans, only to endure pro-Mexican
crowds in Los Angeles or pro-Guatemalan throngs in Washington,
U.S. organizers finally gave up and used their own guerrilla
tactics to isolate the enemy. D.C. United, which bought the
rights to market the U.S.-United doubleheader, shrewdly held
back all 23,000 tickets for RFK's lower bowl, giving 7,500 of
them to United season-ticket holders and sending applications
for the rest to more than 100,000 households tied to area soccer
associations. Guatemalan fans not in those two groups were stuck
in the nosebleed seats. "You can't control who buys tickets
necessarily," says U.S. coach Bruce Arena, who helped organize
the chicanery, "but you can control how the seats are allocated."
The plan seemed preposterous–draw a pro-U.S. sellout crowd of
51,996 on the same day that the Washington Redskins opened their
season 15 miles away in front of 80,657 fans–and yet somehow it
worked. Wearing blood-red shirts, Yankee-backers filled RFK's
lower tier and generated what may have been the loudest noise
ever in support of the U.S. men. "For a long time Sam's Army has
been out there for us," said forward Brian McBride afterward,
referring to the small but loyal U.S. fan group. "But today when
we walked out on the field, the lower bowl looked like everyone
was in Sam's Army. That was pretty cool."
By scoring the winning goal midway through an increasingly tense
second half, McBride served further notice that his new
partnership with forward Joe-Max Moore is here to stay. In their
two games together, the hard-working pair has combined to score
four goals and revitalize the U.S. attack. "They're a combination
you have to deal with for 90 minutes," Arena says. "They don't
put on the brakes, they create a lot of chances, and they put
themselves in the right positions on the field."
Once in last place in their four-team group, the Americans now
need only one win in their remaining two matches to be among the
six teams that advance to the final round of regional qualifying
next year. Sunday's victory was just a sign of the changing
times, as Guatemalan midfielder Martin Machon found out in the
wee hours before the game. "I woke up to go to the bathroom at
three in the morning, and there were a couple of guys in the
hallway yelling, 'U-S-A! U-S-A!,'" he said, shaking his head.
"That's never happened to us here before."
If Project Mayhem has anything to say about it, it won't be the
last time, either.