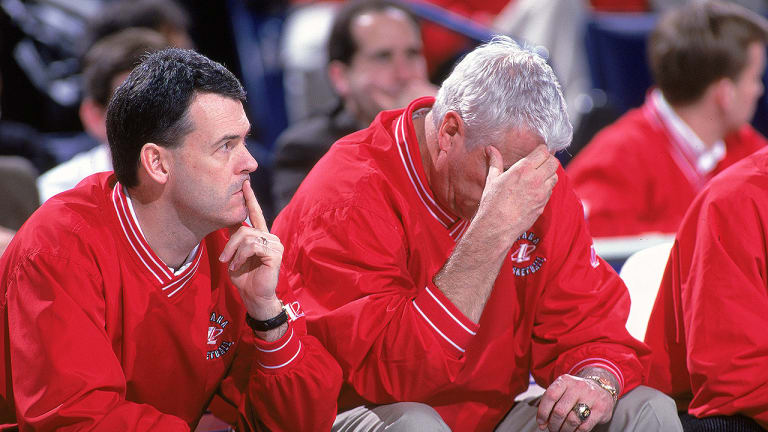 Knight Fall
Bob Knight's controversial 29-year reign at Indiana came to an ironic end when he gave a student an unmannerly lesson in manners
It was a flip remark, tossed off for reasons unclear even after the extraordinary events of last weekend had played out. Maybe he meant to be a provocateur. Perhaps he was indulging in nothing more than a moment of youthful bravado, trying to impress four buddies who had gone with him to Assembly Hall on the Indiana campus early last Thursday afternoon to buy football tickets. In any case, when Kent Harvey, a twitchy 19-year-old freshman, spotted the Hoosiers' basketball coach, he said, "Hey, what's up, Knight?"
Harvey and his friends say Bob Knight grabbed Harvey by the arm, dragged him aside and, according to one member of their party, said, "Show me some f------ respect. I'm older than you." Knight says he lightly touched Harvey on the arm, never used profanity and was only trying to teach a lesson in "manners and civility" that any adult might offer.
But Knight had long ago turned in his adult card. He once told an arena full of people that his critics could "kiss my ass." He threw a potted plant against a framed picture in the athletic department, causing a secretary to be hit by flying glass. He verbally and physically intimidated and harassed players, colleagues, referees and strangers. After a university investigation brought on by a videotape that surfaced last spring of Knight's hand thrust to the jugular of former player Neil Reed, Indiana president Myles Brand warned Knight that a new "zero-tolerance policy" would subject him to immediate dismissal if he were to slip up again. One stipulation of the zero-tolerance guidelines held that "any verifiable, inappropriate physical contact...with members of the university community...will be cause for...immediate termination." So on Sunday afternoon, in announcing that Knight had been fired, Brand insisted that it really wasn't his decision to end Knight's boisterous tenure in Bloomington after 29 years, but Knight's.
"It was the ethical and moral thing to do, to give him one last chance [in May]," Brand said. "The fact is that having given Coach Knight one last opportunity, he failed to take advantage of it." Indeed, during Sunday's press conference Brand sounded at times like an apostle of some new math that requires an accumulation of missteps to breach a threshold of zero tolerance. Since he had last assembled the press in Indianapolis on May 15, there had been "many instances," Brand said, in which Knight had been "defiant and hostile" and otherwise demonstrated that he had "no desire, contrary to what he personally promised me, to live within the guidelines."
Knight, Brand said, had demonstrated continued "unwillingness to work within the normal chain of command." Not once since pledging to change had Knight spoken to athletic director Clarence Doninger, whom he physically threatened after a game last Feb. 19, even though Doninger had sent word through intermediaries that he wanted to start anew. Indiana had gone so far as to recruit a retired vice president of the university, Ed Williams, with whom Knight was friendly, to act as a go-between with Doninger. "I was willing to meet," Doninger told SI. "[Knight] was not willing."
Indiana couldn't have been more accommodating in how it imposed the sanctions announced last spring, which included a three-game suspension and a $30,000 fine. Instead of laying down the law, the school allowed Knight to negotiate which games he would sit out, and the two sides finally agreed on the final two games of the regular season and the first game of the Big Ten tournament. Yet not before Knight met the administration's deference with enough disdain that Brand pronounced him "uncooperative."
Further, Brand said, Knight had made several public and private statements that embarrassed the university. The president didn't elaborate, but in a press release a week earlier Knight cited "the nebulous guidelines of the zero-tolerance policy" as his reason for refusing to teach a coaching course he had taught for years.
The most serious incident occurred at the end of July. Knight and the university administration had a range of business matters to discuss--including a mess of Knight's own making: a lawsuit by former Indiana assistant Ron Felling, who claims that while firing him last December, Knight violently pushed him up against a wall. Dorothy Frapwell, the university's general counsel, and another attorney met in Knight's office to discuss this and other matters. When the subject turned to his $30,000 fine, Knight, according to Indiana spokesman Christopher Simpson, "became enraged. He was profane. He was rude. And he was intimidating."
If Knight had any chance of surviving despite all these episodes, that possibility disappeared last Friday when he blindsided the administration by holding a press conference to offer his version of the encounter with Harvey. At 10:30 p.m. Brand phoned Knight at home and discovered that Knight had booked a fishing trip to Canada for the following morning. Brand made it clear that this wasn't the time to be leaving town. Knight went anyhow, committing one last transgression that Brand described as "gross insubordination."
Early on Sunday morning Brand phoned Knight and offered him a choice: He could resign or he would be fired in accordance with paragraph 9 of his contract. "Coach did say he did not believe he did anything wrong," Brand said of their 10-minute conversation, in which Knight declined to quit. "He did try to change my mind. He talked of his success at IU and that he would try harder in the future."
Brand was unmoved. In the end, after years of incidents that had already been found to constitute "a pattern of inappropriate behavior," it was a relatively innocuous episode—not, said Kirk Haston, the Hoosiers' junior center, "a blip on the radar"—that brought down Knight.
To hear Brand enumerate all the instances over the summer that hadn't yet come to light raised a question: Would Knight still be employed if Harvey hadn't gone public about his run-in with the coach? Brand conceded he might. "If that were the only instance that took place, we would not be here today," he said, "but in my estimation, in a short period of time, we would have been."
Brand cut a very different figure from the man who seemed so wishy-washy while announcing last spring that Knight would stay. This time he often sounded like a disappointed parent who adopts a tone of "this hurts me more than it will hurt you." But if Brand seemed to be diminishing the importance of the Harvey incident as he listed Knight's transgressions, he may have been doing so to take the onus off a suddenly vulnerable student on his campus. "This young man has been caught up in events well beyond his own personal responsibility," Brand said.
Many Bloomingtonians were unwilling to spare Harvey the blame for Knight's exit. Of all the undergraduates who might have crossed Knight's path, Harvey turned out to have a uniquely troublesome pedigree. He's a stepson of Mark Shaw, a Bloomington author, lawyer and radio personality who had regularly criticized Knight on a talk show until deciding to give up the program in July because, he said, his stepsons—Kent Harvey is a triplet—were about to enroll at Indiana.
Shaw says he and Harvey wanted only an apology from Knight, not his head. But after Sunday's announcement, an estimated 4,000 students marched on Brand's campus residence, Bryan House. Though much of the crowd was as festive as it was angry, alternating chants of "We want beer!" with "F--- Kent Harvey!" the protesters burned the president in effigy on his own lawn while police in riot gear looked on. Meanwhile Harvey was receiving death threats, and his home phone number and class schedule were posted on a pro-Knight Web site. As of Sunday he was no longer on campus and had been offered police protection. Harvey may eventually get an Indiana education, but for the moment it isn't likely to consist of much more than private tutorials with English professor Murray Sperber—a Knight critic currently on leave because of threats to his safety from Knight supporters—at Indiana's Elba campus.
On Sunday evening Knight returned from Canada and met with his players in an emotional session at Assembly Hall. They were still in a state of shock, and several spoke of transferring. (On Monday, junior guard Dane Fife announced that he would do so at Knight's urging, but seemed to reconsider after the players had a meeting with Doninger.) But as Harvey demonstrated, young men sometimes say ill-considered things. It appeared that Indiana could probably avoid mass defections if the school retained assistants Mike Davis and John Treloar, which Doninger says he is considering. A source close to the team says that Knight offered to take all his assistants with him to another campus in 2001-02, when he expects to be coaching a big-time college team again, and Davis told a Birmingham radio station that Knight had offered to pay his salary for the forthcoming season. Late Sunday night, outside Assembly Hall, Knight used a bullhorn to thank a crowd of students for their support and promised to hold a rally this week to give his side of things. (Knight did not respond to SI's request for an interview for this story.)
"This is a sad day," Doninger told SI on Sunday. "After Myles made his decision in May and I reflected on it, I realized it was Solomonic to give a guy who had done a lot of good things one last chance. But the atmosphere hadn't changed, even after Myles had gone out of his way—and been much maligned for it—to give Bob another chance. I genuinely hoped it would work. Myles did too. That's why he's so disappointed that it didn't."
Normally we applaud constancy of character. We're suspicious of the protean man who sways with each situation. And in large part Knight owed his success to an unbending nature. His doctrinaire approach as a coach won him many games, even if the victories came less regularly as the years wore on and the world around him changed and he didn't. But Knight was unbending in every other sphere of his life as well, from demanding that his players go to class to acting any way he chose as long as he believed he was in the right. Brand actually expected him to adopt qualities he has never had—the very qualities that in a twist made last week's drama appear to be lifted from the Greek canon. Knight had the hubris to try to teach a freshman last week something he had never learned himself.
Would that we all learn "manners and civility." Would that, someday, Bob Knight learns them too.