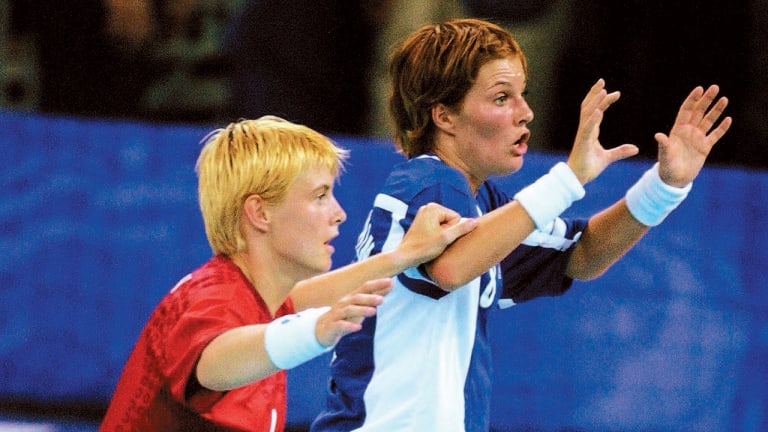 In Love and War
Team handball stars Camilla Andersen and Mia Hundvin are the first spouses ever to oppose each other in the Games
I've lost tally, but there must have been a million hugs here these last two weeks. No matter where you turned, on ballfields and courts and tracks all across Sydney, there stood moms or husbands or sisters, teammates or competitors or coaches, waiting on the side with open arms for these 10,000 maniacs chasing 300 pieces of gold and squeezing them in ain't-this-awesome winners' hugs or I'm-so-sorry losers' hugs—a few of them obligatory, most of them as pure and powerful as a baby reaching out in the middle of night, but none so complicated as. . .
Well, imagine it. You've just lost in the biggest moment of your life, on the biggest stage of your life. You need a shoulder to cry on, and for god's sake, there's your spouse a few feet away—but you can't go near each other. Finally, when it's all over and no one's watching, you crawl into bed and close your eyes, and the person you reach out to for solace—is the one who just beat you, the one wearing your gold medal.
On the second day of the Sydney Games, a married couple competed against each other for the first time in Olympic history. You probably didn't notice, but legions in Norway and Denmark did. They'd been awaiting it for months.
It all began in the midst of that shocking news in Denmark last January about a lunatic who chopped a mother and her two children to pieces. Of course, that wasn't quite as shocking as the lead tabloid story that day, about the female superstar of Danish team handball falling in love with the female superstar of Norwegian team handball. Certainly, when that Russian submarine went dead last month, entombing 118 sailors at the bottom of the Barents Sea, that was a big story too. Nearly as huge as the one that muscled it off the front pages in Copenhagen, about the two lesbian handball heroes' desire to have a child one day through artificial insemination.
Somehow, by luck or by Lucifer, the two countries that dominated women's handball for the last half decade and the two stars who shared the same sheets would square off on their first day of Olympic competition, Sept. 17. Sure, Scandinavia is renowned as a land of live-and-let-live and its people as among the world's least sexually straitjacketed. But even they couldn't resist this.
That Camilla Andersen, the 27-year-old Danish scoring machine who finished second in balloting for the world's best female player last year, found herself in such a predicament was fascinating, yet not quite shocking. Camilla, after all, had been introduced to tabloid front pages as the lover and second fiddle to handball legend Anja Anderson after they led Denmark to the 1996 gold medal in Atlanta. But that 23-year-old Mia Hundvin—the gorgeous little Mia chosen by a Norwegian magazine as the country's sexiest woman last year, the Mia who had both a boyfriend and a stalker calling her regularly (the latter, she told the media in 1998, phoned to describe precisely how he would make her "scream with happiness")—would end up in Camilla's arms and in her Olympic path, well, that certainly made it worth bolting out of bed at 7:30 on an Oslo Sunday morning to see them clash.
To defeat the favored Norwegians, Camilla would have to be at the top of her knifing, leaping, whiz-bang shooting game. Smaller than most of her foes at 5'6", Camilla loved to lurk back, just off-center, reading the moment with her pale blue eyes, then letting loose the instincts passed on by a father and mother who both played for the Danish team. Suddenly she would charge, seize a pass from a teammate on the run and gun it past a stunned goalkeeper.
Mia is smaller still, a 5'4" winger with water bug quickness and a duffel bag of unpredictable shots, such as her one-bounce spinning "banana shot." She put those same sudden surprising twists on her life: one day a raven-haired bartender in a disco, then a blonde archaeology student, then a red-haired, tattooed media major. Mia's impulsive gusto was what pulled Camilla to her last year when their acquaintanceship abruptly transformed—apparently at a test Olympic competition in Sydney—into love.
They decided last spring to live in Copenhagen, where Mia could work toward a degree in TV and film studies while they played for a local handball club, Frederiksberg, and where they might disappear more easily than in Bergen, Mia's smaller and less worldly hometown. Almost instantly, Mia became the second-most-targeted subject on the website of the Copenhagen newspaper Ekstra Bladet, a little behind sex but a little ahead of Anna Kournikova. Three months ago Mia and Camilla quietly married, signing documents as "registered partners" in Copenhagen's town hall; it took the hounds all of a few days to find out.
All through the long buildup to their first-round Olympic match, Camilla and Mia wrestled with a dilemma. Should they cloak their love and live a lie, or shout it from the rooftops? Should they agonize over people's perceptions or tweak and tickle them? Mostly they did all of that, making two countries scratch their heads over questions about sexuality, parenting rights and media ethics.
During player introductions for an international touring Dream Team on which both women played this summer, they staged a skit. To the tune of I Want It That Way, Mia strode onto the court escorted by a man, Camilla dropped to one knee before her as if proposing marriage, then Mia delivered a flying kick, flattening her "beau," and pogoed into Camilla's arms. Perhaps you had to be there.
One day they would threaten to boycott the media and even quit their sport as they begged journalists to stop blaring their private life. The next day there would be Camilla on a magazine cover, making bold pronouncements. "I am crazy about Mia, and I am proud to be married to her," she told Denmark's Tjeck magazine in a cover story last month. "On one hand, I want to shout it out to the world, and on the other hand, I do not want to see myself on the front pages. . .I would never dream of provoking other people by, for example, kissing in public. I have learned to live with it, that some people do not accept that two girls can be lovers. . .I find it unbelievable that we in an enlightened society like Denmark's can have a strange limitation preventing two girls or single women from having children. [Mia and I] do not worry much about that, though. One also crosses the road once in a while when the light is red."
But the overriding question, as the ramifications of sleeping with the enemy began stirring in the Scandinavian psyche, remained the Olympics. Egad! Would Mia and Camilla play their hardest, knowing that one's ecstasy must come at the other's angst? The question astonished Mia, whose putter became a hammer on each hole that she failed to ace in putt-putt wars with Camilla. Even as an eight-year-old, she had turned decks of playing cards into shrapnel when she lost to her dad, and had insisted that her parents transfer her out of a private school because it didn't give grades—Mia had to have scoreboard. "The more you know someone, the more you want to beat them," she cries, her fist smacking her palm. "It's like when you play your wife in cards—don't you want to [smack!] beat her?"
But what about loose lips, the press demanded, a concern fueled by an erroneous report that Norway's coach feared Mia would spill team tactics to Camilla. "We don't even talk about handball," says Camilla. "Besides, both teams already know each others' tactics very well."
But, gosh, shouldn't precautions be taken to keep them apart in the Olympic Village? "We become happier and better players if we can be together," Camilla told reporters back home. "Of course, that will only be in appropriate times."
No one slammed them publicly. Mankind, at least in its northernmost outposts, seemed to have climbed a rung or two, past damnation, but not beyond titillation. Mia grew afraid to buy a newspaper, fearful of the next sensational story. "It screws with your mind," she says, "but I'm sure I'll see things much clearer when I'm older because I have gone through all of this."
Camilla wasn't so sure. "It's getting deeper and deeper," she says. "It hurts. We both have good families that we've stayed close with. If I was Marion Jones, making millions of dollars, it would be worth all this. But I'm not."
A few days before the Games, at which both women had vowed not to discuss their marriage, the Danish Olympic Committee noticed that mention of the women's relationship had sneaked into Camilla's bio file on the Olympics computer service. They demanded its removal, the Sydney Organizing Committee refused, but the IOC stepped in and censored the file: What if 15,000 journalists showed up for a first-round team handball match?
In the end, that's how the two women felt anyway, as if the eyes of the world were drilling holes in them. Surely, Camilla kept thinking, her numbing self-consciousness would dissipate a few minutes into the game, her 200 games' worth of experience on her national team would kick in, and the action would sweep her off into the same mindless stream of motion, instinct and sweat that it had since she was a little girl. But it never did.
She and Mia knew they would trip a machine-gun burst of cameras and land mines of ink if they neared each other on the court, and so they hardly ever did. "I worried about everything I did out there," Camilla said after the game. "What should I do, what should I say? Should I go hit Mia to prove they're wrong? I should be able to control this by now, but I can't. You can't control feelings. I felt like I was here and my body was over there. I felt the cameras on me like a hawk. I played the worst game of my life. I just want to have the feeling of playing like a child again."
Camilla converted only three of 14 shots. Mia vanished for long stretches and made one of three attempts. Denmark lost a tense, physical struggle 19–17, and Camilla had to sag to her seat and watch, from the corner of her eye, Mia celebrate with her teammates. In the game they'll remember the rest of their lives, both felt like strangers, to each other and themselves. "Someday we will joke about this," said Camilla. "Maybe Christmas."
Crawling into her single bed that night in the athletes' sparse lodgings, a three-minute walk from her spouse, Camilla held furious conversations with herself. Then she exploded for 14 goals in the next two games as Denmark tried to claw its way back into this Sunday's final—probably against Mia and Norway. Until then, neither woman would really know how it felt to be hugged by her Olympic vanquisher.
But by last Friday, the Games' seventh day, they had decided not to tiptoe around each other in public. When they appeared together at the Norway-U.S. beach volleyball match, a journalist from Oslo's Dagbladet spotted them, his photographer fixed his lens on them as Camilla gave Mia a peck on the chin. . .and you know what happened next.
No, you don't. The editor of Dagbladet chose to kill the picture and the story, and no matter what you've seen or heard on the news, that was the most astonishing upset of the 2000 Summer Games.