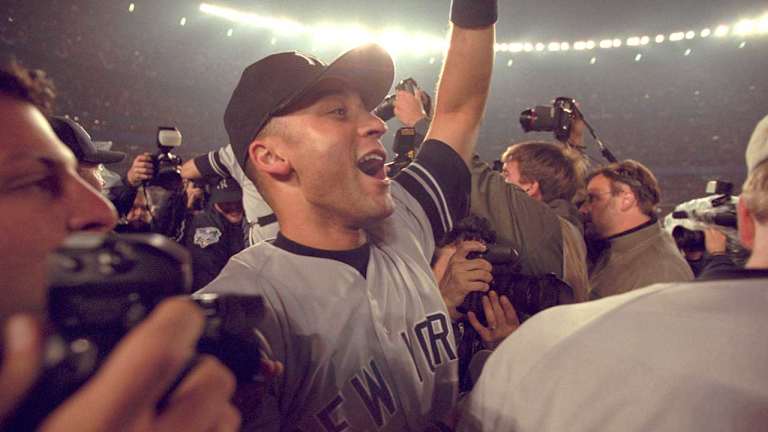 The Toast of the Town
After leading the Yankees to another World Series title, cool yet fiercely competitive Derek Jeter owns Yankee Stadium--and the rest of New York City--the way no player since Joe DiMaggio has
"Where are my parents? Where are my parents?"
In and out of spikes, New York Yankees shortstop Derek Jeter moves like silk billowed by a breeze. Goodness flows all around him. He's perpetually light on his feet, even as bedlam spills like the champagne in and around the dank hallways of Shea Stadium early last Friday in the afterglow of--goodness!--the Yankees' fourth world championship in Jeter's five full seasons in the big leagues. At 26, he has already been enriched with a lifetime's heaping portion of success.
"Mr. Jeter, this is the police commissioner. Would you like a picture [with him]?" asks a police officer outside the Yankees clubhouse, introducing Jeter to Bernard Kerik, the new commissioner of the New York City Police Department. The hallway is a gridlock of people. Jeter, the champagne still dripping from his uniform, flashes his golden grin, as if he is lit from within like a paper lantern.
"I've got a couple of parking tickets I'd like to talk to you about," Jeter says as he glides past the commish.
Smooth. Kerik laughs. "We'll talk," he says.
Jeter doesn't linger. "Where are my parents? Find out where they are," he says to a Yankees security official, who squawks into his radio to another official.
Every time Derek plays a baseball game attended by his parents, Charles and Dorothy of Kalamazoo, Mich., he must know where they are seated. Before the first ball is put into play, he catches their gaze and gives them a wave of his hand. He must know where they are after the game, too. On this night, before the Yankees' 4-2 Game 5 victory that clinched the World Series, Jeter found them in their distant seats high above third base. Afterward, in the madness, he cannot locate them. Then the radio answers, "Right by me. On the field."
Jeter skips along the creaky wooden runway that leads through the darkness under Shea's field-level seats to the dugout. To no one in particular he says aloud with a sigh, "Oh, man. If we'd lost this, I was moving out of town. Gone!" He bolts up the dugout steps, where he finds his parents standing on the warning track. He gives them each a kiss and a long, tight hug.
"MVP! MVP!" A large knot of fans behind the Yankees dugout begins serenading him with the latest of his many honorifics. Jeter had at least one crucial hit or play in each of the Yankees' four wins in their defeat of their crosstown rivals, the Mets, earning himself the World Series MVP award. It will make a nice bookend to his All-Star Game MVP award. No other player has ever won both awards in the same season.
Jeter tosses several championship caps into the crowd. Then he dashes back toward the clubhouse, heaving his jersey for safekeeping at a friend in the corridor. He will give it to his mother as a gift.
After showering, Jeter puts on a silvery gray, windowpane suit with a gray silk T-shirt underneath. The man is impervious to wrinkles. He walks out of the clubhouse and down a long, curved hallway that empties into the visitors' bullpen in leftfield, where New York City mayor Rudy Giuliani is playing catch on the back mound and tenor Placido Domingo is dodging manure deposited by horses of the mounted police. Domingo excitedly greets Jeter. "I called it! Your home run!" says Domingo, who keeps stride with Jeter as the shortstop walks along the warning track toward an open gate in the centerfield fence. "I turned to the mayor's son, Andy, just before you hit it. I said, 'Derek's going to hit a home run!' I did! I called it!"
"Wish I knew," Jeter says, smiling.
"Watch the manure!" yells a security official. "You might want to stay off the track. There's a ton of it."
"Nah. No problem," Jeter says.
As he walks out the gate, Jeter is saluted with a polite ovation from several laborers who are taking apart scaffolding. One of them yells, "Derek, you're spoiling us!"
There, behind the giant black centerfield background for hitters, Jeter slips into a white stretch limo that whisks him to a private party at One51, a Manhattan club. The club has velvet ropes and bouncers behind them. The place is an elbow-to-elbow hothouse of smoke, body heat and music so loud you can feel your heart quake. Hardly anyone dances, though. Jeter is ensconced in the inner sanctum, a raised area next to the dance floor. Almost everyone is turned toward him in a kind of homage that spookily resembles idolatry. Women try to push and lie their way past the no-necked, square-headed keepers of the last velvet rope.
Teammates David Justice, Denny Neagle and Luis Polonia are there too, but nobody pays them much notice. When Jeter walks across the dance floor to the raised area on the other side, the simple act takes on the complexity of a military maneuver. The men without necks part the room, either commanding people to move out of the way or just shoving women. But, hey, what's a little humiliation in the name of idolatry? One woman, drinking her money's worth, boasts that she paid $12,000 to reserve one of the few tables in the inner sanctum.
Jeter is a wallflower, a bit uncomfortable with the size of the crowd but enjoying the beat of the music and the company of close friends. Mostly, while standing on a long sofa against the wall, he chats with his sister, Sharlee, and his steady, Lara Dutta, who hails from Bangalore, India, and who happens to be Miss Universe. Others, including Justice, also lean against the wall, the better to survey the room. Friends come and go with their congratulations. Jeter offers them flutes of champagne, though he takes none for himself. It will be 5 a.m. by the time he leaves, with television cameras still waiting out front to get a glimpse of him and the other Yankees.
This is the night Jeter's status as a baseball icon has become official. Never mind One51. An athlete can play no bigger room than the domain of Yankees baseball. Right now Jeter owns the room.
Once upon a time there was a man named DiMaggio who played baseball with such graceful ease that people swore they'd never see his like again. DiMaggio was, above all, a winner. His Yankees--and, yes, the New York teams from 1936 to '41, the Clipper's first six seasons in the major leagues, were known as DiMaggio's Yankees--won 598 games, approaching 100 a year, and failed to win the World Series only once.
It's in DiMaggio's footsteps that Jeter walks proudly and gracefully. The rare modern player who has never tried creatine or yearned for muscle mass, the 6'3", 195-pound Jeter has the smooth carriage and angular build of a baseball player from DiMaggio's era. Jeter, above all, is a winner too. His Yankees--and, yes, this dynasty will go down as Jeter's Yankees--have won 487 games, approaching 100 a year, and have failed to win the World Series only once. Over five postseasons they have played .754 baseball, going 46-15. Only one other team in history besides DiMaggio's Yankees (who won consecutive World Series from 1936 to '39) and Jeter's Yankees has won as many titles in a five-year span, and that club, the 1949 to '53 Yankees, did it while the torch passed from DiMaggio to Mickey Mantle in '51, midway through its unmatched run of five straight championships.
"I met him a couple of times when he came out to the Stadium," Jeter says of DiMaggio, "but I never had a conversation with him. I shook his hand, said hello, but I was too much in awe to talk to him."
Now Jeter is DiMaggio's worthy heir, in style and in numbers. In regular-season and World Series play, DiMaggio scored 625 runs through his fifth full season. Jeter scored 623. DiMaggio had 994 hits. Jeter had 1,034. DiMaggio played in 19 World Series games over his first five seasons; his Yankees went 16-3. Jeter played in 19 World Series games, too; his Yankees went 16-3. Jeter hit for a higher World Series batting average (.342) than did DiMaggio (.304), while producing more of New York's offense than Joltin' Joe: From 1936 to '39, DiMaggio scored or drove in 21 of the Yankees' 113 runs in the World Series, or 19%; from 1996 through 2000, Jeter was responsible for 22 of New York's 85 Series runs, or 26%.
Through five seasons the ring count is all even. Jeter keeps his rings locked away at his home in Tampa. Once after each season he will take them out to study them. "Each one tells a different story, like chapters in a book," he says. "Starting in November, when you begin to work out, through October you devote a whole year to do one thing: to win. That's all that matters. This is the way I've always looked at it: If you're going to play at all, you're out to win. Baseball, board games, playing along with Jeopardy! with my friends. I hate to lose."
Jeter seemed destined for greatness. He shares a birthday (June 26) with Abner Doubleday, the mythical inventor of baseball. On the day the Yankees' front office gathered to talk about its top pick of the 1992 draft, Jeter's name came up, and one of those present said, "Jeter? Isn't he going to Michigan?" There was a moment of silence. Then Dick Groch, the scout who signed Jeter, said, "No. He's going to Cooperstown."
Says Reggie Jackson, the original Mr. October, "In big games, the action slows down for him where it speeds up for others. I've told him, 'I'll trade my past for your future.'"
Jeter always has played with a cool assuredness beyond his years. In 1996, at 22 and in his first World Series, he told manager Joe Torre during a meeting on the mound in Game 4, when the Yankees trailed the Atlanta Braves 6-0, "Don't worry. We're going to win this game." The Yankees did, 8-6, the second of 14 straight World Series wins, a record that Mets manager Bobby Valentine last week said will stand longer than DiMaggio's 56-game hitting streak.
"This kid, right now, the tougher the situation, the more fire he gets in his eyes," Torre said before Game 5. "You don't teach that. It's something you have to be born with. His parents are a big part of that."
Says Jeter, "I try not to change anything in the postseason. I don't like to say you focus more in the postseason, because that sounds like you're focusing less during the season. But in the postseason you are more focused. You can't help it. Every pitch, every grounder, every inning means more.
"Now, what I try to do is keep it simple, treat it like a regular-season game. Obviously you're going to have more butterflies. But I don't feel like I act any differently because it's the postseason. What I'm proud of is that I try to stay on an even keel. That is something I learned from my parents."
He has been making these Yankees his team for years, but it was on Sept. 29, two days before the end of the regular season, that he stepped forward like never before. Torre held a pregame meeting that night, with the Yankees reeling from 12 losses in 15 games. He ended his short talk by saying, "Does anybody have anything to say?"
Silence hung in the air. Then Jeter stood and addressed the team as a whole for the first time. "Everyone is trying to do too much," he said. "We've always won because guys just did their jobs, and if they didn't, they knew the next guy would get it done. We've always used 25 guys to win. We have to get back to that. People have got to stop trying to do it by themselves." No one else added a word.
This World Series elevated his stature, especially because of what was at stake. In the days leading up to the Subway Series, Mets fans jammed on their car brakes if they saw him exit his Manhattan apartment and shouted, "Jeter, you suck!" Yankees fans would tell him, "Whatever you do, don't lose to the Mets."
"We had a lot to lose," Jeter says. "I'm serious: I would have moved right out of the city if we'd lost. You could have taken our three rings and thrown them out the window, as far as Yankees fans were concerned. I'm glad I played in a Subway Series, but maybe once is enough."
Jeter admitted to bouts of nervousness in this Series, during the times he played shortstop on Shea Stadium's notoriously awful infield. The field is so bumpy that Jeter would tell coaches to quit hitting him practice grounders before games. "You'd start getting scared and lose your confidence," he says. "I'll tell you, they need to cut Bill Buckner some slack. I was out there thinking, You can strike out, get picked off, do anything, but don't let a ground ball go through your legs. I was going to get down and block it if I had to." Characteristically, Jeter didn't make an error in the Series and hasn't committed one in the Fall Classic since '96.
Jeter helped mightily in every Yankees win. In the pivotal play of Game 1, a 4-3 nail-biter that the Yankees won in 12 innings, he threw out the Mets' fleet Timo Perez at the plate in the sixth inning with a spectacular off-balance throw from near the foul line in shallow left. In Game 2 he scored what would be the deciding run in a 6-5 win after he doubled with one out in the eighth inning. He led off Game 4 with a home run off righthander Bobby J. Jones, staking the Yankees to a lead they never lost in a 3-2 victory. He tied Game 5 at 2-2 in the sixth inning with a homer off lefty Al Leiter.
That game stayed even until the ninth. Leiter, working with two outs and two strikes on Jorge Posada, could not put him away. Posada fouled off two pitches, took a ball, fouled off another pitch and took ball four on the ninth pitch of an at bat that drained the last of Leiter's energy reserve. He'd thrown 138 pitches. He would never get that third out. Scott Brosius singled and then, on Leiter's 142nd pitch, so did Luis Sojo.
"A 15-hopper," Leiter lamented. The ball wiggled past Leiter and two diving infielders like a pedestrian crossing midtown traffic in the middle of a block. Posada slid home, and when the throw from centerfielder Jay Payton caromed off Posada's thigh and into the Mets' dugout, Brosius scored, too.
Jeter would make one more contribution. The denouement of the Series happened to be a clash of titans: righthander Mariano Rivera, the best reliever in postseason history, facing Mets slugger Mike Piazza with two outs and a runner on. Jeter called timeout and jogged to the mound. Shouting, he still had to press his mouth near Rivera's ear to be heard above the din of the crowd. "You know what he's trying to do here; he's trying to take you out," Jeter said forcefully. "Be smart. Don't be stupid. Don't just lay one over to try to get ahead. Be careful. This guy's not just trying to loop the ball over second. He wants to take you deep. Now let's go!"
Rivera got ahead with a called strike. Then Piazza swung and connected solidly with the next pitch, a belt-high fastball. With the scoreboard clock reading 12:00, it was literally the stroke of midnight. Torre screamed in the dugout, "No!" But a few steps from the warning track, the ball died an innocent death in the glove of centerfielder Bernie Williams. Jeter leaped into the arms of Sojo; he was a champion for a fourth time.
Two nights later Jeter rested his feet on an ottoman in his small, modestly furnished apartment on the East Side of Manhattan. His ironing board and iron stood at the ready by his dining table. He had slept past noon the past two days and left his apartment only for dinners, once in the Bronx with friends and this night in midtown with his parents. On Sunday he would eat downtown at a team party arranged by Torre. On Monday, after his fourth victory parade through lower Broadway, he was booked to do Letterman.
"No doubt, this team ranks up there with any team of all time," Jeter says. "You can come up with teams that had better players or hit more home runs or scored more runs. But the name of the game is winning. I can't see any team being better."
Outside, 11 floors below the drawn blinds, life after the Subway Series pulsed on. The usual cacophonous symphony of car horns and tire screeches continued. Nothing had changed. This winner wasn't going anywhere. More than ever, this is his town. More than ever, this is his team.