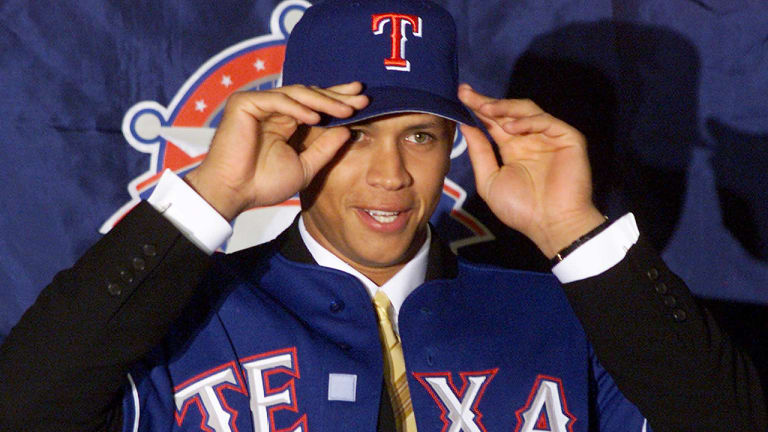 Powerball
Alex Rodriguez hit the jackpot when the Rangers offered him $252 million and the city of Dallas
It was 1:30 in the morning on Monday when the three people in
room 633 of the Wyndham Anatole Hotel in Dallas knew they had
reached the finish line. They could tell by the curtain of
silence that fell over them. After nine grueling hours of
negotiating over two sessions that began last Sunday afternoon,
there was nothing left to say. The finality was written in the
mad jumble of numbers on an easel, which had the dizzying look
of a physics professor's chalkboard at the end of a marathon
lecture. What the numbers added up to was this: The Texas
Rangers had agreed to pay free-agent shortstop Alex Rodriguez
more than a quarter of a billion dollars over the next 10
years--the most lucrative contract in sports history and more
than twice as much money as any baseball team had ever
guaranteed a player.
Scott Boras, the agent for Rodriguez, caught the eye of Doug
Melvin, general manager of the Rangers, and they smiled. Then Tom
Hicks, the owner of the club, stood in his cowboy boots, the ones
with the Rangers' logo branded into the leather. Hicks also owns
the NHL's Dallas Stars and is chairman and CEO of a Dallas-based
private investment firm that manages billions of dollars. He is
the kind of man who thinks big but can show a commoner's touch.
Rodriguez, for instance, had been impressed last month when Hicks
gave him a tour of Dallas and insisted on getting behind the
wheel of his gray Mercedes SL500 and doing the driving himself.
Hicks had left his life on hold for two days then to recruit
Rodriguez.
Now Hicks gestured toward the easel and said, "Well, look at it.
Any questions?" No one answered. The deal was done. Boras walked
toward Hicks, who extended his hand and gave Boras what the agent
would call "a big ol' Texas handshake." Then Hicks pulled Boras
close and threw his arms around him in a tight hug.
Both men got exactly what they wanted. Hicks landed one of the
best and most marketable players in baseball as the center of an
imagined universe that he believes will produce revenue streams
and World Series runs to rival those of the New York Yankees.
"We're Number 4 in [major league] revenue," Boras said Hicks told
him, "and heading up."
Boras, selling a player the likes of which 25 years of free
agency has never seen--a handsome, bilingual, slugging shortstop
and four-time All-Star at the tender baseball age of 25--got a
contract the likes of which the game has never seen. Rodriguez's
guaranteed $25.2 million annual average income blows away the
previous record of $17 million (chart, page 106), set only 52
days earlier by Toronto Blue Jays first baseman Carlos Delgado.
What's more, Rodriguez's contract is spiced with incentives and
escalator clauses that can earn him even more money (box, below).
"This is an economic decision and a career decision," Rodriguez
said by phone from Florida on Monday, in a rare moment of brutal
honesty for a royally compensated athlete.
The player, unlike the owner and the agent, saw his desires
change as the deal unfolded. In early November, after he had
become a free agent, Rodriguez told friends that he wanted to
play in New York for the Mets. Unless the Seattle Mariners, who
had made him the first pick of the 1993 draft, made an all-out
strike to keep him, Rodriguez thought he might be willing to
accept a contract with the Mets for about 10 years and between
$180 million and $190 million. He would play on the world's
biggest stage, become an even bigger star and get to compete on
the same turf with his friend and rival, Yankees shortstop Derek
Jeter. The Rangers? "People hadn't talked about Texas, so I
hadn't given it much thought," he said on Monday. "It's like the
girl you never think about dating, but then you meet and...whoa."
Before the match could be made, though, the Mets would suddenly
and curiously have to turn away from Rodriguez; the Atlanta
Braves would again have to show they don't have the stomach for
bidding wars; a mystery team would have to complicate the last
days of the process; and the Mariners would have to give him, as
Rodriguez said, "no choice but to leave."
THE PRELUDE
Rodriguez and Ken Griffey Jr. were alone, showering in the
visiting clubhouse of Yankee Stadium. It was May 7, 1999, and New
York was pummeling Seattle 10-1 in the ninth inning. Rodriguez,
who was on the disabled list with a torn meniscus in his left
knee, and Griffey, who had been removed from the game by manager
Lou Piniella, were getting a jump on their teammates for postgame
showers. Both were already thinking about their impending free
agency after the 2000 season. "Do you want to stay here and put
up with more of this?" Rodriguez said of what would be a 79-83
season. "I can't stand the losing."
"I don't know," Griffey said. "It might not be that bad. You saw
the young pitching we have in spring training. It could get
better here."
"I don't know," Rodriguez said. "I don't know about this."
In 1997 the Mariners came within two wins of reaching the
American League Championship Series with a team that featured
three players whose tickets are punched for Cooperstown:
Griffey, Rodriguez and lefthander Randy Johnson. All are now
gone. Johnson was traded two months short of free agency in '98.
Griffey would grow increasingly pessimistic about Seattle as '99
wore on and demand a trade to the Cincinnati Reds after that
season. Rodriguez's outlook, however, would improve.
With Griffey gone, Rodriguez emerged in 2000 as the leader of the
Mariners. In April he was enthused about staying in Seattle and
playing in the Mariners' spacious new home, Safeco Field. "No
team since 1985 has won a world championship with anyone hitting
more than 35 home runs," he said then. "We don't have to hit home
runs to win in Safeco. We're playing better baseball now. I like
it in Seattle."
This time the Mariners fell two wins short of the World Series,
losing in the ALCS to the Yankees in six games. Seattle had
passed up an opportunity to acquire David Justice from the
Cleveland Indians in June; instead they acquired light-hitting Al
Martin, a cheaper alternative, in July. Justice, who had fallen
to the Yankees, led them in home runs after the All-Star break
and hit a critical homer in the ALCS clincher. The cost-conscious
move worried Rodriguez.
Nonetheless, Rodriguez entered this off-season with Seattle and
the Mets running "1 and 1A," as he put it. He had heard from
Boras that the Los Angeles Dodgers might offer the biggest
financial package and make him "an international star, not just a
national star." Said Rodriguez, "Being a star is good enough. I
don't have to be Michael Jordan."
He wasn't sure about Los Angeles, anyway. Rodriguez was looking
for a good baseball town, and he had heard the stories about the
late-arriving, early-departing, blase Dodger Stadium crowds.
Still, a bidding war that included the top two markets, New York
and Los Angeles, would be juicy. Except it never happened. The
Dodgers, despite wild rumors, never showed real interest and
never made Rodriguez an offer, having already committed a total
of $40 million per year to righthander Kevin Brown and
outfielders Shawn Green and Gary Sheffield. The Mets, though,
changed the entire landscape with one stunning move.
On Nov. 13, three days into the free-agent shopping season, Mets
general manager Steve Phillips announced that his club no longer
had interest in signing Rodriguez. Reacting to what Phillips
said were "demands" by Boras for special treatment--billboards,
office space and a marketing staff for Rodriguez, for
instance--the Mets would not tolerate what Phillips called the
"24-and-one" environment that a "managed" athlete would create
in the clubhouse. (Boras maintains that Phillips's account of
their contract talks is "not factually true.")
"The next day six other teams called," Boras says. "They saw a
path open with New York out." The Rangers, who had met with Boras
before the Mets did and were one of those six teams that called,
never discussed such demands with the agent. The contract Texas
agreed to includes no provisions for any special treatment of
Rodriguez. "Let me tell you this," Rodriguez said on Monday, his
voice firm and strong. "I hope someday we get to play the Mets
when it really counts. I'll be the one leading 24 of my
teammates, so we can go out there and beat them."
THE CHASE
In mid-November, Rodriguez and Boras asked to meet with the
ownership of each of the six interested teams. They also asked
each club to present an overview of its farm system so they could
gauge the long-range future of each organization. The Rangers put
together a slick computer presentation, in which, for instance,
Rodriguez could see how his potential double-play partners turned
the pivot at second base or top-hitting prospect Carlos Pena
swung the bat. By comparison, the Mariners offered information
about their top minor league prospects in the form of photocopied
Baseball America clips that were held together in a flimsy
plastic report cover. As Seattle vice president of scouting and
player development Roger Jongewaard flipped through the booklet,
it came apart and pages fluttered to the ground. Rodriguez
stifled a laugh. The Mariners' presentations never got much
better than that.
Meanwhile, Mariners DH Edgar Martinez was calling Rodriguez every
day to try to keep him in Seattle. Other players called, too,
over the past two months: Robin Ventura and John Franco of the
Mets; Chipper Jones and Greg Maddux of the Braves; Kenny Rogers,
Rafael Palmeiro and Ivan Rodriguez of the Rangers, among others.
No one was more impressive to Rodriguez, though, than Hicks.
The 54-year-old Hicks, who made his fortune as a leveraged-buyout
specialist, drove him around north Dallas and the SMU campus near
the center of the city, where Rodriguez, who lives in Miami,
surveyed the flat, leafy land and youthful energy and remarked,
"This reminds me of Coral Gables." Hicks told Rodriguez of the
scores of corporate headquarters throughout the Dallas-Fort Worth
metroplex and how, with Cowboys quarterback Troy Aikman nearing
retirement, the opportunities for endorsement deals and
partnerships would be as numerous as stars in the sky. Hicks gave
him a tour of the ballpark, and when they walked into the home
team's clubhouse, several Rangers were there to greet him as was
respected hitting coach Rudy Jaramillo. Rodriguez ate dinner one
night with Mike Modano of the Stars.
"Mr. Hicks built a Stanley Cup winner around Modano and helped
make him a star--that's his model," Rodriguez said last Thursday.
"I'm not a huge hockey fan, but I knew exactly what he was
talking about. I was thoroughly impressed with Mr. Hicks. We
share the same vision. One thing I really like is, Mr. Hicks has
all the power in the organization, knows what he wants and is
committed to getting it done."
After 48 hours in Texas, Rodriguez and Boras boarded a jet to
Colorado on Nov. 28 for a meeting with the Rockies. Rodriguez
told Boras then, "You can put Texas down as a finalist right
now." Colorado, it turned out, was involved in concurrent
negotiations with free-agent pitcher Mike Hampton, and the talks
with the lefthander accelerated faster than those with Rodriguez.
The Rockies couldn't sign both players, and Hampton came to terms
first, last Friday.
In addition to Colorado, the Braves and the Chicago White Sox
made presentations, though none wowed Rodriguez as much as
Texas's had. Atlanta, which seemed to be the shortest path to a
World Series, intrigued Rodriguez. But he knew the team's
negotiating history: The Braves had never engaged in drawn-out
bidding wars and expected players to come to them for less money
than other teams offered. Atlanta also had interest in Hampton
but didn't have the stomach to stay in that race with the
Rockies. Finally, Rodriguez was worried that the Braves could be
nearing the end of a fabulous 10-year run, especially with
Maddux, lefthander Tom Glavine and righthander John Smoltz in
their mid-30s and approaching the end of their contracts.
Meanwhile, what Boras called only "a mystery team" had jumped
back into the fray after Thanksgiving with repeated calls and a
willingness to spend big. Major league sources later identified
that team as the Baltimore Orioles, a club riding a three-year
losing streak that had no chance at signing Rodriguez.
Last Thursday the Mariners sent a contingent to Miami to meet
with Rodriguez and Boras. Chairman Howard Lincoln and president
Chuck Armstrong didn't bother making the trip for what would be a
crucial meeting late in the game. Rodriguez was stunned by their
absence. Jongewaard, Piniella and general manager Pat Gillick sat
in Rodriguez's house. "I can tell you I am seriously considering
the Mariners," Rodriguez said. "But there are going to be no
hometown discounts. I've done that before for you. Not this
time."
At the end of the meeting Piniella, Rodriguez's only manager in
the major leagues, threw his arms around the young shortstop and
held him in a long, tight embrace. Tears welled in Piniella's
eyes.
That night Rodriguez made an appearance at a cocktail party at a
Giorgio Armani store in the tony Bal Harbour mall. Rodriguez has
an endorsement deal with the designer. Techno music pulsed as
models showed off Armani wear, waiters served champagne and
truffles, and Rodriguez and Miami Heat coach Pat Riley mingled
among guests. After the party Rodriguez stood in a courtyard
beside an ornate fountain. "Right now," he said, "if you ask me
where I'm going, I have no idea. I'm no closer to knowing than I
am to jumping into that fountain and swimming. It's confusing.
It's draining. I think of all the cities that are left, and I
like Dallas best. After that, I don't know."
THE ENDGAME
Last Friday, Rodriguez flew by private jet to Las Vegas and
checked into a hotel under the name of Pat Riley. He would spend
the weekend playing golf with old high school buddies. On the way
to Vegas the jet had stopped in Dallas to drop off Boras at the
winter meetings, where he hoped to get the deal done.
Boras kept his ear to the ground for rumblings that the Dodgers
or the Mets would enter the picture, but that didn't happen. He
did schedule a Sunday-night meeting with the Mets' Phillips to
settle what he called "an apparent huge miscommunication" between
the two of them--and if that was entree for the Mets to jump back
in, fine--but that meeting had to be postponed because of the
gathering momentum of the Rangers' efforts to close the deal.
The White Sox remained active, but on Saturday owner Jerry
Reinsdorf told his first-year general manager, Kenny Williams,
that he wanted to meet Rodriguez in private. The days for those
meetings were long over, Boras said. Chicago was done. As for
Atlanta, Boras made it clear that the Braves could not count on
their reputation alone to get Rodriguez. "The Braves know they'd
better get their running shoes out of the closet," Boras said
last Saturday. "The race is on."
Atlanta never laced up. It refused to consider a no-trade clause,
and that was a deal breaker. "In the last weekend it was Texas 1,
Seattle 2 and Atlanta 3 in my mind," Rodriguez said on Monday.
"Texas really won it, but the Mariners made it a lot easier by
the way they treated me."
Word spread through the Anatole Hotel on Sunday night that the
Rangers had offered about $240 million. One Seattle source, when
told of that, said, "No way. That's ridiculous. We're still in
it. If that were true, he'd be signed."
Of course, it was that much and more. The Mariners offered
Rodriguez only a five-year contract for about $92 million. At 6
p.m. in Dallas on Sunday, Boras called Rodriguez in Las Vegas.
"Alex, Texas can get this thing done," Boras said. "What would
you like to do."
"Go ahead and get it done," Rodriguez said.
A few hours later, just as Rodriguez was leaving for a Las Vegas
show, Boras called back to tell him the framework of a deal was
in place. He would be a Ranger. Rodriguez enjoyed the show, flew
home to Miami and played golf the next afternoon.
On Monday morning Boras sat slumped in a chair in room 2289 at
the Anatole. He had gone to bed at 3 a.m. but couldn't sleep,
still wired from the deal. He had slept maybe nine hours all
weekend and had skipped several meals.
"Whenever a client changes teams, you worry because you're
leaving a known situation," he said. "I have some of those
thoughts right now, as I did with Maddux in 1992. But today I
feel like the world only now will get to know Alex. Bigger and
better things are out there for him. He's already a star, but
this puts him on a whole different level. Today is only the
beginning for Alex."
COLOR PHOTO: CHUCK SOLOMON [T of C]
COLOR PHOTO: PHOTOGRAPH BY CHUCK
SOLOMONCOLOR PHOTO: PHOTOGRAPH BY SCOTT CLARKECOLOR PHOTO: JOHN CHIASSON/GAMMA LIAISONCOLOR PHOTO: BILL FRAKES DESTINY'S CHILD As a Miami schoolboy in 1993, Rodriguez showed early signs of the talent that ultimately earned him a fortune.COLOR PHOTO: DAVID BERGMAN IRON MAN On Monday, while Boras hammered out a deal in Dallas, Rodriguez hit the small ball in Coral Gables, Fla.
TERMS OF ENDEARMENT
Here is a breakdown of Alex Rodriguez's record $252 million
guaranteed contract, which was agreed to by the Texas Rangers on
Monday
SIGNING BONUS: $10 million
PAYDAY AMOUNT
March 1, 2001 $1 million
Dec. 1, 2001 $1 million
March 1, 2002 $1 million
Dec. 1, 2002 $1 million
March 1, 2003 $1 million
Dec. 1, 2003 $1 million
March 1, 2004 $1 million
Dec. 1, 2004 $1 million
March 1, 2005 $1 million
Dec. 1, 2005 $1 million
BASE SALARY: $242 million
YEAR SALARY AMOUNT DEFERRED
2001 $21 million $5 million (3% interest)
2002 $21 million $4 million (3% interest)
2003 $21 million $3 million (3% interest)
2004 $21 million $3 million (3% interest)
2005 $25 million $4 million (3% interest)
2006 $25 million $4 million (3% interest)
2007 $27 million $4 million (3% interest)
2008 $27 million $3 million (3% interest)
2009 $27 million $3 million (3% interest)
2010 $27 million $3 million (3% interest)
ESCALATOR AND OPTION CLAUSES
1) During the years 2001 through 2004 Rodriguez's base
compensation of $23 million (which includes $2 million in
prorated signing bonus) shall be increased $2 million above the
highest average annual value of any other shortstop in major
league baseball.
2) After the 2007 season Rodriguez has the right to void seasons
2008 through 2010 of the contract and become an unrestricted
free agent.
3) After the 2008 season Rodriguez has the right to void seasons
2009 and 2010 and become an unrestricted free agent, unless the
team increases his 2009 and 2010 salaries by the greater of $5
million or $1 million above the then largest salary of any
position player.
DEFERRED SALARY SCHEDULE
YEAR PAYOUT
2011 $5 million plus interest
2012 $4 million plus interest
2013 $3 million plus interest
2014 $3 million plus interest
2015 $4 million plus interest
2016 $4 million plus interest
2017 $4 million plus interest
2018 $3 million plus interest
2019 $3 million plus interest
2020 $3 million plus interest
AWARD BONUSES
LEAGUE MVP: winner first time, $500,000; second time, $1
million; third time and after, $1.5 million
LEAGUE MVP: second-through fifth-place finish, $200,000
LEAGUE MVP: sixth through 10th-place finish, $50,000
ALL-STAR GAME SELECTION: $100,000
MOST ALL-STAR VOTES IN LEAGUE: $100,000
BASEBALL AMERICA, THE SPORTING NEWS, AP, UPI OR USA TODAY
ALL-STAR: $100,000
BASEBALL AMERICA, THE SPORTING NEWS, AP, UPI OR USA TODAY MVP
OR PLAYER OF THE YEAR: $100,000
WORLD SERIES MVP: $200,000
LEAGUE CHAMPIONSHIP SERIES MVP: $150,000
DIVISION SERIES MVP: $150,000
GOLD GLOVE: $100,000
SILVER SLUGGER: $100,000
QUANTUM LEAP
In less than five years the average salary of baseball's
highest-paid player has jumped 196.5%, from Ken Griffey Jr.'s
1996 contract with the Mariners to Alex Rodriguez's new deal,
negotiated by agent Scott Boras (above), with the Rangers.
Rodriguez's contract also accounts for the largest percentage
increase in the highest-paid player's average salary since
Albert Belle became the first man to average more than $10
million dollars a season in '96. Here are the terms of the last
11 contracts that made their recipients baseball's top earners.
PLAYER,TEAM
Alex Rodriguez, Rangers
SIGNING DATE
Dec. 11, 2000
OVERALL VALUE
10 years, $252 million
AVG. ANNUAL PAYOUT
$25.2 million
PCT. INCREASE
48.2
[PLAYER,TEAM]
Carlos Delgado, Blue Jays
[SIGNING DATE]
Oct. 20, 2000
[OVERALL VALUE]
4 years, $68 million
[AVG. ANNUAL PAYOUT]
$17.0 million
[PCT. INCREASE]
10.0
[PLAYER,TEAM]
Roger Clemens, Yankees
[SIGNING DATE]
Aug. 11, 2000
[OVERALL VALUE]
2 years, $30.9 million
[AVG. ANNUAL PAYOUT]
$15.45 million
[PCT. INCREASE]
3.0
[PLAYER,TEAM]
Kevin Brown, Dodgers
[SIGNING DATE]
Dec. 12, 1998
[OVERALL VALUE]
7 years, $105 million
[AVG. ANNUAL PAYOUT]
$15.0 million
[PCT. INCREASE]
12.5
[PLAYER,TEAM]
Mo Vaughn, Angels

[SIGNING DATE]
Nov. 25, 1998
[OVERALL VALUE]
6 years, $80 million

[AVG. ANNUAL PAYOUT]
$13.33 million
[PCT. INCREASE]
2.5
[PLAYER,TEAM]
Mike Piazza, Mets
[SIGNING DATE]
Oct. 26, 1998

[OVERALL VALUE]
7 years, $91 million

[AVG. ANNUAL PAYOUT]
$13.0 million

[PCT. INCREASE]
4.0
[PLAYER,TEAM]
Pedro Martinez, Red Sox
[SIGNING DATE]
Dec. 12, 1997
[OVERALL VALUE]
6 years, $75 million
[AVG. ANNUAL PAYOUT]
$12.5 million
[PCT. INCREASE]
8.7
[PLAYER,TEAM]
Greg Maddux, Braves
[SIGNING DATE]
Aug. 10. 1997
[OVERALL VALUE]
5 years, $57.5 million
[AVG. ANNUAL PAYOUT]
$11.5 million
[PCT. INCREASE]
0.4
[PLAYER,TEAM]
Barry Bonds, Giants
[SIGNING DATE]
Feb. 20, 1997
[OVERALL VALUE]
2 years, $22.9 million
[AVG. ANNUAL PAYOUT]
$11.45 million
[PCT. INCREASE]
4.1
[PLAYER,TEAM]
Albert Belle, White Sox
[SIGNING DATE]
Nov. 19, 1996
[OVERALL VALUE]
5 years, $55 million
[AVG. ANNUAL PAYOUT]
$11.0 million
[PCT. INCREASE]
29.4
[PLAYER,TEAM]
Ken Griffey Jr., Mariners
[SIGNING DATE]
Jan. 31, 1996
[OVERALL VALUE]
4 years, $34 million
[AVG. ANNUAL PAYOUT]
$8.5 million
[PCT. INCREASE]
--
"This is an economic decision and a career decision," says
Rodriguez.
In early November, Rodriguez told friends that he wanted to play
for the Mets.
"The world only now will get to know Alex. Bigger and better
things are out there for him."