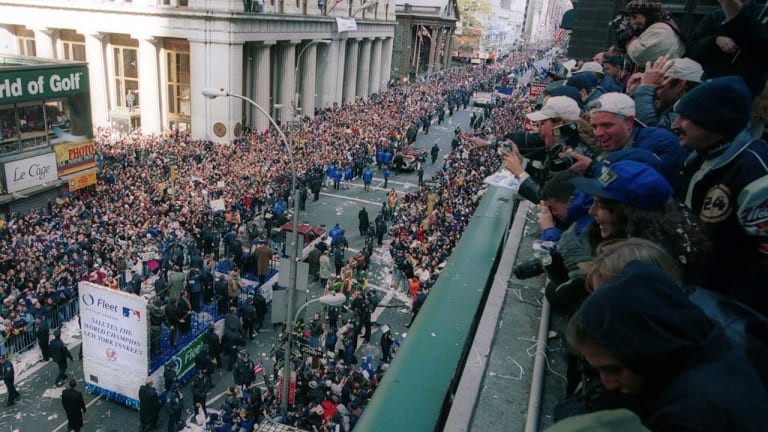 Field Notes
SI polled pro athletes to see how the fans stack up--and to pick up a few choice lines they've heard from hecklers
Our fanbase superlatives:
MOST KNOWLEDGEABLE
KNICKS FANS
"Even the sportswriters in New York can talk basketball. In
other cities the writers confuse the public, but in New York
they seem to know the game."
TOUGH
JAZZ FANS
"Those Mormons are pretty nasty. You think they're all
religious, but they cuss, and they talk about your mother. Your
cousin, too."
STUPID
"Vancouver or Toronto. They used to give a standing ovation for
a made free throw. They thought it was a goal."
SCARY
"No place is really scary anymore. The seats cost too much. The
people who sit near the bench--what are they going to do, hit
you with their Palm Pilot?"
TOUGH
S.F. GIANTS FANS
"They do their homework--they know your mom's name and your
dad's name."
STUPID
"Those idiots in Kansas City don't know when to shut up. They
yell even when the Chiefs have the ball. That's how stupid they
are."
MOST LOYAL
"Green Bay fans are almost cultlike. There would be a mass
suicide if the Packers ever thought about moving."
TOUGH
"Mets fans win, hands down. When the jail under Shea Stadium is
filled two hours before a game--that's all you need to know."
LOYAL
"Cubs fans are loyal, no question. They keep showing up to watch
that s---."
STRANGEST THING SENT IN BY A FAN
"An old lady, about 70, sent me a letter and her picture. She
didn't have any clothes on."
WORST GROUPIES
"Philadelphia. They're all nasty, wearing redheaded wigs. Guys
say that when you go to Philly, it's just a bad trip."
STUPID
"The fact that Clippers fans are even there tells you how stupid
they are."
BEST RETORT BY A PLAYER
"You'd better check your wife, a ballplayer is missing."
STUPID
DODGERS FANS
"Anyone who pays that much for a ticket and leaves before the
game is over is not too bright."
TOUGH
"Oakland fans are rough, man, they take it personal. They don't
even watch the game. They sit there the whole time yelling at
the other team."
MOST LOYAL
SACRAMENTO FANS
"I remember when they were terrible, but there'd still be 18,000
in the stands when they were down by 10 with two minutes to go."
TOUGH
"Yankees fans tell you things about your mom, and where to go
after the game--and it's not the Grand Hyatt."
SCARY
"The 76ers put all the hooligans in the front row, and there are
lots of rich hooligans in Philly."
*"Robin Ficker [in D.C.] once nailed Oliver Miller. He yelled,
'You guys have no guts--except for you, Miller. You have two.'"
*"When I first came into the league, Ficker held up a sign that
said ASON. He said, 'Kidd, you got no J.'"
--JASON KIDD
*"Hey, why don't you just turn around and throw it into the gap!"
--TO REDS PITCHER SCOTT WILLIAMSON
*"We were playing in Detroit, and we were down by 25 points with
three minutes left. The referee made a call, and our coach [Bill
Fitch] jumped in his face. From the stands, Leon the Barber
yelled, 'Sit down, Fitch, he ain't gonna kick you out. He's
gonna make you watch the rest of this game.'"
*"HEY, ELTON BRAND, YOU PLAY LIKE ELTON JOHN."
*"YOU COULD GIVE ASPIRIN A HEADACHE."
*"One Jets fan was yelling at our tight end all game, 'Hey,
number 89, you suck! Hey, number 89, you suck!' When he didn't
get any response, he yelled at our center, 'Hey, number 52,
doesn't number 89 suck?'"
*"Don't worry about not playing. I'll play you in PlayStation."
Toughest Fans
NBA Knicks
NFL Buccaneers
NHL Flyers
MLB Red Sox
Loudest Fans
NBA Kings
NFL Chiefs
NHL Red Wings
MLB Yankees
Scariest Fans
NBA Knicks
NFL Raiders
NHL Flyers
MLB Yankees
Most Knowledgeable
NBA Knicks
NFL Packers
NHL Maple Leafs
MLB Yankees/Red Sox
Stupidest Fans
NBA Grizzlies
NFL Raiders
NHL Hurricanes/Lightning
MLB Expos
Best Groupies
NBA Lakers
NFL Dolphins
NHL Kings
MLB Astros
Most Loyal Fans
NBA Kings
NFL Packers
NHL Maple Leafs
MLB Cardinals