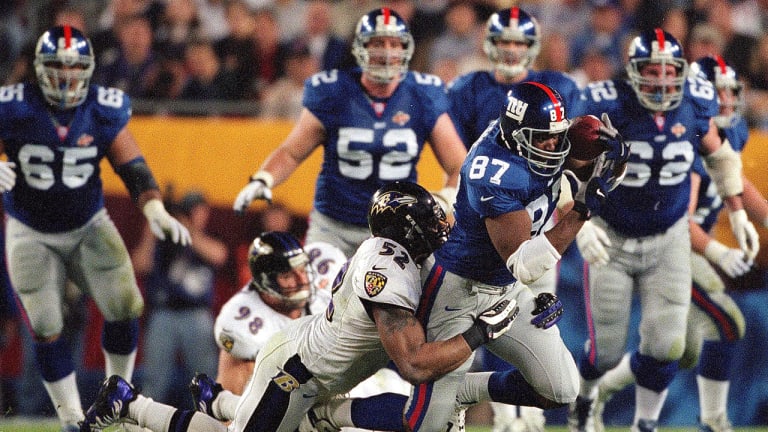 Talk of the Town
The Ravens crowed about how good they'd be, then backed it up in the Super Bowl by crushing the Giants with big plays and a brutal defense
Crossing paths in a dimly lit corridor and standing at the doorstep of history, Ray Lewis and Brian Billick got ready for the biggest game of their lives by getting defensive. It was 15 minutes before the kickoff of Super Bowl XXXV when Lewis, the Baltimore Ravens' unrepentant middle linebacker, and Billick, the team's bombastic coach, held a rare, private conversation that underscored a week's worth of public pronouncements. Standing outside the Ravens' locker room at Raymond James Stadium in Tampa, Lewis said to Billick, "They don't understand, do they?" and the coach shook his head no. Naturally, Billick understood all that they couldn't comprehend—they being the New York Giants, the 3,300 credentialed members of the media and, to be fair, most of the U.S. sporting public. "We'll show 'em," said Billick.
We now understand that Billick, Lewis and the rest of the Ravens had a right to be arrogant. In annihilating the Giants 34–7, Baltimore's third NFL franchise won its first Super Bowl in the way Lewis and Billick had said they would all along, with a counterintuitive blend of a statistically challenged offense and a defense whose passion sucks the will out of disbelieving opponents. So go ahead, America, and get defensive: A year after the St. Louis Rams appeared to have turned the NFL into a futuristic video game, the AFC champion Ravens stomped all over the Giants to win an old-school NFL title clash.
Never mind that the cocky team won. Forget, for a moment, that Art Modell, an NFL owner for 40 years who broke a million hearts in Cleveland when he moved the Browns to Baltimore in 1996, is enjoying his first taste of Super Bowl glory. Some fans may revile the Ravens, but the Ravens love one another, and it shows in the way their proud defensive players race to the ball in waves. In allowing New York a mere 152 yards and no offensive points, Baltimore was led, as always, by Lewis, who, upon earning Super Bowl MVP honors, completed one of the most remarkable one-year turnabouts the sports world has known.
Consider that 52 weeks earlier, in the wee hours following Super Bowl XXXIV, Lewis was in the midst of a bloody brawl in which two men were knifed to death outside an Atlanta nightclub. Facing murder charges that were dropped when he pleaded guilty to a misdemeanor charge of obstructing justice, Lewis vowed to channel his anger and frustration into a ferocious championship drive. While he consistently alienated outsiders during pre-Super Bowl interviews by bristling at any notion of remorse—at one point going so far as to portray himself as a Christ figure—Lewis spoke loudest of all with his captivating play. In the end he was the Giants' cross to bear.
"To be here after what happened last year," Lewis said from the victory podium, "it's a feeling you can't describe." Later, he added, "I don't mean to disrespect anyone, but we're definitely the best defense of all time. The thing is, the Giants didn't know. You just don't know until you play us, but our defense is a buzz saw."
That buzz saw is one sharp instrument with which Lewis doesn't mind being associated—and, perhaps, a metaphor even Billick might find to his liking. A former San Francisco 49ers public relations employee who now fashions himself a full-fledged media critic, Billick spent much of the week castigating reporters for what he called their "absolutely deplorable" coverage of Lewis's legal troubles. The tone of his statements came off equal parts contentious and condescending as Billick willfully cast himself as an antihero. Five days before the game, as he sat in his room on the 12th floor of the Ravens' hotel, Billick addressed his behavior thusly: "I believe that the people who know me have a solid respect for my abilities and the way I conduct myself, and whether they think I'm egotistical or arrogant is secondary."
Besides, Billick continued, his statements were subject to the scrutiny of a far more stringent body, a four-woman task force made up of his wife, Kim, daughters Aubree (16) and Keegan (11), and his mother, Mildred. "My daughters' sole purpose is to make sure Dad's head doesn't get too big," Billick said, laughing. "If I say something they think is self-serving, they'll let me know."
After finishing 8–8 in 1999, his first year as Ravens coach, Billick approached the 2000 off-season intent on becoming more of an overseer and less involved with the offense. He helped convince the Ravens' players that solidarity was a cure-all, a philosophy that came in handy a month into the season, during one of the more stupefying stretches the NFL has seen. Baltimore went more than five games—21 quarters—without scoring a touchdown, one quarter shy of the longest streak since the 1970 merger. The Ravens lost three of the five games to fall to 5–4, and during that stretch Billick replaced quarterback Tony Banks with Trent Dilfer, who'd had six mostly messy years with the Tampa Bay Buccaneers. That decision had fans and players around the league rolling their eyes. Just as Billick had to tone down the offense, Dilfer had to embrace the unflattering role of a quarterback charged with not making mistakes.
Both men, however, have a brazen streak, and they were stirred by the Giants' dominant defensive performance in their 41–0 win over the Minnesota Vikings in the NFC Championship Game. Already basking in his return to Tampa—he received a warm welcome from Bucs coach Tony Dungy and his staff during his unannounced visit to Tampa Bay's practice facility—Dilfer was alarmingly amped as the Super Bowl approached. "There's even a strip joint with a WELCOME BACK TRENT sign—and I've never been to a strip joint in my life!" Dilfer said last Saturday, as he sat at a hotel bar near Tampa's West Shore. "People here have been great, and we're so ready. Brian's done a great job of creating a bunker mentality, and we have a perfect combination of looseness and focus."
When it came time to talk strategy, Dilfer anxiously tapped the bar and said, "Right now [New York defensive coordinator] John Fox is in his room trying to figure out ways to make me look like an idiot—and I love that. Believe it or not, we think we can gash them with speed, like the Rams did in the regular season, because getting up on guys quickly is what our receivers do best. We love the matchups involving [Ravens wideout] Brandon Stokley, so I'm going to get him the ball."
Dilfer paused to acknowledge the wonder of his statement; Stokley, a second-year backup from Louisiana-Lafayette, entered the Super Bowl with a total of 15 catches, two for touchdowns, while playing in only 10 games this season. "He'll get into the end zone," Dilfer insisted. "You mark my words."
On Sunday, with 6:57 left in a scoreless first quarter and the ball at the Giants' 38, Stokley lined up in the right slot for a play called Scat-left Double-pump. New York's best cornerback, Jason Sehorn, was covering Stokley in the spread formation. Stokley beat Sehorn off the ball, Dilfer delivered a perfect pass that Stokley caught in stride at the 10, and the 5' 11", 197-pound receiver dragged Sehorn into the end zone. Late in the second quarter Dilfer, who completed 12 of 25 passes for 153 yards, floated another brilliant pass to wideout Qadry Ismail down the left sideline. The 44-yard gain set up a 47-yard field goal by Matt Stover that gave Baltimore a 10–0 halftime lead.
By then Florida Secretary of State Katherine Harris might have been tempted to certify the Ravens as Super Bowl victors. Ten points isn't normally considered an insurmountable advantage, but in Baltimore's case, giving them such an edge is tantamount to spotting Tiger Woods five strokes on the final day of a major. The Ravens, after all, had talked openly about producing the first shutout in Super Bowl history. (Only a 97-yard Ron Dixon kickoff return would prevent their doing so.) Digging into a crab-cake appetizer on the Wednesday before the game at Armani's, a posh Tampa restaurant, Rob Burnett, Baltimore's vastly underrated defensive end, made his prediction by quoting from rapper Jay-Z's latest hit: "Zip, zero—stingy with dinero."
For all the Ravens' defensive accomplishments this season—only 165 points given up, a league record for a 16-game schedule; a total of 16 points surrendered to three AFC playoff opponents; extending to 36 their string of games in which they didn't allow a 100-yard rusher—defensive coordinator Marvin Lewis saved his best work for last. Baltimore made a mockery of New York quarterback Kerry Collins (LIFE OF REILLY, page 108), intercepting him four times (including cornerback Duane Starks's 49-yard touchdown return in the third quarter), sacking him four times and allowing only 15 completions and 112 passing yards in 39 attempts. Giants running back Tiki Barber netted 49 yards on 11 carries, the latter figure matching the Super Bowl-record number of punts by New York's Brad Maynard.
If ever a man proved his worth as a future head coach, Marvin Lewis did it with this complete domination of the Giants in their 16 possessions: Punt, punt, punt, punt, punt, punt, interception, punt, interception, interception, punt, interception, punt, punt, punt, end of game. The Giants went three-and-out (or worse) on 10 of those possessions. "We let the Giants do all their shifting and waited for them to come to us," Marvin Lewis said. "Of course, Ray stuffed everything. He just keeps rewriting the linebacker position."
Think Jack Lambert meets Lawrence Taylor, and that was Ray Lewis on Sunday. He got his hands on five Collins passes, one of which was tipped to linebacker Jamie Sharper for a second-quarter interception. He had five tackles and was better in space than Captain Kirk. Lewis's signature play came two plays after Stokley's touchdown. On second-and-eight from the New York 16, Barber, the Giants' quick scatback, broke free toward the left sideline and prepared to turn the corner. Lewis motored from the middle of the field and made a diving tackle, stopping Barber for a two-yard gain.
After running wild against the Vikings, New York wideouts Ike Hilliard and Amani Toomer were non-factors, combining for 54 yards on five catches. After the game, as he lifted his arms to allow a team doctor to examine his aching ribs, Hilliard winced and said, "Even though I face a great defense in practice every day, I have to tip my hat to the Ravens—especially the way I feel."
Said Baltimore defensive tackle Tony Siragusa, "Until you play us, you can't really appreciate the depth of our wrath."
Emotionally, it all stems from Ray Lewis. Players still talk about the day late last season when he missed a practice with a knee injury. Recalled Banks, "The defense was a shell of itself. He came back the next day, and it was great again."
When you play the Ravens, Lewises come from everywhere: Marvin, scheming from the sideline; Ray, dominating on defense; rookie running back Jamal, who had 27 carries for 102 yards and a touchdown; and return specialist Jermaine, who instantly closed the Giants' window of hope by answering Dixon's score with an 84-yard kickoff runback for a touchdown and a 24–7 lead. Twenty-four/seven: that's how they work in Ravenland.
Long after the game, as he dressed in a cramped coach's office, Billick seemed anything but arrogant. "For the first time in my life, I think I finally understand the game—I mean, really understand it," he said, his eyes red and half-closed. "This is the ultimate example of how football is not about the star quarterback, the star running back. It's about team. I know it's a cliche, but I'm almost 47 years old and I finally realize it. Had we sailed through without all the problems, and we hadn't developed such a sense of team, I don't think we'd have had this success. I'm humbled by it. I know people will hear that and say, 'Aw, that's just Billick pandering to the media.' But it's true."
Two rooms away Ray Lewis stood happily at his locker, wearing a lavender paisley-patterned suit and a big grin. He hadn't won over all his critics, but his passionate play made it impossible not to admire him as a football player. Even two of Lewis's former friends, his codefendants who were acquitted in the Atlanta killings, Joseph Sweeting and Reginald Oakley, were in awe of the man who testified for the prosecution last May. Sweeting sat in a club-level suite that included several prominent rappers, including Jay-Z, while Oakley watched from a lower-level seat across the stadium. The two men talked by cell phone during the game. "We had to give it to Ray, and to their defense in general, the way they hold people down," Sweeting said at 4 a.m. on Monday, as he left a party at a Tampa club. "There's a lot of hurt in our relationship, and a lot of people aren't pleased by the way he treated me. But I was happy for him, because I know this week was no picnic for him."
Millions of football fans weren't thrilled with the events of the week, either. But Super Sunday, for better or worse, was Ray Lewis's day in the sun.