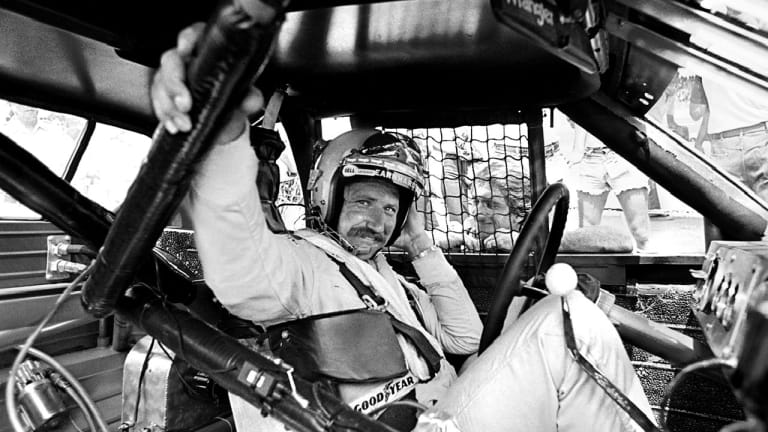 Crushing
The fatal crash of seven-time Winston Cup champion Dale Earnhardt on the final lap of the Daytona 500 devastated the world of NASCAR
Dale Earnhardt knew life wasn't fair. He said so seven years ago when he watched his best friend, Neil Bonnett, die after crashing his Chevrolet Lumina into the wall entering Turn 4 at Daytona International Speedway. The 47-year-old Bonnett was practicing for the 1994 Daytona 500, which was to have been his triumphant return from a serious wreck 3 1/2 years earlier at Darlington Raceway. "The first couple of laps on the racetrack and he's gone, after getting his own car, his own deal," Earnhardt said. "Is that fair?"
On Sunday, seconds before he would become only the fourth man to win the Daytona 500 as an owner as well as a driver, the 49-year-old Earnhardt died when he crashed his Chevrolet Monte Carlo into the wall entering Turn 4 at Daytona International Speedway. The coincidence was eerie, and the consequences dire. In losing Earnhardt, NASCAR didn't just lose the best driver stock car racing had seen. It also lost its heart and soul, the one thing it had that no other sport could claim: a superstar the average blue-jean-wearing fan could identify with. "Dale was the Michael Jordan of our sport," said H.A. (Humpy) Wheeler, president of Lowe's Motor Speedway near Charlotte. "To think he is not around anymore is incomprehensible. This is a terrible, terrible loss and, for me, it ranks right up there with the death of JFK."
Earnhardt's appeal was so broad because nearly everyone could find something to like about him. Front-runners cheered him on as he won seven Winston Cup championships, equaling the record set by Richard Petty. Underdogs appreciated how he had worked his way up from humble beginnings, tinkering with cars in a makeshift garage that his dad, Ralph, a short-track whiz, built in the barn behind the family's house on Sedan Avenue in Kannapolis, N.C. Sentimental types loved watching him goof around with his namesake, 26-year-old NASCAR driver Dale Jr., a Nirvana lover who apparently inherited little from his father save for a right foot of lead and nerves of steel. Then there were the tough guys, the ones who couldn't get enough of the way he refused to let anyone slow him down on the way to his destination. "I think everybody in the country is angry about having to drive in urban areas," said Wheeler in 1995. "They hate the traffic with a passion. Earnhardt drives through traffic too. And he won't put up with anything. He's going to get through. That's what they want to do--but they can't. So Earnhardt is playing out their fantasies."
As a teen, Earnhardt picked up the nickname Ironhead, a play on his father's nickname, Ironheart. A high school dropout, Dale was married at 17 and began racing for grocery money. He described himself as "wild and crazy, young and dumb," but he was forced to get his act together when Ralph died of a heart attack while working on a carburetor in his garage in 1973. Dale, then 22, essentially took over his dad's car and made enough of a name for himself on the short tracks of North Carolina that he earned a NASCAR ride and in 1979 was the Winston Cup Rookie of the Year.
As the years passed, Earnhardt matured, but that's not to say he mellowed on the track. In 1987 he won 11 races--three after bumping the leader out of the way. Sometime around 1989 he swapped the moniker Ironhead for the Intimidator, and he did his best to live up to the name. To his credit, however, Earnhardt realized that turnabout is fair play. At Pocono Raceway last June, Earnhardt and Jeremy Mayfield were running one-two, spitting distance from the finish line. Mayfield bumped Earnhardt, just enough to sneak past him for the win. While other drivers pulled up alongside Mayfield and gave him the thumbs-up, Earnhardt pulled alongside the 12 car and raised a different digit. Later, after he had cooled off, Earnhardt said simply, "I got beat."
"One of the biggest thrills of my career was the deal last year at Pocono," says Mayfield, now in his eighth year on the NASCAR circuit. "You know he never said anything to me about that? He came over and gave me that grin of his, and that was like his seal of approval."
Mayfield wasn't the only driver to be starstruck by the Intimidator. "A lot of people use [nicknames] superficially, but it just fits him," says Mike Wallace, who made his first Winston Cup start in '91. "He was the Man." And it wasn't just the younger generation who dug Earnhardt. "The proudest moment of my life was when [my son] Dale Jarrett passed Dale Earnhardt [to win] the 1993 Daytona 500," says Ned Jarrett, a former driver and longtime broadcaster. "He beat the master."
The Mayfield incident came during a season in which Earnhardt enjoyed a renaissance. When athletes--especially ones in their mid-40s--start to decline, they aren't supposed to bounce back. But after finishing eighth in the Winston Cup standings in '98 and seventh in '99, Earnhardt made a serious run in 2000 at his eighth championship, finishing second, 265 points behind champion Bobby Labonte. Two factors contributed heavily to his resurgence. He had back surgery in December '99 to correct the lingering effects of a nasty crash at Atlanta Motor Speedway earlier that year, and Dale Jr. spent the season driving a Winston Cup car owned by his old man.
Though Earnhardt insisted that having his son around didn't change the way he felt or drove, he was clearly enjoying himself more. After Junior won The Winston in Concord, N.C., last May, passing Dale Jarrett with a lap to go to become the first rookie to take the checkered flag in the 16-year history of the all-star exhibition, the elder Earnhardt's usual Mona Lisa smirk was replaced by a beaming smile that crept out from under his bushy mustache as he hugged his boy with uncharacteristic force. It was one of his most memorable Victory Lane appearances, topped perhaps only by the one in 1998 at Daytona after Earnhardt notched his lone victory in the 500.
For much of Earnhardt's career, the 2 1/2-mile Daytona tri-oval defined him. He won 34 races at the track, but until '98 he had never won the big one. He had come close, losing on the last lap three times between 1993 and '96. However, until he won in '98--and produced a stuffed gibbon in Victory Lane, declaring, "I'm here, and I've got that goddam monkey off my back!"--he was known for two things: being the best superspeedway racer of all time and being unable to win the biggest superspeedway race.
Though he excelled at restrictor-plate racing, he loathed both the device mandated by NASCAR to reduce speeds on some of its tracks and the type of racing it produced. He offered this bit of advice last summer to drivers who complained that they were going too fast: "If you're not a race driver, stay the hell home. Don't come here and grumble about going too fast. Get the hell out of the race car if you've got feathers on your legs or butt. Put a kerosene rag around your ankles so the ants won't climb up there and eat that candy ass."
The 76th and final win of Earnhardt's career came in a restrictor-plate race in October, the Winston 500 in Talladega, Ala. The race drew raves from onlookers for its 49 lead changes, which included Earnhardt's moving from 18th to first in the last five laps. Some drivers, on the other hand, were less effusive in their praise. Said Jeff Gordon, "It was a little too exciting at times for me."
The excitement came thanks to a rules change NASCAR made in the wake of three numbingly dull restrictor-plate races earlier in the 2000 season, including a Daytona 500 that featured only nine lead changes. The sanctioning body decided to slow the cars down aerodynamically and switched to a less restrictive plate, which in turn gave drivers the power to pass more easily. Not only did the Talladega race feature a breathtaking game of hot potato with the lead, but it also was completed without the big wreck that drivers have come to expect at superspeedways.
Pleased with the Talladega experiment, NASCAR stuck with the new rules for this year's Daytona 500, which left some drivers skittish. "The cars are so stable now that you feel like you are Superman, that you can do anything you want with them," said Stacey Compton two days before the race. "Some awfully talented drivers are out here, and we have a tendency to put the cars in some places they don't belong and [still expect to] come out of it. Sometimes you do, sometimes you don't."
Defending Daytona 500 champ Dale Jarrett was also cautious. "Things wouldn't have worked in Talladega if everyone hadn't used his head," he said before last week's race. On Sunday, with 27 laps remaining, he found out firsthand what happens when someone doesn't. Robby Gordon got a little overanxious and tapped Ward Burton from behind, spinning Burton into Tony Stewart, who was sent tumbling through the air Louganis-style. Once in the air, Stewart's car spun once and flipped twice, tearing teammate Labonte's hood off in the process. Nineteen cars--including Jarrett's--were involved in the big wreck, and the race was red-flagged for 16 minutes. "You can't do it when you've got idiots out there," said Burton. "Somebody didn't use his head and hit me."
Earnhardt, who was just ahead of the crash, stayed out of trouble, and with five laps left he was riding in third place, behind two cars he owned--Michael Waltrip's and Junior's. It had the makings of an interesting showdown. Only one man had gotten his first win faster than Junior, who won at Texas last year in his 12th Winston Cup start, and no driver had gone longer without his first career victory than the 37-year-old Waltrip, who came in 0 for 462. Earnhardt seemed content to lay back and run interference for his two employees. "I was monitoring him on the radio," said rival owner Jack Roush after the race. "He was telling the guys in front of him where to go on the track. You can draw your own conclusions what he was doing. Both of those cars up there were his."
As Waltrip outlegged Junior to the finish line, the back of Earnhardt's car wiggled slightly as Rusty Wallace closed in from behind. Earnhardt's car veered left toward the lower portion of the track, took an abrupt right, got hit on the passenger side by Ken Schrader and then barreled into the wall nearly head-on. Earnhardt had walked away from many worse-looking crashes, but according to Dr. Steve Bohannon, the EMS director at the speedway, Earnhardt died of a severe injury at the base of his skull. Bohannon also said that he didn't think a HANS (head and neck support) device, which has been increasing in popularity since the deaths of drivers Adam Petty and Kenny Irwin last year in separate incidents at New Hampshire International Speedway, would have saved Earnhardt. He added that a full-face helmet, instead of the old-school open-face model that Earnhardt wore, would not have helped.
"It's hard to say how long you should drive," Earnhardt said last summer. "Some people hang on too long just trying to get one last victory. For me, racing is in my blood. It's who I am. Right now I think I can win championships and go after it as hard as I ever have. It will be tough getting out of the car for the last time, but I'll know when to do it."
Earnhardt didn't have the chance to decide when he'd had enough. He didn't even get the chance to walk away, let alone to do so on his own terms. On Sunday night, as word of Earnhardt's passing made its way through the stock car racing world, one sentiment was shared by the fans who won't have the chance to see him chase that elusive eighth title, the rivals who won't have a chance to swap paint with him again and the drivers who won't have a chance to share one more Victory Lane hug with their boss: This definitely was not fair.