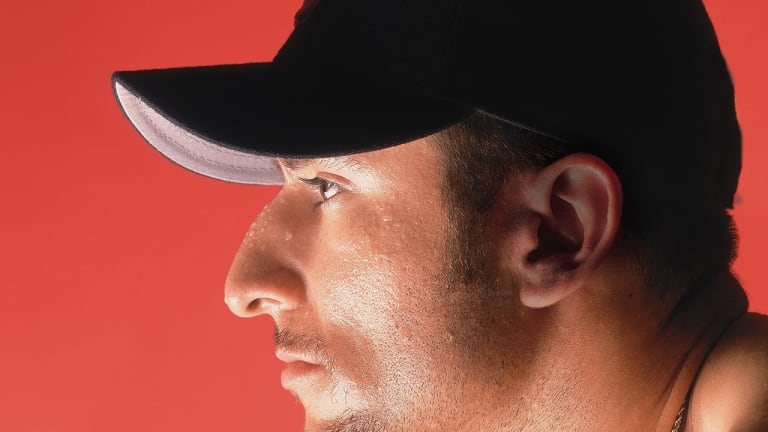 400 Reasons
Why does Boston's Nomar Garciaparra torture his body every off-season with a training regimen that is both cruel and unusual? Because he believes it will ultimately help him reach the hitter's holy grail
One vital bit of information is missing as Nomar Garciaparra stands in the on-deck circle for his first at bat of a game. Otherwise, the Boston Red Sox shortstop is as finely prepped and calibrated as a piece of NASA machinery.
He has pumped what was once a six-foot beanpole frame into a 190-pound coiled steel spring of explosive power, with a scant 6% body fat. He has built his body and, by extension, his career with a five-hour-a-day off-season regimen--an ordeal that would exhaust a sled dog--in which he endures the tortures of Simon Legree devices (you try fielding grounders while strapped to three high-tension bungee cords), lifts weights with NFL linemen and gulps two precisely mixed protein shakes a day. (The morning serving is 325 calories, the afternoon dose 487, thanks to an extra 40 grams of malto-dextrin, a starchy chemical used in beer brewing.)
Once the season begins, his mental preparation for each game is an all-day task. "My very first thought when I wake up is the game that night," Garciaparra says. "There is a feeling in my body that begins right away, knowing I have to prepare myself. If it's an off day, my body feels totally different when I wake up."
Sweat and science have made Garciaparra, 27, perhaps the toughest out in baseball and, according to Ted Williams himself, the first man in 60 years who could hit .400. Yet with all that meticulous preparation, something is still missing as Garciaparra strides into the on-deck circle for his first at bat. It is then that he will look at the opposing pitcher for the first time. Only then will he think, Oh, we're facing a lefthander today.
The first righthanded hitter since Joe DiMaggio to win back-to-back American League batting titles, the first righthander to hit as high as .372 since DiMaggio hit .381 in 1939, and the beloved sachem of Red Sox Nation often has no clue whom he's facing until he is heading for the batter's box. "It happens many times," says Garciaparra. "My attitude about that is pretty simple. It doesn't matter who's out there. If I'm swinging the bat real good, I feel like I should hit anybody. And if I'm not, anyone can get me out. I don't watch much video. If I do, it's to look at myself. I never study pitchers."
More laborer than savant, Garciaparra sees baseball as a game of will. He will get better; he will get stronger. Pitchers, the Boston media (which he advises new teammates to ignore), even All-Star Games, which he has loathed at every level because they glorify individual play, are extraneous forces that only complicate his simple desire to improve himself.
He is a skilled drone who lives by a monk's devotion to order and routine, including his batting glove-tugging, toe-tapping Arthur Murray act in the batter's box before every pitch. With the momentum of a sprinter after busting through the tape, he keeps showing up at Fenway Park for days after each season ends. Furthermore, don't even think of touching one of his many favorite caps that he keeps around his family's La Habra Heights, Calif., home. "He knows exactly where he left them and how he left them," says his brother, Michael, 17, "and if you just do this"--Michael gently fingers the brim of his own cap--"he gets real mad."
In this religion of repetition, the gym has become Garciaparra's house of worship, his meticulously scripted workouts his canon. His epiphany came after his 1995 season with the Double A Trenton (N.J.) Thunder, when his 155-pound body was so worn down after only 125 games that he didn't bother going home. Instead, he drove straight to Bradenton, Fla., to work with Mark Verstegen, a trainer he'd known since Garciaparra played at Georgia Tech. When Garciaparra walked through the door of his home three months and 15 pounds of muscle later, his mother gasped. "Oh my goodness!" she exclaimed. "You're not my little baby anymore!"
The next spring at the Red Sox training camp, before he was assigned to Triple A Pawtucket (R.I.), his fly balls carried over walls and his line drives shot through gaps. Hallelujah! He was a believer. Each spring since, Garciaparra has returned stronger to the team's camp in Fort Myers, Fla. After new Boston pitcher David Cone saw him for the first time in the clubhouse at spring training last week, the righthander remarked, "The guy is ripped. What I noticed was the presence he has on this team. When he walks into the room, you know it."
Spring training, with its rote and repetition, suits Garciaparra. He fields grounders nearly every day with a Little League-sized glove, which he says forces him to stay low for every ball and prevents laziness that can creep into such fielding drills. He takes batting practice with gamelike intensity.
"He does everything at game speed," new Red Sox hitting coach Rick Down says. "Some guys will take 100 grounders, but it's just eyewash. They're doing it half speed. It's always game speed with Nomar, even batting practice. He doesn't waste any time. I think the only thing that's surprised me about him is that he uses a 33 [inch], 31 [ounce] bat. That's Tony Gwynn-small. But he has tremendous hand-eye coordination and hits everything hard."
Training camp is a church picnic for Garciaparra after another training immersion with Verstegen, who now directs the Athletes' Performance Instititute in Tempe, Ariz. Garciaparra pays $1,500 per week for what is a six-week muscular retreat in which the typical day begins at 9 a.m. and ends at 4:30 p.m. He has worked with Verstegen every winter since that 1995 epiphany, always beginning in the first week of January. Garciaparra's regimen actually begins with his annual call to Verstegen on the day after Thanksgiving to tell him he is starting to train to prepare himself for Verstegen's training.
"I saw him at Georgia Tech," says Seattle Mariners righthander Aaron Sele, Garciaparra's former teammate with the Red Sox. "He was a rail, just a skinny old shortstop. As I watched him develop, I knew why it happened. He's got an incredible desire. I don't know anybody who's more driven."
"Nomar masters whatever I throw at him," Verstegen says. "He is the utopian athlete with the utopian attitude. I wake up in the middle of the night trying to find ways to challenge him."
On Feb. 13, a training day that Verstegen says is "light" in deference to Boston's first full-squad workout eight days later, Garciaparra, Red Sox infielder Lou Merloni and St. Louis Cardinals outfield prospect Troy McNaughton worked for 2 1/2 hours in the morning on outdoor "multidirectional drills" designed to improve fielding range, quickness and agility. The maneuvers included hopping eight consecutive times over a bungee cord held about three feet off the ground; running and jumping over a series of low and high hurdles; playing a game of one-on-one tag inside a small rectangular area; and, with thick bungee cords hooked to the waist at each side and in back, fielding tennis balls. (On other mornings you could find Garciaparra kicking 52-yard field goals or running sprints while pulling, plow-horse style, a metal sled weighted with a 25-pound plate.) Garciaparra and Merloni then snuck in their only actual baseball work: They played catch for about five minutes and flipped balls to each other to hit for another 15.
After a break for lunch, the baseball players joined about a dozen NFL players and prospects for 2 1/2 hours of indoor strength training. They heaved medicine balls against a wall; jumped as high as they could while restrained by cords fastened to a platform; jumped from a standing position onto a 36-inch-high platform in between sets of squats; did abdominal crunches atop a large stability ball, with a piece of foam wedged between their legs; repeatedly yanked a rope attached to a variable resistance machine in a motion that loosely mimics trying to start a very stubborn lawn mower; and tackled various other exercises before they ended their day being stretched by a trainer.
Beginning on Jan. 2, Garciaparra pulled similar double sessions every Monday, Tuesday, Thursday and Friday. There were only morning sessions on Wednesdays, a "recovery day" devoted to exercises in an outdoor pool, and Saturdays, which involved various drills. Sundays were off days.
Much of Garciaparra's training is designed to enhance the rotational strength of his midsection. "He has exceptional strength around the trunk area," Verstegen says. That is evident in his hitting style. Garciaparra bats from a slightly open stance with his hands and hips cocked back, toward the catcher. As the pitcher delivers the ball Garciaparra takes almost no stride with his front foot. Instead, he derives his power from a ferociously fast uncoiling of his hips and hands into the pitch.
"What's amazing about Nomar is that no matter what type of pitch you throw, where you throw it or when you throw it, he can hit it and hit it hard," Sele says. "He reminds me of Kirby Puckett."
Like a roofer pounding in nails, he hits the center of the ball on the center of his bat barrel with such astonishing frequency that the barrels of his bats--which he "breaks in" with repeated batting practice, a custom other hitters wouldn't dare employ for risk of breaking game bats--become harder than those of his teammates. Says Merloni, "I cannot tell you how many times we've sat there in the dugout and gone, 'How the hell did he do that?' He never gets fooled, almost never breaks a bat. He couldn't care less about what a pitcher throws. He figures if it's a strike or anything close to it, he'll hit it."
This is an era of great slugging in baseball, one in which players have found aid in iron, pills and powders. It is an era in which a 5'8" backup infielder like Merloni weighs as much (214 pounds) as NFL Hall of Fame linebacker Jack Ham did early in his career. Garciaparra may be the most highly evolved of these highly trained modern players, having devoted himself so completely to training that he regularly rips off such tech-speak as "cleansing the lymphatic system" and "firing my glutes."
"If I hadn't done the training, today I'd be just a good fielding shortstop hitting seventh or eighth in the lineup. Maybe leadoff," he says. In other words, he would be Cristian Guzman, the Minnesota Twins' light-hitting shortstop. Instead, he has a better career slugging percentage (.573) than 6'3", 210-pound Texas Rangers shortstop Alex Rodriguez (.561). Scott Boras, Rodriguez's agent, ran a statistical study that predicts Garciaparra at age 40 will have 513 home runs, 3,581 hits and a .336 career batting average.
If he makes it to 40. Despite his fanatical training, Garciaparra has not been an especially durable player. He has missed 77 games over the past four years, mostly because of leg injuries. Verstegen, aware that Garciaparra patrols shortstop with abandon, says, "He plays with such explosiveness that he may always be on the borderline of injury. It's my job to reduce those chances, and I think about it all the time."
So intense is Garciaparra that he once earned the nickname No Nonsense Nomar. That was in T-ball in Whittier, Calif. His father, Ramon, a high school baseball coach, always preached to his son, "Don't strike out," and to reinforce the message paid him 25 cents for each hit but fined him 50 cents for each whiff. (Last year Garciaparra, with 50 strikeouts in 599 plate appearances, was the eighth toughest batter in baseball to fan.)
When Nomar was 13, Ramon put him in a batting cage to hit against a college pitcher who threw 90 mph. Nomar whiffed badly on the first pitch. "Come on, let's go!" Ramon said. His son whacked the next two pitches right back at the college guy.
"My father was always pushing me and telling me, 'I know you can do it,'" Garciaparra says. "Well, I didn't know. But I'd try, and then I could do it. After he was right so many times, if he told me to jump off a bridge and I would be perfectly fine, I'd do it."
Garciaparra made the big leagues in late August 1996. Williams, the Red Sox icon, was watching Boston play on television one day when he saw this kid with the wiry build, the quick, slashing stroke, one of those old-time, crooked-nose faces that belong atop a flannel uniform--Garciaparra has broken his nose four times and has slight difficulty breathing through it--and an inferno for a pilot light. Williams grabbed a phone and called Boston general manager Dan Duquette.
"Dan, that shortstop you brought up reminds me of a player, but I can't quite figure out who," Williams said.
Two weeks later Duquette's phone rang. Williams didn't even bother saying hello. "DiMaggio!" he shouted into the phone. "That's who he reminds me of. DiMaggio! The build, the face, the foot speed, the way he swings and the ease with which he plays the game. It's uncanny."
"Now," Duquette says, "Nomar is such a testament to what a ballplayer can be with training that he will go beyond DiMaggio, in terms of power."
Like a page-turner of a novel, Garciaparra keeps you eager to see what comes next, especially this season, when he will have the most efficient RBI machine in baseball, free-agent signee Manny Ramirez, riding shotgun with him. Garciaparra is likely to bat third and Ramirez fourth, though close-to-the-vest manager Jimy Williams, who won't reveal the color of the sky until the sun comes up, has made no pronouncements. "What he did tell me was that he's going to make a lineup for spring training and keep it that way," says Garciaparra, the devout disciple of order, who last year grew so weary of Williams's lineup shuffling (the Sox used a major league-high 140 lineups) that he said he pleaded to the manager in midseason, "Just leave me fourth."
Last week Garciaparra declared, "It really doesn't matter to me where I hit, and Manny feels the same way. I'd just rather be kept in the same spot." With Ramirez behind him, Garciaparra could well maintain the trajectory that has characterized his career--a straight line upward. Here are his annual batting averages, beginning with his 24-game cameo in 1996: .241, .306, .323, .357, .372.
His brethren in the fraternity of elite shortstops, Rodriguez and the New York Yankees' Derek Jeter, may have scored contracts over the winter worth a combined $441 million. (Garciaparra has been content with a seven-year, $45.25 million deal, assuming the Red Sox pick up option years in 2003 and 2004.) Only Garciaparra among them can envision as a real possibility an even more jaw-dropping number: .400.
"He will hit .400," says two-time American League batting champion Edgar Martinez of the Mariners. "He's only 27. He's still a baby. I felt like I was at my best when I was 32. That's when you have the knowledge and experience. And you know he will still be in shape. He'll do it. He has a lot of time to do it."
Williams is sure Garciaparra could do it if only he would take 100 walks--he walked a career-high 61 times last year. The idea of taking pitches, though, is anathema to someone who put the first pitch he saw in play 125 times last year, and batted .432 doing it. "They call it hitting, not walking," Garciaparra says. "The way I look at it, you can go up there and stand at the plate looking real pretty, or you can be aggressive and swing. I'm never going to look pretty, so I'm going to hit.
"You know what? Four hundred is possible. It's hard, obviously, but I wouldn't say it's impossible. You need a lot of things to go your way. I think more than anything else, it depends on how the year goes for the people around you."
Do you want to be the one to tell No Nonsense it can't be done? There is an old French fable about hornets and bees that begins with this moral: By the work, one knows the workman. What Garciaparra has made of himself, in uniform and out, reveals who he is. He is a devout laborer, hammer in hand, who keeps pounding, pounding away.