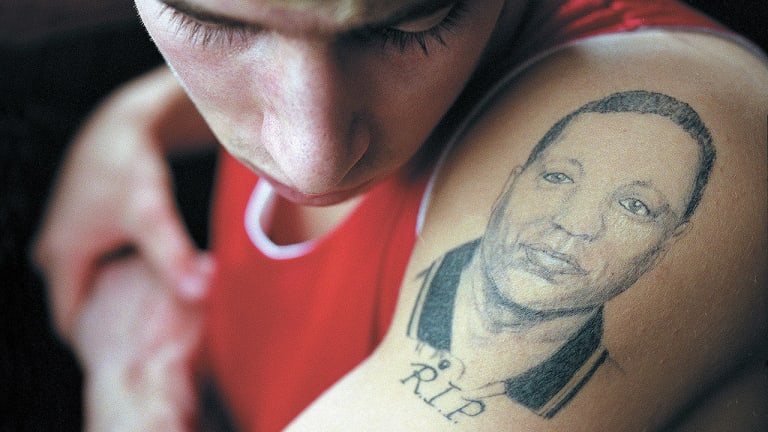 Higher Education
In the unlikeliest of places—Ohio's Amish country—a high school basketball coach changed a community's ideas about race, and about life
This is a story about a man, and a place where magic happened. It was magic so powerful that the people there can't stop going back over it, trying to figure out who the man was and what happened right in front of their eyes, and how it'll change the time left to them on earth.
See them coming into town to work, or for their cup of coffee at Boyd & Wurthmann, or to make a deposit at Killbuck Savings? One mention of his name is all it takes for everything else to stop, for it all to begin tumbling out. . .
"I'm afraid we can't explain what he meant to us. I'm afraid it's so deep we can't bring it into words."
"It was almost like he was an angel."
"He was looked on as God."
There's Willie Mast. He's the one to start with. It's funny, he'll tell you, his eyes misting, he was so sure they'd all been hoodwinked that he almost did what's unthinkable now—run that man out of town before the magic had a chance.
All Willie had meant to do was bring some buzz to Berlin, Ohio, something to look forward to on a Friday night, for goodness' sake, in a town without high school football or a fast-food restaurant, without a traffic light or even a place to drink a beer, a town dozing in the heart of the largest Amish settlement in the world. Willie had been raised Amish, but he'd walked out on the religion at 24—no, he'd peeled out, in an eight-cylinder roar, when he just couldn't bear it anymore, trying to get somewhere in life without a set of wheels or even a telephone to call for a ride.
He'd jumped the fence, as folks here called it, become a Mennonite and started a trucking company, of all things, his tractor-trailers roaring past all those horses and buggies, moving cattle and cold meat over half the country. But his greatest glory was that day back in 1982 when he hopped into one of his semis and moved a legend, Charlie Huggins, into town. Charlie, the coach who'd won two Ohio state basketball championships with Indian Valley South and one with Strasburg-Franklin, was coming to tiny Hiland High. Willie, one of the school's biggest hoops boosters, had banged the drum for Charlie for months.
And yes, Charlie turned everything around in those winters of '82 and '83, exactly as Willie had promised, and yes, the hoops talk was warmer and stronger than the coffee for the first time in 20 years at Willie's table of regulars in the Berlin House restaurant. They didn't much like it that second year when Charlie brought in an assistant—a man who'd helped him in his summer camps and lost his job when the Catholic school where he coached went belly-up—who was black. But Charlie was the best dang high school coach in three states; he must've known something that they didn't. Nor were they thrilled by the fact that the black man was a Catholic, in a community whose children grew up reading tales of how their ancestors were burned at the stake by Catholics during the Reformation in Europe more than 400 years ago. But Charlie was a genius. Nor did they cherish the fact that the Catholic black was a loser, 66 times in 83 games with those hapless kids at Guernsey Catholic High near Cambridge. But Charlie. . .
Charlie quit. Quit in disgust at an administration that wouldn't let players out of their last class 10 minutes early to dress for practice. But he kept the news to himself until right before the '84 school year began, too late to conduct a proper search for a proper coach. Willie Mast swallowed hard. It was almost as if his man, Charlie, had pulled a fast one. Berlin's new basketball coach, the man with the most important position in a community that had dug in its heels against change, was an unmarried black Catholic loser. The only black man in eastern Holmes County.
It wasn't that Willie hated black people. He'd hardly known any. "All I'd heard about them," he'll tell you, "was riots and lazy." Few had ever strayed into these parts, and fewer still after that black stuffed dummy got strung up on the town square in Millersburg, just up the road, after the Civil War. Maybe twice a year, back in the 1940s and '50s, a Jewish rag man had come rattling down Route 39 in a rickety truck, scavenging for scrap metal and rags to sell to filling stations 30 miles northeast in Canton or 60 miles north in Cleveland, and brought along a black man for the heavy lifting. People stared at him as if he were green. Kids played Catch the Nigger in their schoolyards without a pang, and when a handful of adults saw the color of a couple of Newcomerstown High's players a few years before, you know what word was ringing in those players' ears as they left the court.
Now, suddenly, this black man in his early 30s was standing in the middle of a gym jammed with a thousand whites, pulling their sons by the jerseys until their nostrils and his were an inch apart, screaming at them. Screaming, "Don't wanna hear your shoulda-coulda-wouldas! Get your head outta your butt!" How dare he?
Worse yet, the black man hadn't finished his college education, couldn't even teach at Hiland High. Why, he was working at Berlin Wood Products, the job Charlie had arranged for him, making little red wagons till 2 p.m. each day. "This nigger doesn't know how to coach," a regular at the Berlin House growled.
Willie agreed. "If he wins, it's because of what Charlie built here," he said. "What does he know about basketball?"
But what could be done? Plenty of folks in town seemed to treat the man with dignity. Sure, they were insular, but they were some of the most decent and generous people on earth. The man's Amish coworkers at the wood factory loved him, after they finally got done staring holes in the back of his head. They slammed Ping-Pong balls with him on lunch hour, volleyed theology during breaks and dubbed him the Original Black Amishman. The Hiland High players seemed to feel the same way.
He was a strange cat, this black man. He had never said a word when his first apartment in Berlin fell through—the landlord who had agreed to a lease on the telephone saw the man's skin and suddenly remembered that he rented only to families. The man had kept silent about the cars that pulled up to the little white house on South Market Street that he moved into instead, about the screams in the darkness, the voices threatening him on his telephone and the false rumors that he was dating their women. "They might not like us French Canadians here," was all he'd say, with a little smile, when he walked into a place and felt it turn to ice.
Finally, the ice broke. Willie and a few pals invited the man to dinner at a fish joint up in Canton. They had some food and beers and laughs with him, sent him on his merry way and then. . .what a coincidence: The blue lights flashed in the black man's rearview mirror. DUI.
Willie's phone rang the next morning, but instead of it being a caller with news of the school board's action against the new coach, it was him. Perry Reese Jr. Just letting Willie know that he knew exactly what had happened the night before. And that he wouldn't go away. The school board, which had caught wind of the plot, never made a peep. Who was this man?
Some people honestly believed that the coach was a spy—sent by the feds to keep an eye on the Amish—or the vanguard of a plot to bring blacks into Holmes County. Yet he walked around town looking people in the eyes, smiling and teasing with easy assurance. He never showed a trace of the loneliness he must have felt. When he had a problem with someone, he went straight to its source. Straight to Willie Mast in the school parking lot one night. "So you're not too sure about me because I'm black," he said, and he laid everything out in front of Willie, about racism and how the two of them needed to get things straight.
Willie blinked. He couldn't help but ask himself the question folks all over town would soon begin to ask: Could I do, or even dream of doing, what the coach is doing? Willie couldn't help but nod when the black man invited him along to scout an opponent and stop for a bite to eat, and couldn't help but feel good when the man said he appreciated Willie because he didn't double-talk when confronted—because Willie, he said, was real. Couldn't help but howl as the Hiland Hawks kept winning, 49 times in 53 games those first two years, storming to the 1986 Division IV state semifinal.
Winning, that's what bought the black man time, what gave the magic a chance to wisp and curl through town and the rolling fields around it. That's what gave him the lard to live through that frigid winter of '87. That was the school year when he finally had his degree and began teaching history and current events in a way they'd never been taught in eastern Holmes County, the year the Hawks went 3-18 and the vermin came crawling back out of the baseboards. Damn if Willie wasn't the first at the ramparts to defend him, and damn if that black Catholic loser didn't turn things right back around the next season and never knew a losing one again.
How? By pouring Charlie Huggins's molasses offense down the drain. By runnin' and gunnin', chucking up threes, full-court pressing from buzzer to buzzer—with an annual litter of runts, of spindly, short, close-cropped Mennonites! That's what most of his players were: the children, grandchildren and great-grandchildren of Amish who, like Willie, had jumped the fence and endured the ostracism that went with it. Mennonites believed in many of the same shall-nots as the Amish: A man shall not be baptized until he's old enough to choose it, nor resort to violence even if his government demands it, nor turn his back on community, family, humility, discipline and orderliness. But the Mennonites had decided that unlike the Amish, they could continue schooling past the eighth grade, turn on a light switch or a car ignition, pick up a phone and even, except the most conservative of them, pull on a pair of shorts and beat the pants off an opponent on the hardwood court without drifting into the devil's embrace.
The Hawks' Nest, Hiland's tiny old gym, became what Willie had always dreamed it would be: a loony bin, the one place a Mennonite could go to sweat and shriek and squeal; sold out year after year, with fans jamming the hallway and snaking out the door as they waited for the gym to open, then stampeding for the best seats an hour before the six o'clock jayvee game; reporters and visiting coaches and scouts sardined above them in wooden lofts they had to scale ladders to reach; spillover pouring into the auditorium beside the gym to watch on a video feed as noise thundered through the wall. A few dozen teenage Amish boys, taking advantage of the one time in their lives when elders allowed them to behold the modern world, and 16-year-old cheerleaders' legs, would be packed shoulder to shoulder in two corners of the gym at the school they weren't permitted to attend. Even a few Amish men, Lord save their souls, would tie up the horses and buggies across the street at Yoder's Lumber and slink into the Nest. And plenty more at home would tell the missus that they'd just remembered a task in the barn, then click on a radio stashed in the hay and catch the game on WKLM.
Something had dawned on Willie, sitting in his front-row seat, and on everyone else in town. The black man's values were virtually the same as theirs. Humility? No coach ever moved so fast to duck praise or bolt outside the frame of a team picture. Unselfishness? The principal might as well have taken the coach's salary to pep rallies and flung it in the air—most of it ended up in the kids' hands anyway. Reverence? No congregation ever huddled and sang out the Lord's Prayer with the crispness and cadence that the Hawks did before and after every game. Family? When Chester Mullet, Hiland's star guard in '96, only hugged his mom on parents' night, Perry gave him a choice: Kiss her or take a seat on the bench. Work ethic? The day and season never seemed to end, from 6 a.m. practices to 10 p.m. curfews, from puke buckets and running drills in autumn to two-a-days in early winter to camps and leagues and an open gym every summer day. He out-Amished the Amish, out-Mennonited the Mennonites, and everyone, even those who'd never sniffed a locker in their lives, took to calling the black man Coach.
Ask Willie. "Most of the petty divisions around here disappeared because of Coach," he'll tell you. "He pulled us all together. Some folks didn't like me, but I was respected more because he respected me. When my dad died, Coach was right there, kneeling beside the coffin, crossing himself. He put his arm right around my mom—she's Amish—and she couldn't get over that. When she died, he was the first one there. He did that for all sorts of folks. I came to realize that color's not a big deal. I took him for my best friend."
And that man in Willie's coffee clan who'd held out longest, the one given to calling Coach a nigger? By Coach's fifth year, the man's son was a Hawk, the Hawks were on another roll, and the man had seen firsthand the effect Coach had on kids. He cleared his throat one morning at the Berlin House; he had something to say.
"He's not a nigger anymore."
The magic didn't stop with a nigger turning into a man and a man into a best friend. It kept widening and deepening. Kevin Troyer won't cry when he tells you about it, as the others do. They were brought up to hold that back, but maybe his training was better. He just lays out the story, beginning that autumn day 10 years ago when he was 16, and Coach sat him in the front seat of his Jeep, looked in his eyes and said, "Tell me the truth."
Someone had broken into Candles Hardware and R&R Sports and stolen merchandise. Whispers around town shocked even the whisperers: that the culprits were their heroes, kids who could walk into any restaurant in Berlin and never have to pay. They'd denied it over and over, and Coach had come to their defense. . . but now even he had begun to wonder.
A priest. That's what he'd told a few friends he would be if he weren't a coach. That's whose eyes Kevin felt boring into him. How could you keep lying to the man who stood in the lobby each morning, greeting the entire student body, searching everyone's eyes to see who needed a headlock, who needed lunch money, who needed love? "Don't know what you did today, princess," he'd sing out to a plump or unpopular girl, "but whatever it is, keep it up. You look great."
He'd show up wearing a cat's grin and the shirt you'd gotten for Christmas—how'd he get into your bedroom closet?—or carrying the pillow he'd snagged right from under your head on one of his Saturday morning sorties, when he slipped like smoke into players' rooms, woke them with a pop on the chest, then ran, cackling, out the door. Sometimes those visits came on the heels of the 1 a.m. raids he called Ninja Runs, when he rang doorbells and cawed "Gotcha!", tumbling one family after another downstairs in pajamas and robes to laugh and talk and relish the privilege of being targeted by Coach. He annihilated what people here had been brought up to keep: the space between each other.
His door was never locked. Everyone, boy or girl, was welcome to wade through those half dozen stray cats on the porch that Coach gruffly denied feeding till his stash of cat food was found, and open the fridge, grab a soda, have a seat, eat some pizza, watch a game, play cards or Ping-Pong or Nintendo. . .and talk. About race and religion and relationships and teenage trouble, about stuff that wouldn't surface at Kevin Troyer's dinner table in a million years. Coach listened the way other folks couldn't, listened clean without jumping ahead in his mind to what he'd say next, or to what the Bible said. When he finally spoke, he might play devil's advocate, or might offer a second or third alternative to a kid who'd seen only one, or might say the very thing Kevin didn't want to hear. But Kevin could bet his mother's savings that the conversations wouldn't leave that house.
Coach's home became the students' hangout, a place where they could sleep over without their parents' thinking twice. . .as long as they didn't mind bolting awake to a blast of AC/DC and a 9 a.m. noogie. There was no more guard to drop. Parents trusted Coach completely, relied on him to sow their values.
He sowed those, and a few more. He took Kevin and the other Hawks to two-room Amish schools to read and shoot hoops with wide-eyed children who might never get to see them play, took the players to one another's churches and then to his own, St. Peter, in Millersburg. He introduced them to Malcolm X, five-alarm chili, Martin Luther King Jr., B.B. King, crawfish, Cajun wings, John Lee Hooker, Tabasco sauce, trash-talk fishing, Muhammad Ali.
And possibility. That's what Coach stood for, just by virtue of his presence in Berlin: possibility, no matter how high the odds were stacked against you, no matter how whittled your options seemed in a community whose beliefs had barely budged in 200 years, whose mailboxes still carried the names of the same Amish families that had come in wagons out of Pennsylvania in the early 1800s—Yoders and Troyers and Stutzmans and Schlabachs and Hostetlers and Millers and Mullets and Masts. A place where kids, for decades, had graduated, married their prom dates and stepped into their daddies' farming or carpentry or lumber businesses without regard for the fact that Hiland High's graduating classes of 60 ranked in the top 10 in Ohio proficiency tests nearly every year. Kevin Troyer's parents didn't seem to care if he went to college. Coach's voice was the one that kept saying, "It's your life. There's so much more out there for you to see. Go places. Do things. Get a degree. Reach out. You have to take a chance."
The kids did, more and more, but not before Coach loaded them with laundry baskets full of items they'd need away from home, and they were never out of reach of those 6 a.m. phone calls. "I'm up," he'd say. "Now you are too. Remember, I'm always here for you."
He managed all that without raising red flags. He smuggled it under the warm coat of all that winning, up the sleeve of all that humility and humor. Everyone was too busy bubbling over the 11 conference titles and five state semifinals. Having too much fun volunteering to be henchmen for his latest prank, shoving Mr. Pratt's desk to the middle of his English classroom, removing the ladder to maroon the radio play-by-play man up in the Hawks' Nest loft, toilet-papering the school superintendent's yard and then watching Coach, the most honest guy in town, lie right through all 32 teeth. He was a bootlegger, that's what he was. A bootlegger priest.
"Kevin. . .tell the truth."
Kevin's insides trembled. How could he cash in his five teammates, bring down the wrath of a community in which the Ten Commandments were still stone, own up to the man whose explosions made the Hawks' Nest shudder? How could he explain something that was full of feeling and empty of logic—that somehow, as decent as his parents were, as warm as it felt to grow up in a place where you could count on a neighbor at any hour, it all felt suffocating? All the restrictions of a Conservative Mennonite church that forbade members to watch TV, to go to movies, to dance. All the emotions he'd choked back in a home ruled by a father and mother who'd been raised to react to problems by saying, "What will people think?" All the expectations of playing for the same team that his All-State brother, Keith, had carried to its first state semi in 24 years, back in 1986. Somehow, busting into those stores in the summer of '91 felt like the fist Kevin could never quite ball up and smash into all that.
"I . . . I did it, Coach. We . . ."
The sweetest thing eastern Holmes County had ever known was ruined. Teammate Randy Troyer, no relation to Kevin, disappeared when word got out. The community gasped—those six boys could never wear a Hawks uniform again. Coach? He resigned. He'd betrayed the town's trust and failed his responsibility, he told his superiors. His "sons" had turned to crime.
The administration begged him to stay. Who else was respected enough by family court judges, storekeepers, ministers and parents to find resolution and justice? Coach stared across the pond he fished behind his house. He came up with a solution both harder and softer than the town's. He would take Randy Troyer under his own roof, now that the boy had slunk back after two weeks of holing up in Florida motels. He'd be accountable for Randy's behavior. He'd have the six boys locked up in detention centers for two weeks, to know what jail tasted and smelled like. But he would let them back on the team. Let them feel lucky to be playing basketball when they'd really be taking a crash course in accountability.
Kevin found himself staring at the cinder-block wall of his cell, as lonely as a Mennonite boy could be. But there was Coach, making his rounds to all six lost souls. There was that lung-bursting bear hug, and another earful about not following others, about believing in yourself and being a man.
The Berlin Six returned. Randy Troyer lived in Coach's home for four months. Kevin walked to the microphone at the first pep rally, sick with nerves, and apologized to the school and the town.
Redemption isn't easy with a 5'11" center, but how tight that 1991-92 team became, players piling into Coach's car every Thursday after practice, gathering around a long table at a sports bar a half hour away in Dover and setting upon giant cookie sheets heaped with 500 hot wings. And how those boys could run and shoot. Every time a 20-footer left the hands of Kevin Troyer or one of the Mishler twins, Nevin and Kevin, or the Hawks' star, Jr. Raber, Hiland's students rose, twirling when the ball hit twine and flashing the big red 3's on their T-shirts' backs.
Someday, perhaps in a generation or two, some Berliner might not remember every detail of that postseason march. Against Lakeland in the district championship, the Hawks came out comatose and fell behind 20-5, Coach too stubborn to call a timeout—the man could never bear to show a wisp of doubt. At halftime he slammed the locker-room door so hard that it came off its hinges, then he kicked a crater in a trash can, sent water bottles flying, grabbed jerseys and screamed so loud that the echoes peeled paint. Kevin and his mates did what all Hawks did: gazed straight into Coach's eyes and nodded. They knew in their bones how small his wrath was, held up against his love. They burst from that locker room like jackals, tore Lakeland to bits and handily won the next two games to reach the state semis. The world came to a halt in Berlin.
How far can a bellyful of hunger and a chestful of mission take a team before reality steps in and stops it? In the state semifinal in Columbus, against a Lima Central Catholic bunch loaded with kids quicker and thicker and taller and darker, led by the rattlesnake-sudden Hutchins brothers, Aaron and all-stater Anthony, the Hawks were cooked. They trailed 62-55 with 38 seconds left as Hiland fans trickled out in despair and Lima's surged to the box-office windows to snatch up tickets for the final. Lima called timeout to dot its i's and cross its t's, and there stood Coach in the Hiland huddle, gazing down at a dozen forlorn boys. He spoke more calmly than they'd ever heard him, and the fear and hopelessness leaked out of them as they stared into his eyes and drank in his plan. What happened next made you know that everything the bootlegger priest stood for—bucking the tide, believing in yourself and possibility—had worked its way from inside him to inside them.
Nevin Mishler, who would sit around the campfire in Coach's backyard talking about life till 2 a.m. on Friday nights, dropped in a rainbow three with 27 seconds left to cut the deficit to four. Timeout, calm words, quick foul. Lima's Anthony Hutchins blew the front end of a one-and-one.
Eleven seconds left. Jr. Raber, whose wish as a boy was to be black, just like Coach, banked in a driving, leaning bucket and was fouled. He drained the free throw. Lima's lead was down to one. Timeout, calm words, quick foul. Aaron Hutchins missed another one-and-one.
Nine ticks left. Kevin Troyer, who would end up going to college and becoming a teacher and coach because of Coach, tore down the rebound and threw the outlet to Nevin Mishler.
Seven seconds left. Nevin turned to dribble, only to be ambushed before half-court by Aaron Hutchins, the wounded rattler, who struck and smacked away the ball.
Five seconds left, the ball and the season and salvation skittering away as Nevin, who cared more about letting down Coach than letting down his parents, hurled his body across the wood and swatted the ball back toward Kevin Troyer. Kevin, who almost never hit the floor, who had been pushed by Coach for years to give more, lunged and collided with Anthony Hutchins, then spun and heaved the ball behind his back to Jr. Raber as Kevin fell to the floor.
Three seconds left. Jr. took three dribbles and heaved up the impossible, an off-balance 35-footer with two defenders in his face, a shot that fell far short at the buzzer. . .but he was fouled. He swished all three free throws, and the Hawks won, they won—no matter how many times Lima fans waiting outside for tickets insisted to Hiland fans that it couldn't be true—and two days later won the only state title in school history, by three points over Gilmour Academy, on fumes, pure fumes.
In the aisles, people danced who were forbidden to dance. The plaque commemorating the crowning achievement of Coach's life went straight into the hands of Joe Workman, a water and towel boy. Kevin Troyer and his teammates jumped Coach before he could sneak off, hugging him and kissing him and rubbing his head, but he had the last laugh. The 9 a.m. noogies would hurt even more those next nine years, dang that championship ring.
Someone would come and steal the magic. Some big-cheese high school or college would take Coach away—they knew it, they just knew it. It all seems so silly now, Steve Mullet says. It might take Steve the last half of his life to finish that slow, dazed shake of his head.
Berlin, you see, was a secret no more by the mid-1990s. Too much winning by Coach, too many tourists pouring in to peer at the men in black hats and black buggies. Two traffic lights had gone up, along with a Burger King and a couple dozen gift shops, and God knows how many restaurants and inns with the word Dutch on their shingles to reel in the rubberneckers. Even the Berlin House, where Willie Mast and the boys gathered, was now the Dutch Country Kitchen.
Here they came, the city slickers. Offering Coach big raises and the chance to hush that whisper in his head: Why keep working with disciplined, two-parent white kids when children of his own race were being devoured by drugs and despair for want of someone like him? Akron Hoban wanted him. So did Canton McKinley, the biggest school in the city where Coach had grown up, and Canton Timken, the high school he attended. They wanted to take the man who'd transformed Steve Mullet's family, turned it into something a simple and sincere country fellow had never dreamed it might be. His first two sons were in college, thanks to Coach, and his third one, another guard at Hiland, would likely soon be too. Didn't Steve owe it to that third boy, Carlos, to keep Coach here? Didn't he owe it to all the fathers of all the little boys around Berlin?
Coach had a way of stirring Steve's anxiety and the stew of rumors. He would walk slow and wounded through each April after he'd driven another team of runts to a conference crown, won two or three postseason games, and then yielded to the facts of the matter, to some school with nearly twice as many students and a couple of 6'5" studs. "It's time for a change," he'd sigh. "You guys don't need me anymore."
Maybe all missionaries are restless souls, one eye on the horizon, looking for who needs them most. Perhaps Coach was trying to smoke out even the slightest trace of misgivings about him, so he could be sure to leave before he was ever asked to. But Steve Mullet and eastern Holmes County couldn't take that chance. They had to act. Steve, a dairy farmer most of his life, knew about fencing. But how do you fence in a man when no one really understands why he's there, or what he came from?
Who was Coach's family? What about his past? Why did praise and attention make him so uneasy? The whole community wondered, but in Berlin it was disrespectful to pry. Canton was only a 45-minute hop away, yet Steve had never seen a parent or a sibling of Coach's, a girlfriend or even a childhood pal. The bootlegger priest was a man of mystery and moods as well as a wide-open door. He'd ask you how your grandma, sister and uncle were every time you met, but you weren't supposed to inquire about his—you just sensed it. His birthday? He wouldn't say. His age? Who knew? It changed every time he was asked. But his loneliness, that at last began to show.
There were whispers, of course. Some claimed he'd nearly married a flight attendant, then beat a cold-footed retreat. A black woman appeared in the stands once, set the grapevine sizzling, then was never glimpsed again. Steve and his pals loved to tease Coach whenever they all made the 20-mile drive to Dinofo's, a pizza and pasta joint in Dover, and came face to face with that wild black waitress, Rosie. "When you gonna give it up?" she'd yelp at Coach. "When you gonna let me have it?"
He'd grin and shake his head, tell her it would be so good it would spoil her for life. Perhaps it was too scary, for a man who gave so much to so many, to carve it down to one. Maybe Jeff Pratt, the Hiland English teacher, had it right. Loving with detachment, he called it. So many people could be close to him, because no one was allowed too close.
A circle of women in Berlin looked on him almost as a brother—women such as Nancy Mishler, mother of the twins from the '92 title team, and Peg Brand, the school secretary, and Shelly Miller, wife of the booster club's president, Alan. They came to count on Coach's teasing and advice, on his cards and flowers and prayers when their loved ones were sick or their children had them at wit's end, and they did what they could to keep him in town. "I wish we could find a way to make you feel this is your family, that this is where you belong," Peg wrote him. "If you leave," she'd say, "who's going to make our kids think?" The women left groceries and gifts on his porch, homemade chocolate-chip cookies on his kitchen table, invited him to their homes on Sundays and holidays no matter how often he begged off, never wanting to impose.