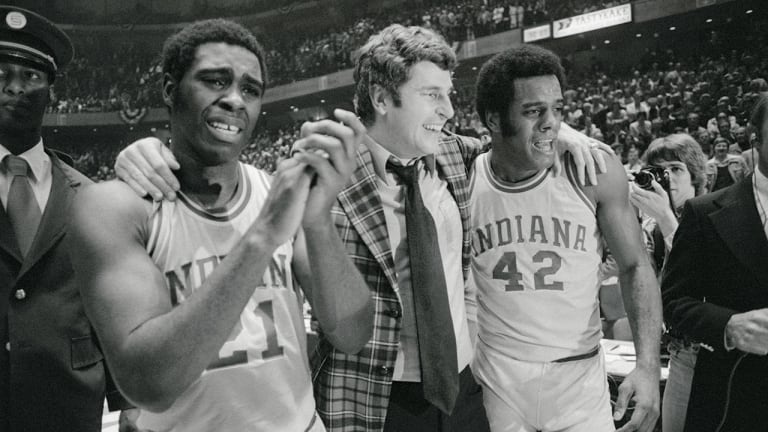 The Spirit of '76
A quarter century has passed since there has been a champion--the '75-76 Indiana Hoosiers--tough enough to go undefeated
Bob Knight's 1975-76 Indiana Hoosiers may have been college basketball's last Boy Scouts. They wore candy-cane-striped warmups on the court, coats and ties off it, and a cloak of rectitude at all times. They got worked like washerwomen at practice and hollered at like Marine recruits during games but never raised their voices in protest. They passed up shots to get better shots, set rib-rattling picks and played straight-up man-to-man without spending so much as one second in a catch-your-breath zone defense. They never popped off during interviews--indeed, they rarely did interviews--and didn't have highlight shows on which to preen and prance and inform the world that they were No. 1, even though they were. "We didn't have much of a highlight style anyway," says Tom Abernethy, who was a starter at forward.
Here's another thing about them: They didn't lose a game. They are the last NCAA champions to finish with a zero on the right side of their ledger, a distinction that has survived this season as well.
So as we celebrate the silver anniversary of that memorable 32-0 team, a milestone that for those Hoosiers is bittersweet because the coach they still revere is in exile, we also look for reasons why no one since has duplicated Indiana's perfecto. A minor one is that a quarter century ago the mental barrier of going undefeated didn't seem so formidable, the concept that we're better off losing one before the tournament wasn't so en vogue. Between 1964 and '73, four UCLA teams had ended their seasons as unbeaten champions, while two others (San Francisco in '56 and North Carolina in '57) had gone unblemished before that. When Knight gathered his team in the preseason, he presented an undefeated season as a reasonable objective.
Forget the notion that today's top teams have tougher schedules than Indiana did. The 1975-76 Hoosiers, who went wire to wire as No. 1, opened against defending NCAA champion UCLA; took on a strong Kentucky team at Louisville's Freedom Hall; played four other nonconference teams (Florida State, Notre Dame, Virginia Tech and St. John's) that were ranked in the Top 20 at some point; survived 18 games in the customarily tough Big Ten; got a brutal draw in the NCAA tournament (facing No. 6 Alabama, No. 2 Marquette and No. 5 UCLA); and had to beat an outstanding team (No. 9 Michigan) for the third time that season to win it all. They did all that with a big No. 1 target painted on their backs.
As much as memory might suggest that Indiana's season was more coronation than crusade, the Hoosiers were nearly upended several times during the regular season and were in trouble in three tournament games, including the final. In the face of these challenges, Indiana demonstrated character, composure and cojones, largely because of what Knight did to the players during practices. Drills to teach the Hoosiers how to draw a charge and ask-no-quarter scrimmages left them bruised and battered. Abernethy, who would've run barefoot through a snake pit had Knight asked him, recalls looking down at his scabby knees during a brief Christmas break and thinking, 'Wait a minute. I'm a senior, and I'm still going through this?' At one point late in the season some players prevailed upon team leader Quinn Buckner to ask Knight to cut back on the time and intensity of their workouts and Knight complied.
Knight also wasn't afraid to use benchings as motivation. Can you imagine the publicity that not starting the leader of the nation's No. 1 team would generate today? Yet Knight did that to Buckner midway through the season to send a message. He was unhappy not only with Buckner's play but also with the fact that Buckner and co-captain Scott May had moved out of their dorm and into an apartment. "He told us we weren't sleeping right and eating right, and we weren't," says Buckner, who now works as an analyst on ESPN college basketball telecasts. "And you know what? We moved back into the dorm." Guard Bobby Wilkerson was also left on the bench for the start of a game. "I don't really remember why," says Wilkerson, who coaches the boys' team at Northwest High in Indianapolis, "but all you can say is that Coach Knight was an equal opportunist in terms of getting pissed-off at people. I'll tell you part of the reason we were so good: Under Coach Knight, the games seemed like a vacation."
Indiana also had a load of talent. The starters all had NBA careers, as did backup swingman Wayne Radford. There was plenty of talent on the bench too. And Knight, at 35 and already a head coach for 10 seasons, might have been at the peak of his considerable powers.
The Hoosiers were experienced to a degree that few, if any, top teams are these days. Abernethy, Buckner, May and Wilkerson were battle-tested seniors; Kent Benson was a three-year starter as a junior. The 1975-76 season was in fact the continuation of a championship drive that had begun in '74-75. It's axiomatic around Bloomington that the '74-75 Hoosiers, who included sharpshooters Steve Green and John Laskowski, were better than the team that won the title. But a broken left arm suffered by May late in the regular season and a fired-up Kentucky team had combined to give Indiana its only defeat, 92-90, in the '75 Mideast Regional final. (Knight's greatest accomplishment was not going 32-0 in 1975-76; it was going 63-1 over two seasons, including two straight unbeaten Big Ten campaigns.) The loss filled the Hoosiers with motivation. "Because of the disappointment we felt after the Kentucky game," says Buckner, "we gave ourselves up to the idea of winning it all."
Give they did. Though he shone in the tournament, Abernethy did almost nothing but garbage work the entire season. Still, he scored more than Buckner and Wilkerson, both of whom averaged single figures. Imagine a shooting guard being selected today in the first round of the NBA draft with a 7.8-point average, as Wilkerson was after that season. Benson was an All-America center, but in 10 games he had 10 or fewer field goal attempts. May, college basketball's player of the year that season, was the only Hoosier with what amounted to carte blanche on offense, but Knight made sure he wiped his feet on May's back from time to time. "He'd call me in before practice and tell me he was going to go after me to send a message," says May, who owns and operates apartment complexes in Bloomington, "and that's exactly what he did."
The reserves sacrificed, too. As a freshman, Jim Crews had started in the backcourt with Buckner on a team that made the Final Four in Knight's second season after coming to Indiana from Army. As a senior, Crews's backside cut a groove on the bench, but he never complained. "Jimmy epitomized what we were all about," says Buckner. "He's the best teammate I ever had."
The Hoosiers were also essentially unscoutable. Every opponent knew that Indiana ran a motion offense--"If you're standing, you're wrong" was one of Knight's pet expressions--and played exclusively man-to-man defense, but Knight's genius lay in making rapid adjustments at both ends of the court. In the 1975 Holiday Festival final at Madison Square Garden against St. John's, for example, Knight instructed his two ball handlers, Buckner and Wilkerson, to remove themselves from the offense temporarily and brought out his forwards, May and Abernethy, to handle the ball down the stretch because they were better from the line; indeed, they combined to make 13 of 14 free throws as Indiana won 76-69. During the national championship game against Michigan, the Hoosiers suddenly found themselves without one of their stars (more on that later). Knight tried two players in relief before settling on sophomore guard Jim Wisman. In the second half Knight told Wisman to keep himself out of the offense without looking as if he were. "Stay on top, Jimmy," Knight told him. "You can pop back for relief, but you don't have to shoot." In that way, too, Indiana would have a man back against the Wolverines' potent fast break. Result? Wisman took only one shot in his 21 minutes, but his floor game was a major factor in the Hoosiers' 86-68 victory.
But even with all they had going for them, the Hoosiers still needed a lot of luck. SI collected memories of that season from players and coaches (efforts to get in touch with Knight weren't successful) with a particular emphasis on the close calls that might've ruined the perfect season.
PRECONFERENCE PLAY
Judging by how decisively the Hoosiers pounded defending NCAA champ UCLA in their opener, the season looked as if it would be a waltz. The nationally televised game was played at St. Louis Arena on a court laid over ice, and both teams complained about the footing. Obviously it hurt Indiana less, as the Hoosiers got out to an early lead and won 84-64, with May scoring 33 points. However, two weeks later, at Assembly Hall against Notre Dame, the Hoosiers revealed a capacity for blowing leads that would haunt them the rest of the season. They were ahead 51-37 with about 11 minutes left when the Irish, helped by a zone press, outscored them 13-2 over three furious minutes. When star Adrian Dantley converted a follow shot, Notre Dame was within a point, 59-58, with two minutes to go, but the Hoosiers put away the game when Buckner sank two free throws with 11 seconds remaining (after just having missed two with 23 seconds left). Final score: 63-60. Talk of a "super team" ceased, particularly with an always-tough Kentucky looming four days later.
Following a 98-74 regular-season rout of Kentucky the previous year, Knight had slapped Wildcats coach Joe B. Hall on the back of the head. He said it was meant to be playful, but Hall took umbrage. Add in Kentucky's payback victory in the NCAA regional final and there was much pregame attention--and tension. Again, Indiana jumped out early, leading 23-11 after 10 minutes. Again it failed to build on the margin. The Hoosiers couldn't find a consistent offense. May would finish with 27 points, but during one span he missed seven straight shots and the Wildcats found themselves with a 62-60 lead and the ball with a little more than a minute to go. Much to Hall's consternation, though, guard Larry Johnson inexplicably took a wild shot (there was no shot clock then and Hall wanted his players to eat up some time), Indiana rebounded the ball, and May hit a jumper that tied the game. Kentucky's Rick Robey untied it, and, with nine seconds left, Abernethy missed a four-footer. The ball bounced off the rim and, as the Wildcats' fans started to celebrate, Benson stuck out his hand and in went the tip to put the game into overtime. "What I was trying to do was get the ball back on the board, so I could go after it again," says Benson, who now works as a financial planner in Bloomington. "That's what I had always been taught."
Buckner chuckles at that explanation: "I still say that Bennie just stuck out his hand, and the ball happened to go in." At any rate, the Hoosiers dominated in overtime and won 77-68.
The games against Notre Dame and Kentucky convinced Knight that Indiana, experienced as it was, had work to do. "He depended a lot on Quinn's leadership that season," says Crews, "but around this time he really let us have it, sarcastic, riding us, working our butts off." Abernethy in particular felt the heat. "I was the only different starter from the year before, and I remember feeling a lot of pressure during that time," says Abernethy, who now owns and operates the Indiana Basketball Academy. The Hoosiers got the message and sailed through the rest of their preconference schedule, going into the Big Ten with a 9-0 record and looking very much like the best team in the land.
THE BIG TEN SEASON
If Indiana was overconfident about winning the Big Ten, which it had ripped through the previous season, that feeling was gone after the first league game, in Columbus, Ohio, three days into the new year. Knight had been a member of the 1959-60 national championship team at Ohio State under Fred Taylor, and he revered the man. He especially wanted to beat the Buckeyes because he felt that his alma mater was pushing Taylor out the door. (In fact, Taylor did resign at the end of the season.)
Ohio State led only twice but kept hanging around and was poised to tie the score when sophomore Jud Wood made a clean steal off Crews at midcourt with 1:16 left. But Wood blew the layup, and Abernethy, trailing the play, got the rebound. He looked at Crews and said jokingly, "You need any more help tonight?" That's how cool Indiana was under pressure. The Hoosiers held on to win 66-64, but says Radford. "We lose that game if that kid doesn't blow that layup."
Five days later the Hoosiers could have lost another one, this time against Michigan in Ann Arbor, where they built a 16-2 lead in the first six minutes but let the home team creep back to within 36-33 by halftime. Indiana ran the lead back up, to 72-60, but found unseemly ways--a three-second violation, a traveling violation, a missed free throw--to cough up the ball in the delay game. The Wolverines closed to 73-68, but Indiana held on for an 80-74 victory, largely due to Benson's 16 of 18 shooting from the floor.
That was only a warmup for the memorable rematch, on Feb. 7 in Bloomington:
—Memorable because Chapter 1 in the Bob-Knight-loses-it-saga was written in this game. With Buckner on the bench for a blow, Wisman threw the ball away twice in a row when Michigan pressed the normally unpressable Hoosiers. After the second turnover, Knight literally pulled Wisman from the game, grabbing his shirt so that it stretched comically. A photo of the scene ran all over the country. "It was perfect," says Wisman, who's an executive with a Chicago ad agency. "It caught Coach Knight in a fit of rage, and I looked like a scared little boy."
—Memorable because Abernethy, Buckner and Wilkerson combined for a horrific 2-of-22 shooting performance and May was only 11 of 30.
—Memorable because Radford was pressed into emergency offensive service. "When Coach Knight told me to go in and start shooting, I almost said, 'Excuse me?'" says Radford, who today works for a Bloomington-based company that produces medical devices. "Nobody except maybe Scott got told to start shooting." But Radford did and finished with 16 points.
—Memorable, above all, because Indiana again needed a Benson buzzer-beater to force the game into overtime. With 33 seconds to go, the Hoosiers trailed 60-56. Assistant coach Bob Donewald remembers thinking, I was sitting here when the streak began, and I'm going to be sitting here when the streak ends. Buckner hit a field goal, his only one of the game, to cut the lead to 60-58, and Indiana fouled usually deadeye Steve Grote, who missed the first of a one-and-one. Knight chose May as the first option to attempt the tying shot--no surprise there--but May was covered, so he passed to Buckner who fired and missed. The rebound caromed to the left where Crews, in the game for the first time, chased it down. Barely looking, he threw the ball back up at the basket to keep it alive, whereupon Benson tipped it up and watched in exultation as the ball went through the hoop.
In overtime a May jumper gave Indiana a 68-67 lead, its first in 43 1/2 minutes, which it preserved with stout defense--one blocked shot and one intimidation--by Benson. Final: Indiana 72, Michigan 67.
Indiana's final Big Ten close call came on the road against Purdue on Feb. 16. The Boilermakers rushed to a 27-16 advantage and were ahead 39-35 at halftime. Knight made one of his adjustments, ordering Benson, who had been double-teamed, to act almost entirely as a decoy. Benson took only one shot in the final 20 minutes, while May and Abernethy scored 31 of Indiana's 39 points. Still, with 10 seconds left, Purdue freshman Kyle Macy, who later transferred to Kentucky, hit a miracle jumper from the corner to cut the lead to 72-71 and force May to make a pair of clutch free throws to preserve a 74-71 win.
THE NCAA TOURNAMENT
With a 32-team NCAA field, Indiana had to win five games to complete its perfect run. Game 1 was no problem: The Hoosiers rolled over St. John's 90-70. The opponent in Game 2, in the Mideast Regional in Baton Rouge, was Alabama, which, almost to a man, the Hoosiers feel was the best team they played all season. As usual, Indiana got out fast, building a 37-29 halftime lead, but the final 20 minutes--well, almost all of them--belonged to the Crimson Tide. With the Hoosiers nursing a 70-69 lead and 40 seconds to play, Abernethy missed the front end of a one-and-one. "I wanted to crawl into a hole," says Abernethy, "but luckily I got the chance to redeem myself." He was fouled with 14 seconds left and converted both shots. Two more free throws, by Wilkerson, put the final margin at 74-69. "I think of that game and come up with one conclusion," says Buckner. "They should've beat us."
The Game 3 matchup with Marquette was even more intriguing because it paired the polar opposites of college basketball. When the Indiana bus had pulled up to the teams' hotel a couple of days earlier, Warriors coach Al McGuire's motorcycle was leaning against the front entrance. As the Hoosiers--decked out in sport coats and ties--took their customary postmeal walk the night before the Marquette game, they passed by several Warriors on the lawn, shirtless, listening to music on boom boxes, just chillin'. "Well," Crews said to Abernethy, "different strokes for different folks, I guess. We're pretty good, and they're pretty good."
They were indeed. (All 10 starters would go on to play in the NBA.) As Indiana warmed up, Wilkerson noticed Bo Ellis, Marquette's star forward, pointing to the Hoosiers' retro warmups and laughing. Clearly, this game matched the cool dudes from Milwaukee against the tight-asses from Bloomington. Its funkiness notwithstanding, Marquette was a disciplined team with an excellent half-court offense. Indiana was worried most about the Warriors' quickness and was delighted when the game was played at a moderate pace. What's more, of the two coaches, it was McGuire, not Knight, who lost his cool.
With Indiana leading 51-41 early in the second half, McGuire drew a technical for kicking the scorer's table, and then, with about 25 seconds left and the Hoosiers ahead only 57-54, he leaped from the bench to protest the officiating after a fifth foul was called on guard Earl Tatum and got a second T. Abernethy made both freebies and Wilkerson converted two more to make the 65-56 win appear much more one-sided than it was. Afterward McGuire, who also had been assessed two technicals in the 1974 NCAA championship game against North Carolina State, pledged not to return to the tournament because "I personally feel I'm affecting my club." The next year, though, he did come back--and won his only NCAA title before promptly retiring.
THE FINAL FOUR
UCLA, Indiana's semifinal opponent at the Spectrum in Philadelphia, had splendid personnel and, even with Gene Bartow calling the shots instead of John Wooden, an impressive resume. Still, the Hoosiers didn't worry much about the Bruins, whose All-America frontcourtman, Richard Washington, the MVP of the previous year's tournament, had suggested that UCLA's season-opening loss to Indiana had been a fluke. "Richard liked to run his mouth," says Buckner, "and we heard him."
Indiana considered the Bruins soft, a team that would eventually buckle because the UCLA players, as Radford put it, "just couldn't handle running into a pick every time down the floor." That proved to be the case. The essence of these Hoosiers can be found in Wilkerson's stat line against the Bruins: five shots, five points, seven assists, 19 rebounds. How can you beat a team with two All-Americas (May and Benson) in the frontcourt and a guard who snags 19 rebounds? As for Washington, who was held scoreless for a 26-minute stretch by Abernethy, he was 6 of 15 from the floor. Final: Indiana 65, UCLA 51.
However, if the Hoosiers were looking for omens, they got two bad ones the day before the final against Michigan, which had beaten previously undefeated Rutgers in the other semi. First, Abernethy, who had gotten banged up during the UCLA game, spent most of the day with an ice pack on his knee; there was some doubt whether he could start the following evening. Second, early in the morning, Donewald discovered to his horror that a manager had packed the previous year's Michigan game films but not the ones from the two games in '75-76. He called back to Indiana and got someone from the School of Aviation to fly the film from Bloomington to Philadelphia on a university plane. "We were only about an hour late with the meeting," recalls Donewald. "Bob was so dumbfounded I had acted on my own authority--I don't even want to think about how much it cost--that he didn't say anything to me."
The pregame angle was obvious: As good as Indiana was, it faced a difficult assignment in beating Michigan for the third time. Three minutes into the game, Wilkerson, attempting to thwart a fast break after May had been stripped, got clubbed in the temple by an elbow from Wolverines forward Wayman Britt. Wilkerson was out cold, and the game was held up for about eight minutes before he was taken off on a stretcher. He was transported to a nearby hospital, where he wouldn't allow a nurse to take off his uniform. "Maybe I thought I'd be getting back in," he says.
The next thing Wilkerson remembers was staring up at bedside visitors Knight and John Havlicek, Knight's former Ohio State teammate. To this day Wilkerson, whom Knight later called the best athlete he ever coached, has never seen a videotape or heard a replay of the final. "It would hurt too much," he says. Out on the court, meanwhile, the Hoosiers had to regroup. "I'm sure our fans were freaking out and thinking, Oh, no, they're going to fall short again," says Abernethy. "But, honestly, as a team, I don't think we thought that at all." Nonetheless, Michigan had a 35-29 halftime lead.
As May recalls it, this was the entirety of Knight's halftime speech: "If you guys want to be champions and make history, you got 20 minutes to prove it." Then he walked out. "Somebody told me later that Coach Knight had been waiting two years to deliver that speech," says May.
Planned or spontaneous, Knight's message got through. Over the final 10 minutes, Buckner (16 points, eight rebounds, four assists for the game) played his best basketball of the season, and May (26 points) and Benson (25 points) were all but unstoppable. As the final seconds ticked away in the victory, both Buckner and May went into impromptu victory dances. How Marquette-like.
Buckner said he screamed so loud that he almost passed out. The crusade had lasted two years, the release was exquisite. However, in the full bloom of youth none of the players realized how special the moment was. Not until years later, when most of their pro careers had proven to be less satisfying than their four years at Knight U, and not until they had seen team after team fall short of perfection, did it hit them. "To have been part of such a great team with such great guys, and to have had Coach Knight as my mentor, well, that's a tremendous honor and a humbling experience," says Benson.
The Hoosiers of 1975-76 profess not to care if another unbeaten champion emerges, though May adds this: "I'd like it to be a certain kind of team, one that had grown together, learned together, suffered together, had a procession of experiences to get to the top." He smiles. "You don't find that too often today, do you?"