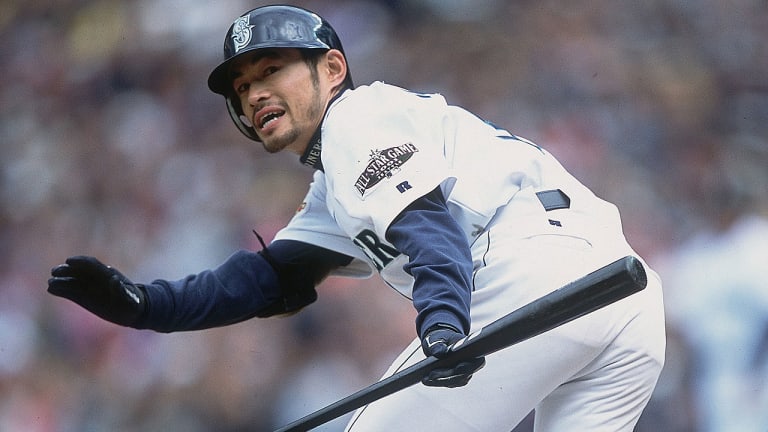 Big Hit
Fans have quickly gotten on a first-name basis with Ichiro, the brilliant batsman and dazzling all-around talent from Japan who has led the Mariners to the top of the American League
On a late Thursday evening two weeks ago, the Seattle Mariners were bored to the point of flat-lining. Their charter had just landed at Toronto's Pearson International Airport and, as if taxes and Alan Thicke weren't enough reasons to dread crossing into Canada, everyone in the Mariners' traveling party had to slog through a tedious customs check and then claim his own luggage. As the men circled the baggage carousel, Gerald Perry, Seattle's hitting coach, began collecting $1 bills. The first guy whose luggage emerged would win the loot.
The average major league player salary this year is more than $2.2 million. Still, the average big league player would, given the chance, stand naked on the field and sing a rendition of Hall & Oates's Maneater for a free bologna sandwich. Hence, when the carousel lights started blinking to signal the imminent arrival of their bags, the Mariners packed in shoulder to shoulder, each one dreaming of that juicy wad of 28 singles. "It sounds like chump change," said Perry, who doesn't make anywhere near $2.2 million, "but we can all use the money."
Then--thud!--a small green Samsonite suitcase appeared. The one labeled in meticulous Japanese writing. The one belonging to rightfielder Ichiro Suzuki.
"Wizard!" the Mariners cried.
"Wiz-aaard!"
"Wizzzzz!"
With bag in hand, the diminutive Suzuki—Wizard to his teammates—quietly walked up to Perry, grabbed the bills and, just as quickly, returned to his sheltered spot among taller, wider teammates. No gloating. No celebration. "Very calm and cool," said Perry, smiling. "Like he expected to win."
If there was little surprise that Suzuki won the pot, it was because, a quarter of the way through his first major league season, there's little surprise about anything he does. Suzuki is named American League Rookie of the Month for April? Big whoop. Suzuki has back-to-back single-double-triple games? Ho-hum. Suzuki rifles a one-hopper from the rightfield wall to home plate? Yawn. Suzuki's on pace to break George Sisler's 81-year-old record of 257 hits in a season? Zzzzzzzz. Suzuki imprisons Saddam Hussein, discovers a cure for AIDS and beats up Mike Tyson? You expected less?
In Japanese there's no direct translation for the word superstar. How about, simply, Ichiro (pronounced ee-chee-roh). How else to describe a man who, despite having never faced North American major league pitching (save for the random exhibition against touring big leaguers and a few spring training cuts), entered this week batting .365 (third in the American League); leading the league in hits (73), runs (40) and stolen bases (15); having strung together hitting streaks of 15 and 23 games (the latter snapped by the New York Yankees' Orlando Hernandez and Mariano Rivera in New York's 2-1, 10-inning win at Safeco Field last Saturday), all the while filling the role of catalytic leadoff man as his club achieved the best record in baseball and built an 11-game lead over the second-place Oakland Athletics in the American League West?
It can be argued that Wade Boggs, George Brett and Tony Gwynn were the three best hitters for average of the past two decades. They hit safely in 39 out of 41 games four times in their combined 59 seasons. Suzuki began his major league career with such a run—while playing in unfamiliar stadiums in an unfamiliar country and while dealing with an unfamiliar language and eating unfamiliar foods. "He's a legitimate hitter, no question," says Yankees manager Joe Torre, whose team held Suzuki to four hits in 14 at bats while taking two of three games from 32-11 Seattle last weekend. "I don't think you can pitch him one way. You can go in and out, up and down, and he makes the adjustment. You can get ahead in the count, and Suzuki still seems relaxed. He doesn't seem to have any weaknesses."
He does, however, have strong feelings about his name. As was stated in a Mariners press release issued before their May 17 game against the Chicago White Sox, "It is Ichiro's preference to be identified by his first name only. He is the only current Major League Baseball player to have his first name on his jersey." Yes, there's a presence to the man, and not only because he's 27 years old, with seven straight Japanese League batting titles and seven consecutive Gold Gloves to his credit.
Ever since Seattle paid the Orix Blue Wave of the Japanese Pacific League $13 million last November for the right to negotiate with its best player and then signed him to a three-year, $14 million deal, Ichiro has exuded an aura of professionalism mixed with a boy's giddy excitement over discovering a new playground. "He's a rookie, but only by the standards of the league's rules," says Mariners catcher Dan Wilson. "Nobody here is treating him like a kid coming up. Really, how can we?"
Instead, Wilson and his teammates have marveled at Ichiro's one-of-a-kind approach. Between pitches in rightfield, Ichiro puts on a calisthenics clinic. If he's not rolling his shoulders, he's stretching his quads. If he's not stretching his quads, he's bending at the waist and touching his toes. When he sits at his locker, Ichiro methodically rubs a six-inch wooden stick up and down the sides and the bottoms of his feet. "It's for pressure points," he says through an interpreter. "If your feet are healthy, you're healthy." In an effort to keep his vision sharp, Ichiro rarely watches television for extended periods without wearing sunglasses. Before every game a Mariners trainer gives him a massage.
After he steps in the batter's box at the start of every at bat, the lefthanded-hitting Ichiro crouches into a catcher's tuck, loosening his hamstrings. Then he pops up, plants his left foot, drags it parallel to the plate and plants it again. With his right foot resting outside the box, Ichiro wags his black Mizuno bat back and forth below his belt like a putter. He proceeds to whip it around in a counterclockwise loop, stopping as soon as his hands reach his chest. Then Ichiro uses his right hand to hold the bat parallel to his upper body. When he brings his right foot into the box, Ichiro--knees bent, left elbow cocked high--is ready for the pitch. This routine is repeated before every pitch. "Some people may think it's strange," says Ichiro, "but if something works, there's no need to change it." It works. Thanks in no small part to Ichiro and despite not having a top slugger in their lineup, the Mariners through Sunday had scored 243 runs, second in the league to the 256 scored by the power-laden Cleveland Indians.
In spring training various scouts, coaches, managers and players took one look at Ichiro's 5'9", 160-pound frame and his open stance, and thought the same thing: inside heat. But Ichiro, a quick-wristed, fast-out-of-the-box slap hitter with excellent bat control, will not be bullied. In the second inning of the Mariners' 6-2 victory on Sunday, Yankees ace righthander Roger Clemens threw a wicked 93-mph splitter that broke near Ichiro's knees. No matter. Ichiro grazed the ball with the tip of his bat, sending it rolling down the third base line for a double. (Typical of the way he has helped manufacture runs since Opening Day, when he keyed a game-winning rally with a bunt single, Ichiro took third on a wild pitch and then scored on second baseman Alfonso Soriano's throwing error.)
"It's almost as if he has a tennis racket in his hands," says John Moses, Seattle's first base coach. "I'm gonna lob this one—and it's a blooper over the shortstop's head. I'm gonna ace this one—and it's a liner down the rightfield line. He's toying with guys, and there's nothing they can do about it."
After Ichiro puts the ball in play, fielders have to deal with his speed down the line. The Mariners have timed him to first at a Mickey Mantle-like 3.7 seconds. In the bottom of the ninth during New York's 14-10 win last Friday, Ichiro startled several Yankees when he hit an innocent one-hopper back to Rivera and—whoosh!—missed beating the throw by only half a step. "He caught Mo 100 percent by surprise," said Yankees lefthander Ted Lilly. "He tore off for the base like a rocket."
When they are not calling him Wizard (a tribute to his magical offensive abilities), the Mariners gleefully refer to Ichiro as Ichiballs (pronounced itch-ee-balls). He has learned a variety of English curse words, plus some of America's most useless phrases. Rookie reliever Ryan Franklin taught Ichiro to say "chillin' like Bob Dylan."
"Then," says Franklin, "I had to teach him who Bob Dylan is."
Ichiro is also quick to utter such dandies as "chillin' like a villain," "whassup?" "thanks, dogg" and "no pain, no gain." When a reporter noted Ichiro's smooth feet, Ichiro nodded, smiled and said, "They sexy." He has picked up bits and pieces of English by listening to conversations, as well as television, movies and hip-hop. "I very much like hip-hop," he says in English, pronouncing hip as heep.
If there's one obstacle to total happiness for Ichiro in the big leagues, it's the Japanese media's obsession with him. The Mariners have issued seasonlong press credentials to 23 Japanese writers, 11 Japanese photographers and one Japanese television crew. No matter what happens--a 10-1 Seattle loss or a 10-1 Seattle win—Mariners manager Lou Piniella will field at least four or five What about Ichiro? questions from this horde before it moves to Ichiro's locker. Whenever he feels he has not contributed sufficiently to a game, Ichiro will remain in the trainer's room until the press has left.
When he does speak, Ichiro is--from a journalist's viewpoint--frustratingly reserved and without candor. Asked in a recent interview to cite the differences (which are known to be wide) between the North American and Japanese strike zones, he replied, "I would not want to address this as any problem. The umpires here are very good." Later Ichiro noted that of all the things he misses about Japan, No. 1 is his dog. (Ichiro and his wife, Japanese TV personality Yumiko Fukushima, live in a no-pets-allowed apartment complex in the Seattle suburb of Bellevue.) What's the critter's name? "I would not wish to say," said Ichiro, "without first asking its permission."
The Wizard smiled. It might not be his country, but he knows who's in control.