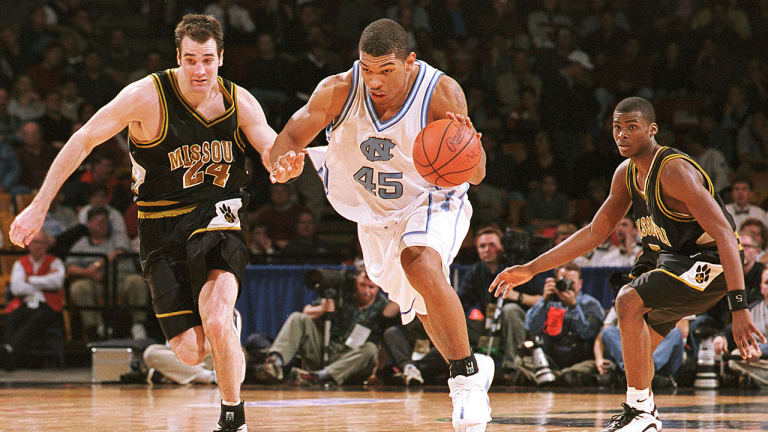 Game Of Choice
He always loved basketball best. But now the time has come for North Carolina's Julius Peppers to devote himself to one sport year-round—and it's football
Big Head never liked football much. Same as any kid with a Tobacco Road address, Julius Frazier Peppers's dreams were wrapped up in basketball. He would shoot hoops for an hour in the morning before the school bus arrived, and he'd shoot through the evening until his mother, Bessie, came out of the family's trailer home in Bailey, N.C., to fetch him for bed. Basketball was in his genes and in his name, but he didn't think about the origin of things. He was just another North Carolina kid who wanted to be Michael Jordan.
Once in a while his older half-brother, Stephone, would challenge him one-on-one, but Julius preferred to play alone—just shoot and retrieve, shoot and retrieve. He never considered playing varsity football until a spring day in 1995 when Southern Nash Senior High football coach Ray Davis cut a deal with the 15-year-old freshman basketball player who at 6' 5" and 225 pounds was a foot taller than Davis and 45 pounds heavier. "I said, 'Julius, why don't you come out for football in the fall?'" Davis recalls. "I promised him we'd let him carry the ball, and his eyes lit up. The rest is history."
Peppers was the best basketball player and among the best football players ever at Southern Nash, where he received so many recruiting letters that he was given his own mail slot in the school office. In basketball he finished his career with more than 1,600 points, 800 rebounds and 200 assists and was heavily recruited by Duke. In football Peppers rushed for 3,501 yards and 46 touchdowns at tailback and manhandled opponents as a defensive lineman. In his final game, when Northeast Guilford High ran a sweep away from Peppers, he chased down the running back, stole the ball from behind and raced 90 yards the other way for a touchdown.
As a senior, Peppers placed second in the triple jump at the state track meet, despite wearing spikes two sizes too small because size 18s couldn't be found. Having watched Big Head swing a bat, Davis believes he could have been a baseball star as well. The coach still shakes his head in disbelief as he recalls a three-hour football practice on a scorching summer day before Peppers's junior season, after which all the other Firebirds lay sprawled on the grass or huddled around the water spigot. Peppers strolled over to one end zone and began doing backflips the length of the field. No hands. For 100 yards. In full pads and helmet.
He was called Big Head because he had a large hat size, not an inflated opinion of himself. "As a kid I never saw myself as unusual," Peppers says. "I always thought that lots of people could do what I did. More and more I realized I was wrong."
He wound up accepting a football scholarship to North Carolina, moving only 53 miles west of Bailey to Chapel Hill, where he could join the basketball team as a walk-on. Recruiters had convinced him that his greatest potential was in football, and as a redshirt freshman in 1999 he showed the wisdom of that judgment by leading the Tar Heels in tackles for a loss (10) and sacks (six). As a sophomore last season he displayed a lethal combination of outside rushing and bull rushing, using the explosive bursts he had developed playing hoops, to lead the nation with 15 sacks, one short of the school record Lawrence Taylor set in 1980. "He's one of those rare pass rushers who has a dominant effect on a game," Duke coach Carl Franks says. "He's simply a better athlete than any offensive tackle he faces."
Peppers has never wavered from his commitment to football, but neither has he let go of his first love. In November 1999 he joined the North Carolina basketball team, figuring that playing power forward would keep him in shape—and out of spring football practice. Although he wasn't counting on much playing time, Peppers quickly moved up the bench and into the role of sixth man. A hulking presence under the boards, he averaged 5.8 points and 4.6 rebounds in the NCAA tournament to help the Tar Heels advance to the 2000 Final Four. "Julius was a godsend, the missing piece for us," says Bill Guthridge, the basketball coach at the time. "I hate to think how that season might have ended without him."
When Peppers returned to the team last December, North Carolina promptly ran off 15 straight wins, which vaulted it to No. 1 in the polls. Seeing mostly sixth-man duty again, he averaged 7.1 points and 4.0 rebounds. He then was North Carolina's top performer (21 points, 10 rebounds) in its second-round NCAA tournament loss to Penn State. Peppers, however, surprised himself toward the end of the 2000-01 hoops season when he began thinking ahead to football. His yearning for the sport he once barely considered was finally surpassing his childhood passion.
While scouts from the NFL and the NBA believe Peppers could excel in either league, he has made up his mind: He will remain in Chapel Hill one more year (he's on track to graduate in 2003 with a degree in African-American studies), and he won't play basketball. Over the summer he made a full-scale commitment to training. That means working out five days a week for three to four hours a day and increasing his weight by 15 pounds, to 285. "You go through cycles playing two sports when it gets draining," Peppers says. "You spend a lot of time catching up to teammates who play one sport all year. I'll miss basketball, but I think I'll be a much better football player now that I'm training for it like a normal player."
On Peppers's left arm is a tattoo of the Tasmanian Devil holding a football in his left hand and a basketball in his right. The sports world has become accustomed to two-sport stars, from Deion Sanders to Bo Jackson to Brian Jordan. At 6' 6" entering his junior year of eligibility, Peppers may be the largest, most intimidating model to date. He bench-presses 425 pounds, runs the 40 in 4.5 seconds, has a 37.5-inch vertical leap and only 4% body fat. During Peppers's redshirt year the North Carolina football coaches couldn't decide at which position he might wreak the most havoc, so they listed him on the roster as athlete. "Julius is a freak of nature," says Ronald Curry, a Tar Heels senior who plays football (quarterback) and basketball (point guard). "The best compliment you can give him is he's such a natural at both sports that when he's playing one, you forget he's just as good at the other."
George Kurney grew up in Sims, three miles east of Bailey, during the 1960s. He shot baskets every day on a dirt court in his yard and dreamed of being Oscar Robertson. By the time Kurney had reached the ninth grade at Rock Ridge High, he could dunk with either hand. Rock Ridge coach James Kent told Kurney that he had the potential to play college ball, but the next season Kurney quit the team. His father, William, had died two years earlier, and his mother, Mildred, had taken a job in the evenings. So if George missed the bus after school to stay for basketball practice, he had to walk the six miles home. Shortly after he dropped basketball, he dropped out of school. He worked odd jobs while becoming a recreation-league hoops mainstay, even playing in a charity game in Wilson, N.C., against NBA-bound Len Bias a week before Bias died of a cocaine overdose.
In 1979 Kurney was driving to a rec game when he spotted Bessie Peppers standing on her porch. A few weeks later he asked her out, and they began a two-year relationship that on Jan. 18, 1980, produced a nine-pound, 14-ounce baby boy. Sensing the tenuousness of their bond, both parents put their stamp on the boy's name. George took the first name from Julius Erving and the middle name from Walt Frazier, NBA stars whose style he admired. Peppers came from Bessie's first husband, Clarence Peppers, whom she had divorced in '78.
George all but vanished from Julius's life before he was seven, leaving Bessie to raise their son. Although Kurney now lives in Bailey, a half mile from Bessie, he and Julius speak infrequently. "A lot of people tell me that I could have done what Julius is doing," says Kurney, age 41. "He got his size from me, and he's using it to fulfill the dream that I never experienced. I hope someday he'll decide to share it with me." Julius says he has no plans to invite his father into his life. "He and I talk sometimes, but not like a father and son," Peppers says. "It's too late for that, but he is my father so I'm not going to ignore him."
One night after a basketball game at Southern Nash, Kent told Julius how much he reminded him of George Kurney. Julius pointedly informed Kent that Kurney was his father, but that he was his mother's son. Bessie made sure Julius was a well-mannered boy. He hasn't forgotten the night in 11th grade when Bessie spotted him chewing gum at halftime of a basketball game. She equated gum chewing with showboating, so she climbed out of the bleachers, popped her son upside the head and made him spit his gum into her hand. Big Head never made that mistake again. Even now, after a sack or a dunk, he heads quietly back to the huddle or downcourt as if nothing had happened.
Among Peppers's most prized possessions is a gray ceramic figurine modeled after Rodin's The Thinker and made by Bessie. It sits on top of the television in his off-campus apartment. "I see myself in that statue," Peppers says. "I sometimes catch myself in a daze for 15 minutes, thinking."
"There are really two Juliuses," Bessie says. "He's normally a quiet, shy, thoughtful kid, but when he puts on a uniform, he can become quite a bully."
Last Jan. 11 Peppers announced that he would not leave school for the 2001 NFL draft, even though some scouts were projecting him among the top 10 picks. Two days later, after Peppers had 13 points and nine rebounds in an 84-54 win over Marquette, Tar Heels basketball coach Matt Doherty began his postgame press conference by saying, "I'd like to announce that Julius Peppers will not be entering the NBA draft."
NFL scouts acknowledge that Peppers has the potential to be the No. 1 selection in the 2002 draft. "I still believe that if I committed to basketball, I could make an impact in the NBA," says Peppers. "But my coaches say that in football I could be another Lawrence Taylor or Jevon Kearse. I now see football as my job and my greatest challenge."
Because of his outstanding NCAA tournament play on national television, as opposed to the North Carolina football team's combined 9–13 record in 1999 and 2000, most casual sports fans still think of Peppers as a basketball player. He'll get a national-TV showcase for his gridiron skills on Aug. 25 when the Tar Heels open at defending champion Oklahoma. Peppers needs 12 sacks to break Greg Ellis's school career record (32.5), but he's more interested in expunging a rap that he doesn't go all out on every snap. "On a learning curve of zero to 10, Julius is still a five," says North Carolina coach John Bunting, who played 11 years at linebacker in the NFL. "That room for growth should be exciting to him and scary to everybody else."
"Now that he's focused on football, I think he'll become a prototype for the next generation of defensive ends," says Illinois assistant coach Donnie Thompson, who coached Peppers at Chapel Hill for the last two seasons. "He's got all the ingredients to never get blocked."
Once a week Peppers drives 25 miles to a Krispy Kreme in Raleigh and buys a dozen glazed doughnuts. He tries to take a different route sometimes, roads less traveled, maybe even get lost for a while. During these trips he occasionally reflects on another ride he used to make regularly. After high school football practices assistant coach Brian Foster would drive Peppers home, and as he turned into the dirt driveway, Foster would sometimes point out a group of old men drinking whiskey on the stoop of a house near Peppers's basketball goal. "Julius, you can be an All-America or you can be a nobody," Foster said each day. "What are you going to be?"