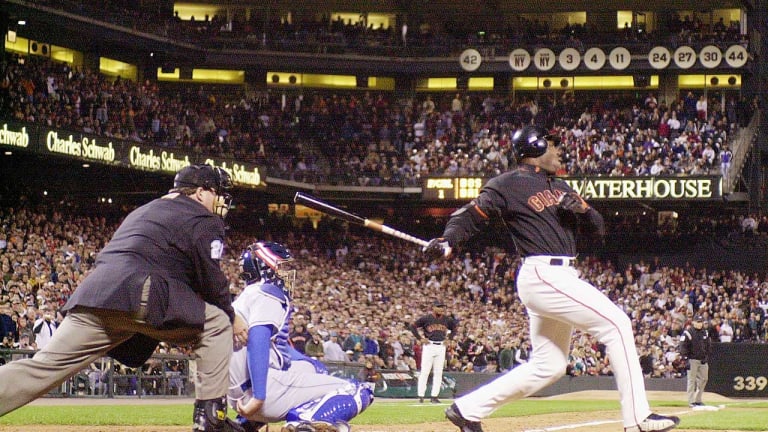 Pushing 70
With the greatest slugging in recent memory, the Giants' remarkably efficient Barry Bonds was primed to break Big Mac's record
The tableau on Sunday at Pacific Bell Park in San Francisco was too familiar. Wasn't it only yesterday that the commissioner of baseball had sat in a field-side box to witness a revision of the home run record, while fans (albeit not in neoprene wet suits and not brandishing plastic paddles) jockeyed for the specially marked prize baseball? Baseball history is rewritten quickly these days--to be exact, it happens every 12.4 strobelike flashes of Barry Bonds's two-toned maple bat.
Through Sunday, Bonds, the San Francisco Giants' leftfielder, had averaged one home run every 12.4 swings this season while having hit 69 balls over the fence. (The major league home run champion last year, Sammy Sosa, hit a home run every 12.1 at bats.) Every 12.4 swings Bonds rendered the single-season-record 70 home runs by Mark McGwire, set a mere three years ago, a little less awesome. Every 12.4 swings Bonds took an eraser to the records of some of the greatest names in baseball history--Babe Ruth, Ted Williams, Rogers Hornsby, Hank Aaron, McGwire. Every 12.4 swings Bonds added luster to what may be the best season ever by anyone other than Ruth. "We have never seen a season like this in our lifetime," says Ned Colletti, the Giants' assistant general manager, "and we probably never will again."
Take as a case study San Francisco's series last weekend against the San Diego Padres. Bonds entered the three-game set with 67 home runs. He came to bat 13 times. The Padres threw him 51 pitches. Bonds looked at 41 of them, most of them closer to Calaveras County than the strike zone. Given 10 swings, he crushed two mammoth home runs, leaving him six games to hit two homers and break McGwire's record.
According to Stats, Inc. (chart, page 43), Bonds took 210 fewer swings (854 through Sunday) to hit his 69 homers than McGwire did (1,064) to hit 70 in 1998. So brutally efficient had been Bonds that he'd flipped the traditional odds that favor pitchers. With a .505 on-base percentage, he was more likely to reach base than he was to be put out. Only four men in the past 100 years have accomplished that in a season: Hornsby, Ruth, Williams and Mickey Mantle. Pitchers so dreaded even tempting Bonds that they'd walked him in 26.1% of his plate appearances, a pace that, if maintained in the final six games, would break the record of 25.9% set by Williams in '54.
At week's end, heading into a three-game series against the Astros that began Tuesday night at Houston's Enron Field, the 37-year-old Bonds had smashed or was threatening a slew of records (chart, page 41), including Aaron's mark of 47 home runs at age 37 or older (a record Bonds broke in early August)."I'm in total amazement," says San Francisco shortstop Rich Aurilia. "He won't see a strike for four at bats, then on the 13th pitch he'll get something to hit, and he won't miss it."
Barrel-chested and thick-necked--his batting helmet seems tiny, like a cork about to blow off a champagne bottle--the 6'2", 228-pound Bonds cuts an intimidating figure while staring down pitch after pitch. When he sees something he likes, watch out! Though as of Sunday he'd swung at only 34.5% of the pitches thrown to him this season, Bonds said last Friday, "I never anticipate that they're not going to throw me a strike. Be ready to hit regardless, even if you know they're not going to pitch to you."
Says Arizona Diamondbacks righthander Curt Schilling, a 21-game winner who served up home runs 23, 43 and 44 to Bonds, "I haven't seen him miss a pitch this year. The only thing I can compare him to is Matt Williams in '94. [Williams had 43 homers and 96 RBIs that year for the Giants, whose season was shortened to 115 games by the players' strike.] I felt Matt could sit the whole game waiting for one pitch, and when he got that pitch, he hit it out. Barry is the same, but I don't think it's one pitch. There are multiple pitches he can hit out. What's more amazing is that so many teams pitch around him, you would assume he mentally would get behind the 8 ball. He hasn't done that, which is a further testament to how great a hitter he is."
Schilling had been the only pitcher to yield three home runs to Bonds this year until last Friday night, when Padres rookie righthander Jason Middlebrook joined him by mistakenly grooving a 3-and-0 fastball. Bonds has homered in each of his three at bats against Middlebrook, who said after Friday's game, "I threw him a couple of good sliders, and he didn't even lift his bat for them. From what I can see, he never tips his hand. With most hitters, you pick up hints by the way they approach some pitches. You never see him late on a fastball, as if he was looking off-speed. You never see him out front on an off-speed pitch, as if he was looking for a fastball. Sometimes you know if a hitter is looking in or looking away. With him? Nothing. He gives away nothing."
The longer a hitter can wait for a pitch, the more time he has to recognize it--not only the type of pitch, but also its track and speed. Bonds's hands are so fast and his swing so compact that he has more time than most hitters to take those crucial mental measurements. "He and Alex Rodriguez let the ball get deep on them, more so than any hitters I've faced," Schilling says. "They react quicker than most other people."
Bonds's pursuit of the home run record wasn't so much a chase as it was a countdown. In September he never went more than two games without a home run. Never did he drop even a hint of a slump, which may be why Aurilia said on Friday, "Over the last week or so I've noticed he's been very relaxed, very confident. I think that's because he's beginning to see he can do it."
So relaxed was Bonds that he spent the afternoon of Sept. 26, before the last game of a series in Los Angeles, napping at the house of Dodgers leftfielder Gary Sheffield following a home-cooked lunch of shish kebab and collard greens. He did not add to his 67 home runs that night but did contribute to a 6-4 San Francisco victory. He drew three walks from three Los Angeles pitchers, the last one, in the ninth inning, setting him up to score the game-winning run.
Bonds's mood darkened the next day, last Thursday, an off day for the Giants. His friend and bodyguard for 12 years, Franklin Bradley, died unexpectedly because of complications during abdominal surgery intended to help him lose weight. Bradley, 37, was a mammoth man who was to be married in the coming weeks. Bonds had paid for the surgery. In a rare moment of self-revelation Bonds broke down at a routine news conference the next evening at Pac Bell Park. The news conference had trudged along with Bonds's usual feints and dismissals of questions until a reporter asked him about keeping his focus.
"One of my friends...I lost yesterday," he stammered, before losing his composure as his eyes welled with tears. A bit later he added, "Every time I have the opportunity to exhale or breathe, whatever you want to call it, something has come up that has been difficult for me. I had a very disappointing article that came out, what happened with the [Sept. 11] tragedy and some other issues, and I lose one of my best friends yesterday. Every time I want to enjoy it for a minute, something else happens. When I really want to give you guys the story I want, it seems like I just can't. I haven't had time."
This was Bonds out of armor, having laid down the arrogance and condescension he has smithed into his sword and shield. It was probably his most heartfelt public moment as a baseball player. If that wasn't it, then surely the second inning of that night's game provided it.
Bonds looked at each of the first eight pitches he saw from Middlebrook, drawing a five-pitch walk in the first inning and going to that 3-and-0 count in the second. With every pitch you sensed Bonds was baiting poor Middlebrook, drawing him closer and closer into his crosshairs. Look, look, look, look, look, look, look, look...pow! When Bonds finally unloosed his swing, there was a flash of his bat, and the baseball was gone, 16 rows up in the centerfield bleachers, 438 feet away. Number 68. This one was for Franklin. As Bonds crossed home plate, he glanced heavenward and thrust his fists high over his head. He sat in the dugout and began to weep. The tears came for a minute, maybe two. He dabbed at his eyes with the sweatband on his right wrist, and then with the back of his batting glove on his right hand. "It felt good to be able to do something for him," Bonds said.
The armor was back in place on Saturday. San Francisco second baseman Jeff Kent, who has tweaked Bonds for his self-centeredness, walloped a game-tying home run in the fourth inning, canceling out his failure to turn a double play in the first inning that had allowed San Diego to score a run. The Giants, with the exception of one, rose to greet Kent as he returned to the dugout. Bonds didn't get up from his padded seat. "It's no surprise," one teammate said. "Everybody else was excited because it was a big hit and we felt good for Jeff. Barry's a beauty. He's in his own world. It's not new."
Two innings later, a walk and a fly-out behind him, Bonds stepped into the batter's box against Chuck McElroy, a lefthander who had held Bonds to two hits in 32 at bats. Bonds was wielding a new maple bat, as he had after each dinger since the 500th of his career on April 17. He'd signed and numbered each of these home run bats for possible future sale, according to his agent, Scott Boras, who says endorsement deals for a cereal and a theme park already are in place, pending a 71st home run.
Beyond the rightfield wall a tiny flotilla of nonmotorized watercraft, including rafts, kayaks and surfboards, bobbed expectantly in the chilly waters of McCovey Cove. Kevin Hallinan, Major League Baseball's senior vice president of security and facility management, surveyed this scene. Three years ago the frenzy over McGwire and Sosa home run balls prompted Hallinan to devise a tagging system to authenticate these winning lottery tickets falling out of the sky. The baseballs used for their at bats were sequentially numbered in black ink above the Rawlings logo. They also were marked with a unique design that could only be viewed under ultraviolet light. To make sure the design didn't wash off, Hallinan conducted tests in which he dunked baseballs in beer and in water. "Who could know that three years later we'd have baseballs splashing into McCovey Cove?" he said.
McElroy threw three pitches with specially marked ball number 22, and Bonds looked at them all--a ball, a strike and a ball. The fourth, an inside fastball, was the call to action. Bonds connected with a remarkably loud thwack! The ball climbed over the rightfield wall and toward the cove. As it did, four people tossed red-herring baseballs into the water. A kayaker dove into the drink and grabbed the real one. Home run number 69.
By Sunday, in anticipation of 70, the flotilla had swelled into a multicolored armada so tightly packed that a baseball would have had almost no room to hit water. Bonds came up dry anyway. The sellout crowd of 41,669 on land, including shirtsleeved commissioner Bud Selig, saw Bonds take only one cut all day, resulting in a groundout. The other 10 pitches thrown his way were balls, including one that dinked off the protective plastic wrap on his right elbow.
Not once for Bonds's four cracks at 70 did the Pac Bell fans bother to stand during his at bats, in keeping with the been-there, done-that feel to the home-run-record sequel. The media pack covering Bonds, about 350, was half the number that showed for McGwire in 1998. Perhaps 70, or even 71, home runs, like space-shuttle launches, have lost some of their power to amaze. With Bonds, though, the wonder isn't in how many but in how. Only those who had witnessed the Babe at his best had seen anything quite like it.