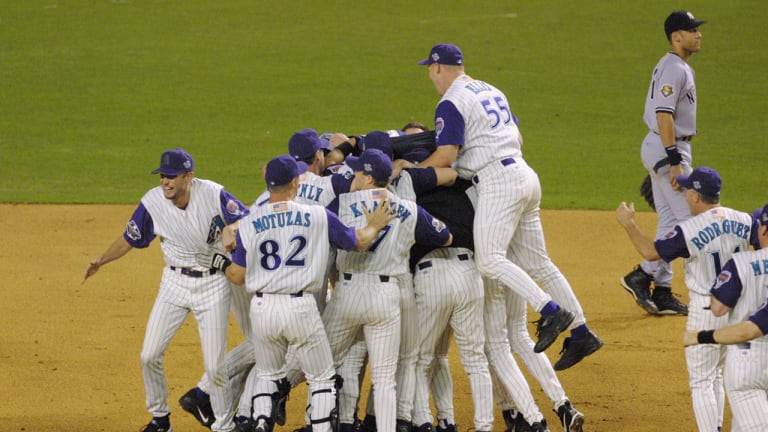 Desert Classic
In a scintillating World Series, marked by amazing comebacks, the Diamondbacks outdueled the Yankees to win their first championship
In the seventh inning of the seventh game of the 97th World Series a strange desert wind arose as gently as a whisper inside Bank One Ballpark in Phoenix and quickly grew in strength. It swirled in the hangarlike stadium, tossing to and fro flecks of umber dust and dirt, napkins, plastic bags and other orphaned trash, and fine droplets of rain that seemed too ethereal ever to reach the ground. The World Series had become a supersized, Southwestern-style snow globe, and it did so at the exact moment on Sunday night when you wished that you could preserve the essence of baseball like a souvenir on a shelf.
The final game of the longest season in history still remained in doubt and in the hands of two 20-game winners: Roger Clemens of the New York Yankees, at 39 the oldest Game 7 starter ever, and Curt Schilling of the Arizona Diamondbacks, pitching on three days' rest and into his 304th inning of the season--the stuff of long-gone eras. Each pitcher had allowed only one run. The resolution of an entire season was nigh. The fixed beauty of the snow-globe scene could not last.
When the dust cleared and the end did come, the game had passed from Clemens and Schilling to New York's Mariano Rivera, the best postseason reliever ever, and Arizona's Randy Johnson, yet another 20-game winner, who was working 24 hours after he had thrown 104 pitches. Narrowed to the last swing of the last possible game, the season ended with a shocker: The Diamondbacks beat Rivera.
This World Series reaffirmed the timelessness of baseball. It wasn't only that Schilling and Johnson pitched with old-fashioned heat and heart, logging dead ball era workloads and ERAs. The games were also reminders that the sport thrives without a clock. The life span of a game is measured not in seconds but in outs. Three of the final four games ended stunningly with a swing of a bat because the team with a ninth-inning lead could not get the 27th out. "Win or lose," Arizona first baseman Mark Grace said nearly an hour after the Diamondbacks' 3-2 Game 7 win, "I'm proud to have played in one of the greatest World Series in the history of this great game. Someone has to tell me we just beat the New York Yankees and Mariano Rivera, because I still don't believe it."
Down 2-1 to Rivera, Arizona began its winning rally at a local time of eerie numerical resonance, 9:11. The Diamondbacks scored twice against the man who had a 0.69 career postseason ERA and was the prime factor in the Yankees' 45-0 postseason record since 1996 in games they led after eight innings. The winning run scored on a bases-loaded, 140-foot, broken-bat, chili-dipped single by Luis Gonzalez. In its fourth season Arizona became only the sixth team to win a winner-take-all World Series game on the last swing, the first to knock out a defending champion that way. A dynasty is toppled. It was as if a house had fallen on the Wicked Witch of the East. "We saw the feet curl up and disappear," Gonzalez said.
"We realize," said New York manager Joe Torre, referring to the Yankees' run of four championships in five seasons, "how many times we snatched it from people when they were close, so you really have to take both sides."
Looming largest over the Series were righthander Schilling and lefthander Johnson, the co-Series MVPs who joined the company of Koufax and Drysdale, Spahn and Sain, and Mathewson and Marquard among the best pitching tandems in baseball history. Schilling and Johnson accounted for every Arizona win in the Series (4-0 with a combined 1.40 ERA) and got all but seven of the 54 Yankees outs in Games 6 and 7 after three harrowing defeats in New York.
The Diamondbacks lost each of those three games by one run, twice when they were one out from victory with a two-run lead. They should have known they were in for a rude go of it in the Bronx when, in the fourth inning of Game 3, a rat the size of a cat parked himself in their dugout near the bat rack. "A rat on steroids," Grace called it. A security guard removed the rodent in a box. The Yankees won by a whisker, 2-1, with a run in the sixth when Gonzalez let a two-out, softly sinking line drive by Scott Brosius land in front of him in leftfield. Rivera saved the win for Clemens with two innings of no-hit, four-strikeout relief. When a reporter mentioned to Grace that at least Arizona had made Rivera work hard--he threw 29 pitches--Grace cracked, "You mean we struck out on five or six pitches, not three?"
The Series turned positively spooky the next night, Halloween under a full moon. The Diamondbacks led Game 4 3-1 in the eighth inning when manager Bob Brenly pulled Schilling, who was working on three days' rest, after 88 pitches and asked his 22-year-old righthanded closer, Byung-Hyun Kim, to get the last six outs. Brenly, already concerned that Schilling had begun to leave his splitter higher in the zone, received mixed signals from his ace when he inquired about his energy level. After the game Schilling told reporters, "I was pretty gassed, [but] I told him I had another inning in me. He told me [I had had] enough."
The next day, though, Schilling went further when describing his deteriorating condition, saying, "I was running on fumes. I did think I had another inning, but I'm glad he had to make the decision and I didn't. In the sixth and seventh inning on every pitch--with the first hitter on base--I gave it everything I had."
Kim rewarded his manager's confidence by striking out the side in the eighth. New York first baseman Tino Martinez, who had never faced Kim or studied videotapes of him, watched that inning in a video room off the clubhouse. "It helped a lot," Martinez said. "I had a good idea of what he had." In the ninth, with rightfielder Paul O'Neill (who had singled) on first and two outs, Martinez crushed the first pitch he saw from Kim, a fastball, for a game-tying homer. Brenly left Kim in the game for 2 2/3 innings and 62 pitches, long enough to serve up one more homer, a game-winner in the 10th by Derek Jeter. "BK throws every day he throws a lot of pitches every day," Brenly said later in explaining why he left his reliever in the game that long. "It wasn't really pushing him beyond what he can do."
One night later, in Game 5, Arizona returned as if by homing device to the fateful coordinates of Game 4: ninth inning, two outs, a Yankee (catcher Jorge Posada, who had doubled) on base, a two-run lead, Kim pitching. Isn't the safest place in a storm the scorched spot where lightning has already struck? This time Brosius connected with an inviting slider from the Arizona closer, meeting it so solidly he threw up his arms in triumph before he had a chance to drop his bat.
How could this be? In 567 World Series games since 1903, only once had a batter--Tom Tresh of the '64 Yankees--rescued his team from two runs down in the bottom of the ninth with a two-out home run. Now the Yankees had done it in consecutive games? It made no sense. It was like finding out that the Hope Diamond has a twin. "I couldn't speak," said Yankees reliever Mike Stanton, who watched from the bullpen as Brosius's ball fell into the leftfield seats. "I had to catch my breath. I really did."
From there it seemed it was only a matter of how the Yankees would choose to finish off the Diamondbacks. Arsenic, hemlock or lye this time? For variation's sake, they waited until the 12th inning to employ a one-out, RBI single by rookie second baseman Alfonso Soriano off righthander Albie Lopez as the finishing piece of a 3-2 victory. "One time? Yeah. But twice? It's beyond anything you could imagine," Arizona lefthander Brian Anderson said.
Schilling had given a witty preamble to the Series in which he dismissed mystique and aura, the intangibles often attributed to the Yankees' way of winning, as "dancers in a nightclub." A New York fan responded in Game 5 with a classic rejoinder in poster form: MYSTIQUE & AURA. APPEARING NIGHTLY! "I'm starting to wonder," Anderson said, when asked if he believed that there were unseen forces behind the Yankees' success. "I've been watching games a long time, and I've never come close to seeing anything like that. You know they're a talented ball club that plays hard for 27 outs, but...I don't know. All I know is, we need to get out of this place. Fast."
Kim, after serving up the homer to Brosius, slumped into a crouch at the foot of the mound, limp with anguish. When he straightened up, he appeared on the verge of tears. Catcher Rod Barajas, shortstop Tony Womack and Grace, who put an arm on Kim's shoulder, administered a kind of emotional CPR. Brenly went out to get his young pitcher this time. "I hope he's O.K. as far as his future goes," third baseman Matt Williams said.
On the chartered plane back to Phoenix that morning, Kim dealt with the twin defeats the way he does most everything else: He slept. Last year his teammates sneaked off a bus to a ballpark while Kim was sleeping, handing the bus driver cab money for Kim for when he awoke alone at the bus depot.
Brenly professed to retain faith in Kim, though he wouldn't use him again in the Series--not that he was needed in the ridiculousness of Game 6. Arizona set a Series record with 22 hits in a 15-2 rout, with Johnson on the mound for seven innings and 104 pitches. Brenly might have removed him after five innings but said he wanted to keep Johnson in "until the game was well in hand." The lead was 15-0 after four. Brenly presumably was worried that New York would go to the shotgun and a hurry-up offense. "We've ridden the big guys all year long," Gonzalez said of Schilling and Johnson after Game 6. "Now we need to do it one more time."
Schilling had been so sore the day after pitching Game 4 that he wondered if he could go in Game 7, which would be his third start in nine days. Each day between starts, however, he had a full body massage from Russell Nua, a silver-haired, ponytailed Hawaiian of Samoan heritage who has worked with Arizona's 42-year-old righthander, Mike Morgan, for 10 years. "Mo Man has been pitching for 23 years and never ices his arm," Schilling said. "That's good enough for me. After a couple of days with Russell, I felt great."
Johnson, too, was fighting fatigue. He pitched throughout the World Series with a corset around his midsection to alleviate the pain from an aching back. "Just wear and tear from the season," he said.
When Johnson showed up for Game 7, Brenly asked him how he felt. "I feel fine," Johnson said.
"Can you give me an inning tonight?" Brenly asked.
"Whatever you need," Johnson said.
They devised a plan. Johnson would get one inning late in the game with plenty of warning. He watched the first three innings from the dugout before repairing to the clubhouse for the same stretching routine he uses before starts. After seven innings, with Schilling and Clemens locked in their 1-1 duel, Johnson reported to the bullpen. Just then Soriano golfed an 0-and-2 splitter from Schilling for a tiebreaking home run. "I thought right away I had caused the bad luck," Johnson said later.
The bullpen phone rang. Bullpen coach Glenn Sherlock answered it and shouted to Johnson, "Get ready. You've got O'Neill," who was scheduled to bat four hitters later. "After one hitter [Johnson] was good to go," Sherlock said. "I was amazed at how quickly he warmed up."
Said Johnson, "That was all adrenaline."
Brenly replaced Schilling one out and one single later with righthander Miguel Batista, who had pitched gallantly in Game 5 and who quickly retired Jeter on a grounder. That's when Brenly signaled for Johnson to get the lefthanded-hitting O'Neill. "When the bullpen door opened and the big guy walked out, the crowd went nuts, and I got goose bumps all over," Sherlock said.
O'Neill didn't hit--Chuck Knoblauch pinch-hit for him--but Johnson retired the righthanded hitter on a fly ball. Johnson pitched the ninth inning too, getting three quick outs. He put himself in line to become the first pitcher to win the final two games of the World Series on consecutive days. Now all the Diamondbacks had left to do was to solve the riddle of Rivera.
On the eve of the World Series, Dick Scott, an advance scout for Arizona, had told the Diamondbacks in a team meeting that lefthanded hitters would need to make adjustments against Rivera and his wicked cut fastball, such as standing farther from the plate and choking up. "He's the most predictable pitcher you'll come across," Scott said on Sunday. "At the same time he's probably the most unhittable."
The ninth inning began with Grace, choking up more than he normally does, looking at ball one. The World Series would be over in the next 13 pitches, only the outcome was not the one New York had expected. Rivera threw one of his trademark cutters, which Grace fought off into centerfield for a single. "If I hadn't," he said of the fast-moving pitch, "it probably would have hit me in the chest."
Catcher Damian Miller then put down a poor bunt that allowed Rivera a play at second base. Rivera, however, threw wildly into centerfield. "I didn't have a good grip," he said. "The ball took off. I think that was the key to the game."
Rivera rebounded, though, by turning another bunt, this one by pinch hitter Jay Bell, into an out at third base. Now the Yankees were two outs from a fourth straight world championship. Rivera never got another one. Shortstop Tony Womack tied the score by lacing a double down the rightfield line. After that Rivera hit second baseman Craig Counsell with a pitch, loading the bases for Gonzalez.
Before the game Gonzalez had chanced upon Martinez in the outfield while they were loosening their legs. Gonzalez and Martinez attended high school and played baseball together in Tampa. They hugged. "Whatever happens tonight," Gonzalez told Martinez in the embrace, "this has been a dream come true for both of us."
Now, as Gonzalez stepped to the plate, he imagined an ending to the dream. He thought, 'This is the seventh game of the World Series, and you've got the chance to be the hero.' In two earlier Series at bats against Rivera, he'd struck out and grounded out meekly, employing his usual wide-open stance in which his right pinkie and ring finger rest on the knob of the bat. This time he choked up "a good two inches," he said later. "It was the first time I'd choked up all year. I told myself, Whatever you do, put the ball in play somewhere."
Gonzalez fouled off one pitch. The next was a classic Rivera cutter, boring toward Gonzalez's hands. He swung. The bat cracked deeply just below the trademark. The ball floated toward shortstop, spinning like a wedge shot. Torre had played his infield in, trying to cut down the winning run. Jeter lunged in vain as the ball floated over him. It landed only an inch or two behind the dirt cutout of the infield. Bell came bounding home with the winning run.
Said Rivera, "I made the pitches I wanted to make, and they hit them. They beat me. They can say they beat me." It was the first time in 52 postseason tries against Rivera that a team had pinned a defeat on him. The wind had shifted. Arizona was the first team in 12 postseason series to take out the Yankees. More than anyone, O'Neill represented the end of the run. In his last game before his retirement, he'd tried to stretch a double into a triple in the first inning. His 38-year-old legs could not carry him fast enough. He was thrown out.
After he took off his uniform for the final time and dressed in a black shirt and gray slacks, O'Neill caught the eye of Nick Johnson, a rookie first baseman who wasn't on the postseason roster. O'Neill, famous for his white-hot, helmet-busting intensity, smiled softly. The run was over. "Did you learn anything?" he asked the rookie. "It's yours now. You've got to keep it going."