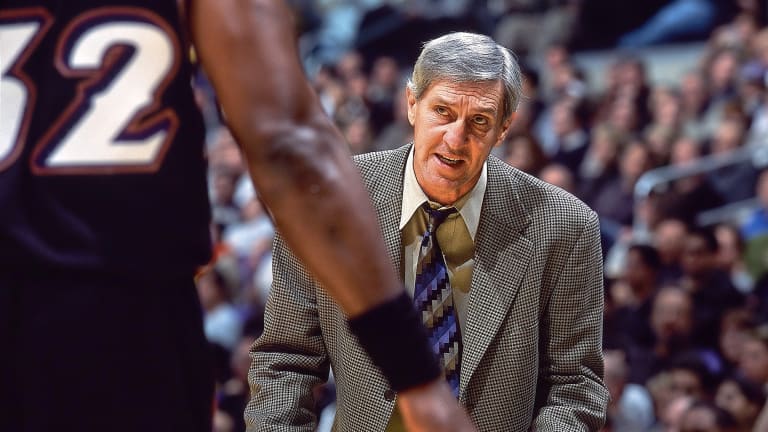 Getting Straight
His wife's illness forced Jazz coach Jerry Sloan to clean up his act. Now he's in no rush to leave the NBA
This article originally appeared in the Feb. 11, 2002 issue of SPORTS ILLUSTRATED.
On Jan. 2, 1998, maybe the worst day of her life, Bobbye Sloan sat alone in a Salt Lake City hospital room, waiting for a surgeon to give her a new left breast. Well, she wasn't actually alone. Her husband, Utah Jazz coach Jerry Sloan, was present, but even in the best of times he is not much of a talker, and Bobbye, who is, was frightened and depressed. The relationship between husband and wife, who were high school sweethearts more than four decades ago in McLeansboro, Ill., had deteriorated, mostly because Jerry tended to brood and internalize. When he did that he tended to light a cigarette, and when he did that he tended to drink a beer, and when he did that he tended to do it in a bar, and when he did that he tended to come home after last call. "We were in a horrible place," Bobbye said recently, tears filling her eyes.
Fast-forward to Jan. 16, 2002, right before the Jazz tips off against the Seattle SuperSonics at the Delta Center. Bobbye settles into her customary seat several rows up on the baseline farthest from the Jazz bench. She searches for her husband's eyes as he searches for hers, and they lock glances. Almost imperceptibly, they put two fingers to their lips then hold those fingers aloft. Only then can Jerry Sloan begin coaching his team.
He proceeds to do so in almost the same way he did on Dec. 9, 1988, his first game after sliding over from an assistant's seat to replace Frank Layden, who had abruptly quit. There has been a numbing consistency to the regime of Sloan, 59, the longest-tenured head coach in any professional sport. The Jazz has finished either first or second in the Midwest Division 11 times in his 13 years. Sloan has never had a losing season or failed to make the playoffs in Utah, where, after last Saturday's 97-96 win over the Portland Trail Blazers, he had a winning percentage of .672 (715-349). His 94-121 record as coach of the Chicago Bulls from 1979-80 to '81-82 lowers his career mark to .633, sixth best in NBA history and surpassed among active coaches only by Phil Jackson's .740 and Pat Riley's .683. In 1997 and '98 Sloan led the Jazz to the Finals, in which Utah bowed each time to Jackson's Bulls. Sloan has never been voted Coach of the Year, a slight that Jackson (a onetime winner)
considers absurd.
This promises to be another grind-it-out campaign for the Jazz (25-22 at week's end), especially since it will go 26 days between home games because of the Winter Olympics in Salt Lake City. Utah is running the same plays, or variations of them, that
it has run every year under Sloan, engineered by John Stockton and completed by Karl Malone, those holy pick-and-rollers who came to Salt Lake when Sloan was an assistant. "Best offensive system I've ever coached against," says Riley. Flip Saunders of
the Minnesota Timberwolves admiringly calls it "meat and potatoes basketball," even if Jazz fans less admiring of the team's bland style might prefer a splash of truffle oil from time to time.
Last February, Sloan signed a three-year, $12 million contract extension. His negotiations with team owner Larry Miller tend to be pro forma affairs. Sloan sits, sans agent, on the couch in Miller's office, wearing his beloved John Deere cap; Miller throws out a figure that generally ranks in the top third of coaches' salaries; Sloan thinks it over for a moment and says something along the lines of, Yep. "Jerry represents everything we need to be as a franchise in this market," says Miller. "The
dependability, the loyalty, the effort."
Around the league, however, it is a foregone conclusion that Sloan won't stick around for the length of his contract if his locker room lieutenants leave. "Jerry establishes a tone, Karl and John maintain it, and everyone quickly learns to fall into
line," says the Washington Wizards' Doug Collins, who among NBA coaches is closest to Sloan. "It's an enviable system."
The Mailman, who, if he stays healthy, may become the league's alltime leading scorer in 2003-04, has periodically asked to be traded and could be in the off-season. He and Sloan have had public run-ins, but their mutual respect has never wavered. "Jerry has a philosophy I love: Even if you have words with somebody, you get over it right away," Malone says. "You stand by the team bus and you say hello to each other no matter what happened during the game or at practice. You don't have a 40-minute meeting to clear the air. You just clear it."
In Stockton, Sloan has his bounce-passing, charge-taking, relentlessly competitive alter ego, who still glances at Sloan on almost every half-court possession to get the play call. "Why wouldn't I?" he says. Stockton, who turns 40 on March 26, will almost certainly be gone by the end of 2002-03. Yet Sloan won't rule out coaching, even with another team, well beyond Stockton's departure. He enjoys nothing more than "piddling around" (his favorite phrase) with lineups and has been energized by the enthusiasm and talent of 23-year-old rookie center Jarron Collins, 20-year-old guard DeShawn Stevenson and the 20-year-old Russian rookie forward, Andrei Kirilenko. At a recent practice Sloan told his team, as is his wont, "You've got to f---ing compete!" Kirilenko approached him later and asked, "Coach, what does this word compete mean?"
"I could see him going on [coaching] because he loves the game and knows he has something to offer younger players," says Stockton. "Teaching players the right habits--that's what Jerry Sloan is about."
For a long time Bobbye figured that when Stockton left, her husband would follow. "Now I'm not so sure," she says. "The losses are hard because the game means so much to him." She tears up again as she says, "But now we have each other. Again. We can go through it together."
Bobbye Sloan first felt a stabbing pain in her breast on June 13, 1997, the day the Jazz was eliminated in Game 6 of its first Finals. She had performed a self-examination four months earlier without detecting anything, but Bobbye, who earned a degree from the Washington University School of Nursing in St. Louis, knew what to do. She made the doctor's appointment without telling anyone, least of all her husband.
At the time Jerry was consumed by basketball, and though making the Finals had been gratifying, losing them was depressing. His coaching career had mirrored his playing career (and has continued to do so). The Bulls for whom he scratched and battled for 10 of his 11 NBA seasons--as a reliable scoring guard (14.0 points per game), an in-your-jock stopper (four berths on the NBA all-defensive first team) and a willing and able pugilist (he squared off against Wilt Chamberlain)--were recognized as the Best Team Never to Win It All, the backhanded encomium now affixed to the Jazz. Around his family Sloan rarely showed the aggressive streak so evident on the court, but there were dark places in his soul, and he medicated himself with hops and nicotine. He played in an era when many players lit up before games and got lit after them, and Sloan, who is nothing if not old school, just kept it
up.
For Bobbye, the last person she would confide in was the man whose history had for so long intertwined with her own. She was the one who had picked up Jerry when he stood in the cold, thumb extended, after high school basketball practice and given him a ride home to the hardscrabble area known as Gobbler's Knob, 15 miles south of McLeansboro. She was the one who had told him to get cracking after he had left both Illinois and Southern Illinois, devastated by homesickness, and gone to work in the oil fields. She was the one who had cheered him to an All-America career at Evansville and raised their children (two daughters and a son) while he was making headlines as a player and a coach. All those shared experiences, and still, they couldn't talk.
Just before the June 1997 appointment at which she would find out the results of her biopsy, Bobbye finally told her son, Brian, then an emergency room resident, what was going on. He was there with her when she got the news that the pea-sized tumor was malignant. It was excised later in the summer, and the first round of chemotherapy left her in the bathroom, puking her guts out all night long. On the day of the reconstruction, when Bobbye felt the gulf between them had never been wider, Jerry was reflecting on something she had said a week earlier: "Here I am
fighting for my life with all I've got, and you're snuffing yours out," and then she got up and walked away.
Jerry is not the type to admit he had an epiphany--and certainly not the type to identify it as such--but her words stuck with him. About a week after her reconstruction he came to her and said, "I need to make some changes. We'll start with the smoking, go on to the drinking, and see if we can put this thing back together."
The thing is back together. Bobbye's latest tests have shown no sign of cancer, and it is with renewed relish these days that the Sloans pursue their joint passion for collecting. Jerry is known as a man who guards a buck as closely as he guarded the
opposition's top scorer, and he is a bargain hunter of the first order--a devotee of garage and estate sales, a regular at auctions, a votary of flea markets. He can discourse at length on American art pottery and art glass, antique toys and tractors. A
turn-of-the-century vase made at Sophie Newcomb College (that means something if you're into vases) that Jerry bought 25 years ago for $10--the asking price was $12, but no self-respecting collector pays tag--the Sloans now estimate to be worth at least $20,000.
The Sloans look, buy and rarely discard. "My kids are going to shoot me when I die," says Jerry. On an off day during the season, and on any day back in their beloved McLeansboro, where they are building a house on an 80-acre field, they might be
found among their fellow foragers, horse trading their way to the best deal.
Sloan says he hasn't had a drop of alcohol in four years. He has also quit smoking with the help of Zyban, an antidepressant. His oldest daughter, Kathy, a pharmaceutical rep, recommended he get a prescription, and once he started taking it, he says, giving up cigarettes "was the easiest thing I ever did." After games he
goes directly home or to the team hotel, rarely replaying the results in his mind or agonizing over late-night TV highlights. He hasn't been able to run much since he retired with arthritic knees, but he has upped his workout regimen (weights, stationary bike, walking with Bobbye) and, despite a voracious appetite, keeps his weight at about 225 pounds on a 6'5" frame. "Basically," he says, "I'm a real boring guy these days. And loving it."
Sloan feels that his drinking never affected his coaching. He has worked for 18 years in the most conservative of pro towns, and while he's been criticized (quietly) for never winning it all, and while some have winced as they lip-read his commentary to the refs, his off-the-court conduct has never been publicly called into question. Around the league it was long known that Sloan was a good bet to have an adult beverage after the game, but he was always at practice the next day and never seemed to give anything less than his all on the bench.
Sloan is loath to talk about his past habits, both because he is a private person and because he feels he might appear to be endorsing a misguided lifestyle. This much he will say: "I had a bad habit of smoking, then I had a bad habit of drinking, and
they go together. I never thought it affected me, but other people did, particularly my family, and I began to see that maybe they were right. When you get away from these things, you realize how nasty they are, how they control your life."
And what would happen, Jerry, if you were to win a championship. Would you enjoy some champagne? He shakes his head and says, "Nah. I can get just as crazy with water."
A Jazz championship almost certainly won't come this season, probably not next, probably not the one after. Utah has failed to put the complementary parts in place that would complete the mission of Malone and Stockton. Midseason deals for guard Derek Harper in 1997 and center Rony Seikaly in '98 fell through when neither wanted to move to Salt Lake City. The Jazz has also ignored free agents with controversial pasts (players like Derrick Coleman and Isaiah Rider weren't welcome, players like Jeff Hornacek and John Crotty were), because Sloan doesn't want them on the court, Stockton and Malone don't want them in the locker room and Miller doesn't want them within the city limits.
Sloan admits he will be disappointed if he retires without winning a championship. "I know this, though," he says. "A lot of guys will show their rings to you who didn't have anything to do with winning a championship. There's something to be said for coming back after you lose, for putting yourself on the line, for having the will to try it again and again, for putting every ounce of energy into achieving something after you've fallen short. That's the kind of guys we've always had here."
That's the kind of coach they've had, too, a hard man who these days, before each home game, seeks a familiar pair of eyes and can get down to business only after he finds them. "What's happened between Bobbye and me is a good thing," says Sloan.
"I've always believed that something good can come out of every bad thing. Sometimes you've gotta work awful hard to find it. But it's there."
Bobbye's doctor has promised her that he will soon write "ancient history" on her file, but in another way she already feels as if she's cured. "When you go through what we went through," says Bobbye, "things that seemed so important don't seem so important anymore. What is important is loving and having someone to love you. I think Jerry has found that. I think together we found it."