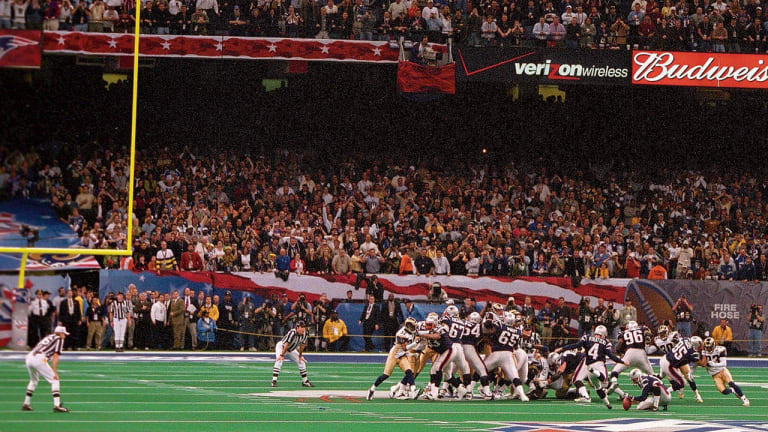 Pat Answer
Following the lead of their transformed coach and oh-so-cool quarterback, the no-name Patriots stunned the Rams in Super Bowl XXXVI
Take a knee, Bill Belichick thought. Play it safe, kill the clock and don't put your young quarterback in a position to blow the Super Bowl. This was one option that Belichick, the cerebral coach of the New England Patriots, considered on Sunday night as the Louisiana Superdome shook with energy and the roof seemed ready to cave in on his team.
Then, with 81 seconds left and the Patriots locked in a 17–17 tie with the resurgent St. Louis Rams, Belichick's head deferred to his heart. Although his tired team had squandered a 14-point, fourth-quarter lead, Belichick decided that kneeling was for wimps. Instead his underdog Patriots and their undaunted 24-year-old quarterback, Tom Brady, would deliver one of the most thrilling finishes the sport has known.
As New England prepared to take over at its 17-yard line with no timeouts, Belichick conferred with his offensive coordinator, Charlie Weis, who agreed that an aggressive approach was the right one. "O.K., let's go for it," Belichick said. When Weis relayed the decision to Brady, he could see the surprise in the second-year passer's eyes. There was no fear, however. Brady is so cool that he caught a locker room catnap that ended a mere half hour before kickoff. "With a quarterback like Brady, going for the win is not that dangerous," Belichick explained later, "because he's not going to make a mistake."
What Brady did as those seconds ticked off sent chills through the spines of fans from Cape Cod to Kandahar. Aside from a pair of clock-killing spikes, he completed 5 of 6 passes for 53 yards to set up Adam Vinatieri's 48-yard field goal, which sailed through the uprights for a 20–17 victory as time expired. Brady, whose statistics had been unimpressive until that final drive, was voted the MVP of what will go down as one of the greatest Super Bowls. Yet this was hardly a one-man show. "A game like this makes you trust in all those corny-sounding cliches," Pats linebacker Mike Vrabel said. "On paper you may not look as talented or as fast or as strong as your opponent, but if you get guys to buy into a system and fight to the bitter end, you can accomplish incredible things."
For patriots and Patriots, this Sunday was as super as it gets: One hundred forty-five days after the Sept. 11 terrorist attacks that stunned a country and stalled an NFL season, the ultimate game provided the ultimate diversion. In beating the vaunted Rams, who were two-touchdown favorites to win their second championship in three seasons, New England completed an amazing journey no reasonable forecaster could have predicted. With chants of U-S-A! filling the stadium, the Pats staged a clinic on the nation's bedrock values—teamwork, bucking the odds, overcoming adversity and refusing to wilt in the face of danger.
In a game in which they were outgained by 160 yards, the Patriots won by outhitting and outhustling the Rams, who, in quarterback Kurt Warner and running back Marshall Faulk, boast the NFL's two brightest stars. It was the Pats, however, who came up with the biggest plays, beginning with cornerback Ty Law's 47-yard interception return for a touchdown 8:49 before halftime and ending with Vinatieri's bodacious boot. Though most fans don't know the majority of New England's players from Adam, it's not hard to discern the Pats' approach. Consider the pregame introductions: After Warner, Faulk and the rest of St. Louis's offensive starters were called out one by one, the Patriots, as they have for most of the season, simply charged onto the field in a single burst.
"We play together," Law said. "All year we've had a lot of stuff go down that will either cause you to fold or to come together. We've been faced with things that can tear up a team."
The Pats hung tough when quarterbacks coach Dick Rehbein died of a heart attack in training camp, when star wideout Terry Glenn's disruptive antics provoked multiple suspensions and when they lost their first two games and three of their first four. By then the team's $103 million quarterback, Drew Bledsoe, had been hospitalized with a sheared blood vessel in his chest, suffered when he was hammered by the New York Jets.
Brady, a sixth-round draft pick in 2000 who threw only three passes as a rookie, turned out to be a revelation, earning a Pro Bowl spot while leading New England to an 11–5 record and its first AFC East title since 1997. Brady then won over a nation with his gritty performance in the Snow Bowl--New England's 16–13 overtime win over the Oakland Raiders in the divisional playoffs. (Though it should be noted that the Pats' tying field goal drive at the end of regulation was kept alive only after a controversial replay reversal of what appeared to be Brady's game-ending fumble.)
Because of that unlikely escape, some termed New England a team of destiny, but that ignores the hard work and trust that made this triumph possible. After Brady went down with a sprained left ankle late in the first half of the AFC Championship Game, Bledsoe directed the team to a 24–17 upset of the Pittsburgh Steelers. Yet after watching Brady move effectively during practice on the Wednesday before the Super Bowl, Belichick did not hesitate in naming him the starter.
If ever a coach had his finger on the pulse of a team, it was the 49-year-old Belichick, whose firm but unpretentious style helped guide the Pats through a hectic week. While Rams coach Mike Martz allowed his players to roam Bourbon Street, leaving them curfew-free until Friday night, Belichick instituted a midnight bed check beginning on Tuesday. He sold his players on the notion that a sloppy Wednesday practice could cause irreparable harm. St. Louis players, on the other hand, said their Wednesday practice was mistake-filled and disjointed.
Not everything was hunky-dory for the Patriots, though, when Belichick met with his five captains on Tuesday. Living up to his name, strong safety Lawyer Milloy groused to his coach about the hotel room assignments that he and a handful of other veterans had received. "Bill, what's up with our rooms?" Milloy asked. "I think mine came with an oxygen tank, because it makes me so claustrophobic. A lot of the younger guys got suites, and some of us don't think it's fair."
So Belichick took one for the team, switching places with Milloy—from spacious room 692 at the Fairmont Hotel to the cramped quarters of room 533—and persuaded several assistants to do the same for other players. "You think I need a sofa or a dining room table? Who gives a s---?" Belichick said to a reporter, smiling, the day before the game. "Then again, every time I see Lawyer, I ask, 'How's that nice, big room? Are you getting a good night's sleep?'"
The newfound levity displayed by Belichick must stun Cleveland Browns fans, who have endured consecutive Super Bowl bummers. (Last year the reviled former owner of the original Browns franchise, Baltimore Ravens boss Art Modell, hoisted the Lombardi Trophy.) Belichick, however, has come a long way from the unpolished coach who was fired after guiding Cleveland to only one winning season from 1991 through '95. Knowing that his next head job would most likely be his last if he didn't succeed, Belichick walked out on a contractual obligation to replace Bill Parcells as coach of the Jets two years ago. Squeamish over New York's impending ownership change and fearful that Parcells, as the team's director of football operations, might impinge upon his authority, Belichick hastily resigned and soon landed in New England after club owner Robert Kraft sent the Jets a first-round draft choice as compensation.
After New England went 5–11 in 2000, Belichick and player personnel director Scott Pioli—who is married to Parcells's daughter Dallas—made a series of seemingly uninspired off-season moves that set in motion a remarkable transformation. If Washington Redskins owner Daniel Snyder approaches free agency as a Neiman Marcus shopping spree, the Patriots were scrounging through bargain bins at Filene's Basement. "Never mind that talk," Pioli said on Sunday night. "These guys are good players and good people. Football is the ultimate team sport, and these guys fit our system." After Sunday's game three of the free agents the team had signed before this season (there were 17 in all) hugged Pioli and tearfully thanked him for bringing them to New England.
The Discount Dudes were everywhere in the Super Bowl. Vrabel, late of Pittsburgh, set up Law's interception return by blitzing Warner and hitting the quarterback as he was releasing the ball. Fellow outside linebacker Roman Phifer, formerly of the Jets and the Rams, killed a third-quarter drive after harrying Warner into a third-down incompletion. Another former Jet, cornerback Otis Smith, had a 30-yard interception return and played brilliantly all game, while a Buffalo Bills discard, running back Antowain Smith, gained 92 yards on 18 carries. Thirty-one seconds before halftime wideout David Patten, a Browns castoff starting in place of the exiled Glenn, soared to catch an eight-yard fade from Brady in the right corner of the end zone, giving New England a 14-3 lead. It was the first time all season that St. Louis had trailed by more than eight points.
Even before that score, the Pats had achieved an important goal. Two nights before the game Belichick showed his players video clips of games in which turnovers had led to early Rams leads. (Included was the Patriots' last loss, a 24–17 setback against St. Louis in Foxboro, Mass., on Nov. 18.) "If you can get through those first few minutes," he told the team, "you've got a fighting chance." On Sunday, New England controlled the tempo by relying largely on the power running of Smith, a former first-round draft pick who rushed for 1,157 yards in 2001.
The Patriots were equally physical on defense. Belichick, perhaps the best defensive strategist of his generation, and coordinator Romeo Crennel devised a scheme featuring more man-to-man coverage than the team normally deploys (box, left). New England's defenders disrupted the timing of the St. Louis receivers by pushing them near the line of scrimmage and then punished them after the catch. In sacrificing pass rushers for as many as seven defensive backs, the Patriots often made Warner (28 of 44, 365 yards) look as uncomfortable as Terry Bradshaw and Paul McCartney did during their excruciating rendition of A Hard Day's Night on the Fox halftime show.
Although his numbers paled in comparison, Brady (16 of 27, 145 yards) didn't turn the ball over and shined when his team needed it most. After wide receiver Ricky Proehl's sweet 26-yard touchdown reception tied the game with 1:30 remaining, Brady dodged defenders and moved his team downfield. On three of the winning drive's first four plays he delivered difficult dump-off passes to scatback J.R. Redmond, who, on the last catch—an 11-yard pickup for a first down, during which he dragged a defender past the marker—deftly got out of bounds at the New England 41. "Had either one of those things not happened," Weis said of Redmond's first down and dive for the sideline, "we would have probably killed the clock."
That would have led to the first Super Bowl overtime, but Brady wouldn't let it happen. "You're looking at a team that has some f------ guts, man," Rams defensive end Chidi Ahanotu would say after the game. "Brady never flinched, and they've got one hell of a gutsy coach." After avoiding a blitz by throwing away a first-down pass from the Pats' 41, Brady found Troy Brown (six catches, 89 yards) in a seam underneath the St. Louis zone, and the Pro Bowl wideout sped to the St. Louis 36. A six-yard pass to tight end Jermaine Wiggins and a spike followed, and then Vinatieri charged onto the field with seven seconds to go.
Having sported a gruff, unkempt beard throughout the playoffs, Vinatieri, a 1996 free-agent pickup out of South Dakota State, had absorbed his share of ribbing from teammates. "When he walked on the field today, I saw a bunch of security guards move over to check him out," cracked Larry Izzo, the Patriots' special teams captain. "I told him he looked like John Walker, like he was ready to go fight for the Taliban."
What happened next was no joke. Vinatieri—whose 45-yarder through the driving snow sent the playoff game with the Raiders into overtime—nailed one of the biggest kicks in league history, eclipsing, among others, those of Jim O'Brien (a 32-yard game-winner for the Baltimore Colts in Super Bowl V) and Scott Norwood (a 47-yard, last-second miss in the Bills' one-point loss to the New York Giants in Super Bowl XXV). As red, white and blue confetti rained upon the jubilant Patriots, the magnitude of their accomplishment began to sink in: The Rams may be the Greatest Show on Turf, but on this day the greatest team on earth was the one coached by Belichick.
Four hours later, after Super Sunday had morphed into a majestic Monday, Brady paid a visit to room 533. A victory party raged several floors below, but Belichick was busy entertaining family members and sipping a Corona. "Have a beer," Belichick said, handing his quarterback a bottle.
Brady grinned sheepishly. He had been offered the coveted "I'm going to Disney World" TV spot and a trip to Orlando. Nonetheless, as per team rules, he had to get his coach's permission to miss the team flight home. Belichick gave him a perplexed look, and there was a clumsy stretch of dead air. "Of course you can go," Belichick said. "How many times do you win the Super Bowl?"
The answer, for as long as Brady plays and as long as Belichick coaches, will always be this: at least one more than anyone ever imagined.