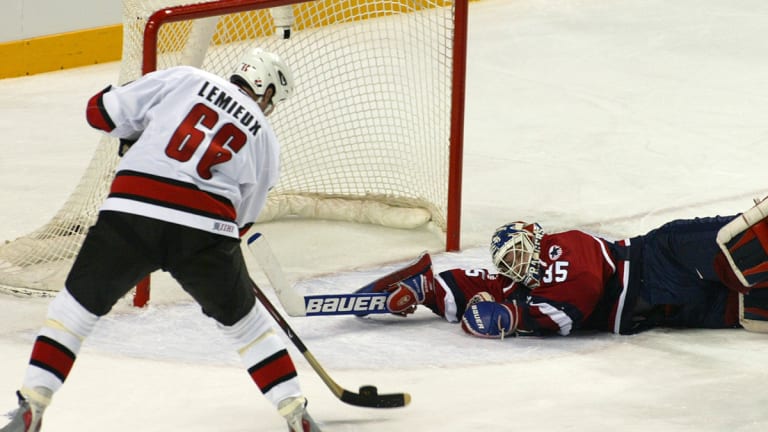 The Great Ones
Wayne Gretzky's handpicked team gave Canada the gold it craved in a tournament that showcased hockey at its best
The first rule in journalism is to follow the money, which brings us to that now famous coin that was embedded at center ice before the start of the Olympic hockey tournament. It was a Canadian one-dollar piece, popularly called a loonie. (That's because there is an image of a loon on it, not because it has dropped 35% against the U.S. dollar in the past 10 years.) This good-luck loonie was surreptitiously implanted by an Edmontonian named Dan Craig, the NHL ice technician who was moonlighting at the Salt Lake City Games. The coin was dug up after the gold medal game on Sunday and handed to Team Canada executive director Wayne Gretzky, who elevated it to artifact and will give it to the Hockey Hall of Fame in Toronto, passing the buck for the first time in his life.
The final score was Canada 5, USA 2, NBC 10.7. There were 38 million homes in the U.S. tuned in to a fitting final of an extraordinary tournament, the most for a hockey game since the 1980 Miracle on Ice. The overnight ratings were spectacular compared with the microscopic numbers the sport usually generates in the U.S. (ABC's average rating for last season's Stanley Cup finals was 3.3.) However, the numbers that count, as hockey continues the battle to establish itself as something more than NASCAR of the North, will be the ones that emerge over the next 20 years, when kids who watched the gold medal game start playing and become involved in the sport.
The first Olympic tournament played by pros that could be seen by Americans who weren't insomniacs or night watchmen might prove to be a watershed moment for the sport--and for North America--which prompted Owen Nolan to bolt the Team Canada bench with four minutes to go, race into the dressing room and grab his video camera. Nolan, a right wing with some jump and a lot of zoom, recorded a moment that will forever resonate across a country that had been starved for Olympic gold for half a century. (When asked what he would have done if coach Pat Quinn had called for his line to play in the final minute, Nolan said, "I wasn't going.") The ambient noise on the tape was a spontaneous chorus of O Canada that shook the E Center in the final 45 seconds of hockey's best, if not last, chance to showcase its top-of-the-line wares internationally.
This was a day for Canada to puff out its chest--"What sets us apart is our determination and heart; I'd take 20 Canadian guys from the NHL and nine times out of 10 win the Stanley Cup," forward Theo Fleury said after the final--but the warm postgame handshakes and hugs between the Canadian and U.S. players were a reminder that within 48 hours they would again be Red Wings, Flyers and Rangers. The 32 players in the gold medal game who were facing a teammate are now answering the siren call of dollars. But in two-hour games over 10 furious days, hockey put aside money (not to mention fighting, scrums after whistles and filibusters that masquerade as face-offs) in a series of compelling matches that captivated a usually indifferent viewing public.
Question: Could thrilling Olympic hockey be replicated in the NHL?
Answer: Absolutely, as long as the 30-team NHL contracts by 24 clubs, reduces its schedule from six months to two weeks, holds one-game playoff series and finds a way to incorporate national pride into the games.
The Olympic tournament did many things--it assuaged Canada's damaged pride, erased memories of the ugly on-ice play and off-ice conduct by the Americans in Nagano and established the Swedes, who were shocked by Belarus in the quarterfinals, as the greatest choke artists since Isadora Duncan got her scarf caught in the car's rear wheel--but it can't be a blueprint for Phoenix Coyotes-Tampa Bay Lightning games. It is foolish to compare the Olympics, which features fourth-liners who are bona fide stars, with the quotidian schedule of a 700-player league. The NHL should, and will, swipe some of the ideas from the Olympic tournament, starting with the hurry-up face-off rule and perhaps no-touch icing if, as one NHL general manager put it, the league is willing to lose "the race car effect" of players crashing into the end boards in pursuit of a loose puck. NHL games will be played with more dispatch in coming seasons, but $125 rinkside seats won't be removed to expand the ice surface to Olympic size (15 feet wider than NHL arenas), the three 100-second TV timeouts per period won't disappear, and despite a growing sentiment among players, including Mario Lemieux, that removing the red line would enhance the flow of the game, this is a back-burner issue.
"Having no red line would be like eliminating the running game from football," says NHL executive vice president Colin Campbell. The elimination of a red line proved to be a red herring at the Olympics because Team Canada and Team USA often acted as if it really were in play, rejecting the impulse to go deep and sticking primarily to zone-to-zone passes, playing a familiar brand of small hockey that effectively shrunk the international rink. The Canadians were slower learners than the U.S. but ultimately developed the necessary patience to make plays. Foremost was the pass Steve Yzerman whipped cross-ice to Jarome Iginla, who shoveled the puck past U.S. goalie Mike Richter, giving Canada a late two-goal, third-period lead and sending Nolan for his camera.
Gretzky rose from his seat and pumped his arms in triumph at Iginla's goal, a stunning turnaround from six days earlier, when the greatest ambassador in hockey resigned his diplomatic portfolio. After a 3-3 tie against the Czech Republic that completed the round-robin portion of the tournament, Gretzky entered a press conference and unloaded. Troubled by rumors that Lemieux would have to go home with an injured hip and that his coaches were at philosophical loggerheads, Gretzky blasted "American propaganda" and said the Europeans hate Canada and want to beat it worse than Canada wants to beat them. That pretty much covered the known hockey world.
This was paranoia with a purpose, a gimmick Gretzky learned from his former Edmonton Oilers coach and general manager, Glen Sather. The outburst, which Gretzky repeated the following day, rallied fainthearted fans at home, diverted attention from a team that had yet to beat a quality opponent and stole the newspaper headlines in a country that treats hockey with an aching earnestness. "It always matters more in Canada," says Tom Poti, the U.S. defenseman who plays for the Oilers. "That's pretty much what they've got."
The Americans were working on their own stories in the relative privacy of their practices. Coach Herb Brooks's mantra was, "Write your own script. Write your own story." At practice the day before the semifinal against Russia, Brooks threw a pen at the feet of left wing John LeClair, saying, "Johnny, write your own story." With a tournament-high six goals LeClair was telling a story better than LeCarre.
The ideal coach in 1980, uniting a team of college kids and sending them out to beat the world, Brooks remained the ideal coach 22 years later, prodding hard-bitten pros with homilies and buzzwords such as "rebound." During a team meeting Brooks asked his players how many games there were in the NHL season. "Eighty-two," Mike Modano replied confidently.
"Do you agree, John?" Brooks said, wheeling on LeClair.
"I'm going to say no," LeClair said, "because I think you want something else."
Brooks said the correct answer was one game 82 times, a reminder not to look beyond the task at hand. Last Friday the U.S. could hardly look ahead when the entire world was looking back: Twenty-two years to the day after the Miracle on Ice at Lake Placid, the Russians and the U.S. were playing in another Olympic semifinal. The comparison was illuminating.
First, this was Russia, not the Soviet Union. Two of Russia's players, Sergei Fedorov and Darius Kasparaitis, were U.S. citizens, and another, Igor Larionov, was a Canadian citizen whose daughters, Alyonka and Dianna, sometimes sing the U.S. national anthem at Detroit Red Wings games. Russian coach Slava Fetisov even used a few English terms--reverse, forecheck, D-to-D--when he talked to his team of NHL players.
After the U.S. withstood a furious third-period Russian rally in a 3-2 win so intense that it left the Americans running on fumes two days later in the final, Fedorov gave Red Wings teammate Brett Hull a congratulatory pat on the rump. This was about hockey, not the passport, a point Jeremy Roenick of the U.S. tried to make on the eve of the gold medal game when he noted, "My favorite player is Steve Yzerman, and he's Canadian."
A reporter pointed out that Yzerman had received U.S. citizenship. "Well," said a nonplussed Roenick, "the U.S. is the greatest country in the world, but Canada is a close second."
The closeness continued at the highest levels of the game when NHL commissioner Gary Bettman, NHL Players' Association director Bob Goodenow and International Ice Hockey Federation president Rene Fasel hunkered down last Thursday in a four-man bobsled for a trip down the Olympic course at slap-shot speed. The fate of NHL players returning to the Olympics four years from now in Turin, Italy, is in their white-knuckled hands. They have different constituencies--Bettman has 30 owners, Goodenow has 700 players, Fasel has 63 hockey-playing countries--and the agendas sometimes clash.
In a real-life game of rock-paper-scissors Fasel refuses to allow the Olympic preliminary matches to be played in September, before the NHL season, or to shorten the tournament to fewer than 16 days. Bettman insists the NHL can't afford to lose its momentum by shutting down its season for more than 12 days, although NHL involvement in 2006 would probably require a minimum of two weeks. Goodenow might not be amenable to a format like the one the IIHF used for its eight-team women's Olympic tournament, which was played in 10 days by eliminating four teams after the round-robin round and going straight to the semifinals. "We are driven by passion [for hockey]," Fasel said last week. "They are driven by profit."
Given the artistic success of Salt Lake City, it seems loony not to find a way to make it work.
Lords of the Rink
Here is SI senior writer Michael Farber's all-tournament team
G Nikolai Khabibulin, RUSSIA Stole the game of the Games, a 1-0 quarterfinal win over the Czechs.
D Scott Niedermayer, CANADA Broke traps with his speed, leading rushes as often as joining them.
D Vladimir Malakhov, RUSSIA Played solidly--and physically--at both ends of the ice.
LW John LeClair, U.S. Had a tournament-best six goals and was too much for defensemen to handle down low.
C Joe Sakic, CANADA Was the spark plug in the gold medal game, with two goals and two assists.
RW Brett Hull, U.S. Had three goals and five assists; found seams for his one-timers and buried rebounds.